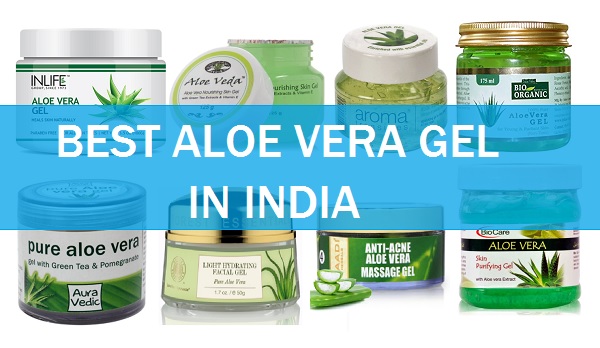 List of Best Aloe Vera Gels Available in Indian Market
Are you looking for a good aloe vera gel? In today's time, aloe gel is one of the most used ingredients in skin and hair care products. You must be aware about the benefits of aloe vera gel for dry skin, oily skin, in wrinkles, pimples, hair fall, hair loss etc. But if not, then let's start the article with the superb benefits of the aloe vera gel and what this miraculous product can do for you. By the way, instead of buying gel from the market, you can extract fresh gel yourself at home. Aloe plant is very inexpensive and you can purchase it from your local nursery. Moreover, it does not need any special care at home. To extract the aloe gel, you can simply cut open the leaf and using a spoon, scrap out the gel. Moving on, with the best aloe vera gels available in the market from various brands. These gel are pure gel and some of them are made by formulating with other ingredients like the honey, kesar, tea tree, vitamin E, green tea etc. So, accordingly you can make your decision in buying the best suitable aloe vera gel for you and your skin type.  
Benefits and Uses of Aloe Vera Gel
Dry Skin: For dry skin, aloe vera gel can give that much required moisture when mixed with some pre coconut oil or almond oil. The mixture acts as a wonderful body and face moisturizer that people with dry and even sensitive skin can use in winters. Alternately, to combat the skin dryness, mix some aloe vear gel with milk cream and use as a massage cream.
Oily Skin: Oily skin needs moisture but not too much. Here, comes the use of aloe vera gel, this gel helps in providing moisture to the oily skin and skin feels nourished too. Aloe gel is rich in vitamins and minerals. Hence, oily skin stays clean and clear with no excessive oils.
Acne Prone Skin: Such skin type regularly struggles with skin problems, therefore, apply a face pack of aloe gel mixed with some multani mitti. Multani mitti is known as Fuller's Earth. Just mix and apply on the face. It decreases the occurrence of acne on the face and also reduces the oil production.
Makeup Base: You can apply a good aloe vera gel on your face before applying the base makeup like your foundations, BB or CC creams. It also helps to delay the oils from showing up on the face.
Hair Care: For dry hair, use aloe gel with some castor oil or coconut milk. Apply and leave for 2 hours then wash. This is superb for dry hair conditioning.
Hair loss: For hair loss problem in men and women too aloe vera can be helpful. You need fresh or pure gel and mix that with either some onion juice or Fenugreek (methi) powder. Then apply on the hair wash after 1 hour. Repeat this simple step after every 3 days to get good results in falling hair.
Insect bites, burns and rashes: To cure them apply fresh aloe gel and repeat after 2 hours for 2-3 times to quickly get relief in such problems.
Top Aloe Vera Gel Brands in India with Reviews
Now, let's check out the list of the top aloe vera gels from different brands in the Indian market that can come to your rescue.
1. Patanjali Aloe Vera Gel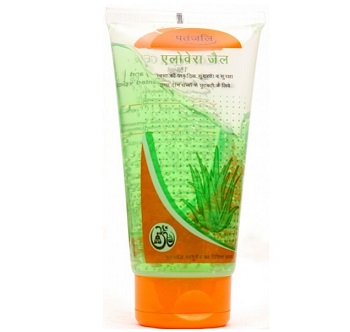 Patanjali aloe vera gel is by far one of the best selling aloe vera gels in the market. Patanjali is a brand of Baba Ramdev's that has skin care, hair care, personal use and grocery products. The gel is a pure gel that can be used for the skin and hair. Yes, aloe vera gel can be used on the hair to make them grow faster. It can be mixed with the amla juice or some lemon juice to get rid of the dandruff problem too. Using aloe vera gel daily on the skin can ensure that you get lesser wrinkles and lines on the face. Aloe vera gel is also used along with honey and lemon juice for the skin whitening purpose. Furthermore, it also lightens the dark spots and black marks on your skin. Men too should keep a jar of aloe gel at home as it can be used after shaving as well.
Price: 80 Rupees
By this here: http://amzn.to/2lrrj86
Best Night creams for Oily and acne prone skin
2. Khadi Natural Aloe Vera Gel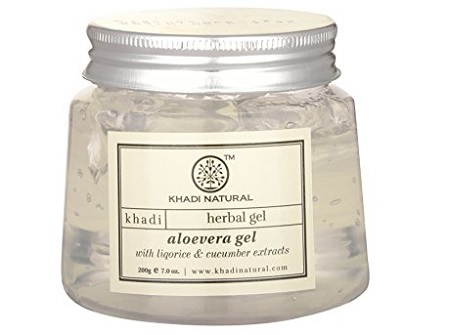 Khadi aloe vera gel is packaged in a tub which is easy to use while I think that the tube like packaging as seen in the Patanjali aloe vera gel is the best as this is more hygienic. The gel is transparent clear and has no other ingredients like kesar, honey etc. This aloe vera gel moisturizes the facial skin and heals the dry areas on the skin. Winter is the time when the skin feels a lot scaly and flaky. Therefore, using an aloe vera gel is the best thing. You can mix some aloe vera with pure almond oil and then massage on the face and body skin at night. Doing so, can make the skin nourished and beautiful. So, if you too have this problem of dry facial skin, then surely you will get the much needed benefits from this night time skin ritual with the aloe vera gel.
Price: 180 Rupees
Best Beard Growth Oils in India
3. Bio Care Aloe Vera Gel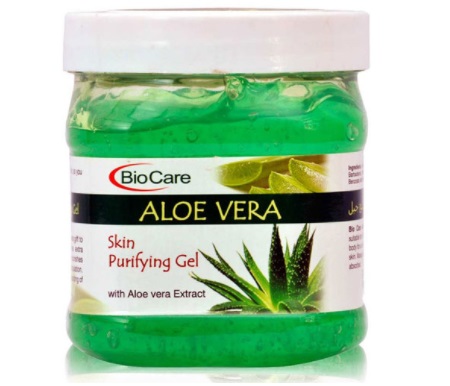 Bio Care Aloe Vera Gel has the pure aloe vera gel which is also greenish in color. The color of the aloe the vera gel is transparent by the way but when the brands make it, most of the time you will find that the color is light greenish. But that does not mean that product is not genuine. Aloe vera gel prevents the skin aging and has natural anti-aging benefits. You can to utilize the power of aloe vera gel by mixing this along with some jojoba oil or avocado oil. Mix and apply daily at night. This makes the skin not just appear glowing but is a potential anti-aging skin care potion too.
Price: 200 Rupees
4. Indus Valley Bio Organic Non-Toxic Aloe Vera Gel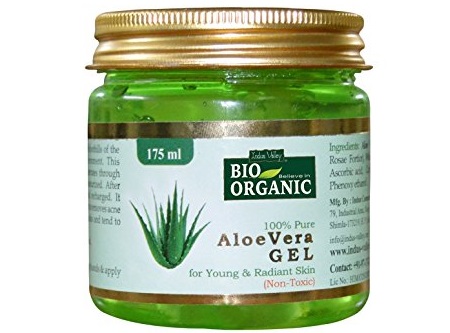 Indus Valley brand makes some of the very organic products and they are really good at it. This Bio Organic Aloe Vera Gel is an excellent aloe vera gel that can do wonder for the skin and hair. This is capable of giving you a glowing skin when the skin is dull and tired and lifeless. It is a non greasy and pure aloe vera gel that even men can try for their facial skin problems.
Aloe vera gel can give life to the dull and lifeless looking skin. This is easy to penetrate deep in the skin layers thereby, gives you the best moisturization and hydration. It is a light gel hence, can also be used as a facial skin moisturizer for the oily and acne prone skin.
5. Aroma Treasures Aloe Vera Gel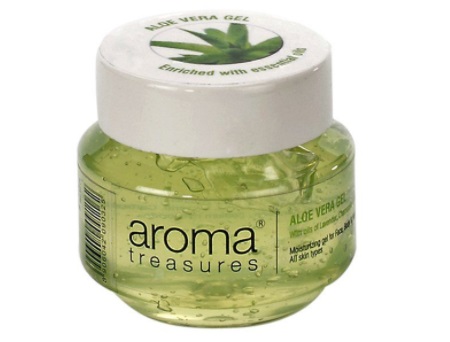 Aroma Treasure's Aloe Vera Gel is one of the best aloe vera gels that we have used. Of course, after the Patanjali one. This has natural anti- bacterial properties and is also able to provide a deeper moisture to the skin. The skin healing properties of aloe vera is suitable to get that lost moisture in the skin back and to keep the skin moisturized for a lot longer in the dry harsh winter season. Aloe Vera gel is known to improvise the appearance of the skin layer by stimulating the cell production and by improving the production of elastin that keeps the skin cells tighter and firm. So, when a gel like this is applied than naturally your skin appears brighter and radiant.
Aloe gel can also be used to style your hair. Price of this aloe gel is also very affordable and availability is easy online. Along with the aloe vera this gel also contains the other ingredients that have been proved good for the oily and acne prone skin like the castor oil, vertiver oil, geranium oil, lavender oil.
Price: 96 rupees
6. INLIFE Aloe Vera Gel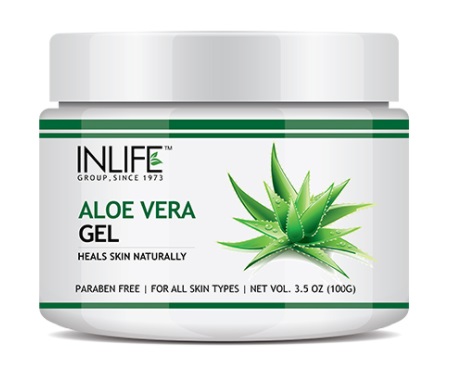 INLIFE Aloe Vera Gel is a chemical free aloe vera gel. The brand is good and makes products which are safe and natural to use. So, if you are looking for a paraben free aloe gel, then this Inlife one can be definitely tried. The gel helps in moisturizing the skin and prevents the loss of moisture as well. Applying aloe gel before going out in the sun also ensures the sun protection. Price of this aloe vera gel is quite affordable and in budget for most of the people so, you would also like the benefits that this gel gives.
Price: 180 Rupees
7. Forest Essentials Pure Aloe Vera Light Hydrating Gel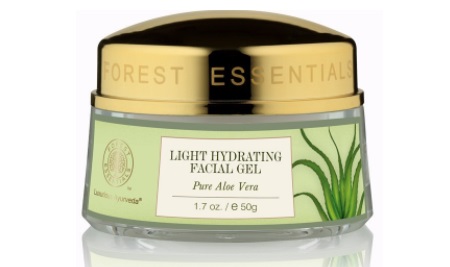 Forest Essentials Pure Aloe Vera Light Hydrating Gel is a pure and organic extract from the Aloe Vera plant. The gel is considered as the natural humectant that retains and adds moisture to the dry skin and hair. Apart from that you can also try using this natural pure gel over the bruises and the insect bites. The bruises can be painful but the application of the aloe vera gel can help in that. It also has amazing healing and soothing properties.
The chemical-free light and cool facial aloe gel contains pure Aloe Vera Juice. And the wheat germ therefore, this can act as a super moisturizer for the dry skin types. Price is hefty as the product costs around 1300 rupees, which is simply too much but never to forget that this is a natural and pure product free of those harmful chemicals etc.
Price: 1300 Rupees
8. Auravedic Pure Natural Aloe Vera Gel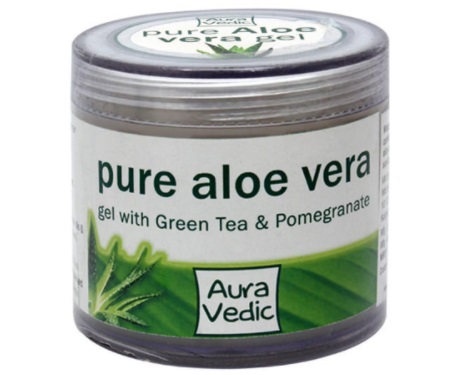 Auravedic Pure Natural Aloe Vera Gel is a skin soothing gel that has been blended with not just the aloe extracts but has the green tea as well. Green tea is one of the most high on antioxidant kind of product which is wonderful. Besides, being excellent of health, green tea is also suitable for oily and acne prone skin. Green tea soothes the skin and reduces the inflammation of the acne infection and so does the aloe vera gel. So, while you use a gel like this you can say bye-bye to the skin issues like acne, pimples etc. This can be aptly called as a summer moisturizer for the oily and acne prone skin. Just a drop of tea tree oil in this can also transform this into an effective toning lotion for the oily skin in summer-time. Formulated for all skin types this is an aloe vera gel that is free of the Parabens, Sulfates, Phthalates.
Price: 225 Rupees
9. Vaadi Herbals Anti Acne Aloe Vera Massage Gel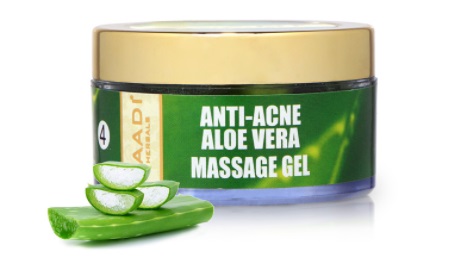 Vaadi Herbals aloe vera gel is a concoction or a unique composition that is made with the Aloe vera extracts, jojoba oil and Shea butter. So, while the aloe vera gel acts on the stubborn infected acne, shea butter nourishes the irritated skin and jojoba oil kills the bacterial infection. The gel is safe for even the dry skin and oily skin obviously that is prone to skin issues.
Price: 225 Rupees
10. Aloe Veda Nourishing Aloe Vera Gel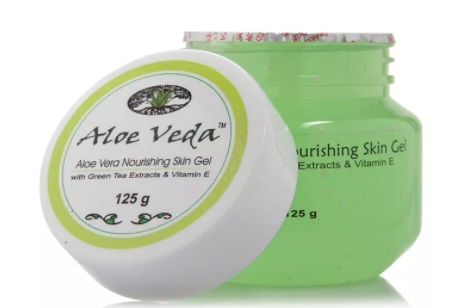 Aloe Veda Nourishing Aloe Vera Gel is not loaded with the aloe vera only but this gel also contains the green tea and vitamin E along with the Aloe vera leaf extracts. This product acts as a natural skin moisturizer for dry skin, In winters, skin gets extremely dry due to harsh weather conditions so, a products like this can help in combating the dry season problems. It is a light moisturizer which at the same time is also a non comedogenic product suitable for the oily skin. You can apply it every night for the oily skin to keep the skin moisturized and free of acne. To cure the acne marks aloe vera gel can be mixed with some lemon juice and turmeric. This surprisingly beneficial mixture fades the marks, dark spots and blemishes on the face nicely. This is also a paraben free aloe vera gel and has not been not tested on animals.
Price: 250 rupees
These were the best aloe vera gels from various popular brands available in the Indian market. Have you tried any of these for your skin, hair, acne or hair fall? Which is your favorite and most used aloe vera gel brand do let us know.