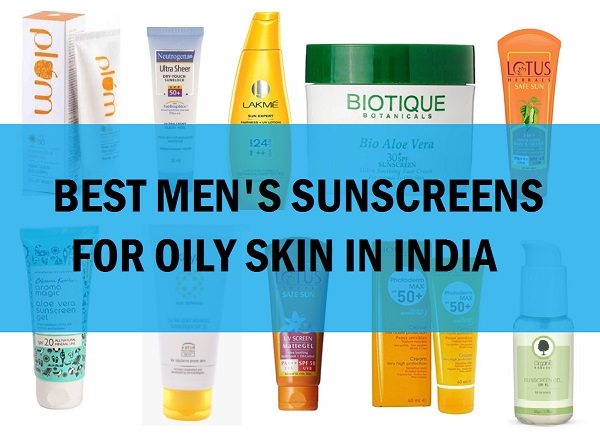 10 Best Sunscreen for Men's Oily Skin in India
Daily sun exposure makes the skin dull, dark and aging signs appearance. The direct sun light damages the skin by making the skin darker and producing the fine lines. This is why sunscreen and sun protection is extremely crucial. To cure the photo damage for men's skin using the right sunscreen lotion become essential. Oily skin sun lotions should be oil free and light in texture especially in the hot summer season. In summers, the oily skin in anyways become greasy due to excessive sebum production. So, using a Sunblock for oily skin that is non sticky should be the priority.
10 Top Best Sunscreen for Men's Oily Skin and Acne Prone Skin in India 
Here, we have compiled this list of the best sunscreen for oily skin for men's skin in India. These are the natural sunscreens and sunscreen lotion that helps in the protection of skin. Men stays outdoors therefore use of an effective sunscreen is must if you want healthy skin.
1. Lotus Herbals Safe Sun 3-In-1 Matte Look Daily Sunblock SPF-40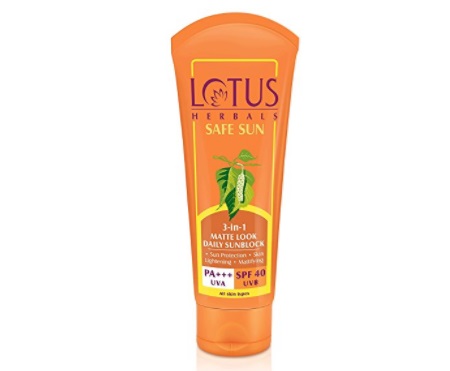 Lotus Herbals makes so many different sunscreens and that is no wonder that it also becomes difficult to find the right sunscreen for you? This Lotus Herbals Safe Sun 3-In-1 Matte Look Daily Sunblock has the SPF 40. The formula is matte which ensures an oil free look. The sunscreen gives natural sun protection and is suitable for the oily skin as the ingredients used and the formula makes the skin matte. A lot of sunscreens have this oily greasy feel and formula that makes the skin shiny after few hours. Moreover, they also give a sweaty look on the face. So, using a matte sunscreen is considered safe for the oily to combination skin.
Features:
It has the birch extracts that helps in rejuvenation. Regular application ensures the reduction of skin oiliness and refines the skin pores. Mallow extracts aids in the soothing of the inflamed skin. Hence, this sunscreen is not just for the oily skin but it is for the acne prone skin as well.
Price: 200 rupees for 50 g
2. Neutrogena Ultra Sheer Dry-Touch Sunblock SPF 50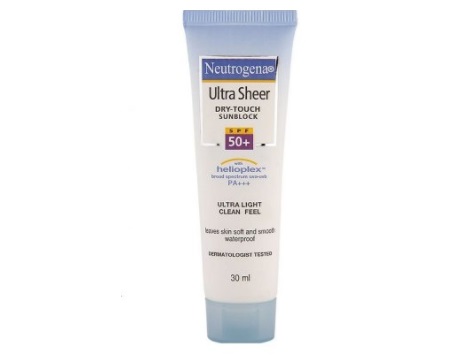 Men who want sunscreen that should be completely oil free get a new option with Neutrogena. This Neutrogena Ultra Sheer Dry-Touch Sunblock has the SPF 50. SPF 50+ sunscreen helps prevent sunburn and leaves skin soft and smooth. This is an oil-free sunscreen that is also waterproof and sweat proof, so this does not get wiped off easily. You can be worry free while hitting the pool as the water resistant formula makes sure the sunscreen stays on the body. This can be applied on the face and body skin both.
Neutrogena Ultra sheer sunscreen is a Dermatologist tested unscented sunscreen product and is Non-comedogenic.
Price: 199 rupees for 30ml
Best Men's Anti Acne and Pimple Cream for Oily Skin in India
3. Lakme Sun Expert SPF 24 PA Fairness UV Sunscreen Lotion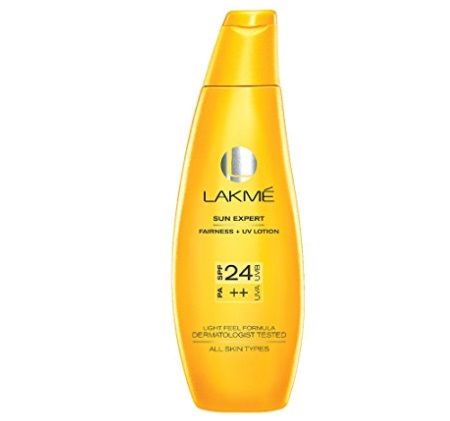 Lakme Sun Expert Fairness Sunscreen Lotion is a basically fairness sunscreen which is also ideal for sensitive skin and oily skin. SPF 24 offers sun protection and sun damage cure. It also enhances the skin complexion by blocking the sun rays that can potentially harm the skin. It is suitable for all skin types. Lakme sun expert blocks upto 97% harmful sunrays.
The formula and texture blends easily onto skin. This sunblock for face has a moisturizing formula which also heals the dry patches.
Price: 190 rupees
Best Pimple and Acne Scar Removal Creams in India
4. Aroma Magic Aloe Vera Sun Screen Gel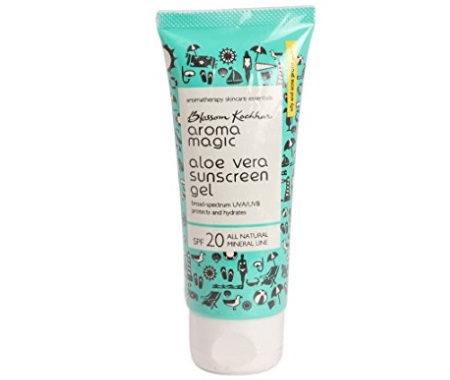 When the skin is oily then gel based sunscreens are considered good. Gels do not make the skin surface greasy or oily. This is the reason why the gel formula based skin care products are the best for the oily skin. The sunscreen is loaded with aloe vera which is one of the best things for the oily skin cure. It is more of a natural sunscreen for men with oily and acne prone skin. Price too is very affordable. It is very easy to get online as this brand is popular one. Aroma Magic sunscreen claims to be 100 percent free of oxybenzone, paraben, harsh chemicals, alcohol and artificial fragrance. Along with the soothing aloe vera gel, it also contains cucumber extracts to soothe sunburn and provide adequate sun protection
Price: 160 rupees for 50ml
5. Kaya Ultra Light Aquagel Sunscreen SPF 25
Kaya is a one of the best skin care brands which makes quality products which are well tested by the dermatologist. This is a sunscreen gel which is over SPF 25. It is a daily use sunscreen that is for all skin types though a gel base offers more benefits to the oily skin and acne prone skin.
Kaya gel sunscreen is a broad spectrum sunscreen specially designed for oily/acne prone skin. It has a light gel texture that does not clog pores and prevents the facial skin from the environmental damage. This gel based sunscreen is fragrance free also. It provides a cooling sensation on application with a weightless, matte finish. So, if your skin is prone to breakouts, it does not make the situation worse but rather heals them.
Price: 590 rupees for 50ml
Best Men's Cream for Dark Spots
6. Plum Chamomile & White Tea Sheer Matte Day Cream SPF 50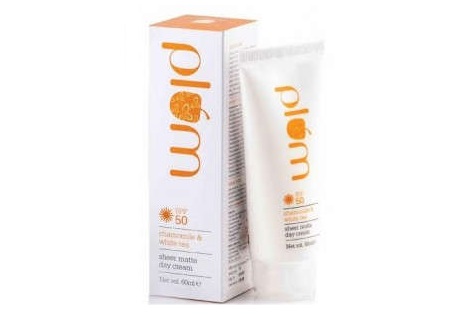 Recently, we have realized that our list posts have included this brand more often. The main reason is that this brand has products which are good, affordable and value for money. It is a matte day cream sunscreen so, just wear this and you get the benefits of both: a day cream and a sunscreen, that too with SPF 50. It is a high SPF sunscreen which is not heavy and just perfect for the oily skin.
It has a micro-emulsion formula that spread evenly and smoothly on the skin. Unlike most of the sunscreens, it does not give a white cast on the skin.  The white tea and chamomile are rich in anti oxidants which heals the dull and tired skin. Men with acne prone skin and inflammation gets help from the chamomile. The sheer matte finish that stays matte for up to 6 hours.
The antioxidant rich white tea, Gingko biloba and olive leaf extracts help skin fight free radical damage.
Price: 520 rupees for 60ml
7. Lotus Herbals Safe Sun UV Screen Matte Gel SPF 50
Even Lotus has a sunscreen which is over SPF 50. This high SPF sunscreen is suitable for everyone and or men and women. This has main ingredients like Comfrey, vanilla and horse chestnut. It can be used on face and body. The gel base gives oil free look and smooth skin. Lotus sunscreens are very widely and easily available in chemist (Pharmacy) shops, online and in supermarkets.
Price: 295 rupees for 50g
8. Bioderma Photoderm Max Cream SPF 50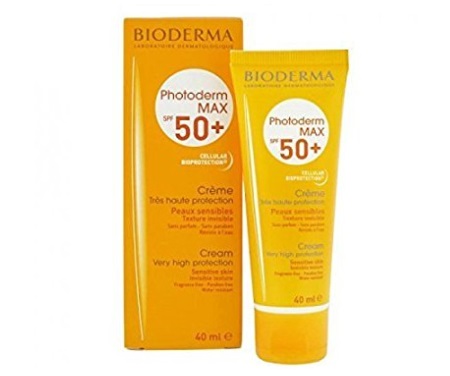 Bioderma sunscreen is also a high SPF sunscreen which is safe for the oily and cane prone skin. There are tow variants of this sunscreen like one is for dry to normal skin while the other one is for oily skin. You should keep a check if you are thinking of buying thus sunscreen. It has an exclusive patented Cellular BIOprotection complex that provides maximum protection for the skin cells. It is water-resistant and photostable. The sunscreen does not leave an oily film or layer on the skin rather blends easily.
Price: 1220 rupees for 40ml
9. Organic Harvest Sunscreen Gel SPF 15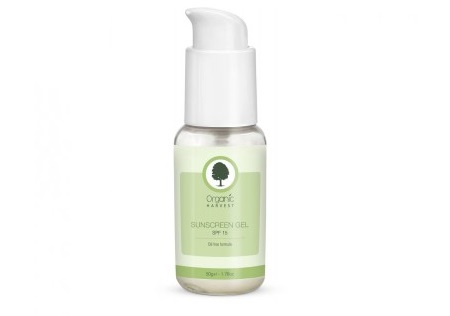 Organic Harvest Sunscreen is a gel sunscreen used by men. It has a formula that is so light. The sunscreen nourishes the skin from within, at the same time protecting it against the harsh effects of sun. Organic Harvest Sunscreen Gel SPF-15 has a gel based formulation that gets absorbed quickly and leaves a moisturized yet matte feel.
Ingredients: Tamarind seed extracts and Clay minerals in Cream base. No Color Added
Price: 495 rupees for 50g
10. Biotique Bio Aloe Vera Face and Body Sun Cream SPF 30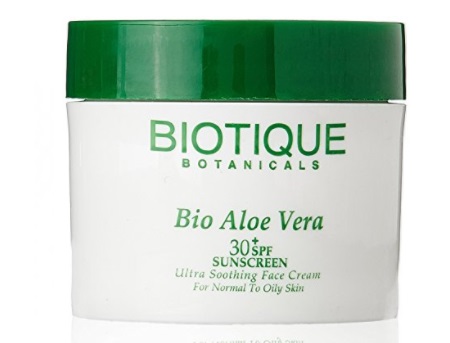 This nutrient-rich cream is blended with pure aloe vera, sunflower and safflower oils to keep skin soft, fair and moisturized in the sun. Protects skin with broad spectrum SPF 30 UVA/UVB sunscreen.
Price: 220 rupees for 50g
So, guys, these are the top best sunscreens for oily skin and acne prone skin in India. Have you used any of these? Which is the best sunscreen as per you?