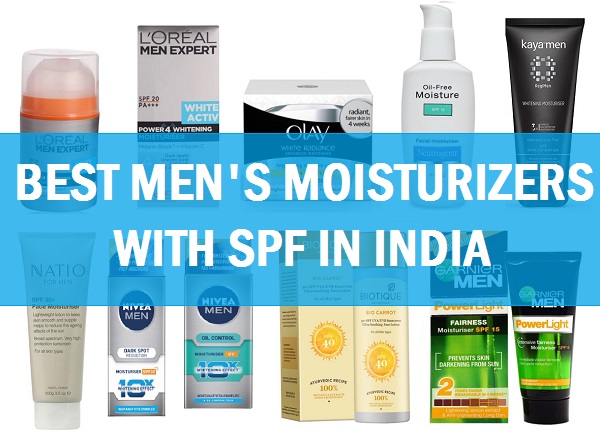 Top Best Moisturizers for Men with SPF
Every man needs a skin cream or a moisturizer to keep the skin in healthy state. Do you know guys that using a decent skin moisturizer can help you get good skin? It also acts as a barrier against the environmental pollution. So, whatever your reason is, but using a men's moisturizer is must. There are men who have got skin which is greasy and oily looking so, for them trying their hands on a moisturizer that is no greasy and non sticky is more appropriate. You can search in the market that these days there are several products for men as well that they can try. This is why a lot of us at times get confused in find the right moisturizer for men and that too with certain features like the fairness, whitening, dark spots removal or SPF. Moisturizers with SPF are used in the day time to get benefits of hydration and sunscreen. Rarely men would try sunscreens on their face therefore it get easier when you get SPF in your moisturizer itself.
9 Best SPF Moisturizers for Men Available in India for Dry skin, Oily Skin
Here we have included the list of the best skin moisturizer for men with SPF that are available in the Indian market. The list has moisturizers which are for dry skin, oily skin and combination skin thus, you can check the one that is more appropriate for your skin type.
1. Nivea Men Dark Spot Reduction Moisturiser SPF 30
Nivea is a leader in making men's kin care and grooming products. Nivea men dark spot moisturizer gives you multiple benefits like the dark spots reduction and also the benefit of SPF 30. Once you apply a moisturizer like this you may not need the separate sunscreen application though it is always the better if you apply. By the way, the moisturizer has a light texture and gets inside the layers of the skin nicely.
The men's moisturizer lightens those dark spots that are left by the pimples and acne on the men's skin. Often shaving also causes the dark spots. So, try to do it gently or read our tips on how to get smoother having for men.
Price: 199 Rupees for 50 ml, Buy it online
Best Acne Scar Removal Creams for men
2. Natio For Men SPF 30+ Face Moisturiser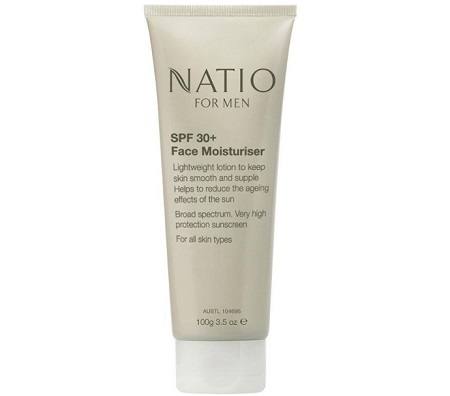 Natio is a well known brand that has recently forayed in India. The brand is known to make men's skin care products as well. This moisturizer for men is with SPF 30. So, men who are looking for a moisturizer that has SPF higher than 15, they can try it. It is made with the pure aromatic and essential oils that moisturizes and tone the skin. The broad spectrum UVA/UVB gives the sun block protection. Price of this Natio men's moisturizer with SPF is high as the tube pack costs 950 Rupees but if you can shell that amount then you may try it.
Price: 2250 Rupees for 100g, Buy it Here
3. Garnier Men Power White Fairness Moisturiser SPF 15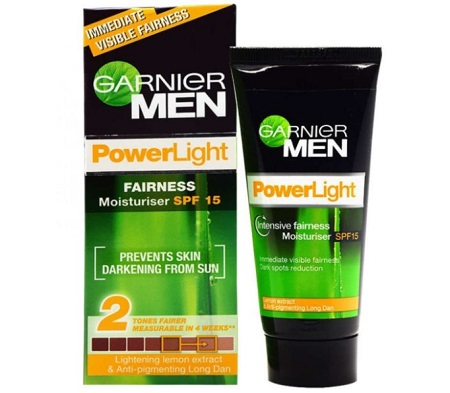 This next moisturizer is for the men who need fairness or skin whitening plus a moisturizer that is light weight along with the SPF. This Garnier fairness moisturizer has SPF 15 which is sufficient for daily use. The SPF content helps protect the delicate uppermost skin layers. It also protects the face from getting darker. Men rides bikes and are involved in the outdoor activities therefore, the skin can get tanned. SPF is beneficial in reducing and shielding the sun damage on the skin. Garnier Men Power Light Fairness moisturizer SPF 15 is enriched with lemon extract and anti pigmentation that gives fairness plus protection.
Price: 190 rupees for 50 ml, Buy this here
4. L'Oreal Men Expert White Activ Whitening Moisturizing Fluid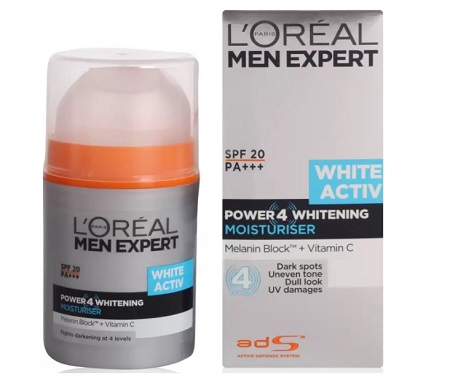 This L'Oreal moisturizer is a fluid basically that gives moisturization plus the protection to the men's face. The face moisturizer has an active defense system. It effectively aids in reinforcing the skin's natural resistance against daily environmental damage and pollutants. The men's SPF laden moisturizer has two active ingredients like melanoblock and vitamin C: These are melanin fighting ingredients that aid in minimizing the over production of the melanin that makes the skin appears darker. SPF 20 gives sun protection. The texture of the moisturizer is light, non sticky and non greasy thus, it is suitable for men with oily face and combination skin as well. The packaging has changed for this.
Price: 875 Rupees for 50ml, Buy it here
5. Olay White Radiance Brightening Intensive Day Cream SPF24 UVA Moisturiser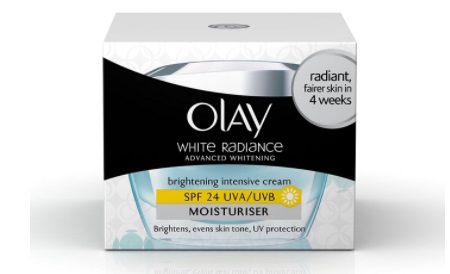 The Intensive day cream is from Olay. It is not specifically a men's product but men too can use it. The cream offers skin whitening with a formula made with whitening actives. Along with the skin whitening men can get SPF 24 protection. It also has Whitening Active Complex consisting of Vitamin B3, Pro Vitamin B5 and Hesperidin. It gets inside the skin layers to reveal a fresh glowing fair complexion. It is suitable for men with all skin types.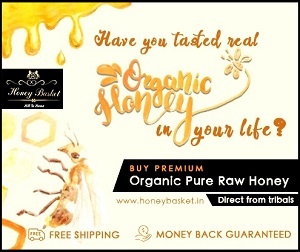 Price: 899 rupees for 50g, Buy it here
6. Neutrogena Oil-Free Moisturiser SPF 15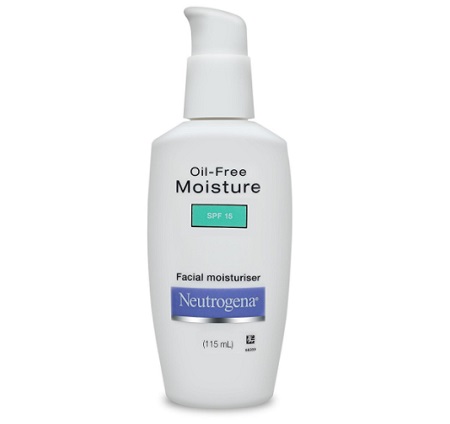 Neutrogena Oil Free Moisturizer is an oil free concoction that is for everyone but men with oily skin will find it more useful especially when the weather gets hot like during summers. It gives SPF 15 for daily skin protection. Men who have acne prone skin too can try it as it has a non comedogenic and dermatologist tested formula. The oil free formula avoids the extra shine. The quick absorb formula eliminates excess oil.
Price: 399 Rupees for 115ml, Buy it online
Best Men's Face Wash For Oily Skin, Blackheads, Acne, Pimples in India
7. Nivea for Men Whitening 10X Oil Control Moisturiser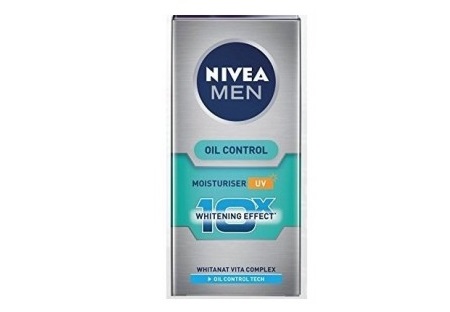 Nivea for Men Whitening 10X Oil Control Moisturiser is for men wanting fairness with sun protection. The10xpower provides oil control and skin whitening. It is ideal for everyday use for men with all skin types. Light formula does not cause acne and also consists sun protection.
Price: 190 Rupees for 50g, Buy it Here
8. Biotique Bio Carrot Ultra Soothing Face Lotion SPF 40+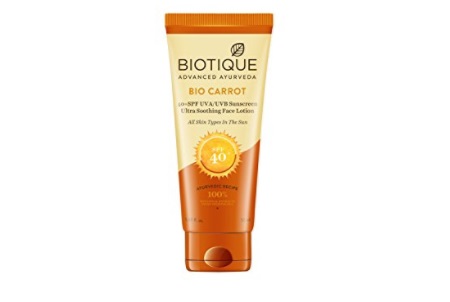 Biotique Bio Carrot Face and Body Sun Lotion SPF 40 is a sunscreen basically which is light and is for dry skin. Men with dry face can use such face sunscreen which acts as moisturizes as well. It heals the men's dry skin and gives sun protection with the SPF 40 factor. It is a rich cream is blended with pure carrot oil, extracts of carrot seed, lodhra bark, quince seed and aloe vera for smooth, fair and moisturized skin.
Price: 220 rupees for 50ml, Buy it Now Here
9. Kaya Whitening Moisturizer with SPF 15 for Men
Kaya Whitening Moisturizer With SPF 15 For Men is a unique blend of actives that give skin whitening for men This is for all skin types. So men with sensitive skin, combination skin too can try this moisturizer.
Price: 75ml for 750 rupees
Best Acne Scar treatment for men
These were the best face moisturizers for men with SPF protection that shields the skin from the harmful and damaging rays of the sun. Some of these are for oily skin while some are for the dry face. You can choose as per the preference and availability in your area. But make sure that you choose as per the skin type.