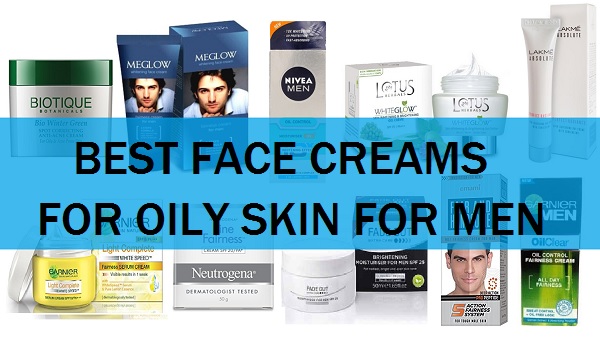 Best Men's Face Cream for Oily Skin in India
Recently few of my friends asked me to suggest some daily use cream suitable for their oily skin. Oily skin can be hard to take care of. Men who have oily skin can experience some trouble with their oily skin. Pimples, acne, blackheads are common on oily facial skin. Skin creams are essential but when skin is already secreting lot of sebum all throughout the day, it gets tricky to decide which is the best face cream for oily skin, So, in this post, we have listed all those face creams which are present in Indian market. If your skin is dry then, please see this post here: Best men's cream for dry skin.
The listed skin cream and moisturizers are suitable for men who have acne prone skin or the skin that is combination. By combination skin, we mean having a skin that is oily on certain areas like the T-zone and dry or normal on the rest of the face.
10 Best Men's Face Creams and Moisturizers for Oily Skin and Combination Skin
Here is the detailed list of the appropriate creams for the men and boys with oily face or combination skin.
1. Garnier Men Acno Fight Whitening Day Cream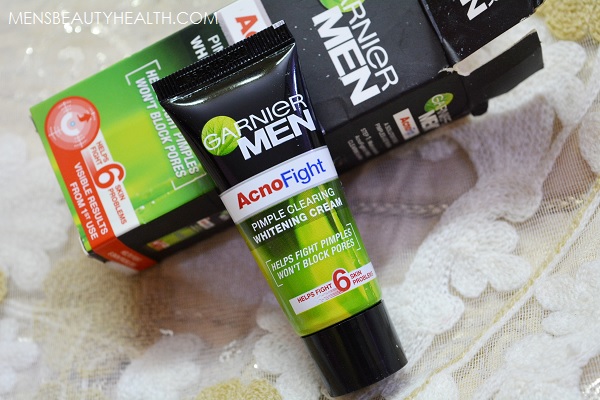 This is no doubt for oily skin, the cream is not just a men's fairness cream but is an oil control cream as well. Men with oily skin suffers from too much oiliness. A lot of oils on the face is also the reason that the skin looks darker. Garnier Men Oil Clear Oil Control Fairness Cream is a light, non-sticky formula that gives visible skin fairness while controlling sweat and oiliness on men's face.
Recommended for: Suitable for combination to oily skin.
Use this cream along with a good Oil Control face Wash for men
2. Meglow Premium Fairness Cream for Men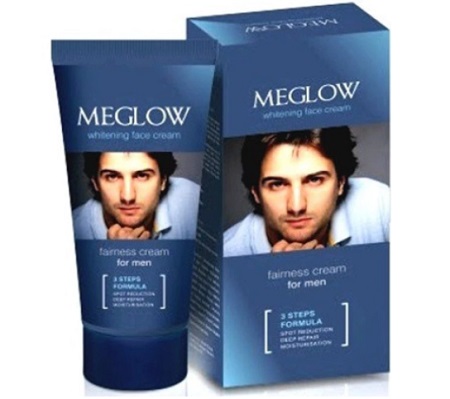 Meglow Premium Fairness Cream for Men has a formula that is ideal for the oily skin. It is developed for the males skin which is tough and needs a skin cream that penetrate deep inside the skin layers. It has the goodness of the aloe vera, sandalwood and cucumber that lightens the men's dark skin. This cream too is a daily use face cream. It can be used by the college going boys and even men who are on their 30s. SPF 15 ensures sun protection and makes it a skin cream for men with SPF.
3. Nivea Men Oil Control Moisturizer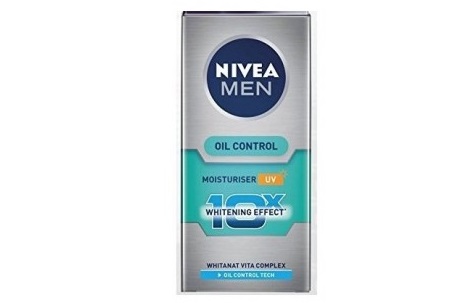 Nivea Men Oil control Moisturizer is designed for men who have oil skin. The light moisturizer controls the oils for 4 plus hours. One can try it in the morning and get oil free skin for 4-5 hour. In winters it performs even better. The non greasy moisturizer works on the skin in a gentle manner and is non comedogenic. It is designed by the dermatologist and is safe for men for daily use. Nivea products are very easily available in stores and on online shopping sites. It's availability is not an issue. It controls oiliness all day long. This moisturizer for men effectively whitens skin and repairs dull and damaged skin.
You can also try some of these Best Ayurvedic Men's Fairness Creams in India
4. Lotus Herbals Whiteglow Skin Whitening and Brightening Gel Cream SPF-25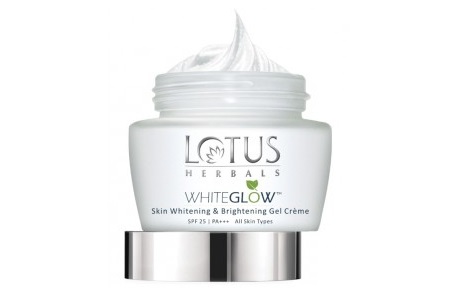 Lotus Herbals Whiteglow Skin Whitening and Brightening Gel Cream has the benefits of a gel and a cream and contains sunscreens to protect the skin from harmful UVA and UVB rays. It is enriched with grape, mulberry, saxifraga extracts and milk enzymes that are known fairness agents. The lightening cream is an easy to get inside the skin kind of cream. Men with oily and dry skin both can use it though we find it much better for the oily and combination skin. It is also safe for the sensitive skin. This is one of the best cream for all the skin types for men.
Also feel free to check these best creams for dark spots in India, in case you're struggling to get rid of the dark spots.
5. Lakme Absolute Perfect Radiance Skin Lightening Fairness Day Crème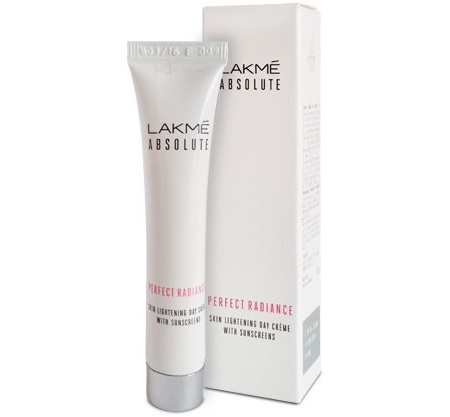 Lakme Absolute Perfect Radiance Skin Lightening Fairness Day Cream is also appropriate for men who have oily skin. The light in texture cream is suitable for men with acne prone skin as well. The active in this fairness cream helps to lighten the spots, marks, blemishes etc. This Skin Lightening Day crème has the precious micro-crystals and skin lightening vitamins that brighten the skin tone.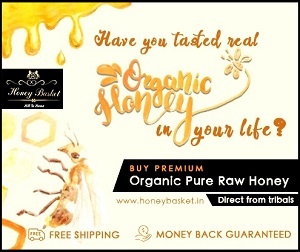 Moisturization is there in this skin whitening cream and fortunately, it does not make the skin greasy or shiny. But point to be noted here is that the cream still does not act as an oil control product since sebum starts to reflect on the skin within 3-4 hours. In winters, this cream performs well when the skin's sebum levels go down.
6. Garnier Light Complete White Speed Fairness Serum Cream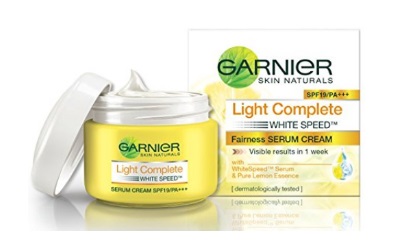 Garnier Light Complete White Speed Fairness Serum is a light cream.  Oily skin may get greasy when heavy skin creams are used on that. So, application of light cream helps to make the skin look less shinier. It also comes with SPF17/PA++ that protects the skin from harmful UVA and UVB rays of sunlight that darkens the skin. Garnier speed white cream offers an instant whitening by making skin two tones lighter. It naturally bleaches the skin by the presence of the lemon essence. Lemon essence is rich in Citric acid that also makes the skin lighter. Speed White serum has SPF 19 PA+++ for UV protection. This is one of the best face cream for oily skin during summers.
7. Fair and Handsome Fairness Cream for Men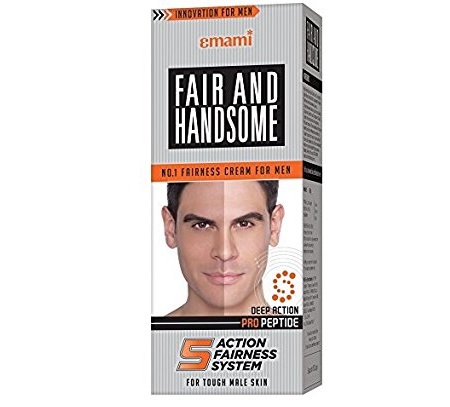 This men's cream is from Emami. Emami Fair and Handsome cream is endorsed by Shahrukh Khan but the cream is not that useful for dry skin. This is why it is being included in this list where the products are for oily skin. The thick texture of this Emami cream blends by few strokes on the face and massaging. This also available in winter version too.
8. Fade Out Brightening Moisturiser for Men SPF 25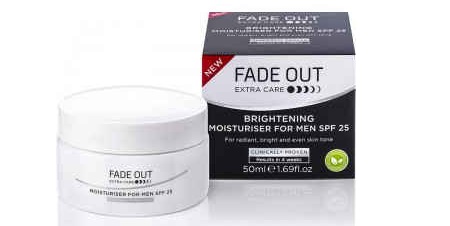 Fade Out Men Brightening Moisturizer is made for the rough and tough male skin. It is designed to cure those dark spots which make the skin look patchy. The texture of this cream is easy to penetrate in the upper most skin layers. Apart from being a good daily use skin cream for oily face, it also lightens the blemishes and dark spots. Natural actives reduce the pigmentation and the patches on the skin. It leaves skin bright, radiant and even in toned. It contains SPF25 and UVA/UVB filters.
9. Neutrogena Fine Fairness Cream SPF 20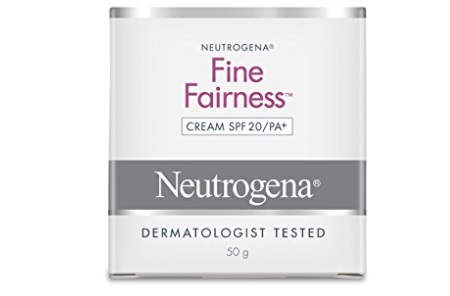 Neutrogena Fine Fairness Cream with SPF 20 is a daily use skin moisturizing whitening cream with exclusive Healthy-White complex. It helps boost the skin lightening process and reduces the appearance of melanin that darkens the skin color. Daily moisturizing whitening cream for fair, healthy and radiant glow. It has UVA and UVB protection and dermatologist tested.
10. Biotique Bio Winter Green Spot Correcting Anti-Acne Cream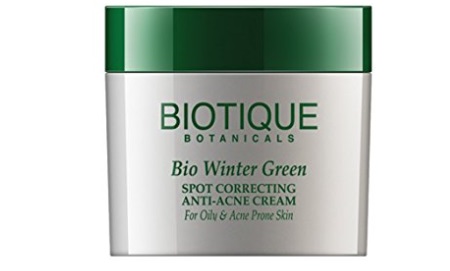 The Biotique bio winter cream has a thick texture that that has the ingredients like Daru haldi (Berberis aristata), Choti dudhi (Euphorbia thymifolia), Gandhpura (Gultheria fragrantissima), Neem (Melia azadirachta indica) and Cream Base. This soothing spot correcting cream helps clear up blemishes and initiates pore-less, flawless skin-without flakiness or dryness.
These are the best face creams and moisturizers for men for oily skin in India. Which is the one that you like?