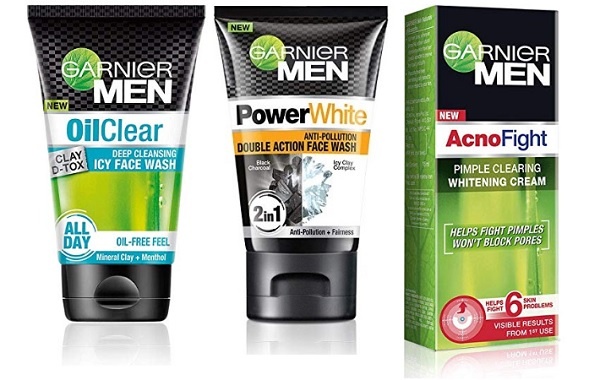 Garnier Men is one of those skincare range is that is made for men only. The brand has evolved and offered multiple products for men. In fact, Garnier is the first ever skincare brand that formulates products for men. This is why the brand has become extremely popular amongst men of all age groups. Garnier Men's range has products like Face Washes, Skin creams, Deodorants and other grooming products for men. In this post, I have put together the best Garnier Men's products which you can try. And I am sure you must have tried few of these already.
Best Garnier Products for Men in India
1. Garnier Men Power White Anti-Pollution Double Action Face Wash
Garnier Men Power White Anti-Pollution Double Action Face Wash is a double action product which gives you multiple benefits. As it contains black charcoal, it tames the pollution effects and detoxifies your skin. By eliminating the surface level impurities and particulates, it certainly clarifies the complexion. And this is why; it actually prevents the formation of acne and breakouts. College boys who've oily skin will relate to this that after returning from college, skin looks dark and dull with oils all over the face during summers. Therefore, as it also contains Icy Clay Complex, it absorbs excessive oiliness from your skin. Moreover, this is a very affordable and the best face wash for men in India. You can apply it twice in a day for bright looking skin.
2. Garnier Men Acno Fight Pimple Clearing Whitening Day Cream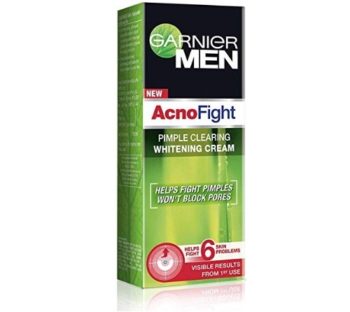 Garnier Men Acno Fight Pimple Clearing Whitening Day Cream is rich in acne fighting ingredients that does not block pores. It effectively helps fight the common 6 skin problems, which is why you get visible results right from the first use. Clearly, it's the best Garnier face cream for men. So, basically when you have oily and acne prone skin, applying a skin cream can make your skin oily and poses a threat of breakouts. This is why, a cream like this with pimple clearing features would definitely help. Not just that, it prevents the acne on your face but also treats the existing ones. Apply it twice in a day after thoroughly cleansing your skin with a suitable face wash. This is one of the best day creams for men in India for oily skin.
3. Garnier Men Oil Clear Clay D-Tox Deep Cleansing Icy Face Wash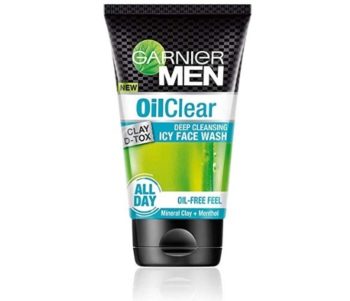 Garnier Men Oil Clear Clay D-Tox Deep Cleansing Icy Face Wash helps you in getting oil-free skin during summers. It contains Mineral clay and Menthol that cools the skin post washing. It gives an oil-free feel all day long. Having said that, it can be an exaggerated claim however, This Garnier Men product does effectively cleanse the oil to make your skin oil-free for a lot longer. Actually, Menthol and Clay both absorbs the oils without drying your skin. Therefore, to get clean and fresh looking skin, clay rich face wash is surely a good solution for men of all age groups. Lastly, it's a purifying face wash for men which can be applied twice in a day.
4. Garnier Men Acno Fight Pimple Clearing Gel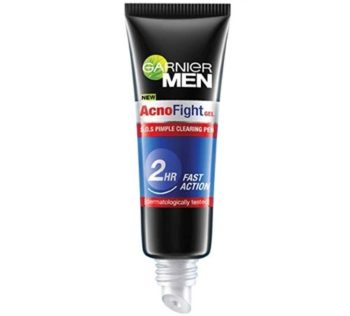 Garnier Men Acno Fight Pimple Clearing Gel is latest as compared to the other products that I have listed. It is actually a pimple clearing gel with has a slanted tip for better application of the anti pimple gel. The gel has pimple clearing formula that gives fast results within just two hours as per the claims. The light texture is light weight and gets absorbed quite fast. It reduces the redness of the pimple and acne. As it gets absorbs nicely in the skin without leaving any residue, it can be applied twice in a day. At night, before going to bed is the best time that this product can work to fight acne causing bacteria. 
5. Garnier Color Naturals Men Hair Color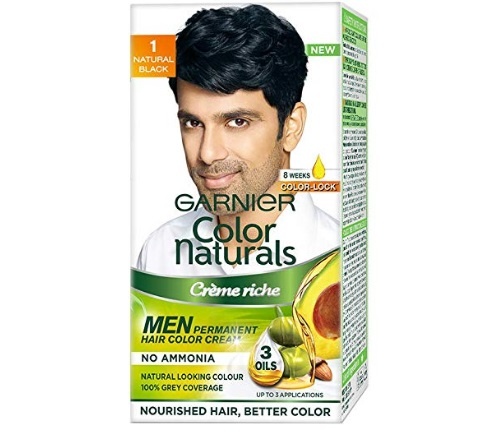 Garnier Color Naturals is a hair color made For Men. It is a permanent hair coloring cream which is hair color for men. It gives you natural looking color that last longer and is rich in three micro essential oils. With olive oil and almond oil, it nourishes your hair while it colors. It gives you 100% grey coverage. It's a very affordable product for not just for hair coloring but hiding the grey hair.  It comes with a cream colorant and a developer along with disposable gloves. It is very easy to apply and gives your results within 30 minutes. It's available in 3 shades and is one of the best products of Garnier.
6. Garnier Skin Naturals Light Complete Serum Cream SPF 19
Garnier skin Naturals light complete serum cream SPF 19 which gives it a decent sun protection. It contains 3 times more vitamin C which helps to reduce the dark spots and is a dermatologically tested product. Having said that, it is safe for oily acne prone skin, however it is not extremely moisturizing for men with dry skin. As it lightens the dark spots, it is bound to give you naturally flawless skin. The moderately thick cream takes few minutes to get massaged on your skin. The day cream is a suitable day cream to get rid of blemishes.
7. Garnier Men PowerWhite Anti-Pollution Brightening Moisturiser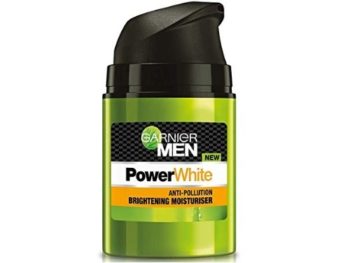 Garnier Men Power White Anti Pollution Brightening Moisturizer is also a latest product which has goodness of Lemon and Green Tea. It also contains UV filters to provide you sun protection while you are out under the Sun. Its light weight formula gets absorbed in the skin layers nicely and doesn't leave a residue on your skin. It brightens your dull skin and protect from the pollution. In fact I would highly recommend that you must apply a good skin cream for daytime. The reason is, as it creates a shield on your skin, due to which the pollution particles and toxins does not harm your skin as much. You can also expect some brightness of the skin after applying this moisturizer but don't expect anything extra ordinary because it's only a decent moisturizer for everyday use. 
8. Garnier Skin Naturals Light Complete Night Cream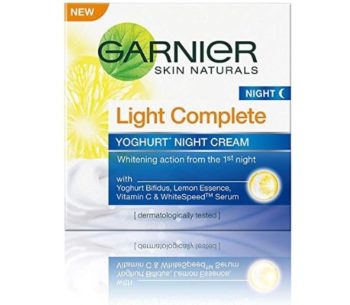 After giving you choices for the day creams, it's time for a decent night cream. Garnier formulates Light Complete Night Cream that has Lemon Essence with Yoghurt and Vitamin C. As its dermatologically tested, it's pretty safe for all skin types. However, I feel that it's not as moisturizing when your skin is already dry, specially during the dry winter season in India. It's only formulated to keep your skin fair by eliminating all that dark spots, blemishes etc. However, if you are looking for a skin cream which should be adequately with anti-aging benefits then this is not that. It's a cream that people who are looking for fairness or brightness can use.
These are the best Garnier products for men in India. Most of these products are very affordable and works really well for the price paid. I would advise you that you choose a good face wash considering your skin type and a cream. As most of the Garnier face washes are for oily and acne prone skin, it doesn't mean that they won't work for normal to dry skin. As I have personally felt that the Garnier face wash for oily skin also worked pretty well for moderately dry skin as well.