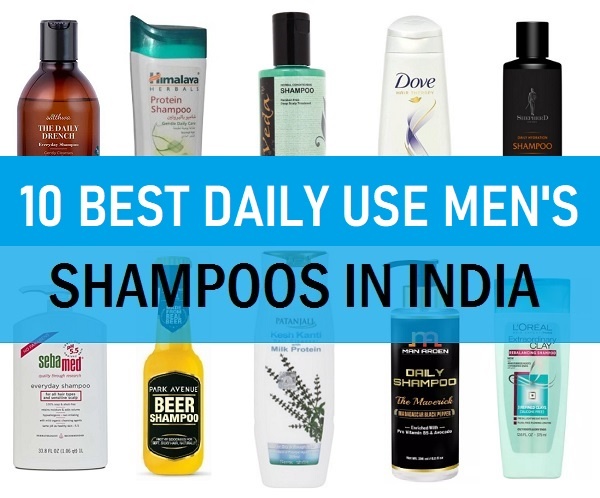 Mild Daily Use Shampoos. Shampoos can clarify the scalp and hair but using the shampoos on daily basis cannot be a thoughtful decision. Although some of us do feel the need to try hair cleansers daily. Generally men would wash their hair everyday and the fact is that use of chemical based harsh shampoos is not just recommended for daily use. So, what can be tried?
For daily use even the hair specialists have suggested to use shampoos which are mild and gentle in nature, like those herbal shampoo or the shampoos which are purely organic in nature. Other than that there are shampoos which are designed, keeping in mind about the fact that they will be applied daily. And due to this their ingredients and formula are kept extremely mild for the scalp. Features of a good daily shampoo for both men and women are simple. That it should not strip down the natural oils for the scalp and the hair which can leave the hair dry and rough.
Top Everyday Use Shampoos for Men with reviews available in India (2023)
Here is the list that our team has created which includes all those shampoos that can be used everyday by men. So, while you get the clean and oil free scalp, it also frees you from the worry that it may leave you with rough and dehydrated hair. Coming back to these products, they are easily available in stores and shops. If not then online their availability is good hence, can be bought from there.
1. Satthwa Daily Drench Everyday Shampoo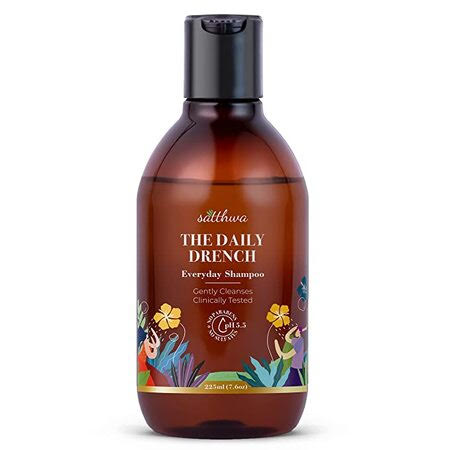 This shampoo is designed for daily use and is perfect for those who want a gentle, yet effective, cleansing experience. Its unique formula is free of sulfates and parabens, making it suitable for all hair types, including color-treated and sensitive scalps. What's more, it has a pH of 5.5, which is the same as your scalp's natural pH, ensuring that your hair and scalp are not stripped of their natural oils. The shampoo foams up well, making it easy to distribute and lather throughout your hair, leaving it feeling clean and refreshed. With its mild yet effective formula, this shampoo is a must-have for anyone looking for a daily hair care solution that is both gentle and nourishing.
2. Man Arden Daily Hair Shampoo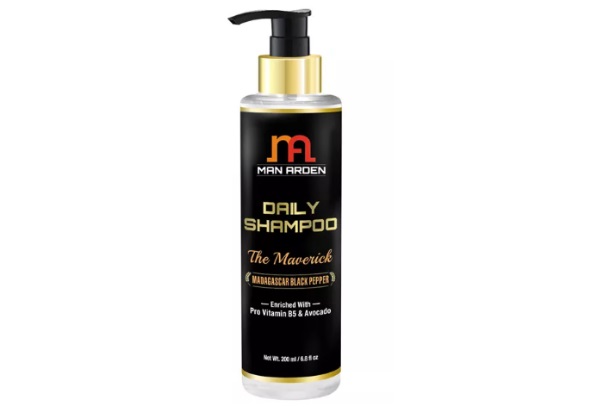 Man Arden is a men's skin care and hair care brand. They make products exclusively for men like the cleansers, creams, shampoos etc. So, when you are looking for a shampoo for men for everyday use, then this can be used. This man Arden daily shampoo has the deep clean technology and formula that deeply cleans the facial skin and refreshes the hair.
Features and Review
Good packaging

It invigorates the hair with a refreshing effect

Gentle formula for everyday use

It is SLS, sulphate free

Shampoo is free of the silicon, paraben and mineral oil

Enriched with multi vitamins the shampoo nourishes the hair

Promotes healthy scalp and hair
Recommended for: Men of any age with any hair type especially those with hair thinning, dull or damaged hair
3. Patanjali Kesh Kanti Milk Protein Hair Cleanser Shampoo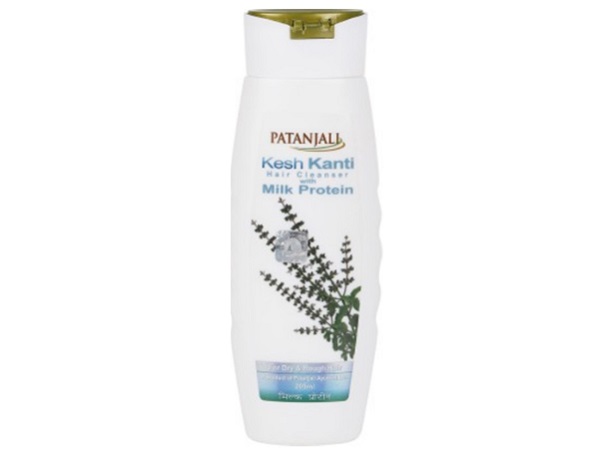 Patanjali Kesh Kanti Milk Protein Hair Cleanser is safe for daily use for men as well as women. The extra lathering properties make the hair cleaner and shinier. This gives bounce to the dull hair and hence is pretty safe for daily use. Contents of this Patanjali shampoos are Bhringraj, myrtle (mahendi), acadia concinna (shikakai) and Emblic myrobalan (aola), Soap nut (reetha), Margosa (neem), Indian valerian (tagar), esculent fiacurtia (bakuchi) and turmeric.
Features and Review
Provides strength to the hair

Removes oils and sebum

Minimizes hair loss and premature grey

Treats dryness and dandruff

Good smell
Recommended For: Suitable for all hair types
4. Sebamed Everyday Shampoo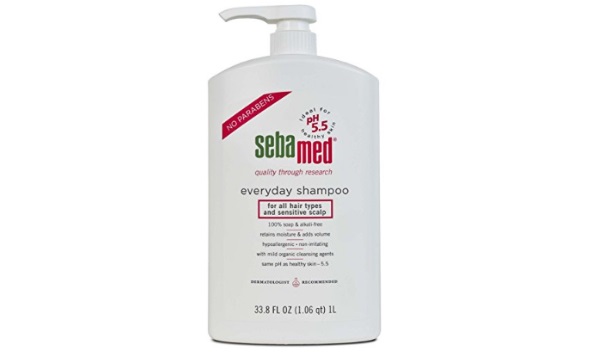 Sebamed Everyday Shampoo is gentle enough for daily use. The shampoo can be used by boys and girls both. With the mild formula, the hair cleanser does not strip natural oils on the scalp as doing so can irritate scalp. Therefore, it is not like those as soap-based shampoos. Sebamed Everyday Shampoo is a unisex product which has been developed by dermatologists
Features and Review
Botanically based shampoo

Protects the natural pH balance of your hair and scalp

Gentle enough for everyday use

Has mild formula which is safe of all scalp types

Does not strip natural oils

Gives foaming yet mild lathers
5. Shepherd for Men Daily Hydration Shampoo
Shepherd Daily Hydration Shampoo is made for men only. There are quite number of brands that are coming up with men's products recently. It is good to know them!! Extremely mild yet effective shampoo that has been formulated for the men specially. The shampoo has those oh- so smooth lathers that not just cleanse the deep seated dust, impurities etc but also makes the hair lively. It lifts up the product build up like charm and leaves the hair free flowing. We understand men too wish to have smooth and silky hair but the pollutants can take toll on the hair health. Therefore, such mild daily applied shampoos can be appropriate. The shampoo is formulated using the Ginseng root extract, Hydrolyzed Soy Protein and 12 other botanical extracts.
Features and Review
Shampoo is good to lather

Extremely effective for men to get rid of the pollutants

Eliminates excess oils to leave hair feeling fresh

Sulphate, Phosphate and Paraben free shampoo

Has natural plant extracts

Infused with Peppermint essential oil

Expensive
6. Dove Daily Shine Shampoo       
 
Dove is a very popular brand when it comes to soaps. The moisture rich Dove soap bar is still the favorite of people with dry skin. But Dove also makes some excellent shampoos. Dove daily shine shampoo as the name suggest, is a shampoo for every day hair cleaning. But what makes it gentle and effective? The shampoo is made with the micro moisture serum formula that aids in repairing the rough hair cuticles and restores its ability to reflect light. The  daily use shampoo leaves your hair soft and shinier.
Features and Review
Gentle on all hair types

Hair appears healthy and lustrous

Mild shampoo protects normal hair from damage and environmental stress

Contains a nutritive serum and micro moisture

Provides a protective coating on hair

Inexpensive
Recommended For: All hair types
7. Aloe Veda Mild Nourishing Shampoo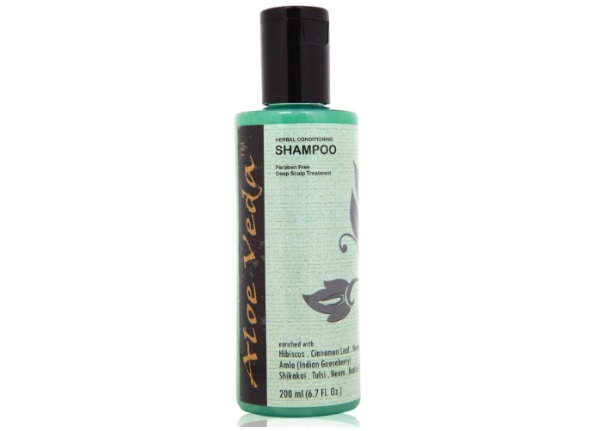 Aloe Veda Mild Nourishing Shampoo has Panthenol, biotin and aloe vera leaf extracts. When we hear aloe vera, it seems like the product is safe and suitable for everyone. The mild daily use shampoo has a very pleasant smell which is perfect for those who wish to have gentle smell in their hair post the shower. The shampoo is not like the harsh chemical loaded shampoos or hair cleansers that can disrupt the pH balance or can make the hair dry. In fact, this shampoo can be used by men with thin hair and even for the oily hair.
Features and Review
Mild cleanser for hair

Contains aloe vera and biotin that refine the hair strands

It is paraben free, product

Not tested on animals

Hair gets a fuller appearance

Claims to make hair grow faster

Restores pH balance
Recommended for: Suits all scalp and hair types
8. WOW Apple Cider Vinegar Shampoo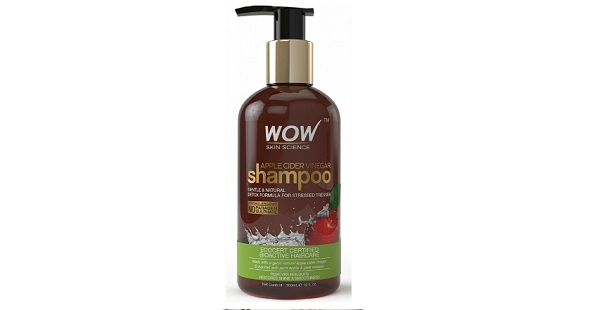 Have you ever heard of using Apple Cider Vinegar for hair? Yes, ACV is used for hair care as well. Especially for the oily hair and hair that has dandruff. Apple Cider Vinegar has anti bacterial and anti inflammation properties along with the multiple anti-oxidants. WOW organics apple cider vinegar unleashes this power of this natural product. It is gentle and natural shampoo that detoxifies the hair and scalp on regular use. Capable of removing the oil and sebum build up the shampoo is perfect for everyday use by the men with oily hair and scalp. Even for the men with dandruff in their hair can also seek help from this shampoo.
Features and Review
Has ultra detox formula for stressed tresses removes buildups

Restores shine and hair smoothness

Made with natural apple cider vinegar

Contains no sulphates or paraben

Reverses the hair damage due to styling products and sun rays

Sulphate Free and Paraben Free
Recommended for: All hair types
9. Himalaya Herbals Gentle Daily Care Protein Shampoo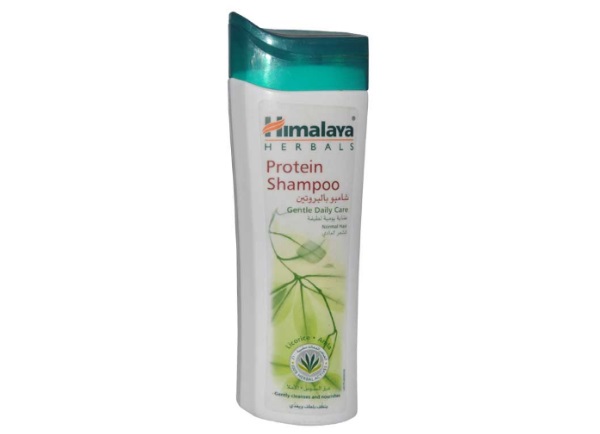 Wish to use herbal shampoo? Then do try Himalaya! Himalaya's Gentle Daily Care shampoo is just perfect for everyday use? And on the plus side, the product is also a very affordable product. These days when the most shampoos have harsh ingredients and are high in chemical content then using shampoos which are chemical free are the best bet.
Features and Review
Suitable for everyday hair care

Strengthens hair roots and cleanses the scalp

Reduces hair fall

Protein rich shampoo for men and women

Herbal and clarifying

No harsh smell of chemicals
10. Organic Harvest Daily Shampoo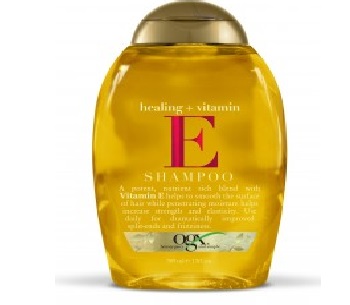 Organic Harvest Daily Shampoo is made to be used daily for the hair washing. The efficient formula keeps the hair cleaner and smoother.
Features and Review
Safe for daily hair cleansing and using

Good for all hair types

Gives rich lathers for elimination of sebum and oils well

BSE free shampoo

Helps repair damage

Gives new life to hair

Expensive and not a very easily available product
Recommended for: All hair types especially damaged hair
These are the best shampoos for everyday use. Have you tried any of these? Which is your most favorite shampoo? Make sure that you only trust shampoo which is gentle and mild since while using hair cleansing products daily can make the hair dry.