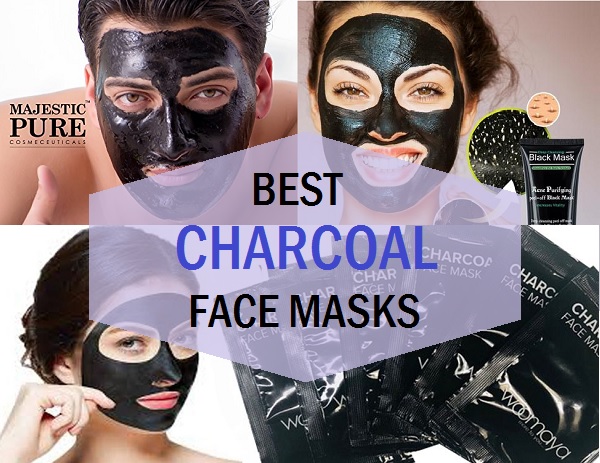 Best Charcoal Face Masks in Indian Market (Peel Off mask) For Oily skin, Dry Skin and Acne
Charcoal is the popular thing these days. Everyone is raving about it and the products that contain charcoal in them like the charcoal face masks. But why people are going crazy about this one product. These products contain activated charcoal. Now, you must be wondering what is activated charcoal? That is simply the carbon, charcoal that has the ability to soak up multiple times of the impurities. They have this high absorptive surface area that makes them so useful. Now which are the best charcoal peel off face mask all the regular charcoal Mask in India. Here, I will be sharing the best charcoal peel off masks available in India along with the benefits and precautions that you must follow. Choosing the right charcoal face mask is important as there are different variation like activated charcoal with other ingredients that you must look for. That has their own different pros and cons for different skin types.
But what does activated charcoal do for your skin?
Activated charcoal as I mentioned, has the ability to draw harmful chemicals, impurities, bacteria, sebum and dirt along with the micro-pollutants from the skin's surface. It makes the skin clear and glowing.
Now you must be wondering, Can charcoal mask whiten the skin? While it does make the skin glowing and bright, it treats the acne and pimples and also minimizes them so, indirectly it can make skin fairer. Application of activated charcoal brightens the skin and makes skin flawless. If you are wondering how often you can use a charcoal facial pack or mask when using their once a week is more than enough.
You can grab them at the convenience of your home. I have also linked the buying options as well, that you may consider.
How to Charcoal Face Masks Work? Benefits:
Draws Impurities and dirt: Impurities and sebum clogs the pores which can then lead to those skin problems that none of us wish to check in the mirror. Charcoal helps clear the pores by sucking all the sebum and impurities. It eliminates the pollutants and skin looks smoother and better. Charcoal face masks pulls outs the dirt and attracts them like magnet.
Sucks makeup traces: For women who rely on makeup on day today basis blocked pores can become a big issue. Trapped makeup traces, is the problem that leads to blemishes. Use of charcoal face products can help in keeping the skin clear. It removes the traces of makeup that even the most effective makeup cleanser can't reach at times.
Reduces Acne and Oily skin: For men with oily skin, this can be magical as it soaks the toxins, excessive sebum and also prevents the acne and pimples.
Removes blackheads: Activated charcoal gives gentle exfoliation and this helps uproots the whiteheads and blackheads. It also prevents the formulation of new blackheads on the skin areas like nose, foreheads, chin etc.
Brightens the skin: Regular use of activated charcoal can help to whiten the skin. It heals the blemishes, reduces the scarring and gives radiance on the skin.
List of Top 15 Best Charcoal Peel Off Face Masks in India (2022)
1.

Aroma Magic Activated Bamboo Charcoal Pack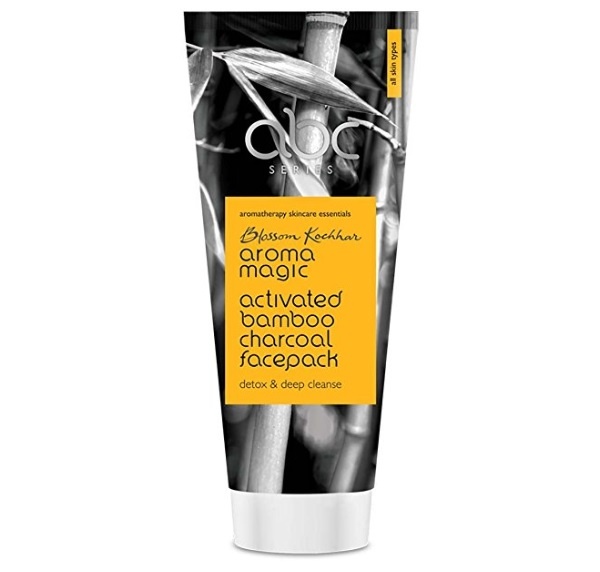 The Charcoal mask is made using the vitamins and minerals that boost the clarity of a dull skin. The product is safe to be used and has the charcoal that squeezes out the impurities and excessive sebum off your skin. It easily removes the blackheads and clarifies the facial skin. It is one of the best charcoal product for blackheads and oily skin. You can also take a look at the best charcoal soaps in India
Features and Reviews
Removes blackheads

Increases the glow

Has glycerin to not dry the skin
2.

Healthvit Activated Charcoal Purifying Peel-Off Mask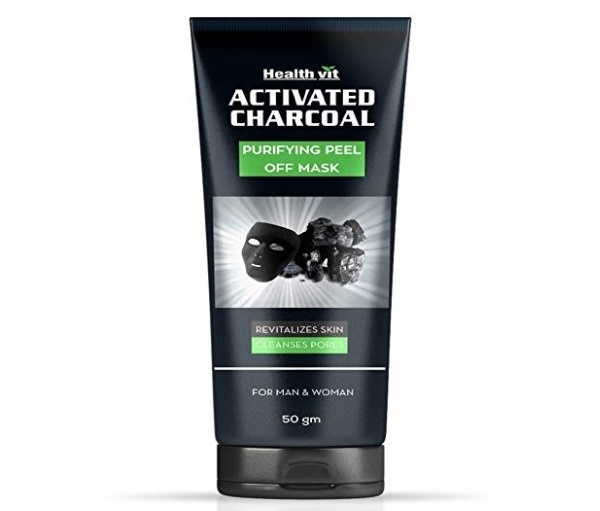 Healthvit Charcoal mask is packaged in a tube pack which is considered easy to use. This is medium in consistency and can be applied easily.  Let this get dry and peel off gently. The charcoal mask uproots those hard to remove blackheads. Getting rid of the acne is easy with this as it contains tea tree oil and rosemary oil. It's the best charcoal mask for clearing acne. 
Features and Reviews
Removes dirt, dust and Unwanted particles

High in anti-oxidants

Has calendula extracts for irritated skin
3. WOW Activated Charcoal Face Mask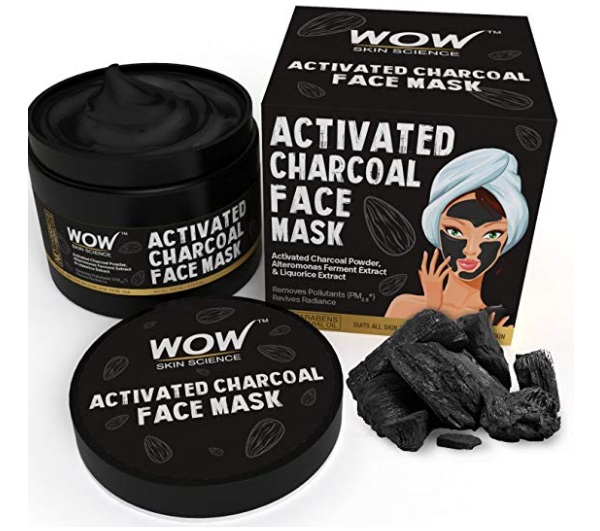 It is an activated charcoal face mask that purifies your skin deeply. It has high absorbing properties that clarify the pores. It is suitable for the deep cleansing and fighting acne. It is the washable mask and one of the best charcoal packs in India. Later in the post, I have listed the peel off version as well. So, you can try the one you are comfortable with. The brand is easy to avail online.
Features and Reviews
Gently removes sebum, dirt and toxins

Shrinks the pores

Combat blackheads and whiteheads

Purifies and detoxifies skin

Very affordable
4. Inatur Charcoal Face Mask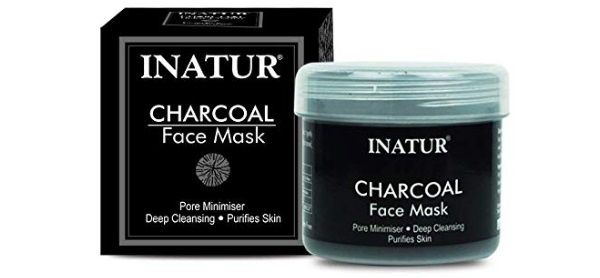 The face mask is made using the activated charcoal, betonite clay and china clay. So, basically its charcoal plus clay masks. This is perfect cleanser for very oily skin that needs oil removal. At time, very oily skin gets prone to blackheads and whiteheads. A peel off mask like this aids in cleansing the skin properly. The charcoal face mask help you get glowing skin like before any party etc. It is also good for summers season as it contains clay to soak up the oils.
Features and Reviews
Detoxifies the skin

Good tube packaging

Easy to apply as not very thick

Good for oily to acne prone skin types
5. Urban Gabru Charcoal Peel Off Mask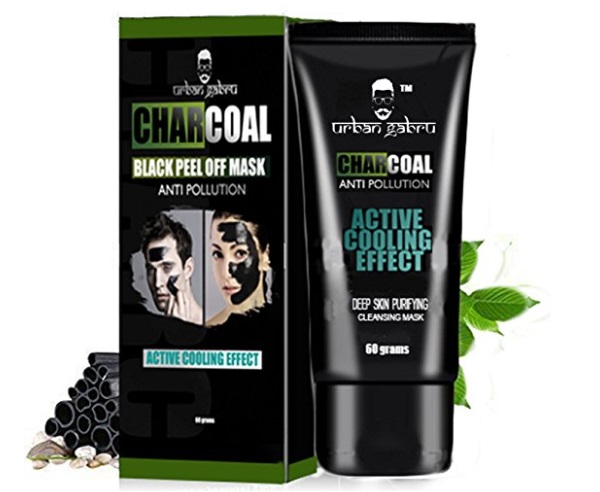 Urban Gabru is a brand that create men's grooming products but that does not mean that this cannot be used by girls.  This charcoal face mask is a high quality product that sucks out the micro pollutants from the skin along with the dirt, sebum and microbes. It heals the acne and pimples by exfoliating the skin. It is the best charcoal face mask for men.
Features and Reviews
Thoroughly cleanses the skin

Uproots the blackheads

Made with natural ingredients

Ideal for oily skin

Tightens the skin pores
6. Beardhood Charcoal Peel Off Mask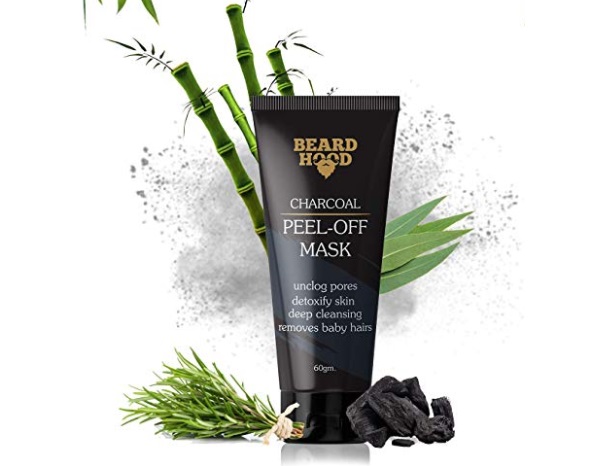 Beardhood masks has a formula rich in the vitamins, essential oils and charcoal. This charcoal peel off mask is used to deeply purify the clogged pores and scrubs the face.  With the powerful healing oils, it also works as an anti-aging product. It has bamboo extracts that removes the dirt and extra oils. It is suitable for sensitive skin and combination skin too.
Features and Reviews
Has bamboo charcoal extracts

Easy to peel off

Does not dry out the skin

Made from natural and safe ingredients

High adsorption capacity

Effectively removes blackheads
7. Beardo Activated Charcoal Peel Off Mask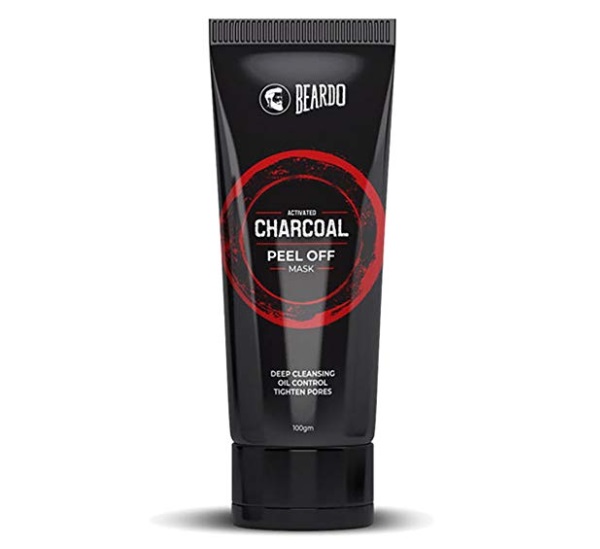 Beardo's face mask is an effective combination of charcoal, glycerin and aqua. It gently exfoliates the skin and gives you thoroughly cleansed face. While it does that, it also makes sure not to strip the skin off the natural moisture off. It has got good ratings and is the best charcoal peel off mask in India for men.
Features and Reviews
Eliminates dirt, oils and toxin

Unclogs skin pores

Deep cleanses the skin

Lightens skin tone
8. Mamaearth Charcoal, Coffee and Clay Face Mask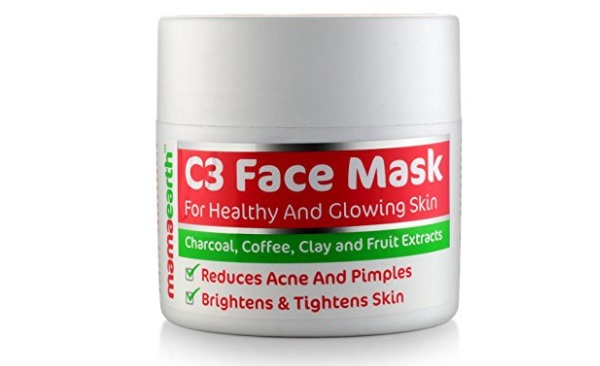 It is not just the charcoal face mask but also made to remove the sun tan. It contains the coffee and clay. So, basically it'll help you get rid of the blackheads and dead skin cells. While you can easily apply this, it shows instant results. The masks also lightens the dark spots as it has papaya, mulberry and cucumber fruit extracts.
Features and Reviews
Reduces skin inflammation

Treats acne and pimples

Has coffee, clay and flower extracts

No parabens, sulfates and chemicals
9. Wishcare Purifying Activated Bamboo Charcoal Peel Off Face Mask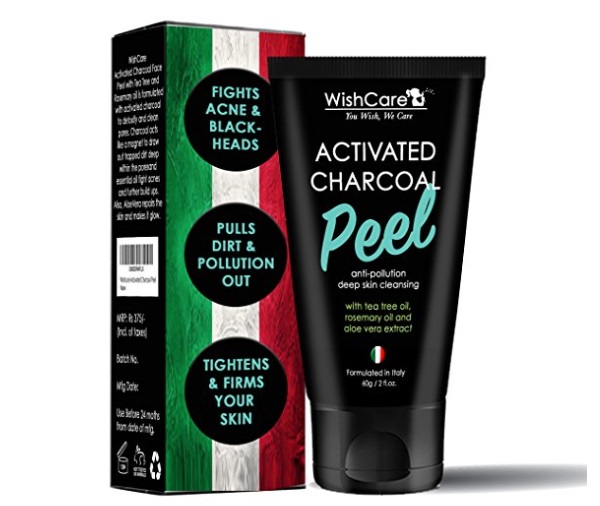 Made from the premium quality ingredients makes the product is useful in many ways. The bamboo charcoal extracts purifies the skin and removes the dead skin cells.  It contains tea tree oils to cure the acne and pimples. Aloe vera also maintains the skin's elasticity and moisture levels.
Features and Reviews
Makes skin clear

Removes the blemishes

Good for whiteheads and blackheads

Works on oily skin and acne prone skin

Unisex product
10. The Man Company Activated Charcoal Peel Off Mask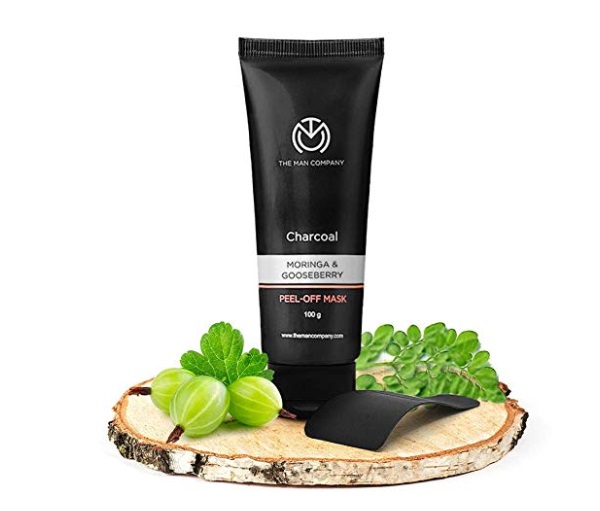 The peel off charcoal mask also aids in reducing the sun tanning and skin darkening. While you get the skin soaked up in natural ingredients, it also detoxifies the skin. The product also lightens the pigmentation and prevents acne. This makes it one of the best charcoal peel off mask in Indian market.
Features and Reviews
Rich in charcoal

Has moringa and gooseberry

Skin gets smoother

Free of dead skin cells

It peel offs the impurities and sebum

Suitable or all skin types
11. WOW Activated Charcoal Face Mask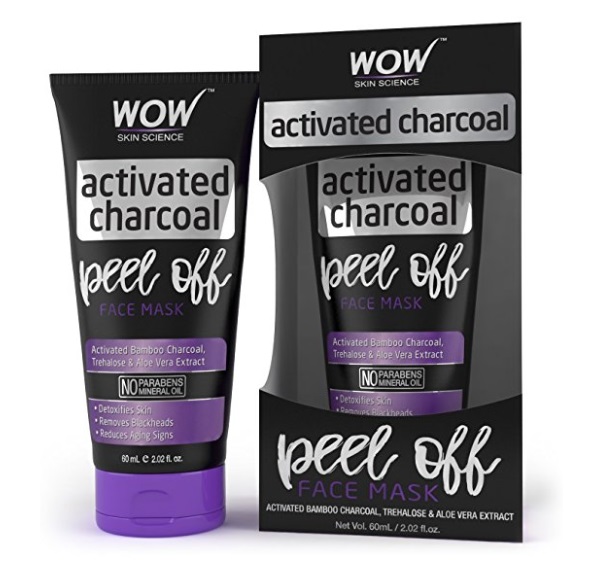 With dirt and sun rays, the skin also becomes blemished. This charcoal mask brightens the skin by eliminating the tan and dad skin cells. It is enriched with 3 key bioactives i.e. Activated Bamboo Charcoal, Trehalose and Aloe Vera Extracts.
Features
Works on hyper-pigmentation

Gets rid of the dullness, acne and fine lines

Aloe vera extracts moisturizes the skin

Makes skin brighter
12. GutarGoo T-Zone Black Peel Off Mask with Activated Charcoal
GutarGoo T-Zone Black Peel Off Mask has charcoal with aloe vera and oats. It has essential oils like Sandalwood and Rosemary Essential Oil. On top of that, it also has Japonica Flower and mint extracts. So, overall, this is not just for the oily skin but is also suitable for the dry skin. Else most of the charcoal based masks can dry the skin.
Features and Reviews
Has no Sulphur (SLES)

Free of Parabens

Has herbals extracts

Fight acne and blemishes

Tightens Pore
13. Mond'sub Peel off Blackhead Remover Black Mask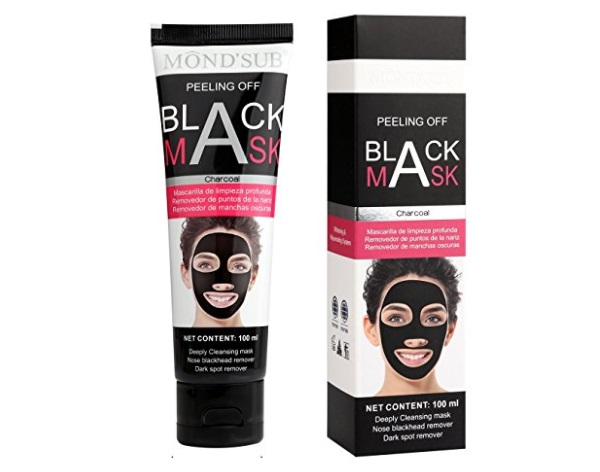 If blackheads are your primary concern then use of this peel off masks can be helpful. It has the Volcanic Mud and Charcoal Powder. It quickly penetrates into the bottom of the skin and thoroughly cleans the clogged pores.
Features and Reviews
Makes skin clearer

Has 100% natural ingredients

Prevents skin blemishes
14. Greenberry Organics Daily Detox Charcoal Gel Face Mask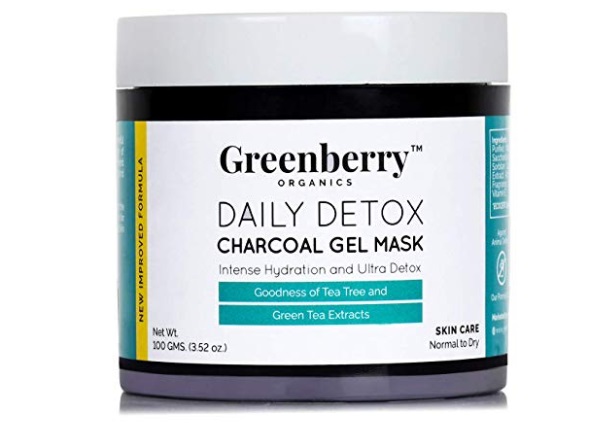 Greenberry Daily Detox Charcoal Gel Face Mask is a gel mask and has the qualities that any mask has. It is a blend of the 7 natural ingredients aloe vera juice, activated charcoal, pentavitin, green tea extract, jojoba oil, clove oil, tea tree oil, vitamin C, gel base and vitamin E. It is suitable or people with dry sin who are thinking about trying charcoal mask.
Features and Reviews
Removes dirt and grime from facial skin pores

Adsorbs free radical particles

Dislodges pollutant particles
How to apply:
Wet the face and apply the masks evenly on the skin. Use fingers to spread the mask on the face. Keep 5 to 10 minutes and wait. Wash off.
15. VLCC 7X Ultra Whitening and Brightening Charcoal Peel Off Mask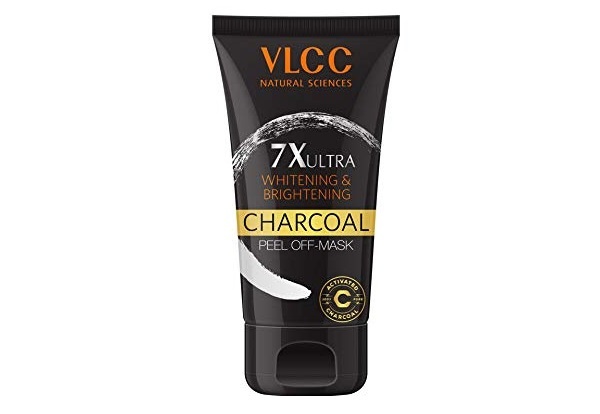 The brightening peel off mask contains activated charcoal, Mulberry extract, turmeric oil and Vitamin C. Activated charcoal gets rid of the toxins and pore clogging dirt and bacteria. It removes blackheads and gives you clear skin. Mulberry extract makes the skin glowing by preventing the occurrence of blemishes. It also regulates melanin production which keeps the skin away from dark spots and dullness. Turmeric oil is known for its anti inflammatory properties therefore soothe the irritated skin. It also fights and prevent acne. Vitamin C is known to whiten and brighten your skin tone by reducing the melanin pigment production.
Now, let's know how you should apply charcoal masks. You see it may not be as easy since there can be some pain associated.
How to use charcoal masks
Wet the face so that it gets damp

Take the charcoal masks on the finger pads

Rub and smear all over your face.

The application should be uniform

Do not make a very thick layer as it can be painful while peeling it off

Avoid the areas with hair like your eyebrows, moustache (for men)

Wait for 10-15 minutes for it to get dry

Peel it off from top to bottom

Wash the face once with mild water

Do not use soap
Precautions to take 
Always damp the face with water

Never put a too thin or too thick layer as it gets difficult to remove

For a new product, always apply that near the ear are to perform the allergy patch test

Tie the hair, if you've got long hair.

If you experience any itching, redness or irritation then remove it with water.

Never apply near your eyes, eyebrows or delicate areas or skin areas with hair.
Some Queries regarding the Charcoal Face Masks
Are charcoal face masks really effective?
Yes, they are quite beneficial in getting rid of the blackheads and in preventing them. These makes keeps the skin oil-free and impurities free. The peel off mask adsorbs the micro-pollutants that make skin dull and lifeless. To brighten the face, a charcoal mask is worth trying product.
How many times in a week, we can apply charcoal mask?
The masks can dry out the skin as activated charcoal adsorbs impurities along with the essential oils and bacteria. Therefore, it can be used once in a week to cleanse the pores and maintain a blemish free skin. For dry skin, once in 2 weeks should be enough.
What to put on your face after using a charcoal mask?
Generally, such charcoal masks make the skin dry as they adsorbs almost everything on your skin surface, yes the natural lubricating oils as well. Thus, you can apply a light oil-free moisturizer post using any charcoal mask.
These are the best charcoal face masks available in India. Have you tried any charcoal face mask or any activated charcoal product?
Do share!!