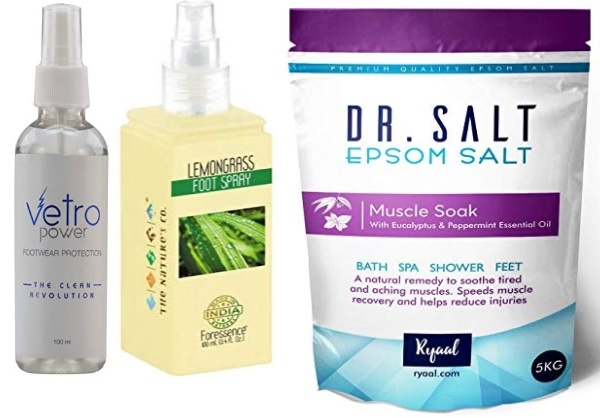 Feet odor is not only embarrassing but also causes multiple infections. Feeling fresh all day how fantastic would that be. The main reason for foot odor is sweat, dead skin cells and bacteria that causes the odor. This issue become even more common, when you are wearing closed toe shoes all day long.
On top of that, if you are an athlete, then the sweating increases or would be more than any other normal men which aggravates the problem by manifolds. So, here are the best foot odor controlling products that you can use to minimize the stinky and smelly feet condition. These specially formulated products will help you get rid of the fishy smell and stinky smell feet problem.
Sweat and dead skin cells become an excellent breeding place for the bacteria to grow more that causes the odor. In fact, it can also give rise to fungal infections. So these different products will help to combat the odor and infection on your feet. These products curing foot odor are foot scrubs, foot talcs, foot deodorizers and even the socks and shoes sprays. With basic use of foot talc, scrubs and deodorising sprays with use of good antibacterial soap while bathing, you can combat the bad smell emitting from your feet. These things will greatly help you in minimizing the foot odor.
Best Products For Foot Odor Cure and Smelly Feet
1. Dot & Key Foot Cream: Deodorizer + Moisturizer 
The foot cream is basically, a deodorizer and moisturizer for your feet. Loaded with lavender and peppermint extracts, it gives a nice pleasant fragrance to your feet after the application. It moisturises the dry cracked feet while protecting them from any type of infection that microbes can cause. It has antiperspirant properties too. Along with camphor and peppermint oil, it gives a good fight to the odor producing microbes. The mild scent of this foot cream leaves the feet smelling fresh and gives the ample amount of moisturization. It is gentle on a skin and can be used soon after the shower.
How to use:
Like any other foot cream just apply the cream on your feet and massage gently. Apply some on the sole as well. Apply generously between the toes as that is the area where maximum amount of sweat, dead skin cells and bacteria develops.
2. Zoivane Men's Odour Killing Feet Mafia Gel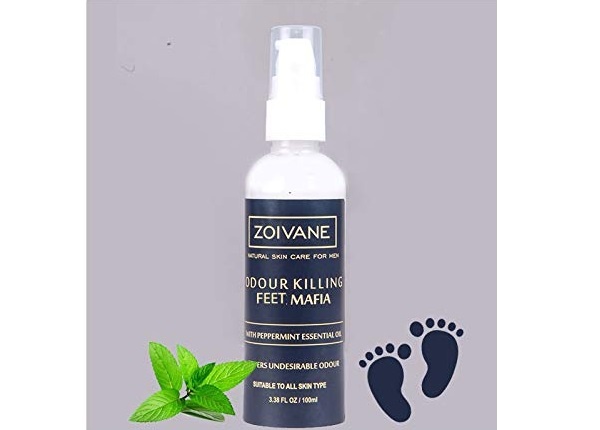 The odor killing gel has a light texture and is not sticky at all. Rich in the peppermint Essential oil, it gives a light fragrance when applied on your feet. It is suitable for all skin types. This gel also relives from the itching that we experience in the feet because of sweat and dead skin cells. It is able to cover all types of unpleasant and foul odor exuding from your feet. With a non sticky texture it doesn't feel like heavy cream or oil that you apply. Rather it gets absorbed easily and restricts the growth of bacteria and fungus that causes the smell and infections. The instant moisturization that gives is suitable to be used every day .
How to apply:
Soon after you washed and dried your feet, apply this gel and massage. Let the cream get completely absorbed in the feet layers nicely. Apply it twice in a day for better results in controlling the feet odor.
3. Vetro Power Footwear Protection Shoe Spray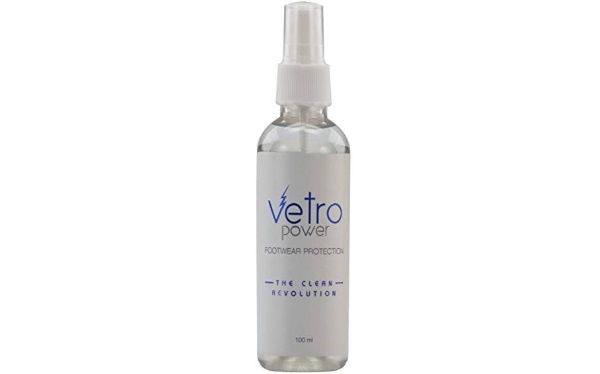 It's something really important product. It is a spray with anti-bacterial features. It is a socks and shoes spray that is extremely powerful that coats your footwear so that your shoes are protected from accidental spills of liquids, alcohols, oils etc. And the best thing is that, it has antibacterial properties that also make the shoes stay fresh.
How to use:
Apply it or spray directly over the footwear. It's suitable for suede, leather, fabric, Canvas, Nylon and even Nubuck.
4. Candid Activ Sweat Control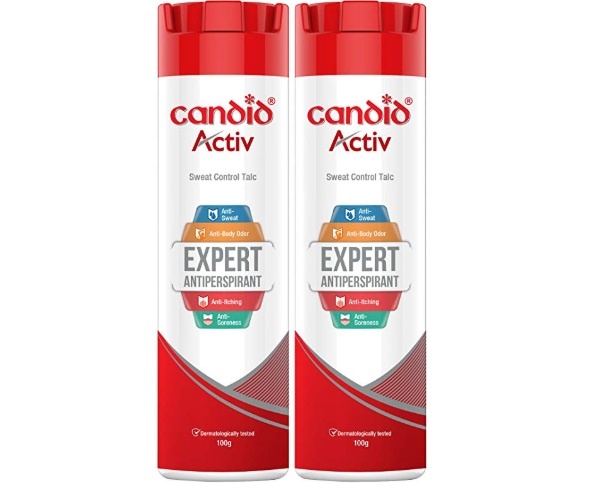 The talc helps to control the sweat and odor. It combats the body odor and minimises infections that results in the body smell. It safeguards your skin against bacterial infections by controlling the bacterial growth and spreading. It also relieves your skin irritation caused by sweat, rashes and other heat infections. The product can be used on your body, private areas and also on the feet before wearing socks and shoes. As it controls sweating, it also highly minimises the chances of foot odour.
How to use:
Put the powder over the feet and sole. Apply some between the toes and pat gently.
5. BodyHerbals 1 Minute Pedicure Lemongrass Foot Scrub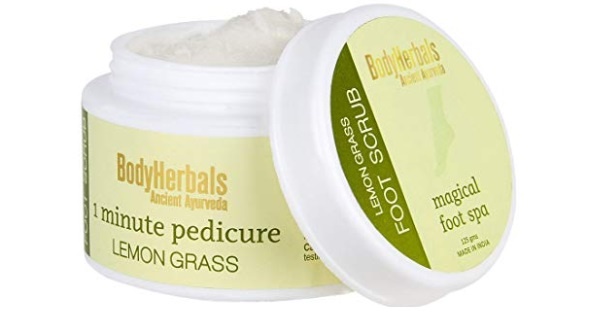 As mentioned earlier, foot scrubs are beneficial in getting rid of the dead skin cells that are accumulated all over your feet and between the toes. And when the dead skin cells are removed, your feet feel smoother and the chances of bacteria growing along with dead skin cells and sweat minimises effectively. So, indirectly this process will help less bacterial growth and no stinkly smell from the shoes. As per the experts, foot scrubbing is the best process to combat stinky feet condition. The foot scrub contains lemongrass that is an excellent ingredient to freshen up your feet. It also contains Shea butter to moisturize skin and walnut shell extracts that exfoliates the skin tissues.
6. The Nature's Co Lemongrass Foot Spray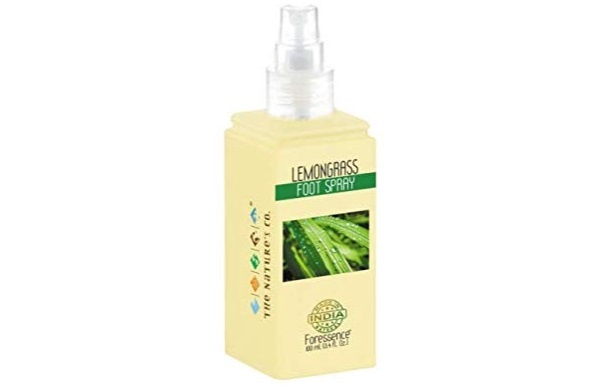 The foot spray is infused with the natural ingredients like petroleum, tea tree oil, lemongrass that instantly refreshes energize your tired feed. It leaves them smelling fresh and also combats the smell or odor. It contains menthol and aloe vera that moisturizes feet and minimises the stinky odor coming out from the shoes. It is very easy to use as you have to just spray it once or twice before going ahead with your footwear.
7. Ryaal Dr.Salt Epsom Salt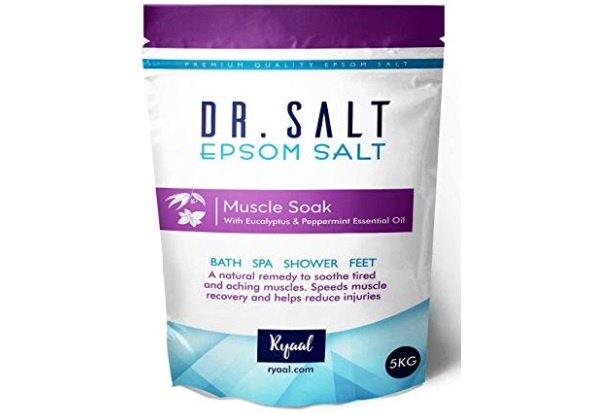 Foot soaks are used to minimise the stress, pain and tension built-up. It basically relaxes you after a tiresome day and help to soothe the muscle aches and tired feet. But the other important thing that a foot soak does for you is to get rid of the dead skin cells and the bacteria that cause odor. Once in a while using foot soaks and scrubbing can be really helpful in the relaxation and to combat any type of odor from your feet.
Now, that we have shared these effective foot odor control products that are available in Indian market, you have to choose which is the one that you would like to go for.