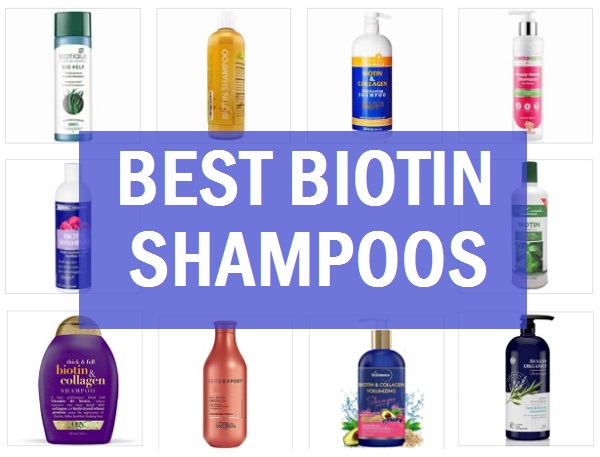 In this article, I am going to talk about the of the best biotin shampoos available in market. Can biotin shampoos help in hair growth? This is the core point of this post. Yes, Biotin is the one product that has been associated with hair loss. But what is biotin? Biotin is nothing but Vitamin B7 which is water soluble. It is a part of the Vitamin B complex family. Vitamin B complex is a group of vitamins and out of that biotin is also there. How biotin and hair growth or hair loss are related. This vitamin is required for the healthy hair. To be precise this vitamin is essential for hair growth.
While you can't control the hair loss which is age related but yet the premature hair thinning and stunt hair growth can be treated or at least minimized by using biotin products. Due to this biotin shampoos are also one of the best anti hair loss shampoos else many other are just flash in the pan. For DHT hair fall, you can try saw palmetto shampoos.
Let's see why and how biotin can help you get back the lost hair. If you are not interested then, please  scroll down to the list section. I have also answered some of the queries about these shampoos.
How Biotin aids in Hair Growth?
Biotin considered so beneficial for people suffering from baldness, thinning and hair fall. The vitamin is needed to make the hair grow well and also to control hair fall.

It plays a major role in the stimulation of hair formation. It can be called as a building block for the hair.

More so, biotin helps in the prevention of hair loss because it is one of the most important components of biotin makes your hair grow fate by providing the optimal raw materials requited for the process.

When the cells which make your hair gets all the nutrients, protein like keratin and enzyme required for the synthesis, it gives you the best results. In contrast, deficiency of biotin can lead to weak hair roots, thinning of hair and brittle hair. It also makes your hair get grey before time.

Using biotin shampoos can help you get healthy hair growth and this is why a lot of hair care brands are making shampoos rich in biotin and other similar ingredients.
So, which are the best Biotin hair loss shampoos? The list includes the shampoos which are rated good and are effective. Their reviews and ratings are also satisfactory in stimulating hair growth and hair thickening. Let's find out.
List of the Best Biotin Shampoos for Hair Loss   
Here is our list of the top best Biotin shampoos for hair growth.
1. MillCreek Biotin Shampoo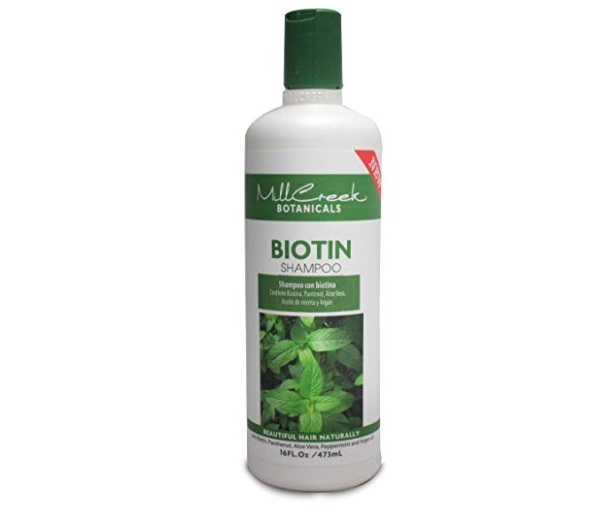 The Millcreek shampoo has biotin and is free of the SLS. It is not as hard to find a shampoo that is chemical free. It comes with natural and organic ingredients so, if you prefer hair products with no chemicals then this is it. It lathers rich and while you massage the shampoo, it cleanses the dirt and product residue, sebum build up to get healthy bouncier hair.
2. Avalon Organics Biotin-B Complex Thickening Shampoo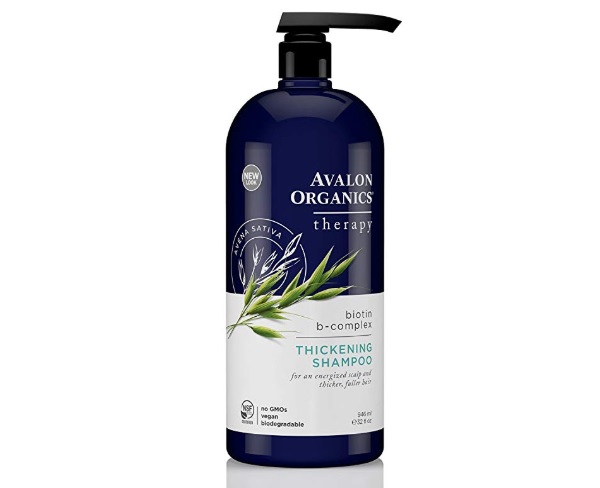 It is not just a biotin shampoo but a hair thickening one. It thickens and swells the hair to make them extra bouncy.  It energizes the hair and cleanses your scalp fully. Not just the shampoo gives good lathers but also clarifies the scalp.
Review:
Good for thinning hair

Free of parabens and sulphates

No artificial colors and fragrance

Phthalates free

Not tested on animals
3. L'Oreal Professionnel Serie Expert Inforcer Biotin Shampoo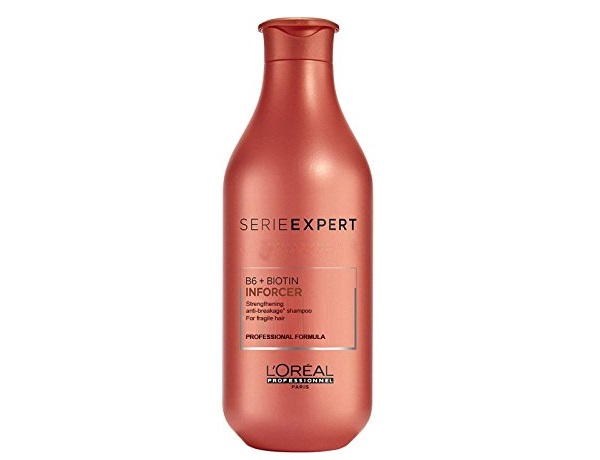 The shampoo is from the Line of L'Oreal Professionnel.  It transforms the fragile and damaged hair into luxuriount. It reduces the breakage and reinforces the strength. It is loaded with the Vitamin B6 and biotin which is Vitamin B7.Together they give your hair smoothness and stimulates hair growth.
Review
Prevents dryness

Good for damaged hair

Suitable or all hair types

Biotin and B6 rich

Strengthen the hair roots

Reduces breakage

Initiate new hair growth
4. GNC Women's Biotin Shampoo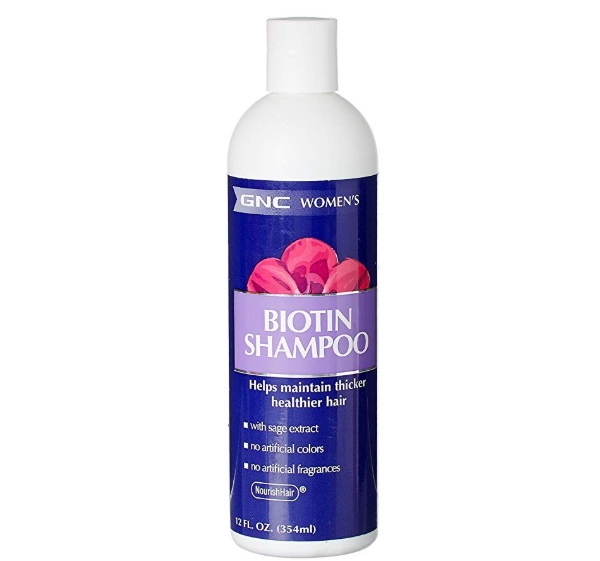 This Biotin shampoo is from the brand GC. It is made not only for girls but men too can use this. The shampoo makes the hair full on volume because of the biotin and other natural ingredients. You can also try Argan oil shampoos for hair growth
Review
Specially formulated for women's and men's hair

Suitable for all hair type

Helps maintain healthy hair

Strengthens the hair shaft to give volume and luster to hair

PH balanced

Contains no artificial colors and no artificial fragrances
5. St Botanica Biotin & Collagen Volumizing Hair Shampoo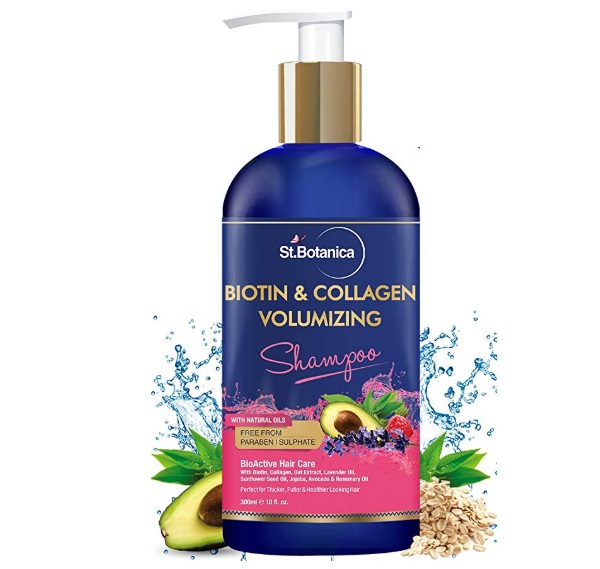 If you like products which are organic, chemical free and filled with natural extracts then this brand is must try. The St. Botanica Biotin & Collagen Volumizing Hair Shampoo as the name suggest contains not just the biotin but collagen as well.  It is a perfect blend of Vitamin B7 Biotin, Hydrolyzed collagen, Oat Extracts and cold-pressed oils. This shampoo is rich in the nutrients that thicken the hair and improve the hair growth.
Review
Safe for color treated hair

Has Biotin and Collagen

Safe for all hair types

Rich in Essential oils

Is rich in aloe vera extracts

Sunflower seeds repair the hair damage

Helps in hair growth

Sulphate free shampoo

Best shampoo for thinning hair
6. Organix Thick and Full Biotin and Collagen Shampoo
It helps to texturize the thin hair. This shampoo too is rich in with biotin and collagen. Therefore, you can try either this one or the previous option. The powerful formula of this product helps in the hair growth initiation.
Review
Good for all hair types

User Friendly packaging

Suitable for thin hair

Free for SLS, SLES and paraben

Affordable
7. Biotique Bio Kelp Protein Shampoo for Falling Hair Intensive Hair Growth Treatment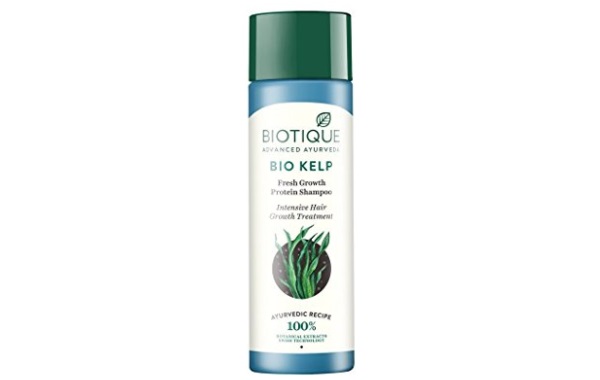 If you want a budget friendly option for hair growth shampoos with biotin, then this Biotique Bio Kelp Protein Shampoo can be tried. This is not an SLS free or paraben free product but other than that works well.  Rich in kelp protein, this shampoo lathers well and boost the hair texture.
Review
Affordable

Lathers well

Okay packaging

Nice smell
8. Mamaearth Happy Heads Hair Shampoo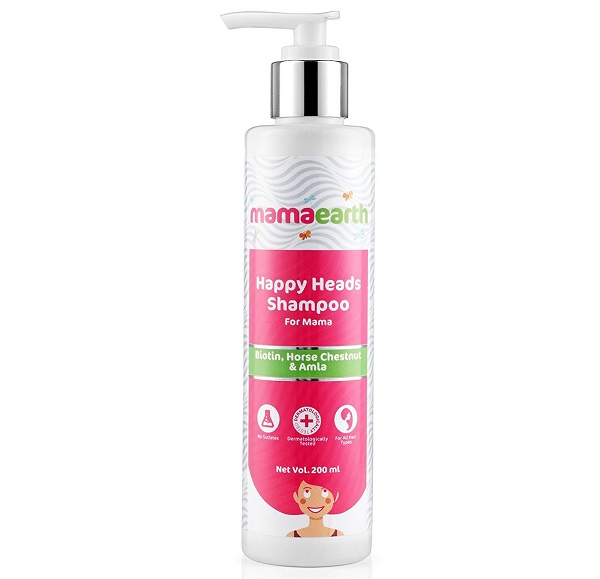 Looking for SLS free Biotin shampoo, then you must try this Mamaearth Happy Heads Hair Shampoo with biotin, horse chestnut, bhringraj and mala. This brand makes products which are free of all those things that we want our skin care and hair care products to be free of. It is enriched in vitamins B5 and other ingredients that fasten up the hair growth. It keeps the scalp pH balanced and aids in thickening of hair strands.  While it works on the hair fall control, it also makes roots stronger.
Review
Makes hair strong

Smoothens

Nourishes the hair

Prevents hair thinning

Repairs the split ends

No Harsh Chemicals

No Sulfates, Paraben, Phthalates etc
9. Honey Dew All Natural Biotin Shampoo for Hair Growth & Hair Loss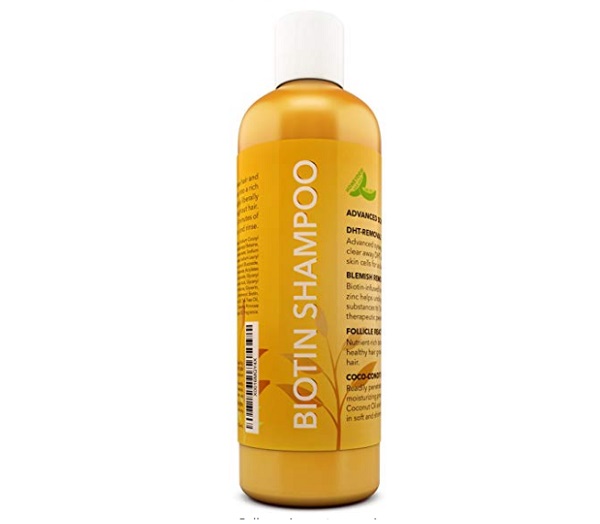 For dry hair and lifeless strands, Honey dew Biotin shampoo works like charm. The product is easy to available online. The shampoo slows done the hair fall in clumps and also promotes growth of new hair. Currently, many people are going towards the SLS free shampoos, so the best features about this is that this is a 100% sulfate paraben free shampoo and is also dermatologically tested with hypoallergenic formula. The shampoo contains Vitamin B5, Zinc, Tea tree oil and Argan oil that are considered beneficial for faster growth.
10. Renpure Biotin and Collagen Shampoo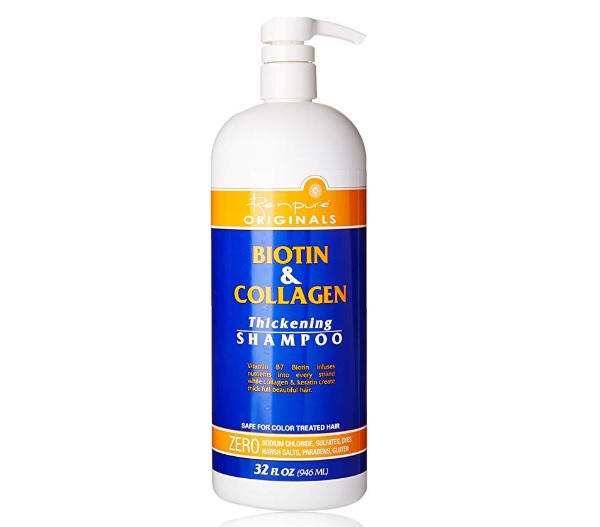 Renpure shampoo is rich in Vitamin B7 biotin infuses nutrients into every strand while collagen and keratin create thick full beautiful hair. Safe for color treated hair. Free of sodium chloride, sulfates, dyes and harsh salts.
Biotin Shampoos Queries
When to use:
Some for these are the everyday use shampoos while some of them can be applied 2-3 times in a week. Most of these are suitable or all hair types and even the color treated hair.
How long to see the results:
It can take at least 2-3 months before see any positive results as these products are not miracle in bottle. They have to work and it would take time.
Along with these shampoos, you should also include the biotin rich foods in your diet.
Can these work on thinning hair
Yes, these shampoos are for thinning hair as well. Or for hair that are shedding more than normal.
Biotin Rich Foods
Other than using the Biotin rich hair loss shampoo you can also take the biotin rich foods. Here, they are:
Whole Grains

Avocado

Cauliflower

Peanut butter

Bananas

Meat

Eggs

Berries

Fish

Legumes

Mushrooms
This was the list of the best biotin shampoos in India long with the foods rich in this vitamin. Have you tried any biotin based product? I will also recommend you to go though this post where they have listed the best biotin supplements.
See these too folks: