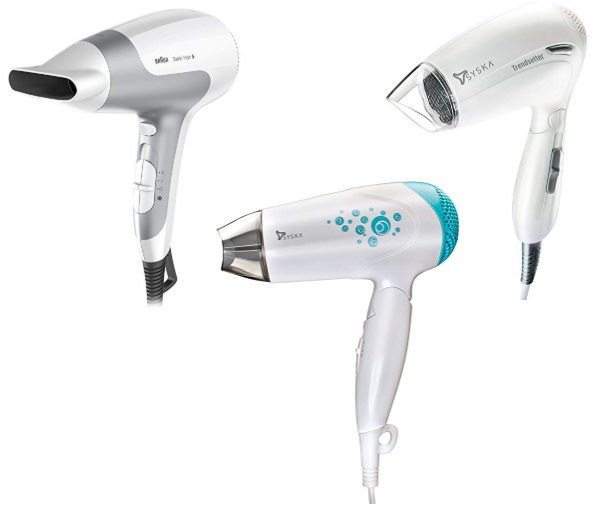 Who said a man doesn't need a dryer. Men have shorter hair but still they need a good hair dryer for blow drying and creating awesome hairstyles. You need a good hair dryer that can serve its job perfectly. Hair dryer is one of the most used hair styling tools for both men and women. We can do so much with this. We have compiled a list of the best hair dryers for Indian men. You can use them with different settings for different types of styling and hairstyles that you wish. Hair styling and grooming is the key to look handsome and enhance your overall personality you. For all this, you must have a good hair dryer with yourself. With the use of this product you can't just make specific styles but also enhance your looks. The article will help you to find out the best one.
Here is the list of the best hair dryers for men in India
1. SYSKA HD1605 1000W Hair Dryer for Men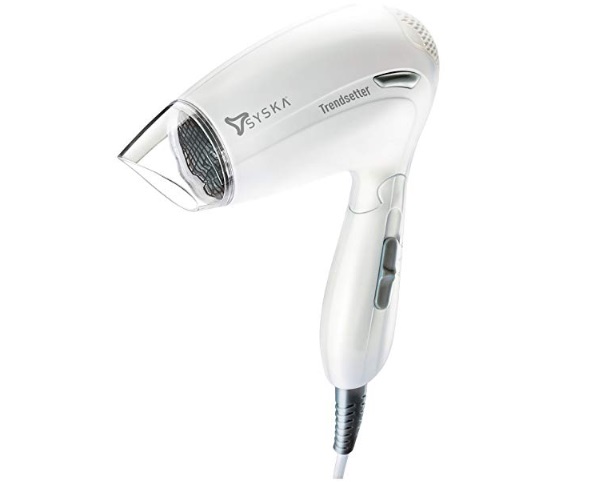 The Syska hair dryer is designed for both men and women. It has a compact design with a big wind inlet that reduces air swirl for quiet and efficient drying. The pretty white design looks elegant. It is a foldable device that can be carried conveniently and stored hassle-freely. It has overheating protection technology which ensures safety. The rubberized hook at the base ensures that the cord does not get tangled. Also have a health breeze mode that protects your hair from excessive heat. It gives your hair perfect conditioning for shiny, smooth and frizz-free hair.  The product is designed to give you effective drying.
2. CHAOBA 2000 Watts Professional Hair Dryer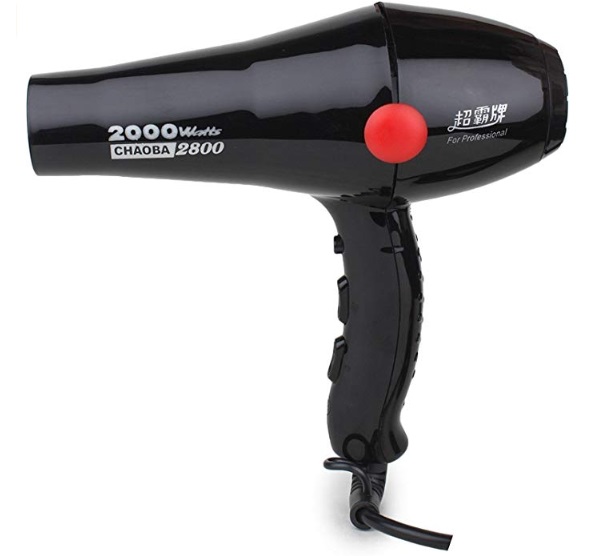 The extremely affordable hair dryer comes with the overheating protection. It protects your hair from getting excessively dry and maintains a steady temperature. It comes with two nozzles for different types of uses. It has 2 temperature settings and cold air feature which is ideal for men with short and long hair. Its 2 meters cord helps in easy handling. The product requires voltage up to 240 volts and the power consumption is 2000 watts.
3. Braun HD580 Satin Hair 5 Power Perfection Hair Dryer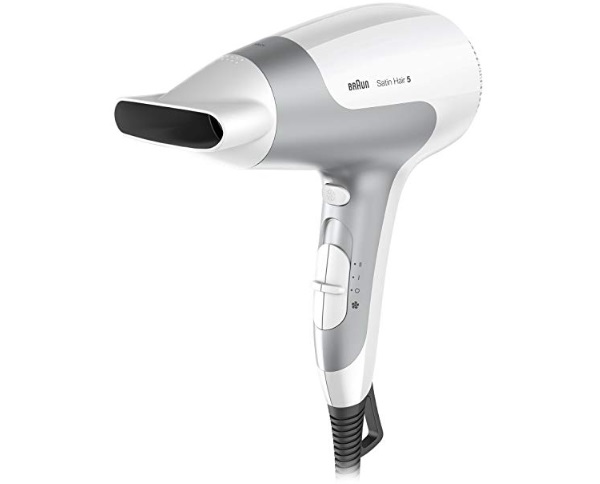 It is not a foldable hair dryer but has got a novel like attachment that gives you perfect heat flow that you need. It is super lightweight and easy to use and carrying along with you. It comes in a pristine white color with an ergonomic design. It would be an ideal tool to dry your hair faster and to get blow dried. It delivers optimum performance with 2500 W power. It works by releasing millions of active ions which envelop each hair strand to combat static.  The cold shot gives a blast of cold air to set your style for long lasting results. This is one of the best hair dryers for men.
4. SYSKA Hair Dryer HD1610 with Cool and Hot Air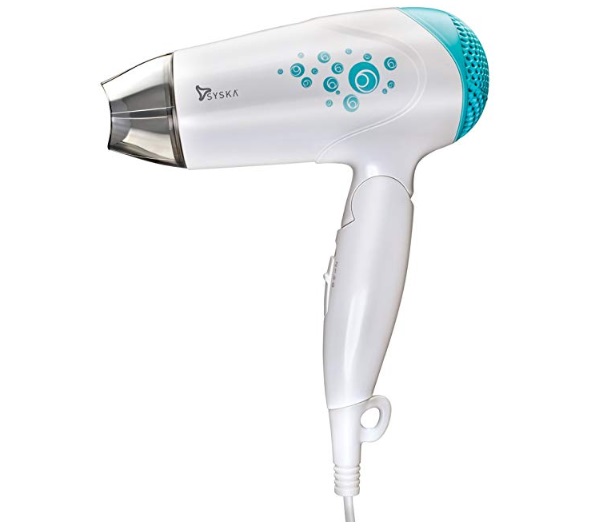 It gives you cool and hot air both for different hair styling. It has 1200 Watts for everyday styling. As it comes with heat balance Technology, it instantly heats up and dries the hair faster. Its heat protection technology also protects the hair from getting too much heat while using it. It has to speed settings for different temperatures. The foldable handle makes it extremely travel-friendly. It is the best everyday use hair dryer that is very affordable and light on your pocket.
5. Philips BHD006/00 Hair Dryer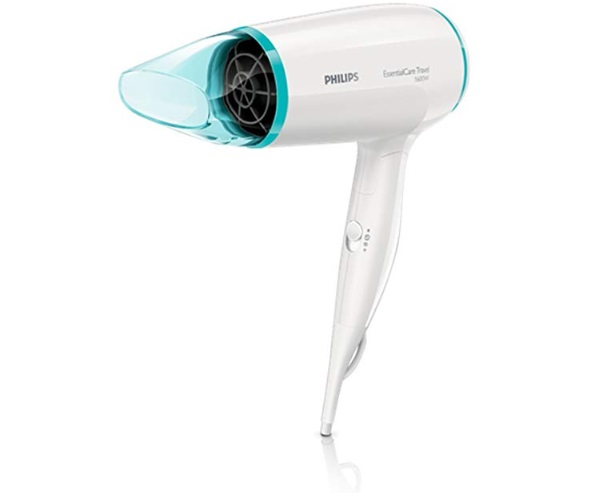 Philips BHD006 hair dryer is designed for quite drying without too much noise. It has a dual voltage for world-wide use and easy to storage hook for convenient storage. 1.5 meter cord makes it easy to carry away from the socket. It is a 1600 watt hair dryer for everyday use and gentle dry. It has ThermoProtect temperature setting, 3 flexible speed settings for quick results.  The dryer will give you cool shot of air for long lasting hairs tyles. It has two years a manufacturer's warranty. It is one of the best dryer with multiple heat settings to make it quick and easy to achieve the perfect style.
6. Philips HP8100/60 Hair Dryer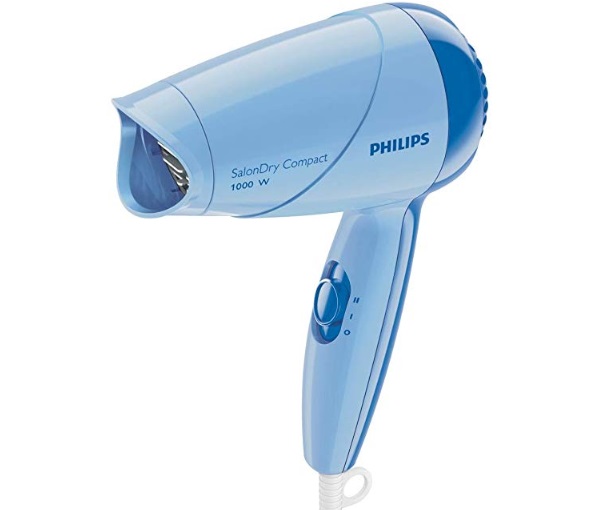 If you want to get a hair dryer with basic settings and decent price range than this is the best. It has a pretty blue color that looks attractive. The narrow Concentrator helps to give focused air flow for desired hairstyles. The product has Thermo protect temperature setting.  Its compact design is not foldable yet it is easy to handle and travel with. It has easy storage hooks for convenient storage. This 1000W hairdryer creates the optimum level of airflow and gentle drying power, for beautiful results every day.
7. Braun Satin Hair 1 – HD 130 – Lightest Style & Go Travel Dryer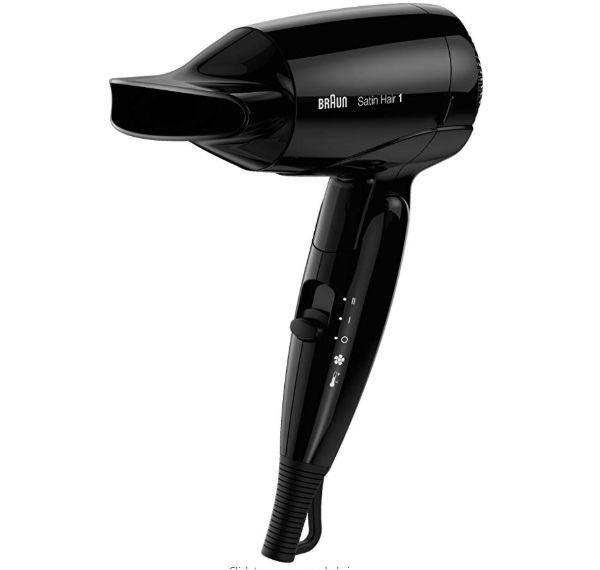 This is one of the lightest hair dryer from Braun that comes with two different temperature settings. It comes with infrared heating for efficient and fast drying. It is a foldable product for compact storage and travel experience the dryer comes with a multi voltage Setting that is safe to be used around the world. It also comes with 2 years warranty and a styling nozzle. You can make so many different hairstyle with this and it safe to travel with. 
These are the best hair dryers for men available in India.