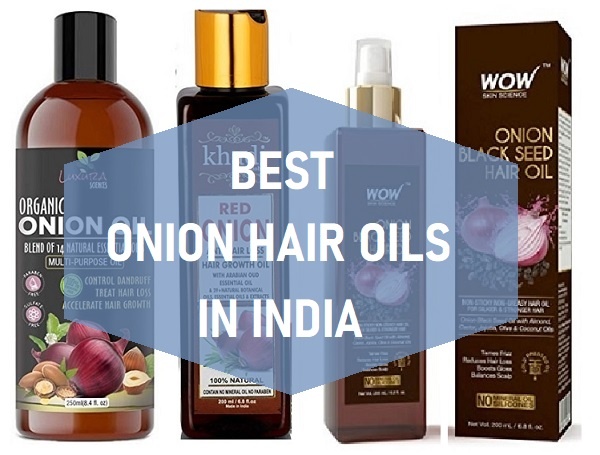 Hair growth products are the most used products for people who are facing hair loss and thinning. Onion oil can be an effective hair growth remedy that gives you the benefits of sulphur rich onion. It has been tried and tested over the years for accelerating hair re-growth. Amongst the best natural extracts, onion oil boosts the micro circulation and also unblock the blocked port so that fresh follicles can erupt. They have compiled the best red onion oil available in the Indian market. Onions are also rich in amino acid which aids in growth of hair. They also improve the keratin of your hair and promote the faster hair growth. Regular application of onion also helps to cure the certain scalp issues like itchiness dandruff and even loss of hair. One can also experience alopecia areata which is a common form of hair loss as seen in men. Receding hairline is one of the most common symptom that many men can experience even when they are still in their 30s.
So, now that you know about the various benefits of this miraculous oil, let's go ahead and check which are those best onion oil to boost hair growth.
Best Onion Hair Oils in India for Faster Hair Growth in Men and Women
1. Luxura Sciences Onion Hair Oil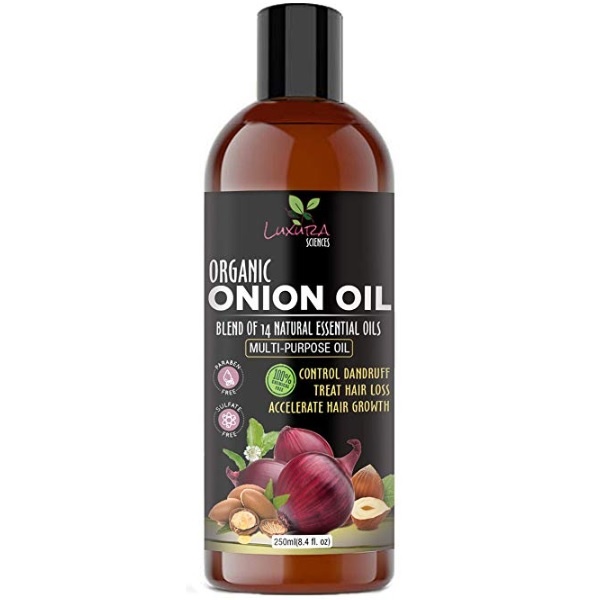 Blended with the 14 Ayurvedic botanicals, this oil is sure to combat your dandruff and hair loss. Regular application of the oil boosts the hair growth and gives you thick hair. It is reach in Jamaican black castor oil and Moroccan Argan oil to nourish your hair from the roots and tips. It also reinforces the cuticle health which also gives you relief in hair breakage. 
How to apply this oil: First of all, you need to massage your scalp with this and keep it overnight as keeping that will fetch best results.
2. Peecure Onion Hair Growth Oil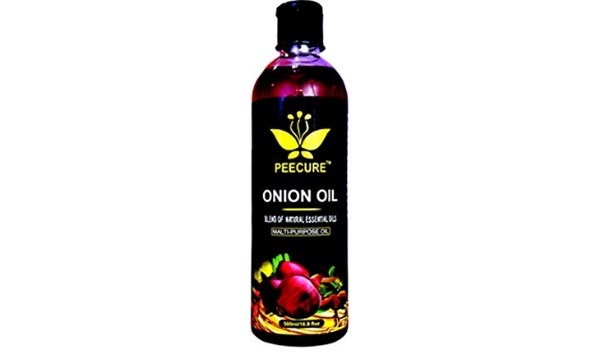 A powerful combination of Moroccan Argan oil and onion oil, this oil gives you thick and shiny hair. As per the customer reviews this is highly rated hair oil that is rich in rose oil, castor oil, bhringraj, Amla and coconut oil. It is a very light oil which does not make your scalp greasy, upon application it promotes the blood flow in the scalp. It reduces the hair growth by improving the scalp condition and supporting the natural keratin of your hair. The hair oil is one for best onion Juice therapy for hair fall control. While you can't control the hair-fall excessively by using a hair oil, you can still make some changes to your diet that will also help in the long term.
3. Rey Naturals Nourishing Hair Fall Treatment with Real Onion Extract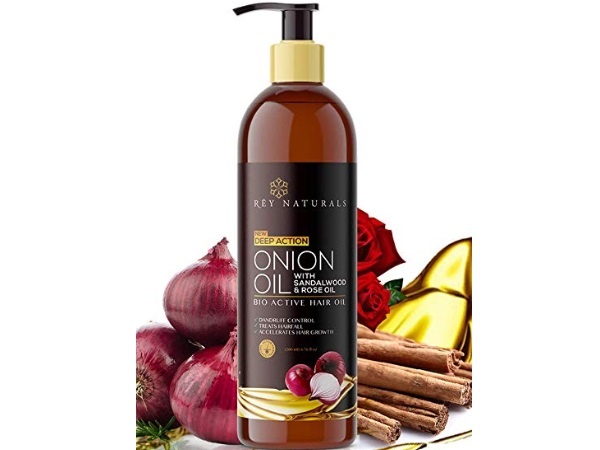 This unisex product for hair is specially made with onion oil along with Sandalwood and Rose oil. It is a bioactive formula that cures the hair falling and prevent them from shedding prematurely. The hair oil controls the dandruff and scalp infections. Even man who're experiencing, thinning of your hairline due to alopecia areata due to DHT hormone is also sure that. The oil comes in a comprehensive and easy to use but is not one of the best hassle-free ways to apply this oil. To use this oil, to be better if you warm it up, before applying. This way you can increase the efficiency of oil and it penetrates in the scalp better. It is a paraben and Sulfate free formula that is suitable for even the sensitive scalp
4. Beardhood Onion Oil with Redensyl for Hair Growth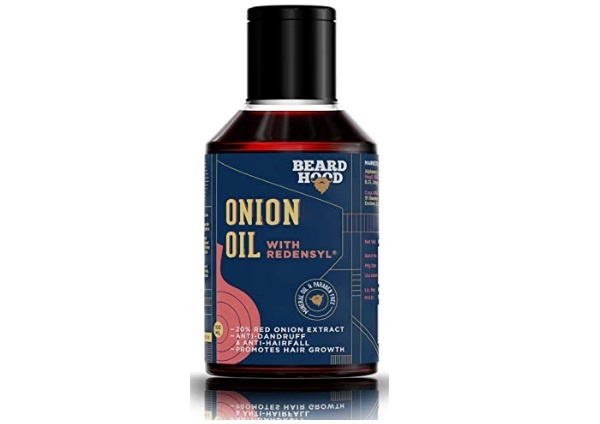 This is one of the best anti hair fall solution that is made for men. It improves the quality of your hair and is also an excellent anti-dandruff solution. It combats the rough and frizzy hair. Onions are also good source of sulphur and other nutrients that restores the lost nutrients. You can eliminate your scalp infections by using this onion oil. The redensyl rich oil unblocks the follicles and stimulates growth of new hair. Redensyl is known component that is clinically and scientifically has been linked to better hair growth. Other than that, I would also advise that you include a lot of protein and Vitamin rich diet so that the hair growth can be accelerated in addition to using the oil.
5. Essentials of Nature Onion Hair Oil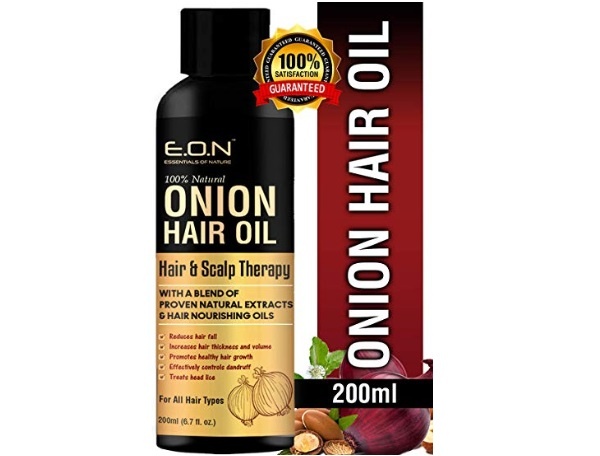 it's a total scalp therapy for men and women who are suffering excessively last. It increases the health fitness and volume immensely. It promote healthy hair growth and also controls dandruff. You must be knowing that you can also experience hair loss because of dandruff since the freaky the dry place also takes some of the highest Ram ahead. It can also treat head lice even in case of young kids and teenagers. Rich in vitamin C and tannins this Amla rich onion hair oil is a perfect addition to your hair care regimen to increase the blood circulation and also to darken your premature grey hair .s Brahma Raj in this oil helps to promote the hair growth and thickness the density of the hair.
6. Khadi Global Red Onion Hair Growth Oil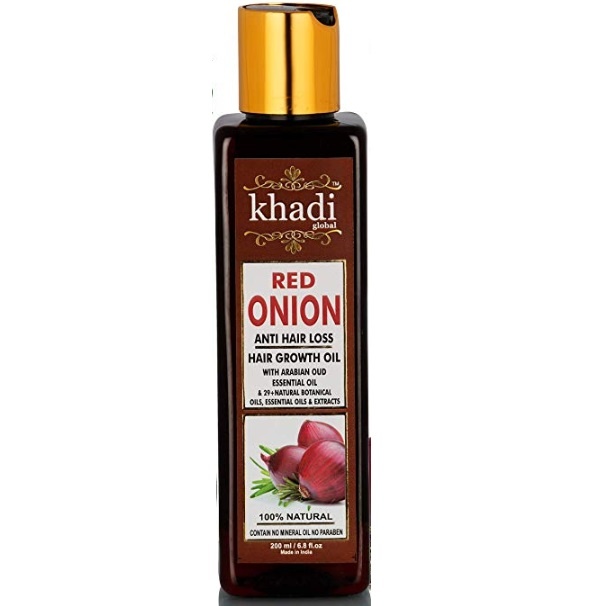 In case of hair loss due to hormones, this oil can also be beneficial. Free of the mineral oils and parabens, it makes your hair smoother and lot softer. In fact, it is a purely Ayurvedic and herbal formula. Rich in some of the best essential oils like cold pressed Argan oil, Reetha, Neem Oil, Sunflower oil and many other ingredients, it' the best to use to deal with the hair issues. For your dry and dandruff from scalp during winter season, it can be your one stop solution. When you are facing a very bad hair fall and have tried different remedies, than this would also be a tried and tested solution.
7. Grandeur Onion Hair Oil
This oil product lessens your hair fall and promotes hair growth. It thickens your hair strands with its Botanical rich formula. It cures dandruff and other scalp infections that can also lead to the loss of hair prematurely. Infections like flakes and itching, also contribute towards the hair fall. This oil on application, helps to fight infections and accelerates growth of new hair follicles. The list of the ingredients for this particular brand is quite impressive and yes, it improves your overall hair texture and smoothness.
8. Smuk Onion Oil For Hair Regrowth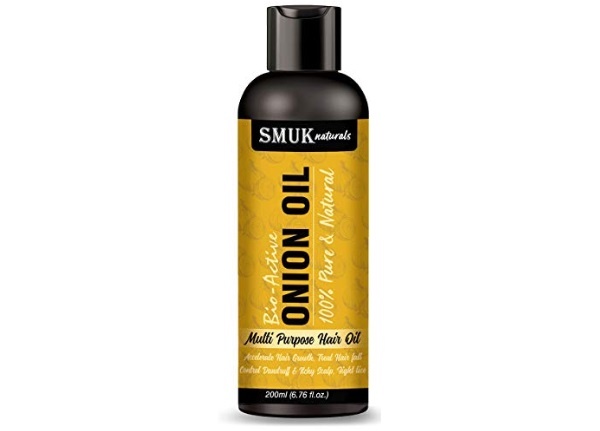 The product is not as popular as the other brands that I have mentioned, but who so even customers have used it have given it high ratings. It has received the best reviews , because of its ability to control the hair fall and re grow the hair back. You can apply oil on your fingertips and lightly massage it on your scalp. Leave it overnight for best results. Application of the oil 2-3 times in a week gives you best results. Other than that, I would also advise you to include proteins and vitamins so that the benefits can be accelerated. The ingredients list talks a lot about the brand that it uses high quality ingredient which are known to promote the growth.
9. Kalyani Remedies Onion Oil For Hair Growth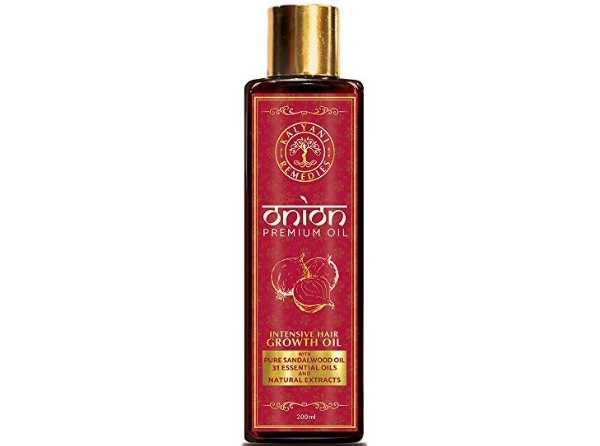 Added with 31 natural essential oils and extracts, this bhringraj and onion oil is of premium grade. It is also the best as the customers who have used it have raved about its efficiency. It is the best red onion oil for hair growth by a brand that manufactures herbal and paraben free products. Men who are experiencing lot of hair fall even in their thirties or even in young age, this can really do wonders for them. Richness of sulphur in onions, helps you grow your hair faster and longer. Even if your hair growth is stunted or has been stagnated, this can promote them quickly.
10. WOW Onion Black Seed Hair Oil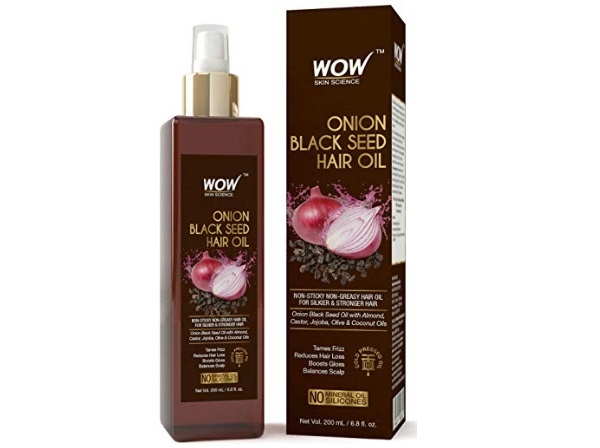 It contains the high quality black onion seed hair oil. Black seeds or Kalonji seeds are also known as wonderful in curing your hair loss. Even in youngsters and teenagers, this problem is seen. Pollution and stress levels that we experience in day today life leads to brittle and lifeless hair. Rich in antioxidants and minerals, this hair oil keeps a check on your hair loss and boosts the hair-regrowth. It also improves the texture of your hair. So, if you hair is thick and coarse, then it can also makes them smoother.
So, these are the best onion hair growth hair oils which are available in market. I really hope that you have found out the one that you would like to have.