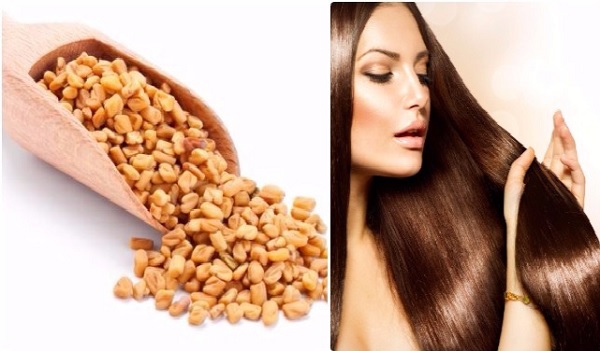 Methi seeds for hair care, is the topics for today's article. Fenugreek Seeds or Methi seeds! You may not like them, but those seeds are loaded with so, many benefits for your hair. Yes, they are! You may already aware about the fact that many people just swear by the fenugreek seeds for hair growth. Exactly! This is what this article is all about. I will be sharing tips to grow your hair using methi seeds as we popularly call this in India.
So, the post will cover the topics like what is does for your hair and how you can incorporate fenugreek seeds in your hair care regimen to get good hair growth and freedom from hair problems. The seeds are simply wonderful as they can cure your splits ends, dry damaged hair, dandruff and what not. I will also be sharing homemade oil with methi to control hair loss in men as well as women. So, keep reading folks.
How Does Fenugreek Seeds Help hair Growth?
Fenugreek seeds are rich in the some of the essential vitamins that makes hair grow faster. Vitamins like A, B complex, C and K are in abundant amount in fenugreek (methi) seeds. Also, the amount of proteins contribute towards stronger hair roots. Its use makes the hair shinier and smoother. The hair which gets damaged due to UV rays, can also be treated with this ingredient. Vitamin C boost the hair cuticle texture and cleanses the scalp thoroughly. There are Fenugreek shampoos also available in the market. I will also list them in the end of the article.
Other than the nutritional benefits, these seeds are appropriate for so many different benefits. Let's get to know them and how can you reap the benefits of fenugreek seeds for hair.
First of all, let me tell you two things. First is how to make fenugreek powder and second is to make its paste. Preparing these in advance once will save a lot for your time.
How to make (Methi) fenugreek powder
Take 2 cups of methi seeds in a bowl

Directly put them in the grinder container

Start the grinder and let it get crushed

It will give you fenugreek seeds powder

The powder is also available in the market but fresh powder made at home is far better

You can store it in an air tight container

Make sure it stays moisture proof.

Put a clean dry spoon in the container so, that you can take out the required quantity whenever, you have you to do any home remedy with fenugreek powder.
How to prepare fenugreek (methi) paste
To prepare the paste take 2 cups of fenugreek seeds in a bowl
Add 4 cups of water

Leave for overnight

Next day, strain the water

Put the seeds in the grinder

Grind the seeds, you can also add some water if required

You'll get the fenugreek seed paste

Store it in a clean air tight container

Keep in the refrigerator

This can be stored for 7-10 days

Scoop out the amount that you need
Just a tip: This paste can also be applied don the face for 10 minutes to get rid of the dark spots.
Fenugreek Seeds for Hair Growth
The scalp stimulating properties of fenugreek seeds is known and researched. It can thicken the hair strands and also sprouts the new hair. Follow this simple remedy to get help in your hair loss.
You need:
Fenugreek seed paste

Olive oil

Honey
What you have to do
Take 3 tablespoonful of fenugreek seed paste

Put 3 tablespoonful of Olive oil

Add 2 tbsp of honey

Mix thoroughly with a spoon

Apply on the hair and massage gently on your scalp

Leave for 2 hours

Wash with mild everyday shampoo
Fenugreek Seeds Hair Masks for Growth
Methi is well known to prevent hair fall and promoting the hair growth. Here, I have listed some effective hair masks that are used to make the hair grow quickly and to control your hair loss. You need to pick any of the mask and try to perform it as mentioned.
How long it take to give results?
Methi seeds are extremely good for your hair. When you start applying methi, it take around 2 months to get positive changes in your hair health and growth. Though you can expect shine and smoothness right from the first 2-3 uses.
1. Hibiscus and Fenugreek seeds mask
This mask makes hair longer and increases hair thickness. Hibiscus is also known to give some benefits in hair growth.
How to prepare:
Soak half cup of fenugreek seeds in 1 cup of water at night

Next day, put these in the grinder

Also add 2-3 hibiscus flowers in it.

Grind everything to attain paste like consistency

This is the hair mask to stimulate hair growth

Apply this on the scalp and hair

Wear a shower cap or a plastic cap

Leave for 2 hour

Wash off with lukewarm water first then shampoo the hair
Fenugreek and Egg Mask
This treatment too is for hair growth using egg and fenugreek seeds
You need:
Soaked fenugreek seeds

1 Egg
How to make
Break the egg and pour the content in a bowl

Put 2 tbsp of fenugreek powder

Mix well as egg is slimy

Use a blender or whisker

Take a large bowl else while mixing it will spill

Apply on the hair and your scalp

Leave for 3 hours

Wash with cold water

With egg remedies never use hot water or lukewarm water as the egg gets coagulated and hard to get rid of from hair strands.

Repeat this twice in a week for quick hair growth
2. Fenugreek and Curry Leaves Mask For Hair Growth
Curry leaves and fenugreek is one of the most used combination for getting fast growth and stronger hair. It also makes the strands thick and voluminous.
You need:
Curry leaves

Fenugreek Seeds
How to make
In bowl, take handful of fresh curry leaves

In that put water soaked fenugreek seeds, around ¼ cup

Take these into the grinder jar

Put 1/4 cup of water

Grind well

Make a paste of these two ingredients

Put it like a mask and leave for 2 hours

Wash with clear water first and then with shampoo
3. Castor Oil, Onion Juice and Fenugreek Mask
Castor oil is high in fatty acids and ricinoleic acid that aids in hair growth. Along with the methi, this combination becomes even more effective for growing new hair on the scalp. The treatment is also very easy to do.
How to make it:
Mix 2 tbsp of castor oil in 1 tbsp of fenugreek powder.

Pour 2 teaspoonful of onion juice in it

Apply well on the head

Leave for 1 hour

Wash off

Repeat thrice in a week
4. How to prepare Fenugreek seeds oil (methi oil for hair)
Fenugreek seed oil can be your one stop solution for hair loss, thinning hair and grey hair. Yes, this powerful oil has all the ingredients that can give you longer and thicker hair. You just have to make it one time and use for a month.
What you need:
Coconut oil

Fenugreek seed powder

Amla powder

Curry leaves

Olive oil
Method to make:
In a pan, take 1 cup of coconut oil

Add ½ cup of olive oil

Pour 1 teaspoonful of amla powder

Add 2 tbsp of fenugreek powder

Handful for curry leaves

Put the pan on flame and start boiling

Heat this for 15 minutes

Then strain the oil and store in a bottle

Apply everyday on the scalp and wash in the morning.

This is for men who shampoo their hair everyday

For women, thrice or twice in a week application is enough
5. Fenugreek Seeds for straight hair
This treatment will nourish and hair and helps them to get straight. It also reverses the damage by chemical and dyes that you apply on the hair.
Mix 2 teaspoonful of fenugreek powder with ½ cup of coconut milk

Blend it well and apply like a hair lotion or tonic

Wash after 2 hours

Repeat twice in week, if possible for better outcome.
6. Fenugreek Seeds for Hair Control
Controlling hair fall is crucial s excessive hair loss can lead to baldness and low hair volume. To combat that you can get help from this herbal remedy. It is stated that Fenugreek seeds stops hair fall and prevent the hair thinning.
What you need:
Fenugreek Seeds paste

Coconut oil

Rosemary oil
What you have to do
Add 2 tbsp each of all the three ingredients in a bowl

Mix well and apply on hair

Rub this mixture over the scalp

Leave for 2 hours

Wash with a  good shampoo uitabel for oily hair type
How often:
2 times in a week
7. Methi Seeds for Oily hair
Oily scalp is also one of the causes of hair shedding. Your hair roots gets weaker due to excessive oiliness of the scalp. You can control and get rid of the sebum on the scalp by this simple treatment. Fenugreek is effective for oily hair.
Mix 2 tsp of fenugreek powder in a bowl

Add 4 teaspoonful of ACV Apple Cider Vinegar

Mix and add 2 drops of tea tree oil

Apply on the hair and wait for 30 minutes

Wash off with a suitable shampoo for oily hair
8. Methi for Dry & Itchy Scalp
Fenugreek seeds are very moisturizing and have fatty acids that hydrates the dry hair. if you have dry scalp then this remedy can help you moisturize it. It is a good moisturizer for hair. 
You need:
Fenugreek seed powder

Almond oil
How to make?
Take 2 tbsp of fenugreek powder and mix 4 tbsp of pure almond oil  in it

Then add ¼ cup of yoghurt

Mix well and first massage on the itchy scalp

Then apply this hair mask all over the dry hair

Leave for 1 hour

Wash off with lukewarm water

Lastly pour cold water
9. Fenugreek Powder Hair Mask for Dandruff
Hair loss because of the dandruff is other things that even the teenagers can lose hair. It embarrasses us and reduces the hair health.
What you need
Fenugreek Seeds paste

Coconut oil

Tea tree oil
How to make
Take a small bowl and add 3 tbsp of fenugreek seed paste

I have already shared the recipe that you can follow to make the paste

Add 3 tsp of coconut oil/olive oil

Pour 5 drops of tea tree oil

Mix and apply on the scalp

Rinse it off with mild shampoo after 1 hour

Ensure to wash off every particle of methi off your hair with a mild shampoo
How often
Use this every other day for the first two weeks

For dandruff, just combine the paste of fenugreek with yogurt

Apply 3 times a week for a sure cure
10. Methi Seeds for Glossy and shiny Hair
Everyone wants shinier hair and this remedy can help you achieve that
Soak 1 /2cup of fenugreek seeds in 1 cup for water

Do this at night

Next morning

Grind the seeds along with that water

Add 2teaspoonfuk of lemon juice in it

Use on the hair like shampoo for 15 minutes

Wash off and power cold water
11. Fenugreek Seeds for White Hair
What you need:
Fenugreek Seeds

Curry Leaves

Mustard oil
Method:
Take 2 tsp of fenugreek seeds powder in a bowl

Add ¼ cup of mustard oil in a pan

Add 10-15 curry leaves

Dried leaves are even better

Warm the oil a bit

Allow this to cool down

Apply on the hair and scalp

Wash after 2 hours

Try this 2 times in a week
12. Fenugreek Seeds for Damaged Hair
These seeds work like a charm damaged hair. Aloe vera gel is highly moisturizing for damaged hair. It seals the cuticle with fresh moisture and your hair gets less tangled.
You need:
Fenugreek seeds

Aloe vera
Method:
Mix 2 tsp of fenugreek seeds with 1/2 cup of Aloe vera gel

Apply this on the scalp first

Then coat all the hair and tie the hair ina bun

Wear a shower cap

Wash your hair after 1 hour

It neutralizes the damage and makes hair shiniier again.

This also works on the splits ends
13. Milk and Methi Seeds to Condition the Hair
This is an effective treatment to get all your dry hair ends get fully conditioned. This hair conditioner remedy is easy and quick to do.
Ina bowl, you have to mix 2 tsp of methi seeds powder or paste

Add ¼ cup of milk or rose water

Milk is better

Add 2 vitamin E capsules oil in it

Thoroughly blend everything

Apply this mask on the hair

Leave for 30 minutes

Wash off first and then shampoo
14. Fenugreek seeds for Curly Hair
When your hair is curly and frizzy then too you can take help from the fenugreek seeds. The seeds have moisturizing properties that aids in the hydration of dry hairs strands. It smoothen the frizz and curls.
The process is very quick and easy:

Take 4-5 tbsp of fenugreek seeds

Put some rose water in it

Add 2 tbsp of honey

Mix and apply

Wash after 30 minutes.

Do this 2 times in a week for the first month to tame the frizz prone curly hair
Fenugreek for DHT Blocking
DHT or Dihydrotestesterone is a hormone that has been linked to the male androgenic alopecia. In short, this hormone leads to the shedding of the hair strands, never to grow again. Hence blocking this hormone is the solution to baldness in men and women.
This also leads to hair thinning and getting patches of eroded hair. Fenugreek aids in inhibiting the production of 5α-reductase enzyme. This enzyme is the catalyst for the synthetics of the DHT. Blocking the excessive DHT is the method that is commonly used to treat male pattern baldness and female hair loss. You can apply the fenugreek powder as mentioned above to block the DHT.
Fenugreek Seeds Side Effects
Applying fenugreek on the hair and scalp does not have any side effects. Thought doing a patch test before suing and new remedy would be correct. Just take the blend or mix near your ear and leave for 10 minutes, if there is no irritation, burning or itching then you may go ahead and use the treatment on your head, else, leave it.
Methi shampoos in the market:
Lever Ayush Anti Damage Fenugreek Shampoo

Just Herbs Lush Methi Shampoo

Karthika Hair Fall Shield Shampoo
So, these are the benefits of fenugreek of hair. Now you know how to use fenugreek seeds for hair growth and managing other hair related problems. Have you ever used methi for your hair? How? Do tell me as well.