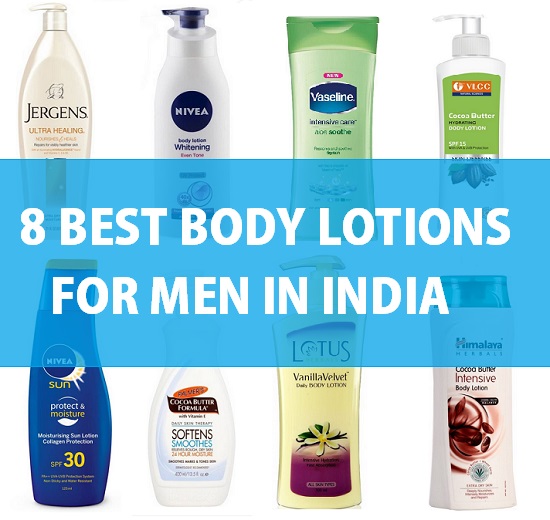 8 Best Body Lotions for Men in India with Price: In winters, a body lotion is a must have. I have many men would have this dry and rough skin that itches too so, to protect the skin dry in winter dryness or in all the seasons, It is recommended that you use body lotions for men. Not just for men you can use any hydrating body lotion that can help you get rid of the dryness. So, before sharing the best men's body lotions in India. Let's see guys what body lotions do or are beneficial for you.
Benefits of Body Lotions
Body lotions will help to ease the dryness, stretchiness and itching of the skin
They add a protective layer on the skin due to skin looks hydrated and glowing.
Moreover, body lotions with SPF for men will give you the sun protection as well
Body lotions with fairness ingredients can help to remove the dullness and sun tanning faster.
Furthermore, your skin aging can be prevented or delayed when you use lotions to keep the skin moisturized.
Best Body lotions for Men in India
Himalaya Coco Butter Intensive Body Lotion
This Himalaya skin lotion has the benefits of cocoa butter which actually helps in moisturization deeply. Skin that is dry or itchy can be fully healed with such lotions with coco butter. This body lotion for men in India costs Rs 95
Jergens Ultra Healing Extra Dry Skin Moisturizer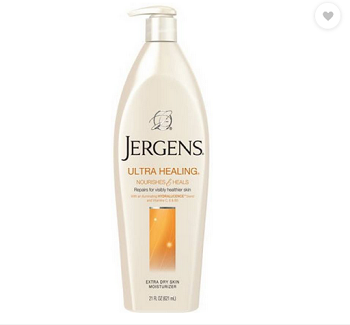 Jergens makes good skin moisturizing products like this one that men can try too. This will give extra softness to the rough dry skin and makes the skin loaded with skin emollients that moisturizes. This lotion is for 549 rupees in India.
Nivea Whitening Cell Repair & UV Protect Body Lotion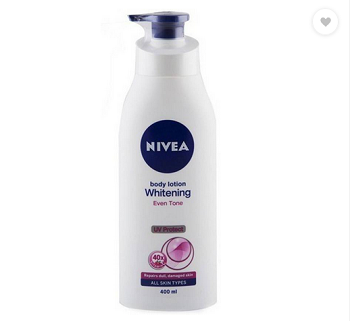 This Nivea body lotion is not just a regular lotion that hydrates the skin but this also repairs the damaged skin cells. This has the adequate sunscreen to protect the UV rays and to shield the skin. This lotion is for 330 rupees.
Vaseline Intensive Care Aloe Soothe Body Lotion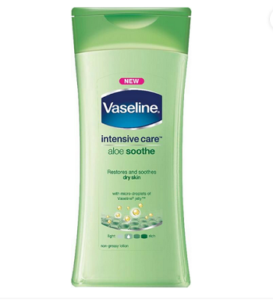 This body lotion is good for reviving the dry dull skin. This has the aloe vera which further moisturizes and soothes the skin in winters. The moisturizing formula us good that heals and hydrates the cells. It will also work on the sun burnt skin to heal it and to nourish the skin from deep within. Furthermore, the lotion is light weight and won't feel heavy o the skin. This lotion costs 235 rupees.
VLCC Cocoa Butter Hydrating Body Lotion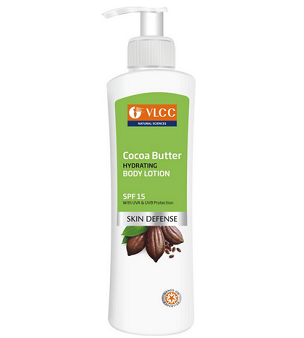 The VLCC Cocoa Butter Hydrating Body Lotion is rich in nutrients and has cocoa butter too that heals the dry skin in winters and summers as well.  This has the natural and organic ingredients that hydrates your skin from the deepest layers and gives the long lasting moisturization. This also contains the SPF 15 that gives protection from skin haring UV rays. This costs 250 rupees.
Nivea Sun Moisturising Immediate Sun Protection SPF 30 
This is a lotion that will prevent wrinkles, and also protects against Sunburn, rashes and sun related kin problems. This is a dryness repair and water resistant sunscreen that helps to protect the skin. You can try this before entering the pool also. This is a good for the dry skin and costs 385 rupees.
Palmer's Cocoa Butter Formula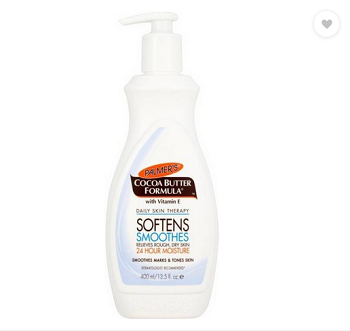 Palmer is known to make several skin healing products which are targeted especially for the dry skin. This lotion leaves the skin moisturized for hours and has a  high quality cocoa butter rich formula that leaves skin soft and silky smooth. This also contains the Vitamin E that is a potential antioxidant which helps to eradicate the appearance of scars, stretch marks and blemishes.
Lotus Vanilla Velvet Daily Body Lotion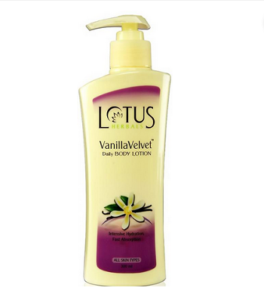 Lotus Herbals Vanilla Velvet Daily Body Lotion is for all skin types and is infused with a mix of Vanilla Soy and Avocado. This helps to nourish the skin and to rejuvenate tissues and helps to make your skin radiant. This has a natural moisturizing abilities which protects the skin from dryness and roughness. This is for 235 rupees. The Vanilla Lotion will protect your skin from sun damage and improves your complexion.