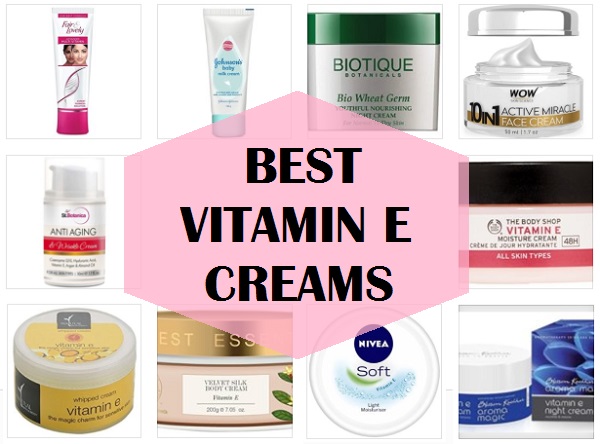 Vitamin E can do wonders for your skin. If you wish to get healthy and smooth skin, vitamin E creams and moisturizer are the best for you. People with dry skin who struggle to get glow on their faces, should try vitamin E cream. Massaging the face with vitamin E rich lotions and moisturizers boost the circulation and make skin glossy. We bring you this list of the best vitamin E rich skin creams available in India.
You must include such creams in your skin care regimen to get healthy and radiant skin. We are not just talking about the facial skin but your body skin also shines with health when you put creams rich in vitamin E.
Benefits of Vitamin E Rich Creams
Vitamin E is also known as tocopherol, which is natural emollient that seeps deeper in the skin and it gives instant relief in dryness and dullness. It is a natural anti-oxidant that helps to fight free radicals and fights oxidative damage. Such creams are also good for the scar healing as well. While you regularly apply these creams, you can expect to get rid of the stretch marks and dark spots on your skin.
Vitamin E is beneficial for your face as the rich emollients heal dry patches and diminish the fine likes. People concerned with aging signs must try vitamin E creams as they prevent the lines formation. It smoothens the crow's feet, laugh lines etc.
It also lightens the skin color by fading the dark patches, pigmentation on the skin and evens out the skin complexion. Application of these creams makes skin appear brighter and supple.
Teenagers and adults with oily-acne prone face type can also try creams loaded with this vitamin.  It decreases the acne marks and scarring of the tissues by healing them faster.
List of Top Best Vitamin E Rich Creams and Moisturizer 
1. Aroma Magic Vitamin E Night Cream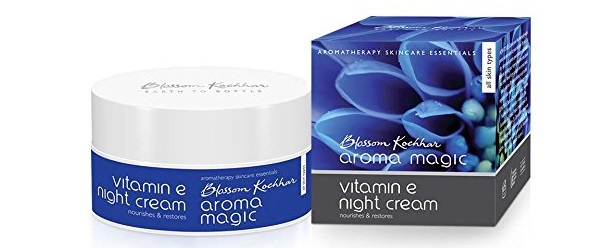 This cream that is rich in vitamin E. The brand is by Blossom Kochhar and the night cream is hundred percent free of petrochemicals, phthalates, parabens toxics and artificial colors. The cream comes in a tub like jar packaging that is easy to carry. This rich cream is very affordable and can be bought from online shops. Overall the cream has got some very good reviews from the customers.
2. The Body Shop Vitamin E Moisture Cream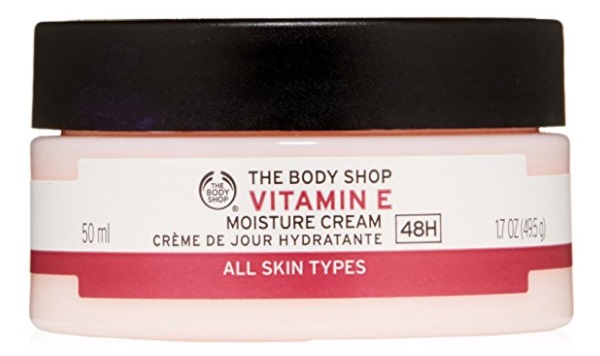 The Body Shop Vitamin E rich cream is for all skin type. It can be used for both day and night. Body Shop products are never tested on animals and are also cruelty free. The moisture rich cream is helpful in prevention of aging signs. It contains the potential antioxidants that help delay the premature aging and damage from the free radicals. The cream also has Vitamin E and other vitamins.
3. Forest Essentials Velvet Silk Vitamin E Body Cream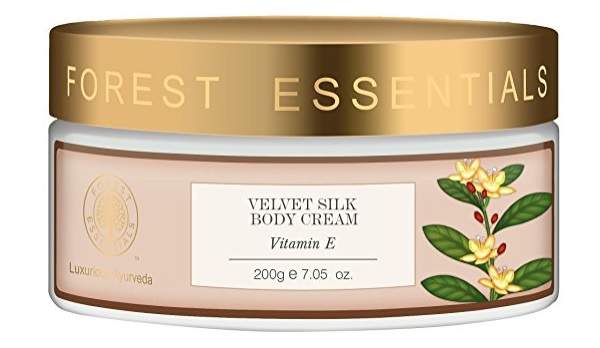 Forest Essentials is a luxury Indian skin care brand that utilizes the power of Ayurveda. This cream is expensive though it does nourish your tired and dehydrated skin. If your skin is dull, dehydrated and aging, this is one of the best anti aging and moisturizing Vitamin E cream for you. Why? The cream contains beneficial ingredients like kokum butter, almond oil, Vitamin E, Shea butter along with avocado butter. While it revives the dry skin, it also ensures the delaying of aging signs. It prepares your skin and detoxifies it.
4. Natural Bath and Body Vitamin E Whipped Cream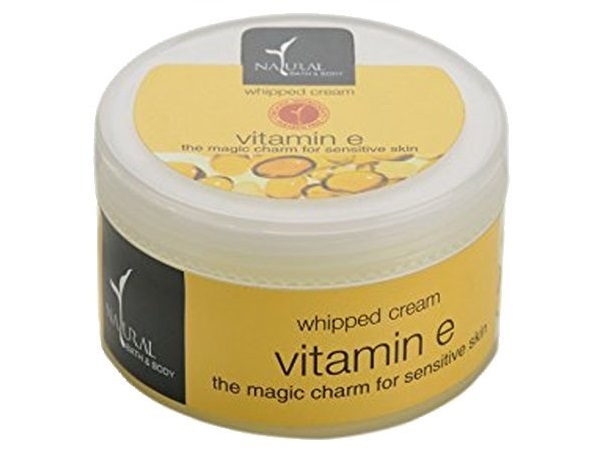 This cream is a bestseller from this brand. It's a whipped cream which is very light textured yet has the power of Vitamin E. It is loaded with Vitamin E, virgin coconut oil, sweet almond oil, Argan and Avocado oil. This cream is rich in nutrients and emollients, it also has a light texture. Tea tree restores the skin's natural pH balance and remove the unevenness and skin pigmentation.
5. St Botanica Anti Aging & Anti Wrinkle Cream with Vitamin E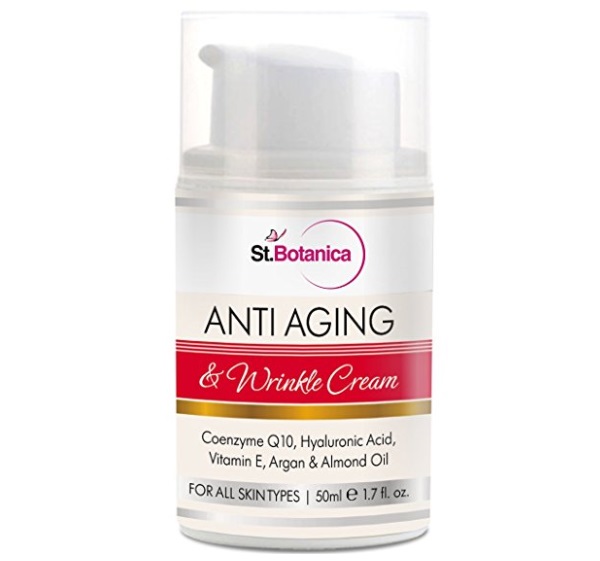 This anti aging wrinkle cream not only contains vitamin E but it also has Argan oil, hyaluronic acid along with coenzyme Q10. The coenzyme is responsible in treating the ageing science like lines, wrinkles, age spots and skin unevenness. This vitamin E cream for wrinkles is packaged in pump packaging which is very easy to use. Being rich in almond oil and shea butter, it moisturizes the skin deeply and make sure that the skin is supple and soft. The product is 100% free of chemicals and toxic. It is suitable for all skin types like sensitive skin.
6. Nivea Soft Light Moisturising Cream with Vitamin E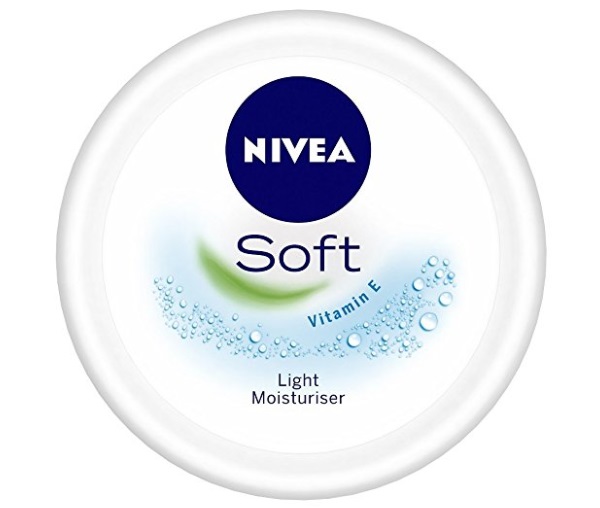 The moisturizing cream is from Nivea that is rich in vitamin E. It gets inside the skin really fast. It helps refresh the skin and leaves smooth and supple skin behind. The brand is extremely popular and you can get it from every shop offline and online. It can also be used for babies. The packaging is a very user friendly that can be carried in your bag. It helps nourish the dehydrated skin with its jojoba oil and Vitamin E contents.
7. WOW 10 in 1 Active Miracle Day Cream with SPF 15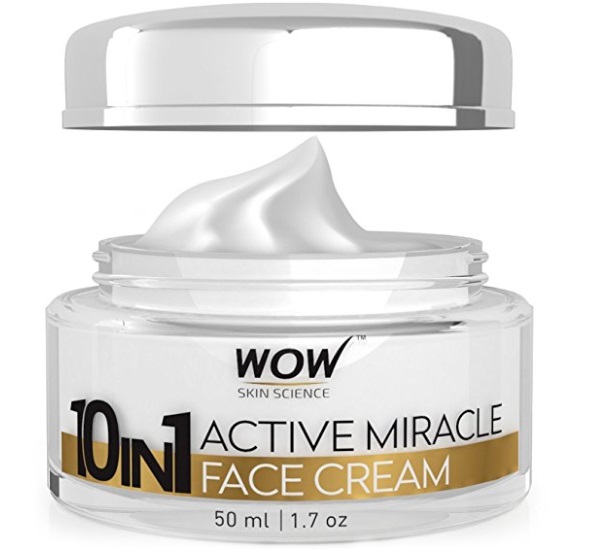 The cream is infused with SPF 15. It has ingredients like shea butter and cocoa butter along with hydrolyzed collagen and Vitamin E. The bioactives help nourish the dehydrated skin and make it deeply moisturized. The vitamin e cream is totally free of the sulphates, parabens, phthalates and artificial colorants. It also contains Aloe juice and beetroot extract. It is one of the best anti aging and glow boosting cream.
8. Biotique Bio Wheat Germ Firming Face and Body Night Cream with Vitamin E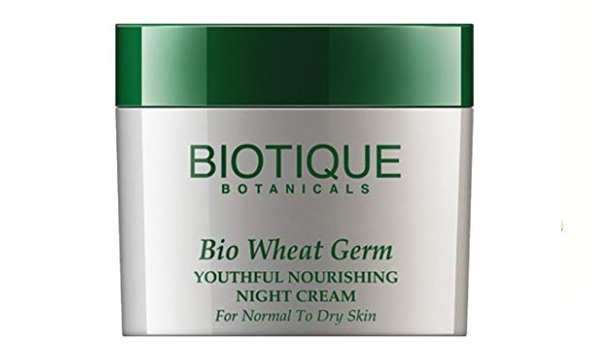 This cream is rich in vitamin E along with the wheat germ. The cream is packet in attack. And it is formulated for normal to dry skin the people. It can be used by men, women, boys and girls. Biotique products are free of parabens, artificial colorants and toxins. It contains wheatgerm carrot almond oil along with Sunflower oil. It makes your skin smooth when applied at night and also brings subtle glow on the skin. It can be applied on all over the skin and body and even under the eyes and neck.
9. Johnson's Baby Milk Cream Enriched with Natural Milk Extracts and Vitamin E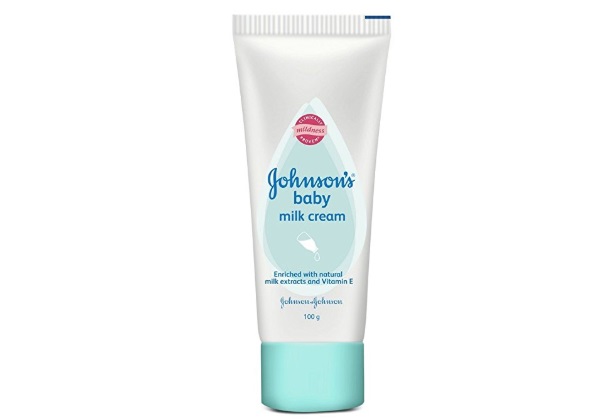 This next product is not just a baby product but adults can apply this to. It's a very gentle and natural Johnson's Baby Cream is with Vitamin E. It is enriched with the milk cream that is considered as an extremely rich emollient along with Vitamin E. It has the added moisturizers to help suit and hydrate the baby's skin. It is allergy tested and dermatologist tested. Imagine if a product is formulated for baby skin then it would be highly soothing and helpful for your skin as well. The cream is perfect Vitamin E cream for sensitive skin.
10. Fair & Lovely Advanced Multi Vitamin Face Cream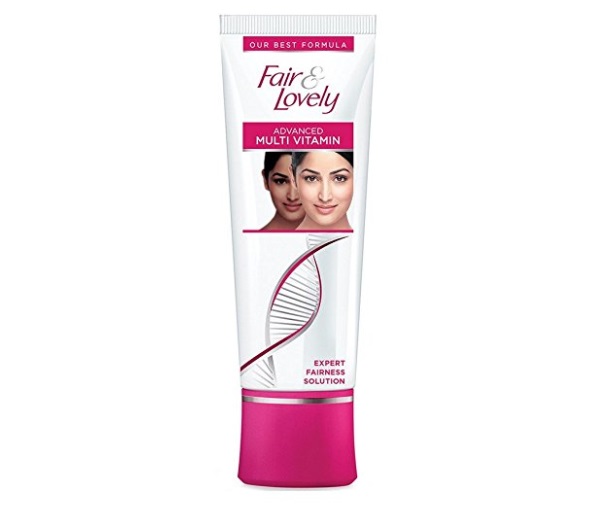 The cream is very popular fairness cream that we have included in this because it is affordable and is rich in multivitamins. It polishes the skin and removes the sun tan and uneven skin tone. It's rich in antioxidants that lighten your skin tone and also fade the dark circles. This cream enhances your skin complexion and over the time your skin glows. It is not very hydrating, therefore, it is more of a cream for the people with oily, combination to normal skin.
These are the best vitamin E creams available in India for men and women. Girls and boys with dry skin can use such creams to deeply moisturize the skin and also to keep the wrinkles and aging away.
Have you ever tried vitamin E creams? If you've any questions then do comment.