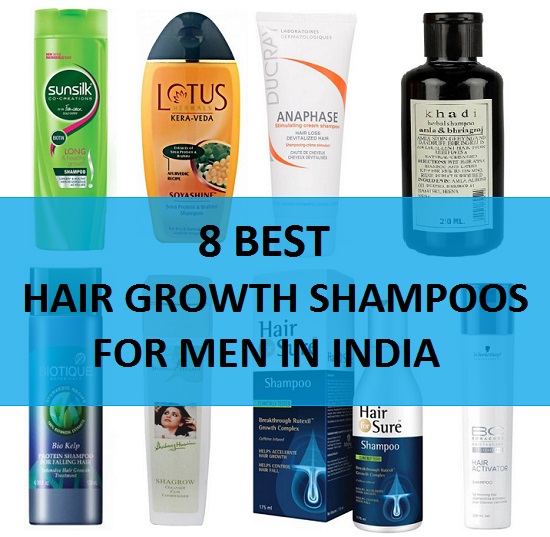 Best Men's Hair growth Shampoos in India
Your hair is one of the best things that you've. They help us look young, attractive and charming. You may have noticed that even when someone is young but because of thin and less hair, he starts to look older. While the opposite can also be true. Like a head full of hair will make you look younger. Look at Anil Kapoor for reference guys.
I feel that for men, hair is their most important beauty asset. I have noticed that when my peers were loosing hair, they used to get worried and depressed.This proves that hair is our crowning glory that we do not wish to lose even in our sleep. To combat this hair problem, we can try to choose the best hair growth shampoos and to start using that. But wait friends! A shampoo alone can never give you good results, you must take a look at your diet. Deficiency of biotin and other vitamins can be the culprits too. In this post at MensBeautyHealth Blog, I will share those shampoos which are formulated to enhance hair growth.
So, if you are facing, hair loss, hair thinning and hair shedding, then you can try hair fall control shampoos, hair growth oils etc. Moreover, hair growth shampoos nourish the scalp and make the roots stronger. The natural ingredients in these hair growth herbal hair shampoos will also stimulate the growth of new hair follicles, let's see guys which are the best hair growth shampoos in India.
Top Best Men's Hair Growth Shampoos in India (2022) For Fast Growth
1. Sunsilk Long And Healthy Growth Shampoo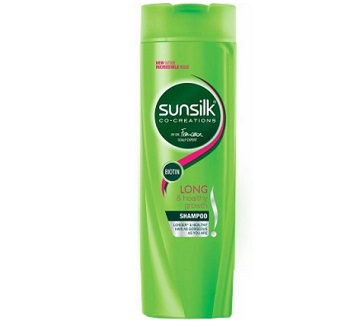 It's not a men's only shampoo but men can also try it. This growth boosting shampoo is infused with biotin or vitamin B7, which is one of the most essential vitamin for hair growth. Like I said biotin is important, therefore other than using this shampoo, make sure to take biotin supplements. Moreover, this will also help in the reduction of the hair breakage. When our hair breaks less then we also get to see positive results in hair fall. This nourishes your hair roots and strands. By the way, it's also a very cheap and inexpensive shampoo for hair growth. Also see: How to use Egg white or egg yolk for hair I posted this on our other blog which you can read. 🙂
2. Lotus Kera-Veda Soya Protein & Brahmi Shampoo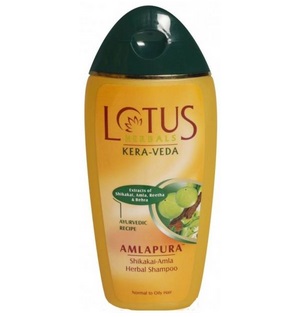 This hair growth shampoo is very effective and is one of the best herbal options to try! Lotus Herbals Soya Shine shampoo is rich in the soya proteins and Brahmi.  As our hair is made up of proteins, you can imagine a protein shampoo will be helpful in what extent. No, your hair will not absorb the proteins from this shampoo, but it smoothens and fortifies the weak hair strands. This soya-proteins rich shampoo nourishes the lifeless, thin and easy-to-break delicate hair. The hydrolyzed soya protein penetrates the hair cuticle to protect against damage whereas the brahmi darkens hair and also promotes hair growth.
3. Ducray Anaphase Stimulating Cream Shampoo For Hair Loss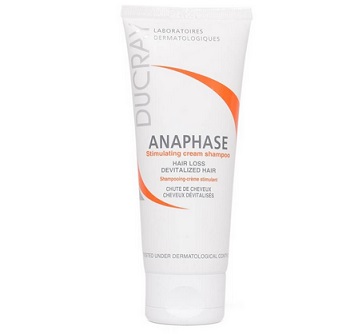 Anaphase Cream Shampoo is the suitable for the hair loss and hair growth since, this stimulates the hair follicles and gives rise to the new hair follicles. It's a clinically and dermatologically tested product. It has shown results effectively. It nourishes the hair and gives deep conditioning. The price of this hair growth enhancing product, is affordable, but honestly friends, that actually depends from person to person. Application is easy as the shampoo lathers well which helps in through cleansing of dirty hair.

4.

Schwarzkopf BC Bonacure Scalp Genesis Root Activating Shampoo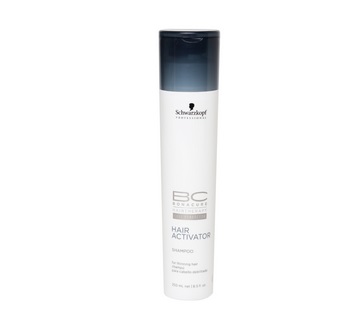 It's an hair activator shampoo. It activates the hair follicle and thus stimulates them to grow well. This shampoo comes for a very budget friendly price. It's availability is not easy, but online it can be easily purchased. If you've got  damaged hair, the shampoo works well. Damage is mostly due to chemicals and sun. This damage splits the cuticle and makes the hair dry. Sun damage also causes hair fall and thinning of hair. You can definitely protect the hair from shedding and falling too much by using this shampoo.
5. Athena Hair for Sure Shampoo For Growth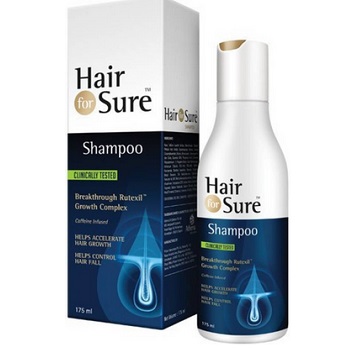 Athena shampoo has the unique formula  containing rutexil which cures the hair and also accelerates the hair growth. This is clinically tested and is safe  to be used. It's a product that can be used by both men and women. Rutexil is clinically tested and recommenced to make the hair grow faster. It also stops the hair fall and stimulates new follicle growth. I have not seen this brand easily in the shops,  but it is easily available in online shops before you can purchase it from there.
6. Biotique Bio Kelp Fresh Growth Protein Shampoo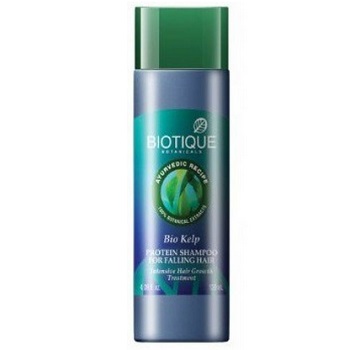 Bio sea kelp has been proven to increase the hair growth and minimise the hair fall. As per the studies, this herb is known to boost the blood circulation of the scalp and decreases the hairfall drastically. Biotique Bio Kelp protein shampoo is for your hair growth. This has proteins that accelerate and stimulate the growth of the strands but takes time. Other than using this shampoo, I will also suggest you that you should apply some home remedies using onion, I posted a while ago that applying onion juice on the scalp can effectively boost the growth of the hair. 
7. Shahnaz Husain Shagrow – Cleanser Cum Conditioner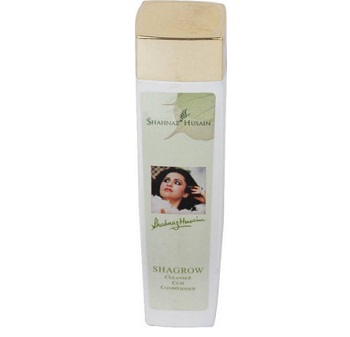 Shahnaz Husain Shagrow Herbal Shampoo Plus Conditioner is a natural and safe product for all hair types. This is a gentle formula that is for damaged hair and split ends as well. It has a nourishing formula that also cleanses the scalp impurities and gets rid of the excess sebum. Shagrow Herbal Shampoo is rich in natural ingredients like Bhringraj, Brahmi and Himalayan Wild Cherry.  Price of this shampoo is a little high,I feel. Bhringaraj is used a lot in hair care products which are dedicated to control hair loss and hair thinning. If you would like to know about how to use Bhringraj for hair fall then do it about this post. 
8. Khadi Herbal Amla & Bhringraj Shampoo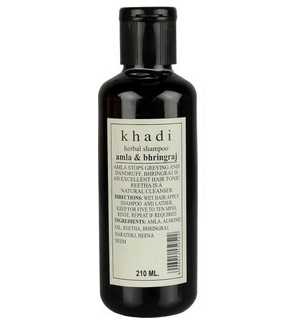 The Khadi Shampoo contains amla that is known to stop graying and dandruff. Other than that, Amla is also known worldwide to increase the hair thickness and the growth of your hair. This shampoo acts as an herbal hair tonic that gives nourishment. This Khadi Herbal Shampoo also contains reetha extract that naturally cleanses the hair and removes impurities and promotes hair growth. Khadi shampoos are best herbal shampoos which are paraben and sulphate free shampoos available in India. 
If you are thinking of trying the Indulekha Bringha hair oil then don't forget to read the detailed review here.
Guys, If you are interested in using the chemical free shampoos,  I posted in my earlier post which talks about the best paraben and chemical free shampoo in India. You know friends, chemicals can also make your hair fall worse. So, by using the shampoos which are paraben and Sulfate free, would be a good idea to combat the problem of hairfall. 
These were the best hair growth shampoos for men for hair growth. Have you used any of these?
Make sure that you are using these shampoos at least thrice in a week. And other than that I would strongly recommend that you take protein and biotin rich diet. If your diet does not have sufficient amount of biotin, then you can consider about taking biotin supplements. Here, is a list of all the best biotin supplement in India, out of which you can choose the best and affordable one for you. It's a safe vitamin to take and rest of the details you can find in the post itself.