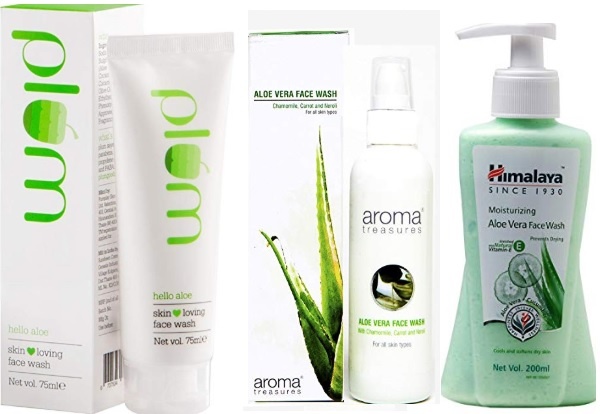 An aloe vera face cleanser can do a lot for all the skin types. Considering that aloe vera is the miraculous product, it's used in so many skin and hair care products. In this post, we are going to talk about the best aloe vera face wash products available in the market. Indian brands are loaded with aloe vera as their key ingredient. This is why the plant is known to revive your skin tone and make it glowing. Even for oily skin aloe vera is the best product to use along with tea tree and neem. Let's take a look at the best aloe vera face wash in India.
List of Top Best Aloe Vera Face Washes in India (2022)
Here are the best aloe vera facial cleanser in India which are suitable for getting beautiful bright and glowing skin. 
1. Himalaya Moisturizing Aloe Vera Face Wash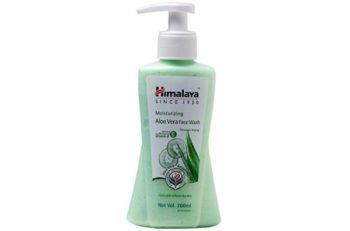 Himalaya aloe vera face wash is the best face wash for sensitive and dry skin in India. It makes an excellent cleanser that immediately cleanses pores. It is has hydrating and moisturizing properties that nourish the skin. Moreover, it's suitable for winter season as the creamy base makes your skin glowing without leaving it sticky. You can use it twice in a day to eradicate dryness and roughness. It also contains cucumber that is known to soothe the skin.
Recommended for: Best aloe vera face wash for dry and sensitive skin
2. Roop Mantra Herbal Aloe Vera Face Wash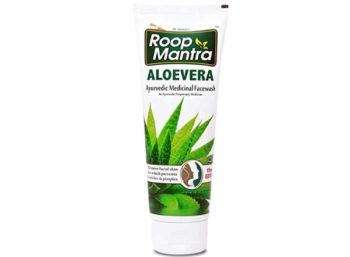 Roop Mantra medicinal face wash contains aloe vera as the primary ingredient. It retains the moisture level of your skin and gives a natural cooling effect. It also controls the appearance of acne and pimples.
How to use: You can take small amount of this face wash and rub over your face and neck. Continue massaging for 30 to 40 seconds and then rinse off your face using clay water. It can be used two times in a day for healthy looking skin.
Recommended for: The face wash is best for all skin types
3. Patanjali Orange and Aloe Vera Face Wash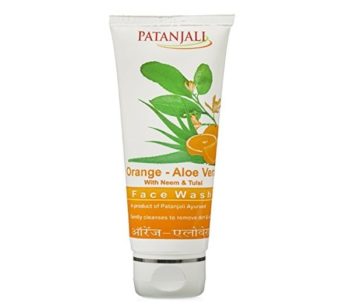 Patanjali aloe vera facial wash for oily skin comes with the pure and raw orange and aloe vera extracts. It is again a sulphate and paraben free product that contains no mineral oils or silicones. It deeply cleanses your skin and removes the makeup traces, excessive oil and skin impurities. It is one of the best aloe vera face washes for oily and acne prone skin, even people with dry skin can also try it. The product also works on your scars to heal them gradually.
How to use:  It can be used twice in a day to get beautiful clear and clean skin.
4. Aroma Treasures Aloe Vera Face Wash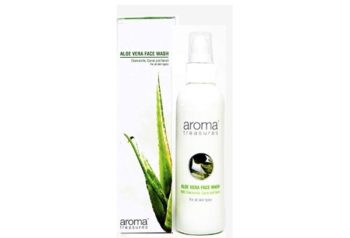 Aroma Treasures aloe vera face wash contains no parabens, SLS or synthetic perfumes. It is 100% genuine and authentic product that helps to relieve dryness and itching. The product is suitable for all skin types and gives you good foams that help eliminate dirt, impurities and grime from your face. The product is not tested on animals and is one of the best cruelty free products in India.
Price: 200 rupees for 100 ml
5. Trufella Face Wash Honey & Aloe Vera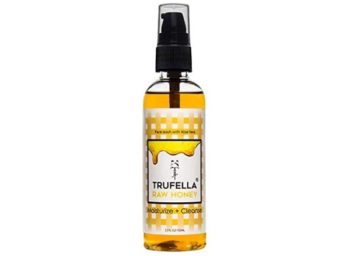 The product has received good reviews from men and women who have used it. It is an aloe vera face wash that contains raw Honey. It comes in a pump dispenser which is very easy to use but not user friendly while you travel. It is available in another variant as well that contains aloe vera and green tea. Aloe vera and honey variant is suitable for dry skin while the green tea variant is suitable for oily and acne prone skin. It is paraben, sulfate, silicone free aloe vera face wash available in India.
6. Plum Hello Aloe Skin Loving Face Wash
The product is little expensive for a face wash but it is the best paraben and phthalates free product that is also Vegan and cruelty free. It has mild cleansing formula that contains real aloe vera juice. It removes the oils and grime from your face effectively without making the skin dry. It also has the natural products that are safe to be applied on acne prone skin.
7. Khadi Aloevera with Scrub Herbal Face Wash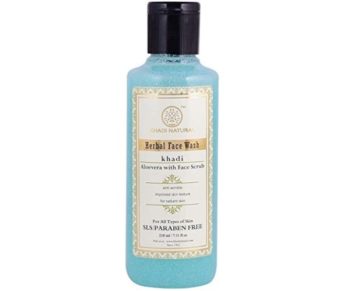 This Khadi aloe vera face wash has scrub wash properties and is the best or acne. It is SLS and paraben free product which is suitable for all skin types. You can use it to get rich foaming lathers along with the exfoliating particles. It is anti wrinkle facial cleanser that also improves the skin texture to get a radiant looking skin. You can use it every day as the exfoliating particles are gentle and would not be very abrasive on your skin.
8. Nature's Essence Neem & Aloevera Face wash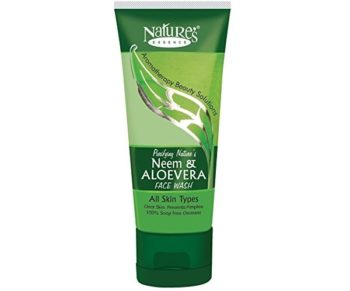 The product contains aloe vera with Neem, thus it is extremely beneficial for oily and acne prone skin type. Neem is rich in antibacterial properties that help to fight the acne causing microbes and germs. It's the best aloe vera face cleanser for acne prone oily skin and helps to soothe the inflamed and red itchy skin. Being 100% soap free facial skin cleanser, it's suitable for sensitive skin too. It also contains turmeric along with Neem and aloe vera to fight the scars.
9. Dr. Batras Moisturizing Face Wash with Aloe vera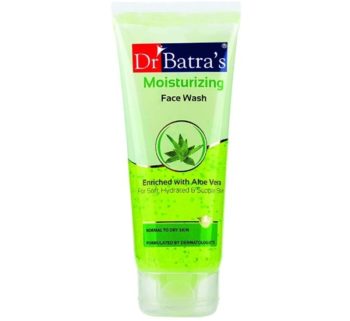 Dr Batra's moisturizing face wash is enriched with aloe vera for soft and hydrated skin. It is best aloe face wash for dry skin and skin that has Psoriasis and Eczema. It helps to activate the facial tissues to fight against the aging. It does not contain harmful chemicals like Titanium dioxide and resorcinol. Aloe vera helps to seal the skin against pollutants. It has a soothing gel base that helps to revive the moisture and retains the hydration. The product is one of the best affordable aloe vera products for dry skin in India.
10. THE REAL MAN Fairness Charcoal Aloe Face Wash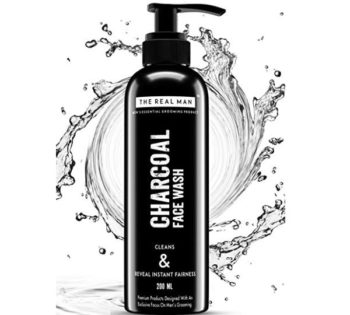 The charcoal fairness face wash has activated charcoal along with aloe vera. It is suitable for oily and acne prone skin. It gives you multiple benefits like anti aging, tightening your open pores, sucking out oils and impurities from oily skin. Not just that, regular use of this face wash twice in a day helps to keep your skin free of pimples. It absorbs the excessive sebum and dead tissues to eliminate the breakouts and acne. Even though it is an activated charcoal product, it'll not be to drying on your skin due to Aloe Vera in it. The product is the best face wash for men with extremely oily skin and pimples.
11. Khadi Aloe Vera Face Wash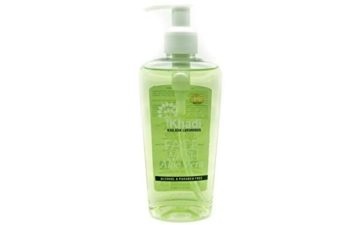 The pure natural and organic aloe face wash is from Khadi Herbals. It is an alcohol and paraben free face wash which has a nice clear gel texture that is suitable for all skin types. It leaves your skin feeling clean and fresh and is the best pure aloe vera gel face wash in India. The aloe vera facial foam is also suitable for sensitive skin due to its mild texture.
12. The Body Shop Aloe

Calming

Foaming Facial Wash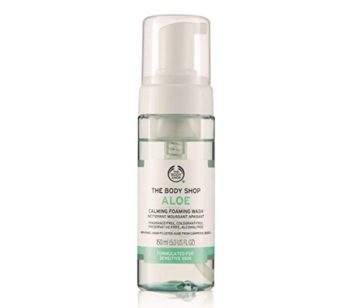 The extremely gentle yet foaming in nature cleanser is best suited for sensitive skin type. The Body Shop aloe vera face wash leaves the skin clean and dewy post the wash without drying or over cleansing.
Price: 695 Rs for 150ml
Gently cleanse your skin with our refreshing aloe face wash. Your skin will be left feeling clean, fresh and calmed. Our foaming wash provides daily cleansing for sensitive skin.
Out of the mentioned aloe vera face washes available in Indian market, you can pick the one that suits your budget and the availability better. Make sure that you use the best aloe vera face wash in India that is suitable for your specific skin type.