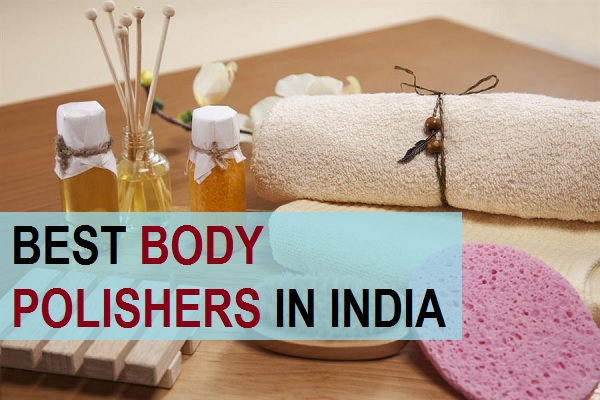 Body polishing is the technique of removing dead cells and dirt from the upper layer of the epidermis to reveal healthy and beautiful skin. By the use of body polishers, the skin is gently exfoliated in order to get a smooth and glowing skin. When you get a proper body polishing then you are bound to get smooth and glowing skin as due to busy lifestyle and hectic schedules we often tend to ignore the body skin. Getting the services done from a spa or salon can not only be time consuming but expensive as well, so why not get the benefits of body polishing products to get luminous skin. Yes, this is what the post is all about. Below is the list of the top body polishes available in India.
What are the Benefits of Body Polishers?
It helps to achieve beautiful and soft skin as the dead skin cells are sloughed off.

The scrub that we use is able to get rid of the dead skin cells trapped in the pores and dirt off the skin.

It clarifies the epidermal skin layers by this technique and skin complexion is also sad to be improved.

The ingredients used in the body polishers makes the complexion lighter and also lightens the stretch marks and other scars on the body.

The coarse material of these scrub helps to boost the blood circulation and the cell renewal arte

When the skin's cell renewal speed is boosted then the wrinkling, scarring and marks are also faded.

The skin also gets younger in its appearance.

The process also aids in the removal and treatment for the dryness and many polishers contains good oils that hydrate the dry skin.
How to use Body Polishing products
Wet your body using lukewarm water.

Take the polisher in your hand and rub over the body contours.

Gentle massage the scrub polisher for 10-15 minutes.

Then wash off with clear water.

You can also use a shower gel first then use the polisher.

If the polisher is very greasy then you can also apply shower gel later.

Avoid using soaps and try polisher once in a week.
List of Top Body polishers in India
1. Auravedic Pure Lightening Skin Polish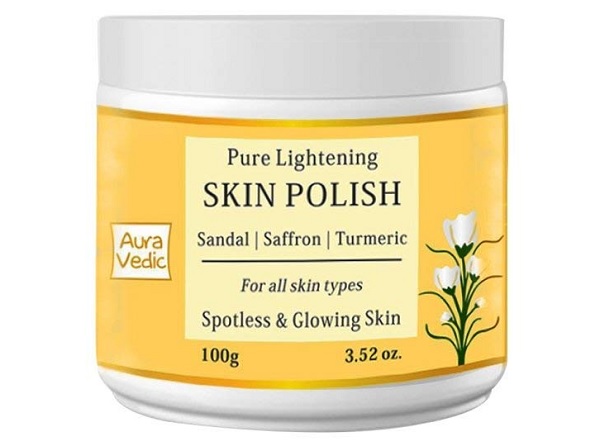 The Auravedic skin polish is a good scrub for the skin as it removes all the dead skin cells. It contains sandalwood and saffron extracts that remove pigmentation and dark skin spots.  It heals skin damage and reduce the unevenness of the peel. This product works really well on the facial skin. Turmeric heals the skin internally and reduces acne and its spots.
Price: 400 rupees for 100 grams
2. Fabeya Biocare Natural Activated Charcoal Face and Body Scrub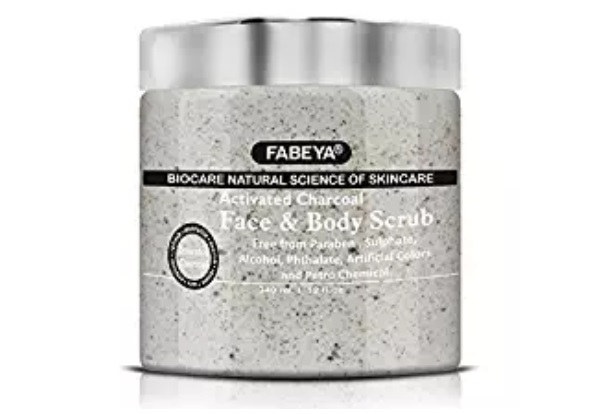 This is an herbal product which is free from sulphate, parabens, alcohol and artificial colors and Petro chemicals. The activated charcoal removes all the oiliness and dullness of your skin. This product is ideal for oily to combination skin.  This scrub is helpful in removes dead skin cells and makes your skin sot and smooth.
Price: 349 rupees for 340 ML
3. Forest Essentials Sandalwood and Turmeric Body Polisher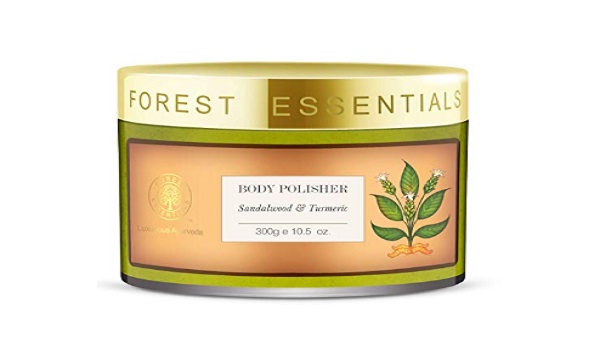 Forest essentials is a really high end herbal brand which has seriously amazing products. This body polisher has a really nice fragrance. Sandalwood is very good for our skin as it naturally induces the skin tone. Turmeric has anti-septic properties that prevents skin infections.
Price: 2750 rupees for 300 grams
4. The Body Shop Strawberry Body Polish Scrub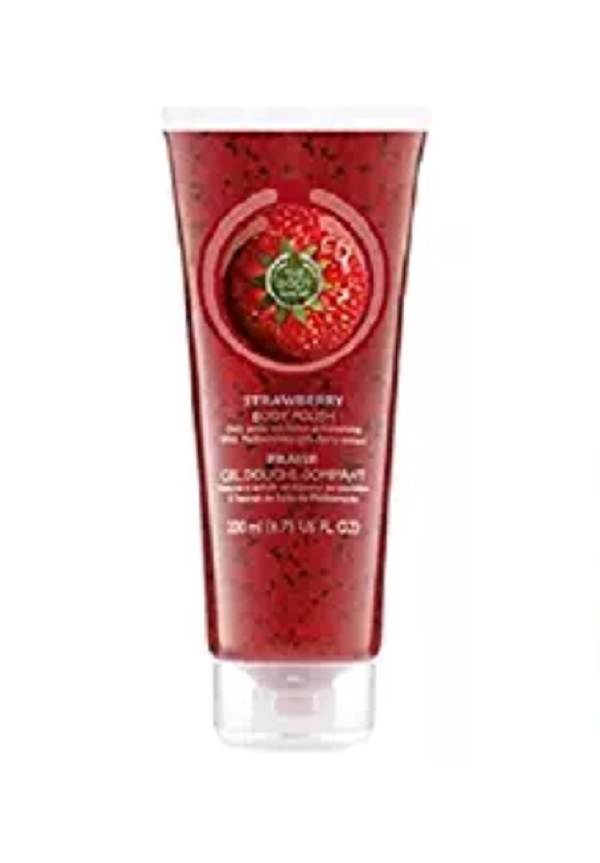 This body polish is a major attraction among women. It not only removes dead and buffed skin but also makes it super soft and silky. It comes in a red color tube like package. It contains Vitamin-E and real strawberry extracts that enhance the skin complexion and gives a fresh feel. This scrub has an amazing strawberry fragrance that makes your entire day feeling fresh.
Price: 625 rupees for 200 ML
5. Forest Essentials Cane Sugar and Tamarind Body Polisher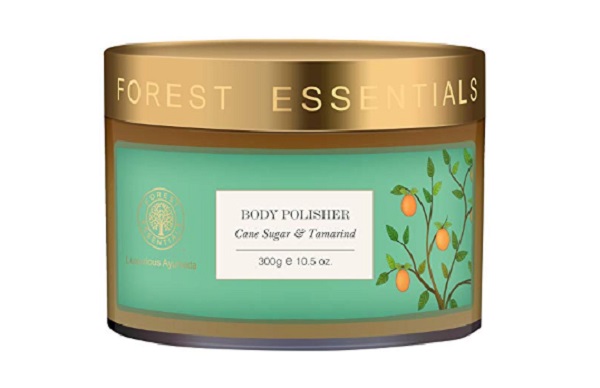 This scrub is filled with small sugar granules which exfoliates your skin and makes it glossy and hydrated. It also contains citrus oils that prevent acne formulation and makes your skin radiant and glowing. This scrub is easy to apply and does a dual job of cleansing and scrubbing at the same time.
Price: 2795 rupees for 300 grams
6. TVAM Scrub and Body Polisher, Apricot and Walnut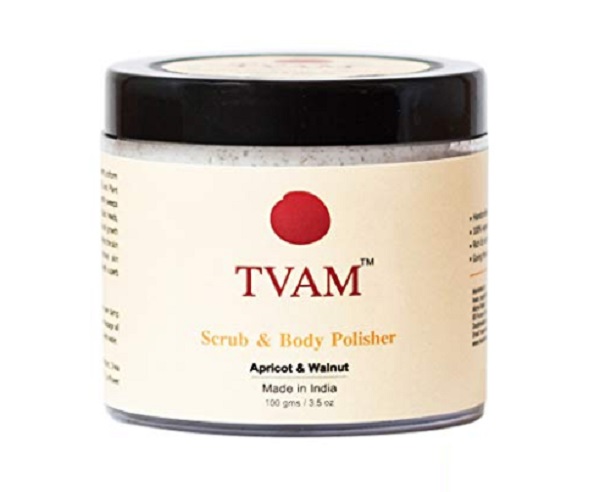 TVAM scrub has multiple ingredients that work effectively on your skin. This product deeply cleanses the pores and removes blackheads and whiteheads. It consists Aloe Vera, almond oil, walnut, apricot, wheat germ oil, etc. All these natural components play a crucial role in your skin health.
Price: 990 rupees for 100 grams
7. Three Elements Body Polisher for Glowing Skin & Tan Removal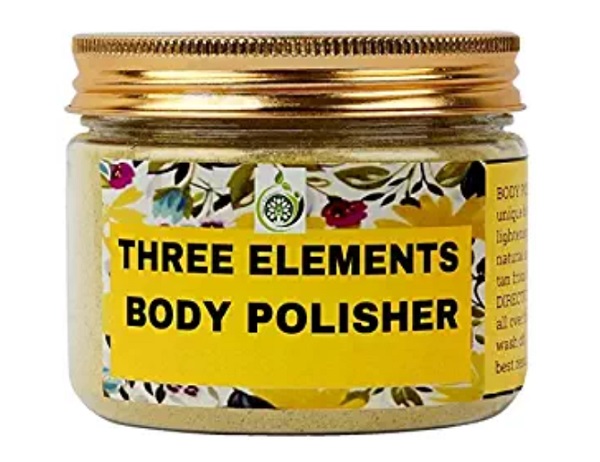 This body scrub and polish de-tans the skin and deeply removes dead and rough skin. It contains oats powder which cleanses, citrus peel that removes dullness of your face and body. Turmeric naturally removes excessive hair growth on face and body. It also consists neem that prevents acne and bumps occurrence on the peel.
Price: 699 rupees for 25 grams
8. Clarins Toning Body Polisher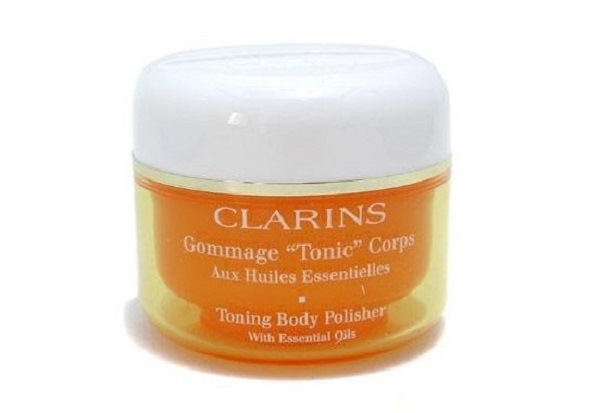 Clarins toning body polisher eliminates dead skin cells and impurities from the skin. It also tones and hydrates the body with essential oils. These oils nourish the skin and imparts a radiant glowing skin.
Price: 2629 rupees for 250 ML
9. Cuccio Pomegranate and Fig Skin Polisher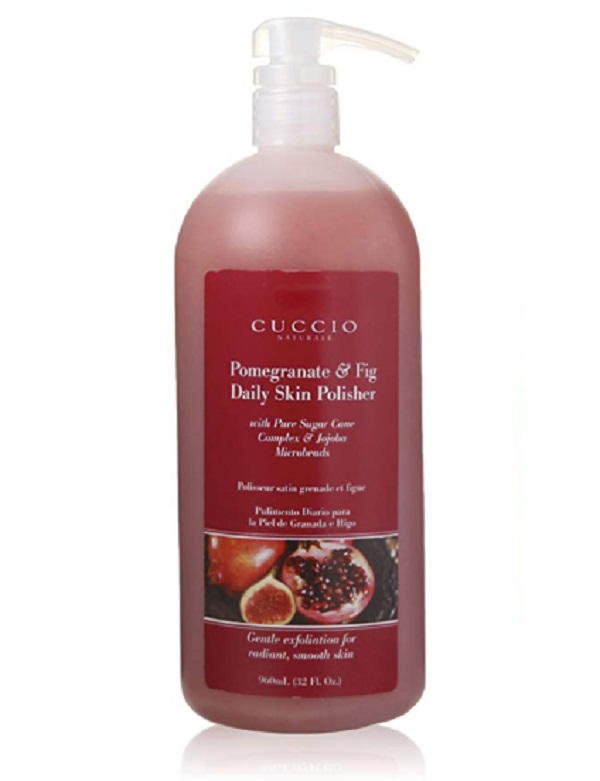 Cuccio pomegranate and fig skin polisher is really rich in terms of ingredients. It raises the skin color and gently exfoliates smoothly. The lustrous consistency makes you fall in love with this product. It delivers a long lasting aroma. Pomegranate contains vitamins and anti-oxidants which protect the skin from free radicals. It gives silky and soft skin in just few minutes.
Price: 899 rupees for 950 ML
This is the list for the best body polished in India. Have you tried body polishing yet? Which are your favorite body polishing products?