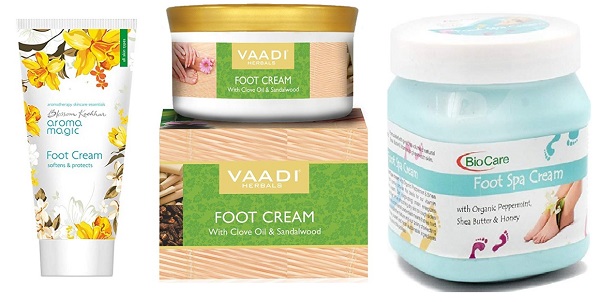 Just like hand creams and body lotions, foot creams are also crucial product. Men's feet get very dry during winters. This is why using a good foot care cream that can help to hydrate the dryness of the feet is important. So, we have compiled this list of the best foot creams and foot lotions for men available in India.  Foot care creams are as essential for men as they are for girls. 
Benefits of Foot Creams
There are several benefits of foot creams like they can help revive the dryness and smoothens the feet. Such creams are also good to prevent the foot odor and also to freshen up the feet. Foot creams also protect from fungal infection and bacteria that produces odor from feet. As men wear socks and shoes for long hours, use of good foot creams can greatly minimize the odor.  Other than that creams made for foot also protects and repairs the cracked heels.
Best Foot Creams for Men in India
1. Aroma Magic Foot Cream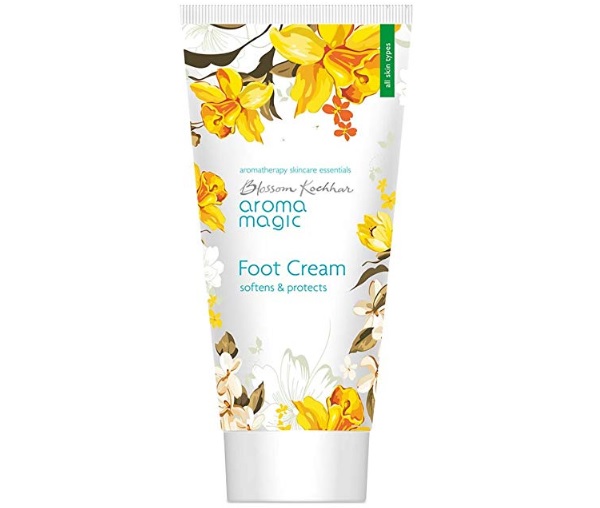 Aroma magic foot care cream softens and protects your feet from the dryness and infectious. It repair the cracked heels and makes them smoother. The product is rich in camphor, mint and calendula extracts along with peppermint and tea tree Essential oil. It revises the tired feet and prevents the odor. The aloe vera gel and vegetable glycerine in this formula helps to smooth the dry feet. It is an organic formula rich in shea butter, coconut oil and Apricot oil. It is a paraben free foot cream.
Price: 175 rupees 50 grams
2. Himalaya Wellness Foot Care Cream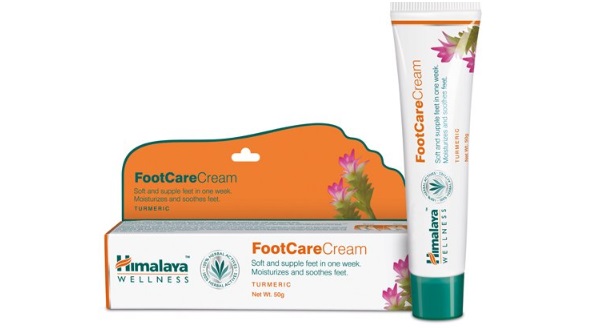 Himalaya foot cream contains the goodness of Indian Herbs like Ginger, aloe vera, turmeric along with the Honey, Fenugreek seeds and Sal Tree extracts.  It helps heal cracked heels and minimizes the odor of the feet by its bactericidal and antiseptic properties. It is an Ayurvedic foot cream for men and women available at very affordable price. The cream also prevents fungal infections on your feet.
Price: 110 rupees for 50 grams
3. BioCare Foot Spa Cream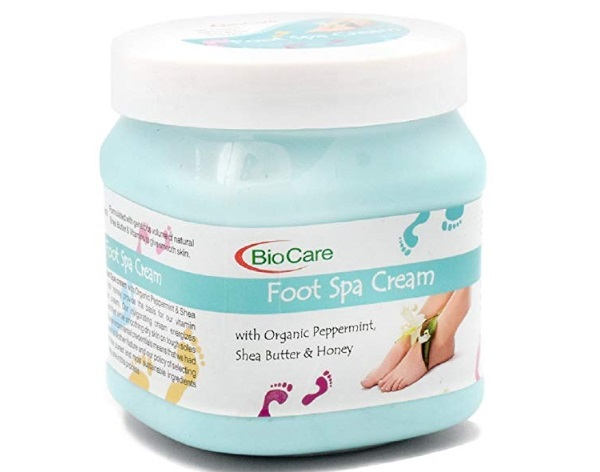 Biocare cream comes in a container and is rich in organic peppermint, shea butter and honey. It will be cure dry food smoother and softer. The heel repair formula also relax is the tired and 80 feet. It is also an ideal foot cream for dry and cracked Heels. Man can apply this cream after the shower and before wearing The shoes. It can also be applied during the night to get full benefits.
Price: 250 rupees for 500 ml
4. Oriflame Feet Up Advanced Cracked Heel Repair Foot Cream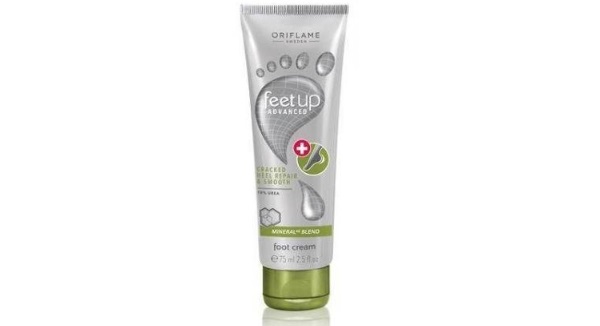 Oriflame foot cream is also a cracked heel repair cream. It works on the cracked heels faster than any other foot cream with its moisturizing and repairing formula. It is suitable for all skin types and has a clinically proven formula that gives improvement in just 3 days. The cream is a rich in herbal ingredients that gives you protection from dryness and bad smell of the feet.
Price: 399 rupees for 75 ml
5. Vaadi Herbals Foot Cream, Clove and Sandal Oil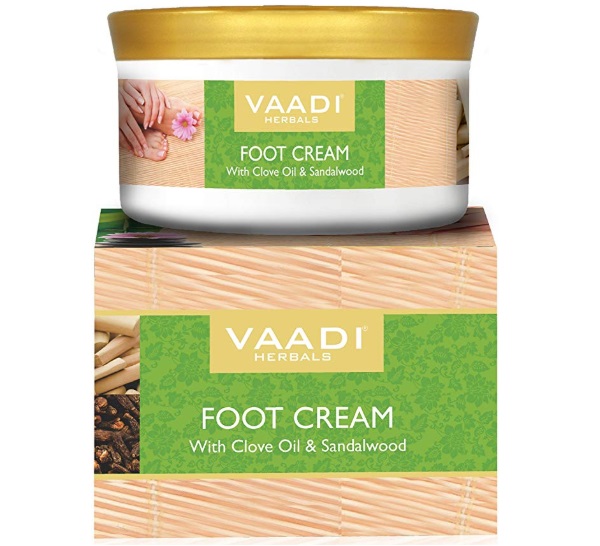 Vaadi foot cream is rich in clove oil and sandalwood oil. It also contains cocoa butter jojoba oil, thyme with aloe vera. Cocoa butter helps to give you moisturization while Sandalwood keep the dry feet smooth. Clove oil is rich in antibacterial and antifungal properties which help to minimize the bad odor and fungal infection. Jojoba oil also makes your feet highly nourished and moisturizer.
Price: 130 Rupees for 150 grams
6. Khadi Natural Jasmine and Green Tea Herbal Foot Crack Cream
The moisturizing herbal foot crack cream is rich in Jasmine and green tea extract. Jasmine and green tea works on your tired and paining feet so, that they get rejuvenated. It can be applied twice in a day. Once after the shower and then before the bed time. It is a herbal formula that is rich in natural ayurvedic ingredients that restores the moisture and leaves aching heels.
Price: 175 rupees for 50 grams
7. Kaya Skin Clinic Deep Nourish Elbow and Foot Cream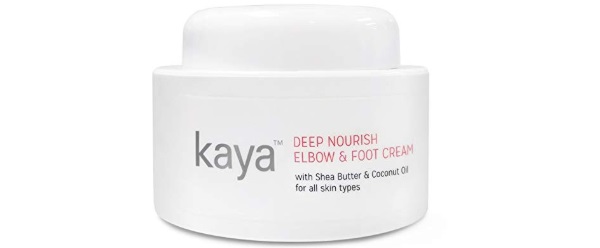 The deep nourishes elbow and foot cream comes in a small jar packaging. This foot cream from Kaya is rich in shea butter and coconut oil. Coconut oil deeply moisturizers the dry feet and makes them softer. While Shea butter works on the cracked heels and Quick Heal skin. The cream does not do a lot on the odor and infections but this foot cream is majorly used for cracked heels and dry foot.
Price: 350 rupees for 50 ml
8. The Moms Co. Natural Cooling Foot Cream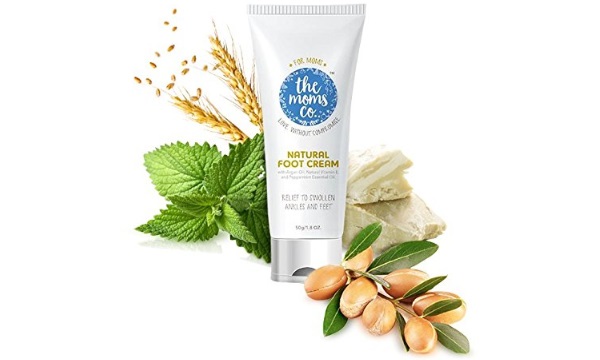 The brand is very organic and natural beauty products brand. It gives your cracked Heels, swollen feet and tired feet relief from old problems. Even though it is formulated for puffy pregnancy feet, still men can also try it due to its natural ingredients. It is paraben free and free from all the artificial and harmful ingredients. It is one of the best creams for skin heels and cracked foot.
Price: 249 rupees for 250 grams
9. Palmer's Cocoa Butter Formula Foot Magic
Palmer is a brand that makes amazing skin care products. The foot magic cream is made for very dry feet. It suits the tired feet with its formula rich in peppermint oil and mango butter. It moisturizes the rough and dry skin of your feet to make it soft and supple.
Price: 375 rupees for 60 grams
These are the best men's foot creams and cracked heels cream in India.  If you want smooth feet with no bad smell then you must apply to foot creams at least twice in a day.