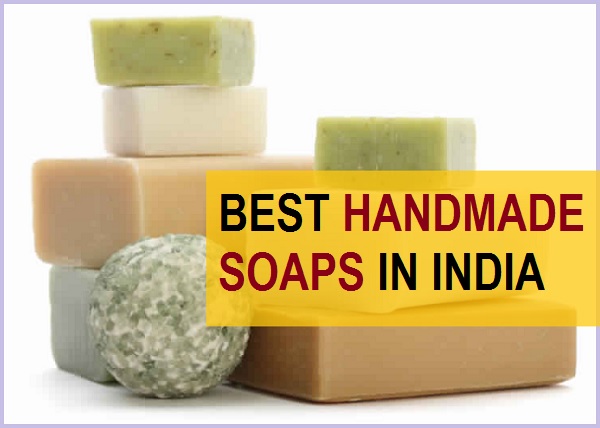 Soap is a daily use product and there are so many choices available in the market. Soaps are made from a chemical reaction between caustic soda, water, fats or oil. Factor made soaps can be drying for the skin and are not as luxurious to use. But handmade soaps are extremely luxurious and gives you high moisturization without the chemicals. Out of the so many handmade shampoo brands, we have selected few that make awesome handmade soaps. These are rich in glycerin, natural essential oils, and other organic extracts. Such soaps maintains skin pH balance and also gives you adequate hydration.
List of The Best Handmade Soaps In India (2022)
Let's go through this list of the best handmade soaps available in Indian market.
1. Nyassa Moroccan Rose Handmade Soap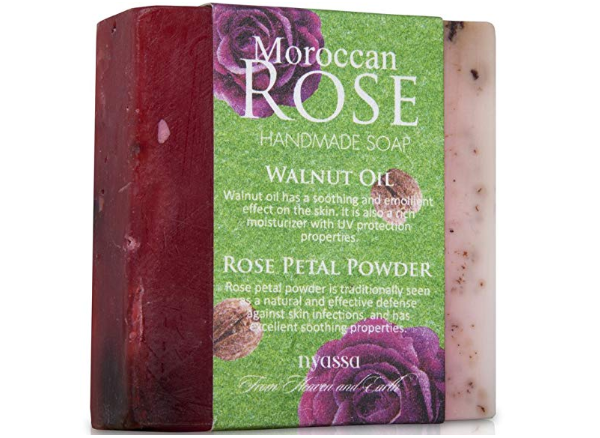 This Moroccan Rose handmade soap is a sheer luxury. It is made with rose extracts, walnut oil and rose petal powder. Walnut oil gives you soothing and hydrating effect on the skin. It is a rich moisturizer for your skin that also protects the skin from UV rays. Rose petal powder will give you polished and smooth skin.
2. Bliss of Earth Organic Tea Tree and Multani Ayurvedic Handmade Soap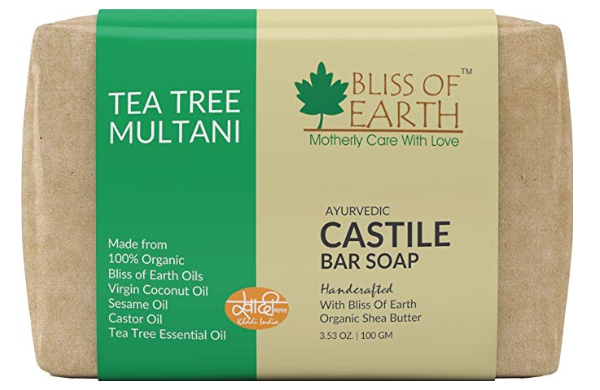 The tea tree Multani soap is a natural handmade soap made from the tea tree oil and fuller's Earth. It is 100% natural handmade soap that has virgin coconut oil, sesame oil, castor oil and other essential oils along with fuller's earth. This soap is one of the best soaps for oily and acne prone skin. It is not drying and helps in moisturizing the skin.
3. Burst Of Happyness Multani Mitti Handmade Soap for Oily, Acne, Combination Skin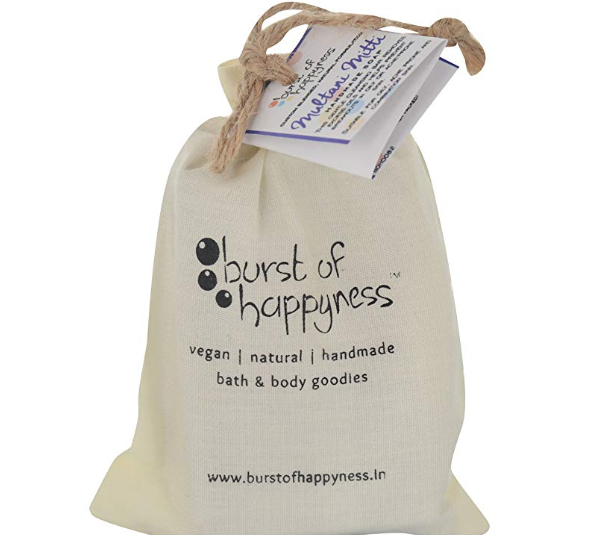 Burst of Happyness is a very well received and trusted new brand. This soap is rich in fuller's earth, (saponified oils like)canola oil coconut oil, olive oil, soyabean oil, Sunflower oil, and activated charcoal along with essential oils like lavender and tea tree. This oil is good for all skin types but is best for oily acne prone skin and combination skin.
4. Earthi Turmarind Turmeric & Sandal Bathing Handmade Soap

This handmade soap contains tamarind, turmeric and Sandalwood extract. Tamarind and turmeric are natural antioxidants and antibacterial ingredients that fight the germs and bacterial infection. This body by gives you dehydration by deeply penetrating into the skin to moisture is it completely. It also get rid of the dead skin cells and makes your skin smooth to touch. It is a naturally made with organic ingredients. Sandalwood oil improvisers the skin color and retain moisture.
5. Vaadi Herbals Exotic Flavors Luxurious Handmade Herbals Soaps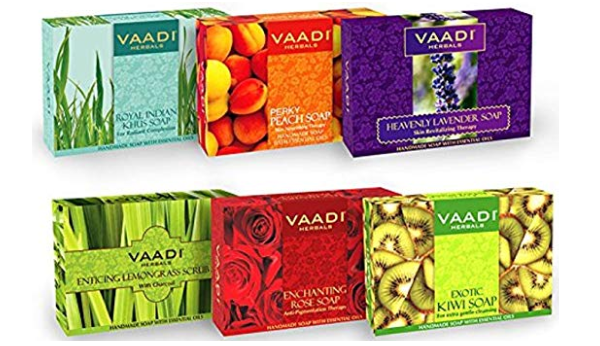 Vaadi Herbals luxurious handmade soap bars are one of the best and comparatively cheaper. They are glycerin rich. They are good to use and don't cost a bomb. The soaps are available in different variants like Rose soap, lemongrass, Royal Indian Khush Soap, lavender and many other. These are good to revitalize the dry skin as they are rich in glycerin and Vitamin C. They also cleansers the skin well and improves the skin texture. You can use the soap according to the variant that you like. There is a Combo available at reasonable price.
6. Lushveda Shea Charcoal and Lavender Spa Bar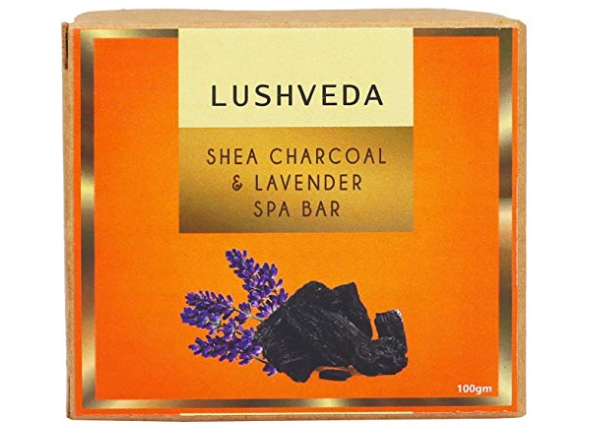 The handmade soap bar is a luxurious experience for your skin. It contains Shea butter, lavender extract along with activated charcoal. Nowadays, activated charcoal is a hot favorite ingredient amongst the skin care products. Activated charcoal is known to drain out the toxic and adsorbs the dirt and dust from your skin. This is extremely beneficial for oily skin. Handmade soap bar contains natural ingredients without the chemicals. It polishes your skin and reduces excessive oiliness.
7. Chandrika Ayurveda Handmade Soap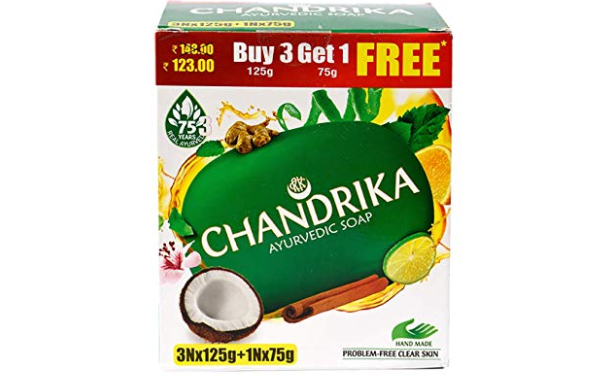 Chandrika Ayurvedic soap is a medicated handmade soap that contains more than the double amount of coconut oil and Ayurvedic Herbs. It can be applied on the face and body both. It gives you problem-free clear skin within few days. This handmade soap is rich in coconut oil along with Palm rose oil, lemon peel oil, sandalwood oil, Ginger oil, Orange oil and patchouli oil.  It keeps your skin naturally radiant and smoother. This prevents the occurrence of pimples, dark spots and rashes.
8. Nature's Touch Handmade Real Rose Petal Goat Milk Soap 

Handcrafted soap is Asia luxury as it is made with rose petals and goat milk. The reasonably priced soap is light pink in color which looks beautiful. It contains precious minerals like Selenium and also has lactic acid. Rose petals give you smooth skin and goat milk is known to whiten your skin. Goat milk extract are also proven have effective anti aging benefits for your skin. It softens your skin and is a chemical-free handmade soap.
9.  Soulflower Handmade Soaps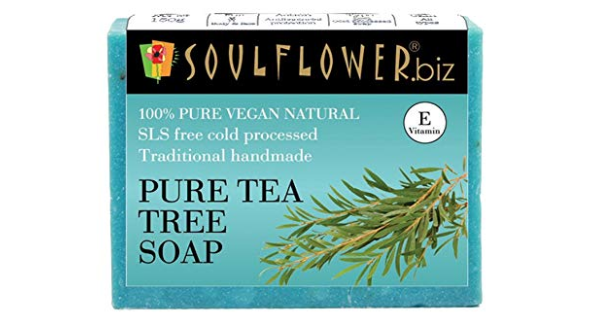 When it comes to natural handmade soaps then Soulflower is one of the best brands to try out. This brand is well known and their products are free of chemicals and made with cold pressing techniques wherever possible. We are not listing any particular soap from Soulflower but their entire range of soaps are handmade and made with SLS free cold pressed ingredients. Soulflower has somewhere around more than 20 natural handmade soap that you can try. Out of that, we like the Moisturizing Milk Chocolate Soap which is very high rated and gives you that awesome feel after the bath. The sweet and nutty smell of chocolate while you bath is extremely amazing to have if you like chocolate.
10.  La Flora Organics Pure Papaya Handmade Soap Bar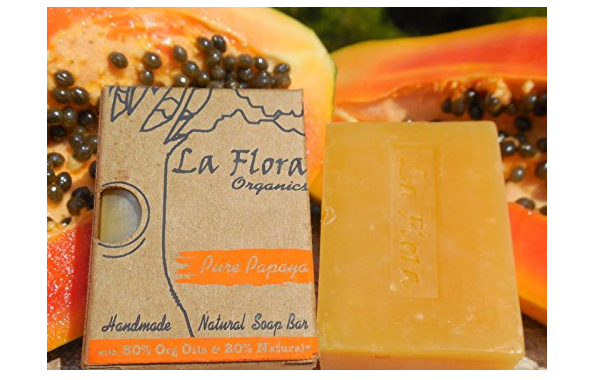 The soap is an organic soap rich in papaya extract along with natural glycerin. It is one of the best skin brightening luxurious bathing bar that comes with the goodness of coconut and olive oil. As it contains real papaya fruit pulp, it is bound to give you blemish free and dark spots-free skin. It is suitable for normal to dry skin. The soap part is not contain any sulphates, parabens, petroleum products or artificial colorants. It has antioxidant properties that also make it an anti aging soap.
11. Just A Soap, Charcoal and Lime Soap with Goat Milk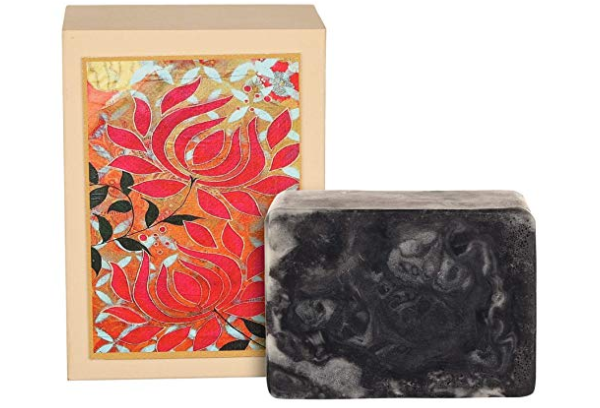 The soap is a luxurious and rich soap with lime, goat milk and charcoal. Goat milk makes your complexion brighter and radiant. Activated charcoal and lime helps to deodorize and detoxify the skin. It eliminates and adsorbs the impurities like pollutants, toxins etc. It improves the skin texture by eliminating blackheads and other related problems. The soap is rich in coconut oil, safflower oil, glycerine, shea butter, and natural protein.
These are the best natural handmade soaps available in India. Have you used any of these? Which is the handmade soap that you like. To protect your handmade soap from melting too fast you should always put them in a dry place as moisture and water can make them melt faster.