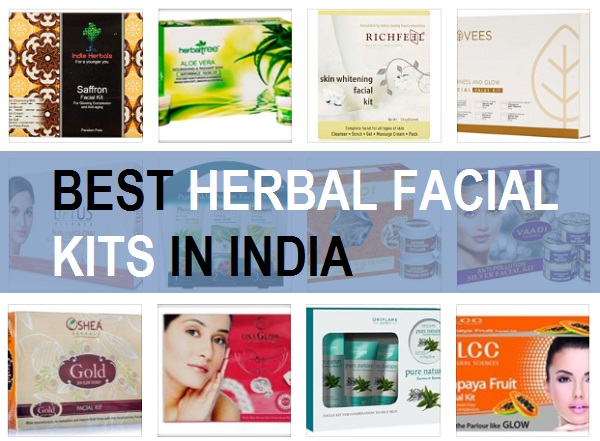 Facials can enhance your skin tone and texture. Regular skin facial is something that can give you younger and luminous looking skin. People who do not like to use chemical loaded products can certainly try the herbal and organic skin care products. This is why, we have created this list of the best herbal facial kits available in India. First of all, we should tell you, how to use herbal facial kit.  An organic facial kit is pretty simple to use and has more benefits for your skin.
How to Use Herbal Facial Kit at Home
Step 1: Cleansing
You can apply the face cleanser gel or cream given along with the kit. Massage it on your skin for two to three minutes. After this you can wipe off the cleanser or just wash your face.
Step 2: Face scrub
Taking the scrub on your palms, scrub your face and the neck as well. Massage gently for two to three minutes. You can use upward circular movement. Wash your face with clear water.
Step 3: Massage cream
Apply the massage cream on face and neck and massage the skin for 10 to 15 minutes. Wipe off the cream with a wet tissue.
Step 4: Face Pack or Mask
Apply the mask and wash your face once it gets dried.
There are different facial kits formulated for various skin type and purposes. You should sue the facial that suits your skin type. So you should know your skin before using any facial kit.
Best Herbal Facial Kit Brands in India for Oily Skin, Dry Skin and Sensitive Skin
1. VLCC Papaya Fruit Facial Kit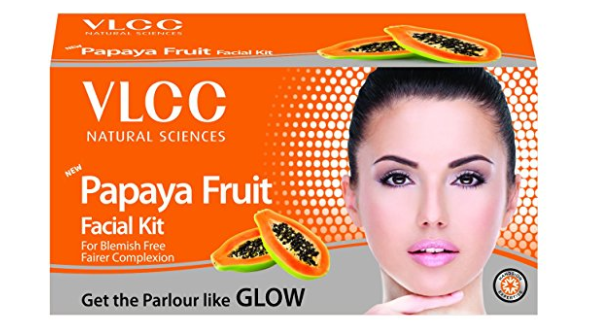 VLCC papaya fruit facial kit removing blemishes and pigmentation of the skin. It makes the skin tight and minimizes the wrinkles and age spots. It improves the skin texture with its papaya extracts.  You can apply this facial at least once in a week or twice in a month.
2. Vaadi Herbals Saffron Skin Whitening Facial Kit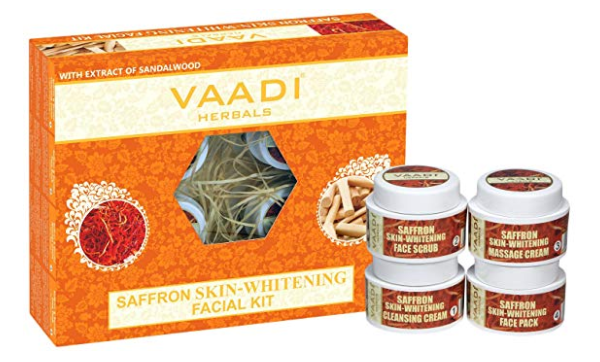 Saffron skin whitening facial kit contains 4 steps of facials. It includes a cleansing cream, face scrub, massage cream and face pack. It helps in removing the dead skin cells. It makes the complexion glowing and fair. This kit has the combination of Sandalwood extracts along with multivitamins. This can be used once or twice in a month.
3. Himalaya Pure Skin Neem Facial Kit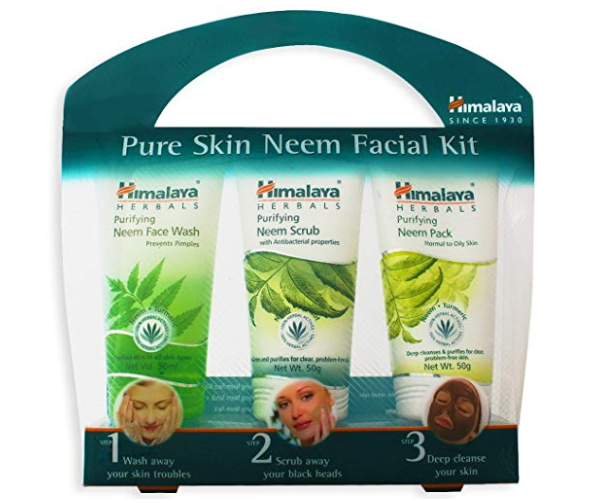 Himalaya Neem facial kit is for people with oily and acne prone skin. The facial contains Neem Face wash, neem scrub and face pack. This aids in eliminating the acne causing bacteria and also gives you purified skin. Neem extracts helps in unclogging the clogged pores and prevents the occurrence of acne and pimples. It is one of the best three steps facial for people with acne prone skin. This can be used once in a week for healthy skin.
4. Lotus Herbals Natural Glow Kit Skin Radiance 4 Facial Kit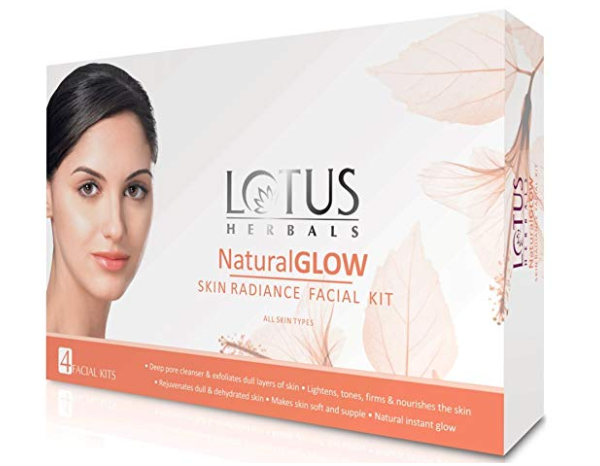 Lotus Herbals Natural Glowfacial Kit contains 4 products which purifies your skin and helps the skin in becoming fair. It does not contain any harmful ingredients. The massage cream hydrates the skin and makes your face soft and supple. The complete facial removes the toxins and dirt from the pores and maintains a pH balanced skin.
5. Shahnaz Husain Gold Facial Kit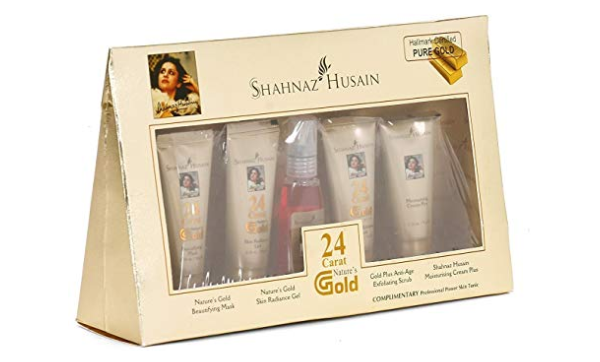 Shahnaz Husain Gold Facial Kit includes a gold scrub, mask, gold gel and moisturizing cream. The massage cream and pack revitalizes the dull and lifeless skin and smoothen the texture of your skin. Men and women can try this organic facial kit for their sensitive skin. Earlier, we have also written about the best facial kits for sensitive face type.
6. Jovees Fairness And Glow Facial Kit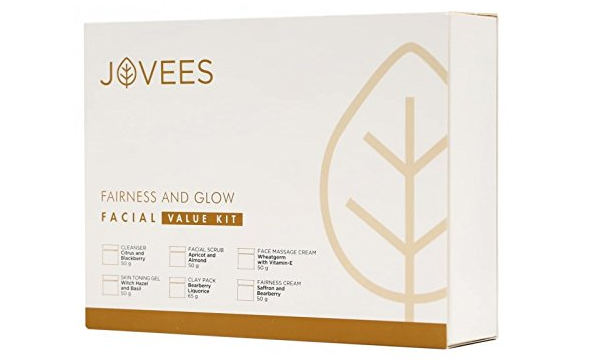 The fairness and glow facial is suitable for all skin types and is made for sensitive skin as well. The kit contains 6 steps of facial like face cleanser, face scrub, face massage cream, massage gel, clay pack and fairness cream that contains Saffron and bearberry. This kit has herbal ingredients that help to whiten your dull and dark looking skin. The affordable facial kit is a onetime use pack.
7. Vaadi Herbals Anti Pollution Silver Facial Kit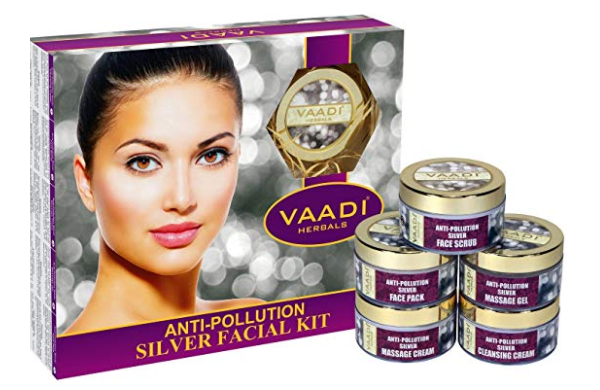 Vaadi Herbals Anti Pollution Silver Facial Kit is for all skin types specially the dull and dark skin. The kit has silver particles that work in eliminating the pollutants and toxins from the skin's uppermost layers. This facial is extremely effective in exfoliating the skin and revealing a beautiful smooth skin. It instantly replenishes the lost moisture of your face. It is suitable for sensitive skinned men and women therefore it can be used once in a week.
8. Richfeel Skin Whitening Facial Kit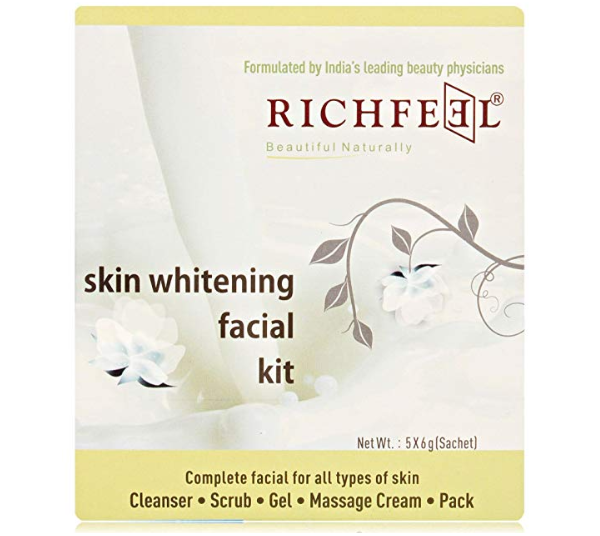 Richfeel skin whitening facial kit is primarily used to get rid of the sun tan and skin darkening. You can apply it twice in a month for pigmentation and dark skin. It contains 5 steps of facial. It has a cleanser, face scrub, massage gel, massage cream and face pack. This kit is excellent for all types of tanned skin. It contains herbal extracts. It is also a very affordable facial kit.
9. Herbal Tree Aloe Vera Facial Kit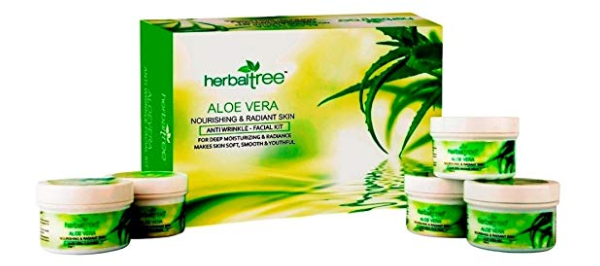 Herbal tree aloe vera facial kit comes with five steps. It has a cleanser, face scrub, massage cream with aloe vera, massage gel and face pack. It is suitable for wrinkles and mature skin. Although it is also is an anti wrinkle facial kit for men and women over 20+. You can use it twice in a month and contains aloe vera extracts tea tree extracts. It is also suitable for oily skin.
10. Indie Herbals Saffron Facial Kit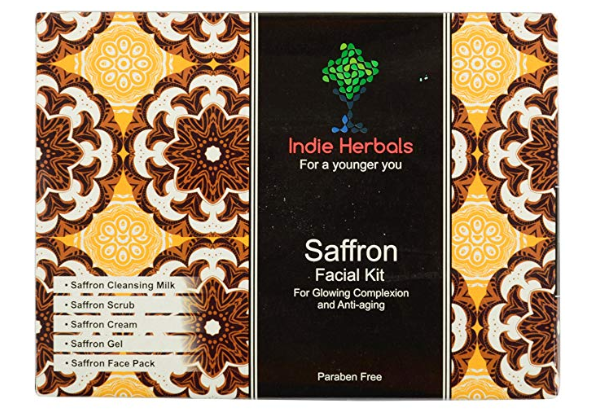 Indie Herbals Saffron facial kit is organic in nature and contains the natural extracts. While you're using a facial like this, it tightens your skin and also makes your skin complexion glowing.
So these are the best herbal facial kits available in India. Have you ever used any of these organic kits?