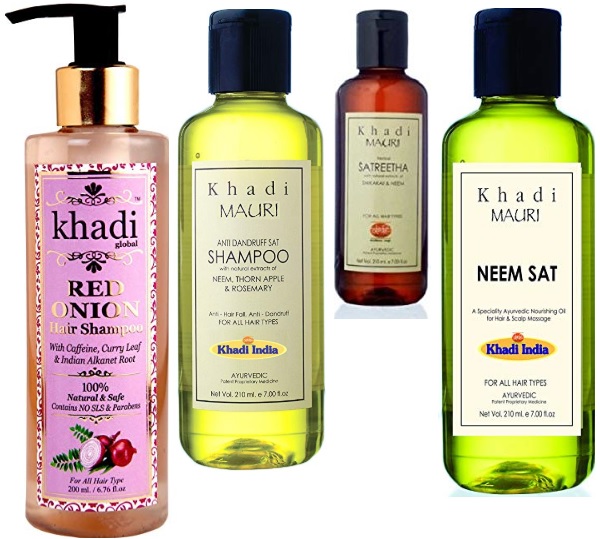 Khadi is a well known brand that is popular for its herbal and organic products. Their products are very paraben-free and have natural ingredients in them.  A lot of people have given positive reviews for Khadi shampoos. We have compiled the list of the best hair cleanser from Khadi brand. With the use of organic ingredients like Amla, Reetha, Manjistha, Brahmi, Bhringraj etc. these are bound to take care of your hair properly and to give beautiful looking hair.
List of top best Khadi shampoos and cleansers in India for different hair types
1. Khadi Mauri Herbals Amla and Bhringraj Herbal Shampoo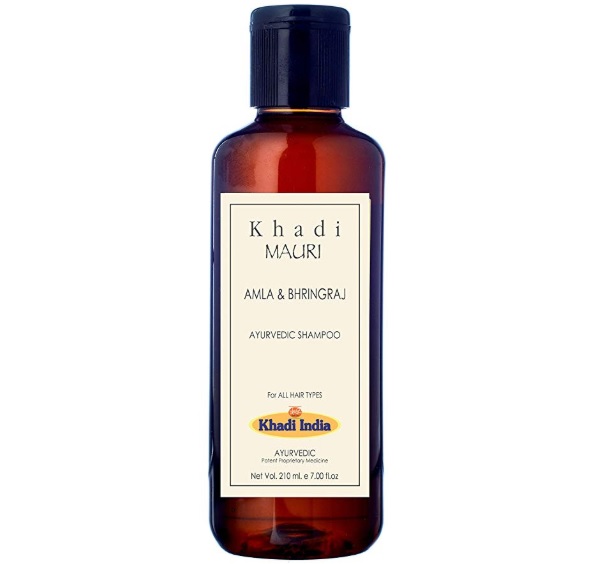 Those suffering with growth issues and hair loss can definitely try this shampoo. It contains Amla and Bhringraj that helps to strengthen the hair roots and makes hair grow faster. It is a herbal product that is free of parabens and Chemicals. It helps clear your dandruff as well and to give you will hear. The shampoo is rich in vitamin C that Stops the premature greying of hair. It promotes good hair growth and relieves the hairfall. 
2. Khadi Mauri Herbals Anti Dandruff Herbal Shampoo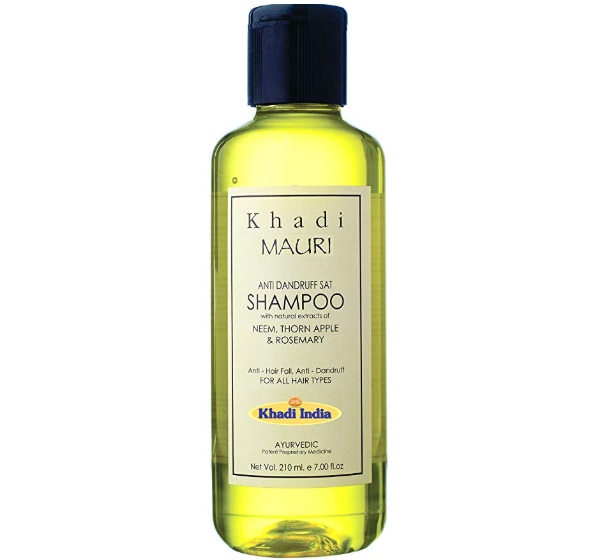 It's an anti-dandruff shampoo that is rich in neem, thorn-apple and Rosemary. It is suitable for all hair types to fight hair loss and dandruff because of it. Dandruff makes the hair roots weaker with the flakes and passive sebum around the hair follicles. The shampoo acts to eliminate this problem in a natural way and give you beautiful thick hair.
3. Khadi Global Onion Shampoo with Caffeine Curry Leaf and Indian Alkanet Root
 
You must have heard that onion is excellent to cure hair loss and baldness. This shampoo is rich in red onion along with caffeine and curry leaves extracts. It is 100% natural and safe without containing parabens and SLS. These powerful ingredients are known worldwide to encourage hair growth while putting a stop on hair loss. Onions are a natural source of Sulphur and quercetin, a powerful anti-oxidant that  prevent hair loss and hair thinning. Curry leaves are rich in beta-carotene that prevents Hair fall. Caffeine on the other hand works to keep the hair dark and thick.
4. Khadi Mauri Herbal Satreetha Herbal Shampoo
Khadi Satreetha shampoo is basically a gentle hair cleanser that gives you soft and silky hair. It is suitable for all hair types and is gentle enough to be used on daily basis. It adds shine and luster to the dull hair.
5. Khadi Mauri Herbal Neem Shampoo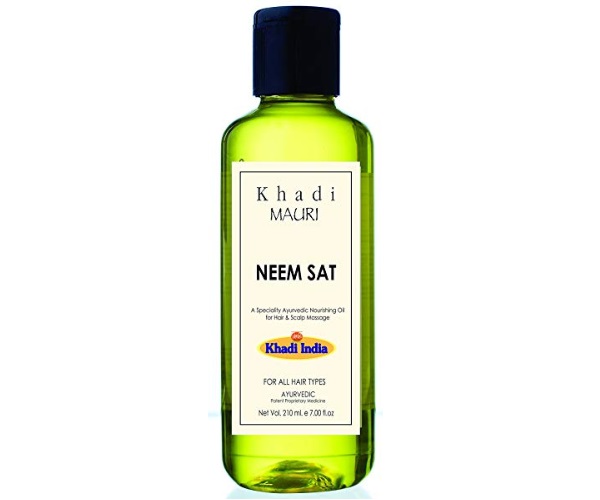 When we talk of neem shampoos, they are exclusively used to get rid of the dandruff and itching of the scalp. The Neem shampoo has herbal formula that lathers richly on the scalp and clears the dandruff infection. It fights the fungus that causes the dandruff. Made with the natural extracts, it does not contain any parabens or sulphates.
6. Khadi Natural Shikakai and Honey Shampoo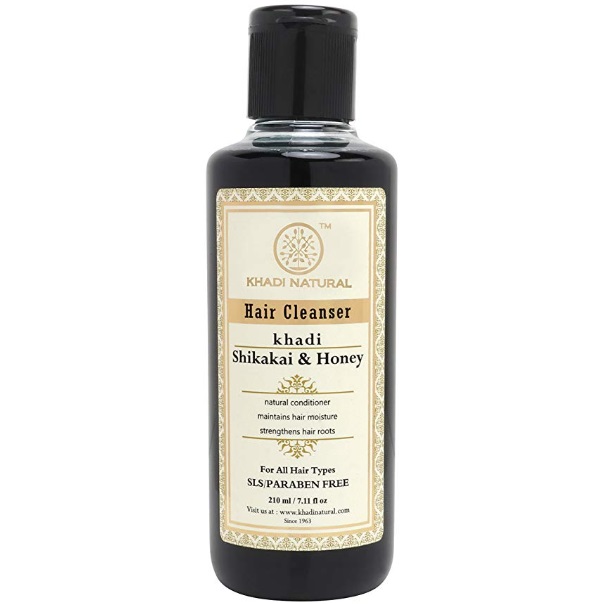 The natural honey and shikakai shampoo is also an everyday use conditioning shampoo. It is SLS and paraben free and is suitable for all hair types. It is a conditioning shampoo that maintains the hair moisture and strengthens the hair root. It is suitable for dry hair to keep the roughness and Dryness away.
7. Khadi Natural Herbal Amla and Bhringraj, Shampoo
If white hair and stunt hair growth is your main concern then this Amla and Bhringraj shampoo is perfect. Amla is known to prevent premature greying and to keep the hair dark looking. While bhringraj is a hair growth booster. To get rid of all these problems, you can try this variant from Khadi shampoos. It is a gentle lathering shampoo that stimulates the follicles to grow quickly. 
8. Khadi Natural Herbal Cleanser, Neem and Aloevera
The gentle shampoo for dandruff and itchy scalp condition for dry hair. It is also free of SLS and paraben product. The major ingredients in the shampoo are Neem and aloe vera. Aloe vera is suitable for all hair types and gives you extremely moisturized hair. Aloe vera also reduces the skin and redness of the scalp.
9. Khadi Natural Herbal Heena Tulsi Extra Conditioning Shampoo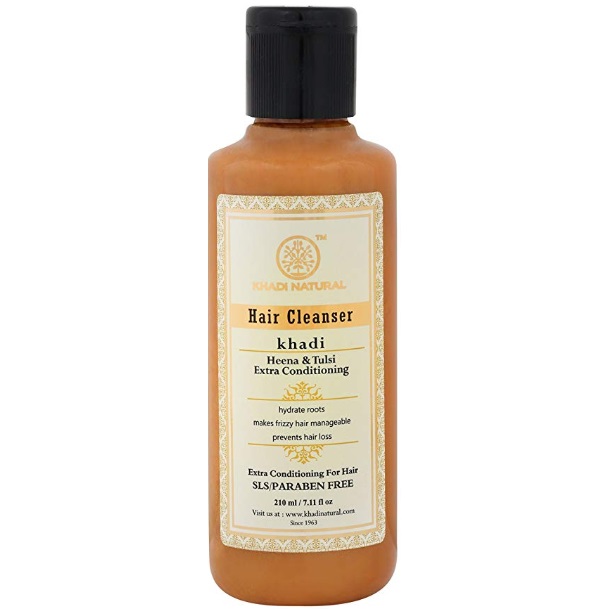 The conditioning shampoo hydrates your roots and manages the frizzy hair. It prevents the hair loss and keep them stronger. It is extra conditioning shampoo for very dry hair that has the problem of flyways and frizz. During winters the shampoo is suitable for extra dry hair.
These are the herbal shampoos in India suitable for different hair problems and hair types.