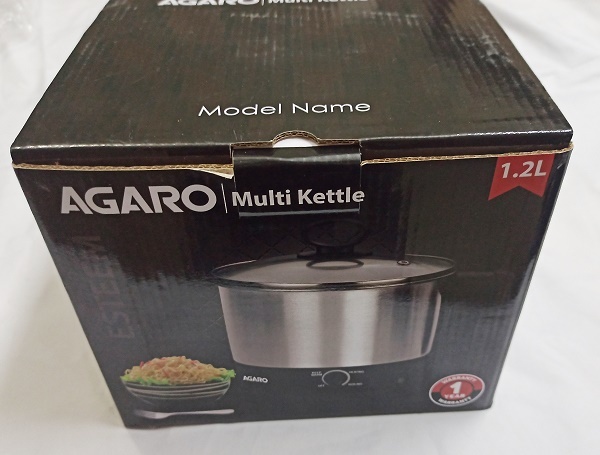 Hi everyone in today's post, I'm going to review this very versatile and helpful product that I've been using this for the past few days and I am really loving it! I am talking about this Agaro Esteem Multi Kettle. It is an eclectic kettle that holds in 1.2 litres.
It is really a multipurpose and versatile product that can help doing so many cooking related chores. By saving time and energy at the same time. Let's get to know more about this product.
Price: 1499 Rupees, Available at discount online 
Agaro Multi Kettle Review
The multi kettle comes with detachable power base so, it's a Cordless Kettle that does not have any power cord dangling from the kettle itself. To charge it, one can put the power base on the kitchen top slab or even on the dining table. It's really safe even for wooden surface glass.
The kettle comes with the stainless steel bowl with a lid of toughened Glass bearing a steam outlet and a plastic small handle so that you can easily lift the lid. The kettle has good quality handle with ergonomic design.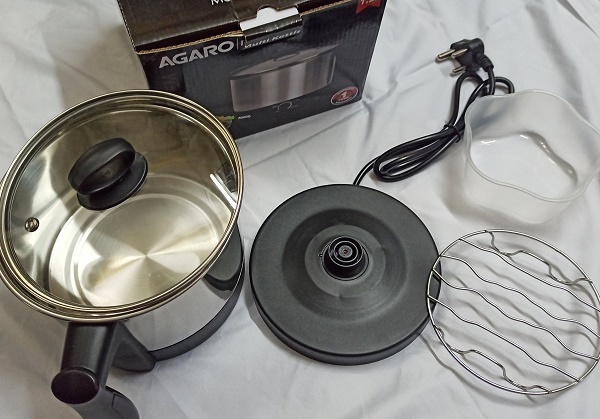 It has three additional accessories that are given for the kettle like a stainless steel grill, Egg boiler rack which is in a plastic material and can hold up to 5 eggs and a plastic small bowl. So the maximum water capacity is 1.2 litres with three modes of heat settings. The three settings are Boiling mode, Heating and Keep warm.
I am vegetarian so I will not use Egg Boiler Rack for eggs for sure, but it can serve some other purpose for me however the stainless steel grill and plastic bowl is of very good quality and use.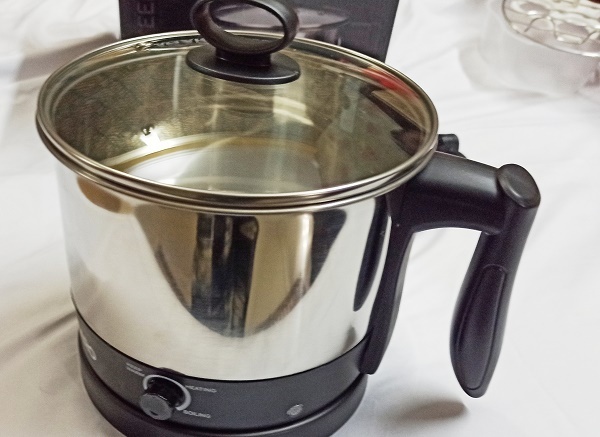 Now, you must be wondering what can we make from this kettle. As I mentioned, it is a multipurpose product and is a best product for the bachelors who stay in hostel, dorms other than home use. Even while travelling abroad, you can take such a product along with you. The multi kettle helps to make the job easier to prepare tea and coffee quickly. Yes you can easily prepare tea around a litre so, you can just understand if you have to make two to three cups of tea it would be very simple to do in this Moreover, the cleaning part is always messy but with its good size and stainless steel body with large mouth, it's easy to use and clean.
When you do not have the LPG or the traditional gas cylinder, it can be used to prepare your basic tea and coffee. I also like to use it for preparing soups and noodles. One can prepare 5-6 servings of soup easily. Additionally, one can also prepare the everyday vegetables or can warm up the gravies. As the stainless steel kettle has a capacity of 1.2 liters, one can make dishes that can serve around 4 to 5 people. And other than that you can also use it for the very basic purpose is to warm the water. If you have a baby at home for whom you would like to prepare formula milk, then just boil the water.
So even you can boil milk in it, or at least warm it before drinking.
 warm milk and it. So I really like it as compared to the traditional kettles which are not easy to clean because of the narrow mouth. This has transparent glass lid and cool touch handle. It has a 600 watts power consumption and comes with three modes of heat setting. So if you are going abroad or if you would be living in domes Apartments or even for bachelors I would say it is one of the best products to try. It is very handy, easy to use and versatile. Useful product in budget
I will call it as a best multi electric Cordless Kettle under 1000 rs.