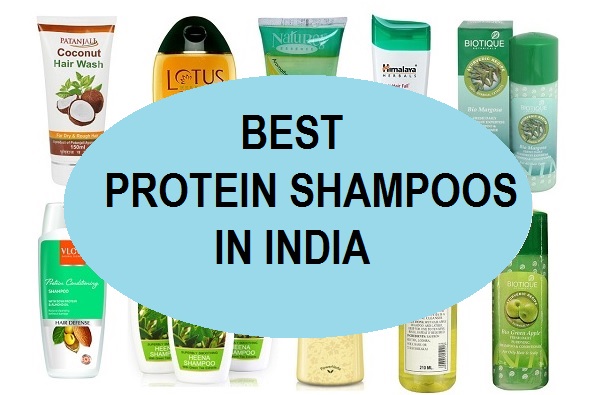 Have you ever tried protein shampoos? As our hair is made up of Keratin which is the basic fundamental unit of our hair, a lot of people are inclined on using protein and biotin rich shampoos. Protein is one of the vital ingredients that is needed for healthy hair growth. This is why a lot of people would like to go for keratin treatment and even keratin infused shampoos. The reason is pretty simple, that these shampoos would help build the hair strand and also prevents the damage due to chemical and UV rays. Protein shampoo help in nurturing the hair follicles and improves the quality of the Year. Here we have compiled this list of the best protein shampoos available in Indian market. Let's check out some of the benefits of using protein shampoos.
Benefits of using Protein Shampoos
They help in adding shine to your hair

Makes hair smoother and frizz-free

It makes your hair color last longer

Proteins help to minimize the damage on the hair

They add texture and beauty to the hair

Hair becomes healthier and thicker

And most importantly protein shampoos boost hair growth
List of Best Protein Rich Shampoos in India
So let's take a look at the best protein rich shampoos available in India
1. Himalaya Herbals Gentle Daily Care Protein Shampoo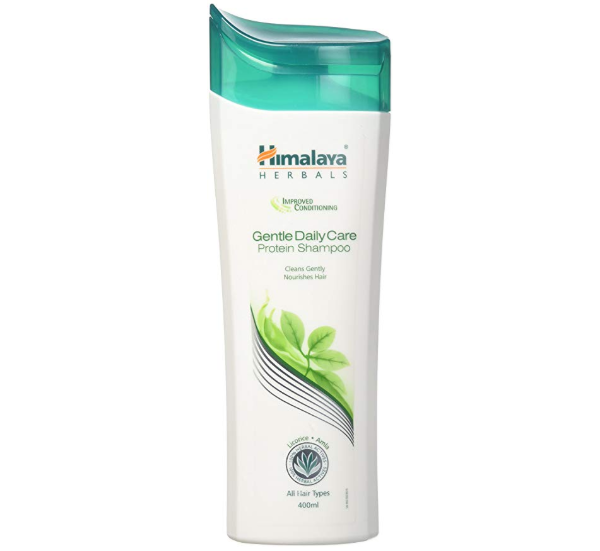 Himalaya Herbals protein shampoo is a daily use mild shampoo that is extremely popular. This is mild and its formula helps to boost the hair growth and strengthen the hair roots. It reduces hair fall and minimizes the effects of chemicals and UV rays. It restores the natural keratin of your hair and makes hair smooth and lustrous. The shampoo is rich in the extracts of chickpea, liquorice, methi, almond, Amla etc.
Pros and Cons
Affordable product

Good for everyday use

Suitable for men and women

Can be bought from most of the online and nearby shops
2. Biotique Bio Kelp Fresh Growth Protein Shampoo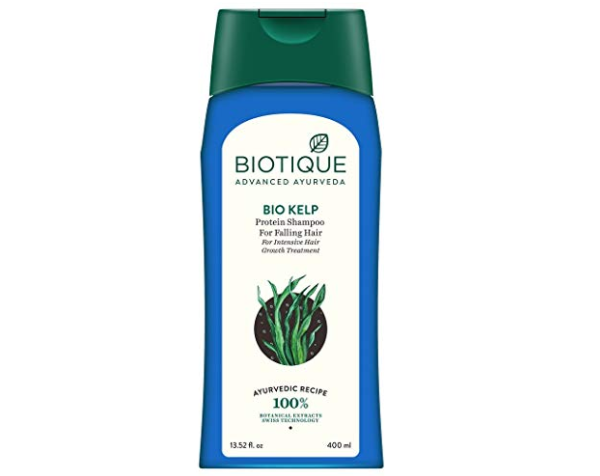 Biotique Fresh Growth Protein Shampoo is made with bio-kelp that is rich in proteins. This shampoo is primarily formulated for thinning and falling hair. It is rich intensive formula that stimulates the hair growth and gives you thicker and luxurious hair. It is a nourishing shampoo that is a blend of natural proteins, peppermint oil and mint leaf extract. This gently clarifies the scalp without making the hair dry.
Pros and Cons
Rich in organic ingredients

Suitable for oily scalp and oily hair

Cleanses the scalp well

Rich in organic ingredients

Devoid of chemicals

Suitable everyday shampoo
3. Nuzen Protein Shampoo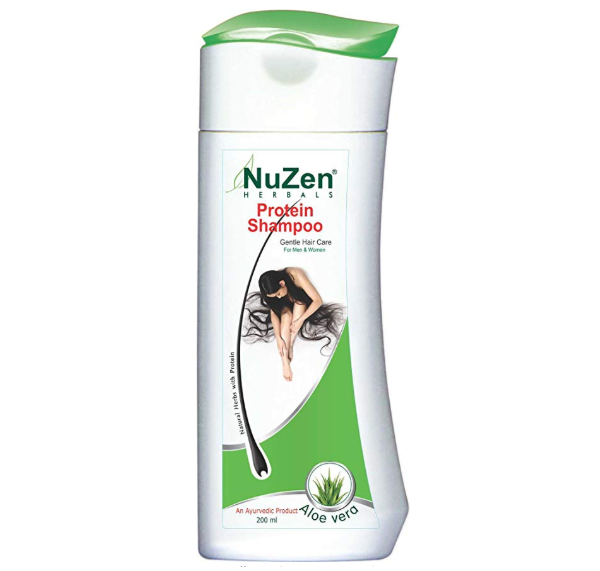 The protein shampoo is affordable and consists of natural proteins along with aloe vera. It strengthens the hair strands from the roots so, that they break and fall less. It helps in less hair breakage and also fortifies the hair.
Pros and Cons
Affordable product

Can be bought from online

Lathers well

Pleasant smell

Has aloe vera
4. Revlon Flex Normal to Dry Body Building Protein Shampoo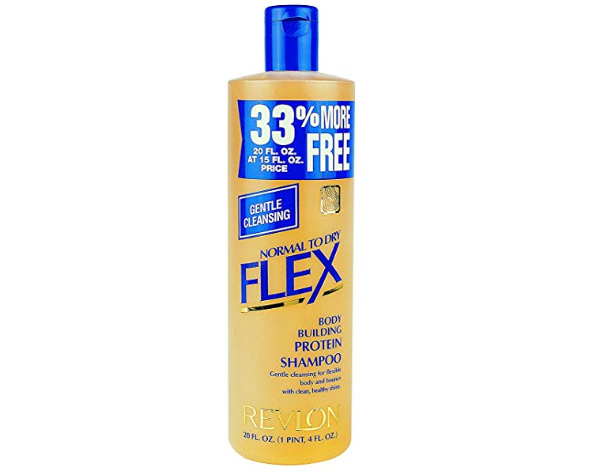 Revlon Body Building Protein Shampoo is suitable for normal to dry hair. It's a gentle hair cleanser that aids in making the hair fuller and thicker. This is formulated for men and women with dry hair as it nourishes the hair and makes them softer. It's very affordable and can be bought from online shopping sites and from any store that sells Revlon products.
Pros and Cons
Makes hair bouncy

Gives body and bounce

Affordable product

Smoothens the rough hair

Gentle cleanser
5. Aaranyaa Conditioning Protein Shampoo with Seabuckthorn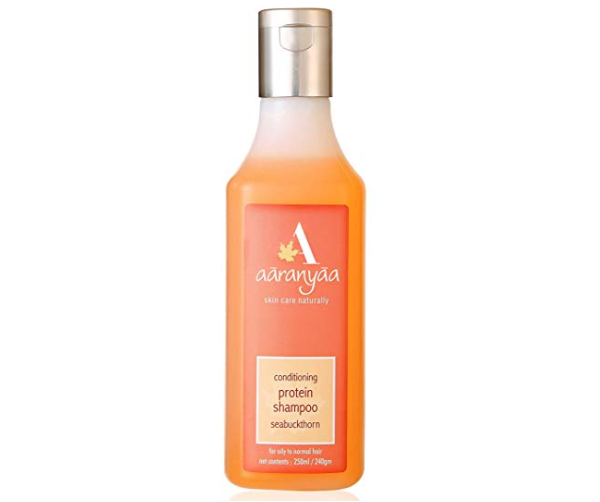 The deep conditioning protein shampoo is rich in sea buckthorn. Seabuckthorn is rich in so many nutrients, minerals and vitamins that this is also used as a supplement by lot of people. It's infused with amino acids and Ayurvedic Herbs. It is lightweight and gets spread easily on the scalp to cleanse the product build up. It is rich in Amla, Brahmi, Methi and sea buckthorn oil.
Pros and Cons
Rich in natural extracts

Rich in antioxidants

Prevent the hair from free radical damage

Works as an excellent hair tonic

Rich in powerful antioxidant

Cleanses the scalp

Nourishes the dry and split ends
6. Clinic Plus Strong and Long Health Shampoo with Milk Protein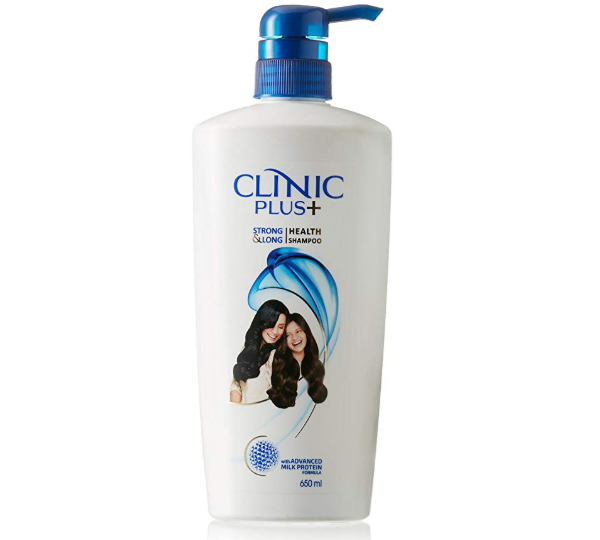 Clinic Plus is a well-known brand of shampoo in India. The shampoo makes your hair stronger and longer with its proteins and advanced formula. Rich in milk proteins, this shampoo work gently on your hair from roots to tips.
Pros and Cons
Makes you stronger

Nourishes the hair

Gives shine and smoothness

Adds volume to the hair
7. Patanjali Kesh Kanti Milk Protein Hair Cleanser Shampoo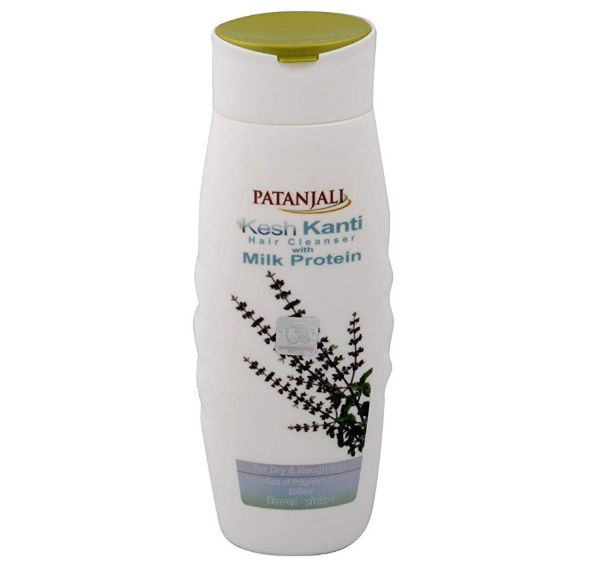 Patanajli Protein Shampoo is very affordable in price and helps cure the dryness and dandruff. This shampoo is rich in bhringraj, Mehendi, shikakai, Amla, Neem, Reetha and turmeric. It fights the infections like dandruff and stops hair loss and greying of hair.
Pros and Cons
Availability is very easy

Lathers well

Works in hard water as well

Suitable for dry and rough hair

Makes hair root stronger

Fights scalp infections

Makes hair black and Shiny
8. The Moms Co. Natural Protein Shampoo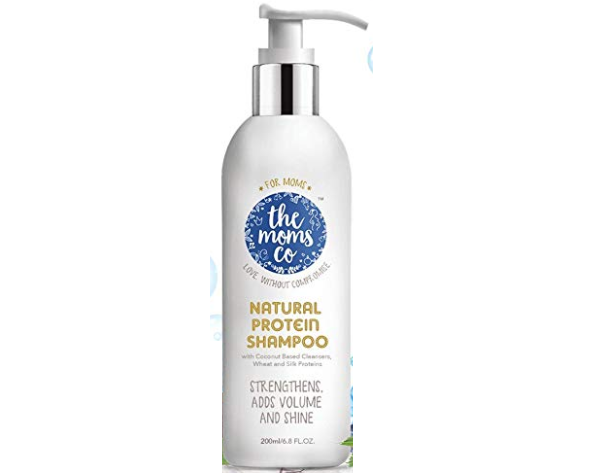 The shampoo is rich in natural proteins with coconut weed and Silk proteins. It strengthens and add volume to your hair. It is a sulphate and paraben free shampoo that is affordable and can be used by men women and even the kids. It works perfectly fine for normal to oily hair, damaged hair and curly hair.
Pros and Cons
Sulphate free shampoo

Free of toxins and pthalates

No Mineral oil or parabens

Not suitable for dry and rough hair

Lathers rich and removes product built up
9. Lotus Herbals Kera-Veda Soyashine Soya Protein and Brahmi Shampoo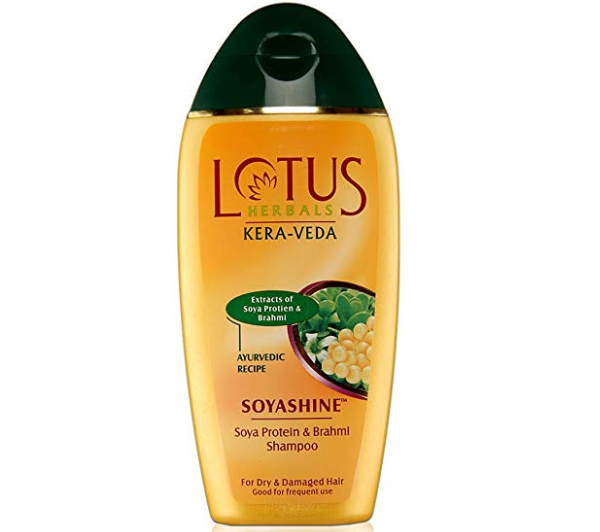 Lotus Herbals Kera Veda Soyashine Protein Shampoo is rich in protein and Brahmi. The thick shampoo is like a creamy product that is rich in Soya extracts. It spreads nicely on the hair and removes all the product built up and residue to give you clean scalp. It is suitable for dry and damaged hair.
Pros and Cons
Very affordable

Availability is easy

Detangles the rough hair

Good for dry to damaged hair

Makes hair stronger

Rich in proteins
10. Oxyglow Golden Glow Pearl Protein Shampoo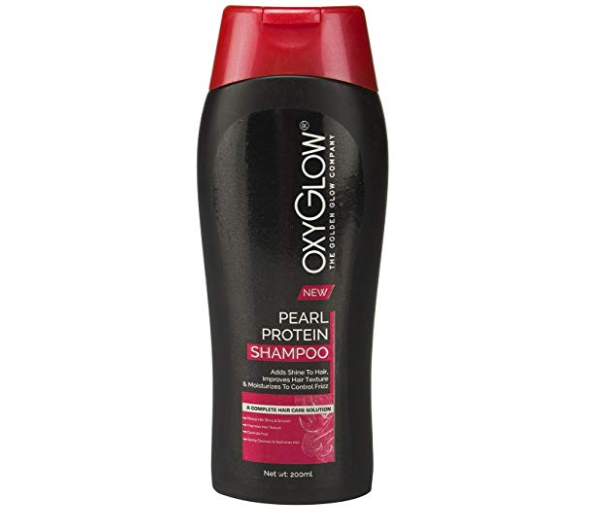 The shampoo has protein complex that acts on the thin and limp hair to improve hair texture. The shampoo gently cleanses your scalp and controls the frizz and hair fall. It nourishes the hair and gives you soft hair.
Pros and Cons
Rich in lemon extracts

Ammonia free shampoo

Rich in natural ingredients

Not tested on animals

Good for thinning hair and bhringraj

Has bhringraj that works as the best remedy for hair fall
11. StBotanica Biotin & Collagen Volumizing Hair Shampoo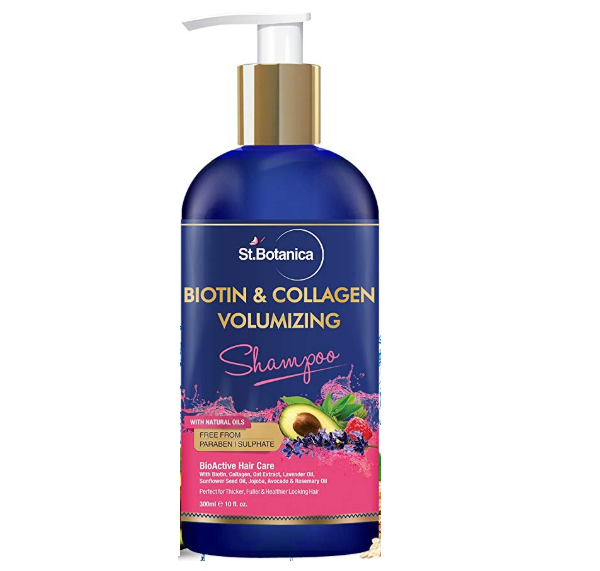 The biotin and collagen volumizing shampoo is rich in the protein collagen and the vitamin biotin. It repair the hair and smoothness them. It is a sulphate free shampoo that is rich in organic ingredients like collagen, almond oil, lemon oil, Silk proteins, Rosemary oil, along with so many other beneficial oils.  It is one of the best shampoos for colored hair and for hair growth.
Pros and Cons
Hyper-allergic shampoo

Safe for coloured hair

Affordable

Sulphate free and paraben free shampoo

Rich in essential oils like avocado, Rosemary, Ginger, peppermint, carrot seed, jojoba oil, and Sunflower oil 
   12. Halo Nourishing Shampoo with Natural Egg Protein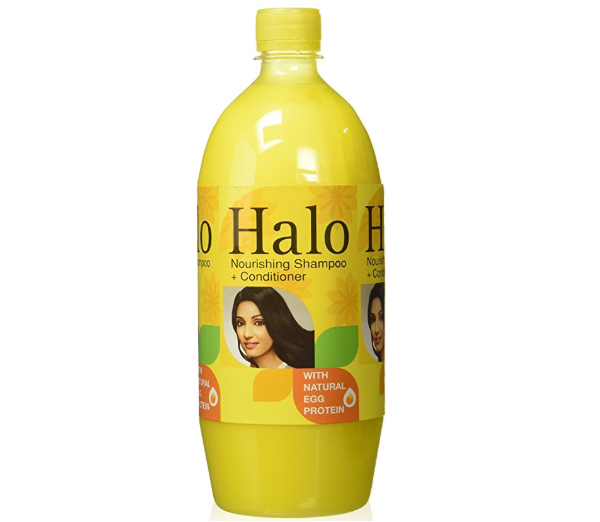 If you like protein shampoos with eggs, then this shampoo is the best seller in this category. The shampoo is rich in egg proteins. It vitalizes your hair and helps them grow faster.
Pros and Cons
Affordable shampoo

Rich in egg proteins

Fights dandruff

Adds volume

Reduces hair fall and hair loss
These are the best protein shampoos in India which men and women can use to boost the hair growth and make hair stronger. Use of such hair cleansers also aids in getting longer hair quickly.