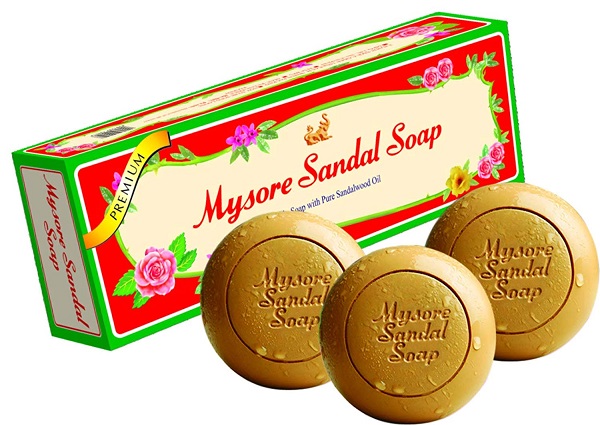 Soap is amongst the daily use product that is used on daily basis. Some of us would use that for bathing and some of us would also use it as a facial skin cleanser. Sandalwood is a naturally occurring product that has so many benefits for skin care and health. This herbal ingredient has been used in so many of the skin care products like face wash, creams, lotion and face pack. This has lots of medicinal plants but here in this post we will be talking about the best Sandalwood soap available in India.
List of Best Sandalwood Soaps in India
This is the list of the top Sandalwood based soaps available in Indian market. This soap also contains some other ingredients so, according to your preference and budget you can pick the one that you like.
1. Mysore Sandal Soap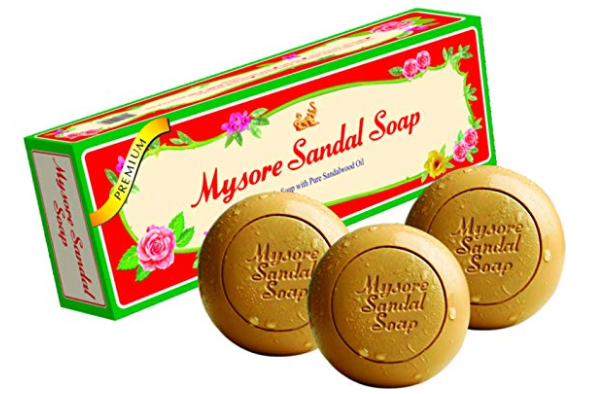 This Sandalwood soap is one of the most popular soaps in India that has Sandalwood in it. The reason is that it consists of original sandalwood which is good for the irritated skin. Otherwise, as well Sandalwood helps in whitening the skin and also acts as an excellent moisturizer for dry and dull skin. This soap is based on natural sandalwood oil that gives it luxurious aromatic fragrance. Long term use of the soap help in decreasing the common skin problems like itching, rashes and blemishes.
2. Forest Essentials Sandalwood and Turmeric Luxury Sugar Soap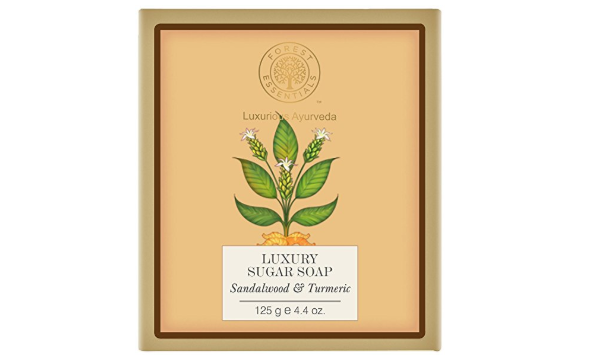 Forest Essentials is a luxury skin care and hair care brand made with the natural and organic ingredients. The soap is a luxury Sandalwood and turmeric sugar soap that gives mild exfoliation to the skin. It consists of raw cane sugar, almond oil, glycerine, Sandalwood and turmeric. Over all, the soap acts as a wonderful remedy for skin pigmentation, blemishes and moisture retainer. This cleanses the skin and helps in making the skin clear of dark spots and pigmentation. This soap can be used by all skin types and is safe for sensitive skin as well.
3. Kama Ayurveda Red Sandalwood Ayurvedic Soap with Pure Sandalwood Oil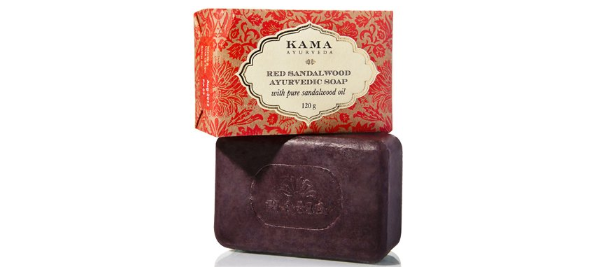 Kama Ayurveda is yet another Indian Ayurvedic skin and hair care brand that formulates Organic products. This red Sandalwood Ayurvedic soap is rich in pure sandalwood oil and also consist a blend of cold pressed organic extra virgin coconut oil, natural beeswax and almond oil. This soap is perfect for dry itchy skin during winters. It adds in moisturization of the skin properly and has an antimicrobial effects on the skin. It reduces the spots on your skin and makes skin flawless.
4. Mysore Sandal Millennium Soap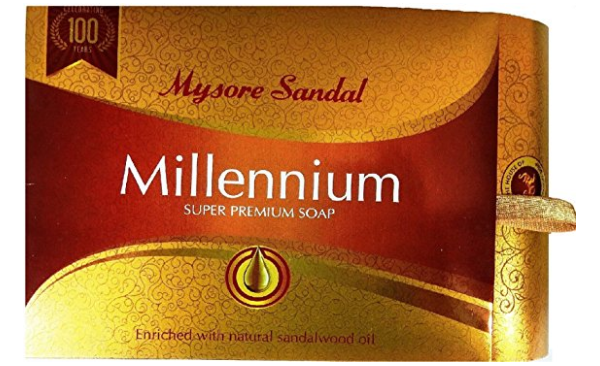 Mysore sandal Millennium soap is a newer version of the soap.  It is premium soap is made for all the Seasons and nourishes the skin and gives soothing and cooling feeling. It has pure natural sandalwood oil along with other essential oils. So you can use this for all rounder season
5. Vaadi Herbals Divine Sandal Soap with Saffron and Turmeric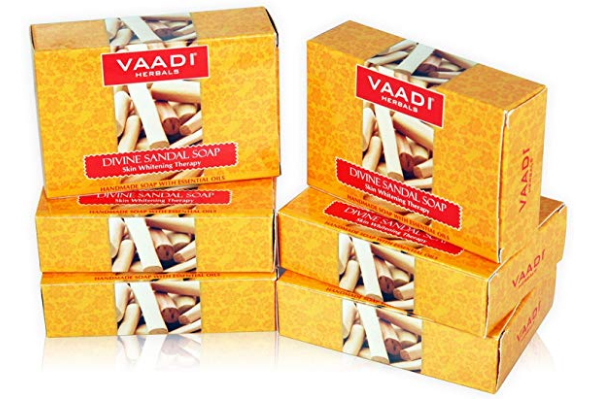 Vaadi herbal Sandalwood soap is made with saffron and turmeric along with Sandalwood. The soap is very inexpensive and helps in making the skin clear and glowing. The saffron and turmeric in this soap helps in removing the dark spots, blackheads and sun tan. This helps to get rid of pimples and blackheads. It also helps to revive the dull skin.
6. Medimix Ayurvedic Sandal Soap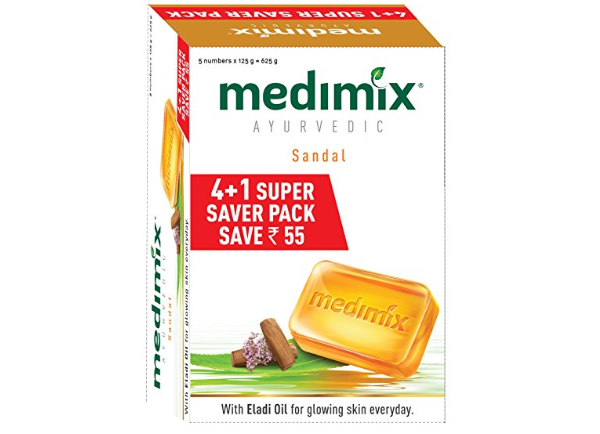 Medimix Ayurvedic Sandalwood soap nourishes and protects your skin from the sun tanning. It is a combo pack where you can get for soaps at the price of 5. This is a luxury bathing bar that is infused with eladi oil. It revitalizes your skin's natural texture by giving you protection from sun tanning and pigmentation. It also should be easy and rashes skin during the summer.
7. Nyassa Sacred Sandalwood Handmade Soap
 
The handmade soap is a pure-luxury handmade soap is made with sandalwood oil along with almond oil and calendula. It makes your skin beautiful and glowing. As during the day your skin goes through a lot facing the dirt and pollution daily. This soap helps in reviving the dull skin with its essential oils and Sandalwood. The smell of Sandalwood invigorate the senses and gives you relaxation. It is also rich in aloe vera extract, grape seed extract, honey extract, cold pressed sweet almond oil, cold pressed wheatgerm oil, and vitamin E.
8. Soulflower Cleansing Sandalwood Soap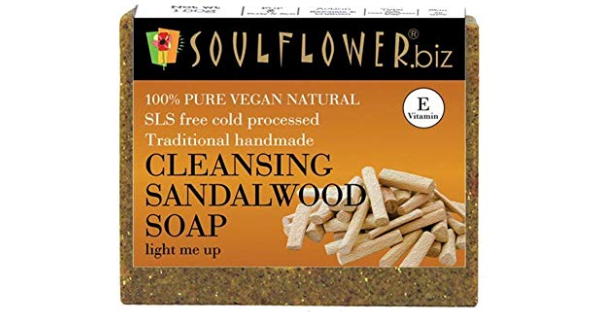 Soulflower is a brand that makes so many different soaps using the organic ingredients. This is our most favourite handmade soap brand in India. Moreover their soaps are also in budget. This Sandalwood soap is rich in sandalwood oil along with turmeric powder,  olive oil, castor oil, coconut oil, palm oil and palm kernel oil, vitamin E. the soap Fights the skin blisters, inflammation and roughness.
9. Khadi Natural Sandalwood Soap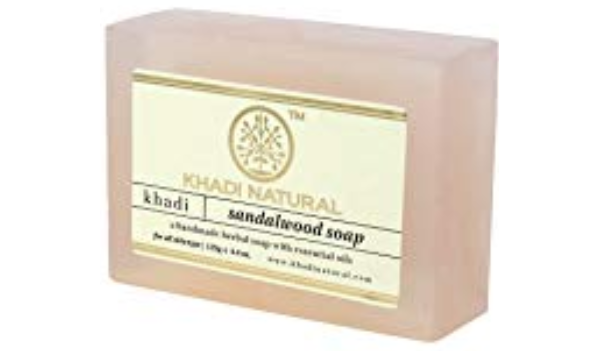 Khadi natural Sandalwood soap health coming and healing properties. It comes with antiseptic properties of Sandalwood along with aloe vera, Mulethi, red Sandalwood, glycerine and vegetable oil. This so cleansers and detoxifies is the skin and makes it growing. It's a skin brightening and acne-healing soap but still it is not for acne prone skin during summer.
10. Lushveda African Shea Sandalwood Soap
 
Lushveda is a brand that is known for handmade soaps the soap is handmade and is rich in the extracts of shea butter and Sandalwood. It is a 100% natural and paraben-free homemade so bad. It is made with organic and natural raw Shea butter that cleanses the skin and hydrates the dry skin. It is rich in vitamin A and antioxidants that finds the fight the premature aging of the skin. Sandalwood helps in fighting inflammation and healing it right chapped skin.
So these are the best Sandalwood soaps available in India. Have you used any of these? Which is the best Sandalwood soap that you like?