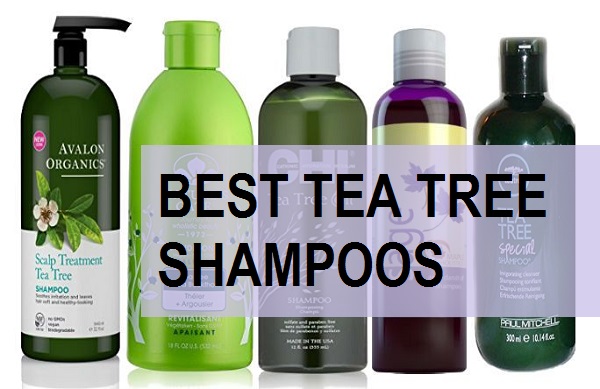 Tea tree shampoos are not only used to cure dandruff and itchy scalp but they can also help to stimulate the hair growth. We have compiled this list of the best tea tree shampoos available in India. Tree tea oil has antifungal and antibacterial properties due to which it gets rid of the bacterial and fungal infection from the scalp. Most of the tea tree shampoos help to unclog pores and also fight the DHT related hair loss. When the pores are blocked due to excessive oil then also hair loss is experienced, therefore use of tea tree oil rich shampoos can help you combat the excessive hair fall and hair thinning.
List of the best tea tree shampoos available in India
Let's checkout the shampoos that has the tea tree extracts or oil in them that can help you fight the hair problems effectively. Men too can sue these shampoo products.
1. StBotanica Eucalyptus & Tea Tree Oil Hair Repair Shampoo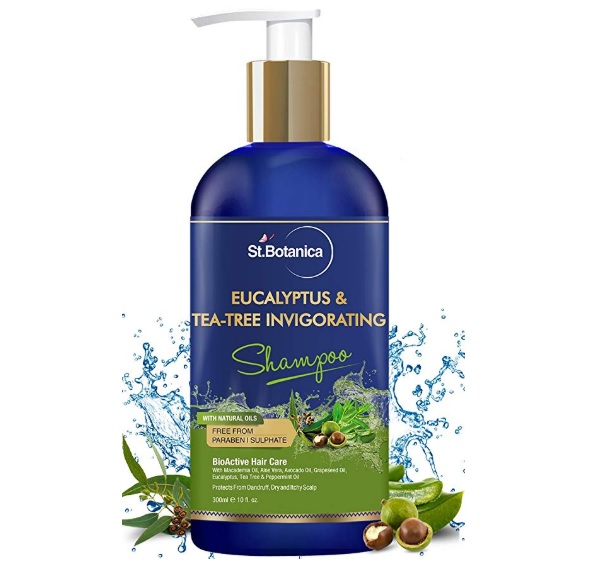 The shampoo is an energizing shampoo that contains eucalyptus and tea tree oil. The shampoo is paraben and Sulfate free. People who are looking for good sulphate free shampoo with tea tree can use it. Along with that also contains macadamia oil, aloe vera, grapeseed oil, avocado oil, and peppermint oil. It protects the scalp from dandruff and itchy scalp. Application of the shampoo shows results right from the first used in minimizing the infection and the excessive itching of the scalp.
Price: 549 rupees for 300 ml
2. Giovanni Organic Tea Tree Triple Treat Invigorating Shampoo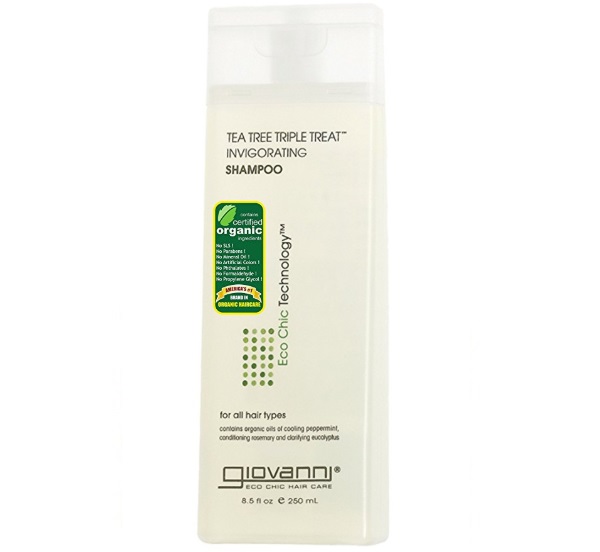 Tea tree shampoo from Giovanni is a very popular and high rated shampoo that is suitable for all hair types. The shampoo contains organic oils like peppermint oil, Rosemary and eucalyptus. The shampoo clarifies and conditions the hair and scalp. It is not tested on animals and is also free of parabens and sulphates. It has organic ingredients that help to alleviate dry and flaky scalp. It strengthens hair with its organic blend to stimulate the hair growth.
Price: 559 rupees for or 250 ml
3. Khadi Global Moroccan Argan Hair Shampoo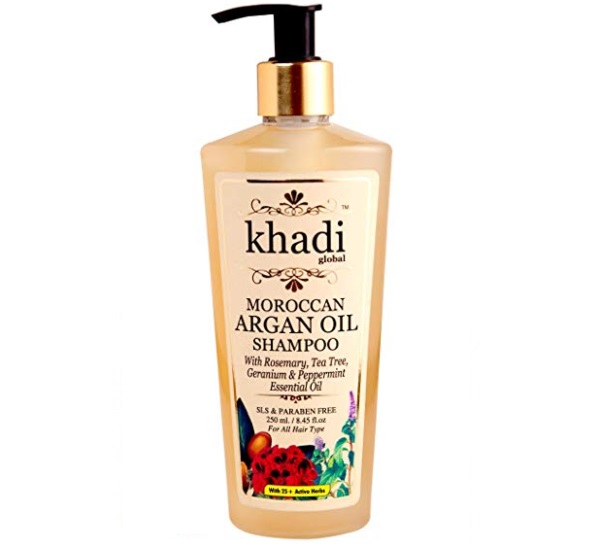 The shampoo is rich in Moroccan argan oil along with Rosemary, tea tree, geranium and peppermint oil. The shampoo is one of the best shampoos which is paraben free and is suitable for all hair types. It comes in a pump dispenser which makes it very easy to use. Rosemary oil conditions the scalp while geranium and peppermint helps to clarify and sooth. It revitalizes and also restores the natural beauty of the hair.
Price: 645 rupees for 250 ml
4. Natural Vibes Ayurvedic Tea Tree Shampoo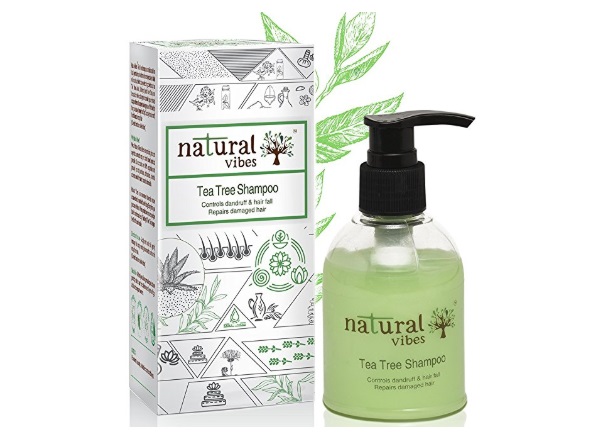 Ayurvedic tea tree shampoo helps control dandruff and hair fall. It repairs the damaged hair and seals the hair cuticle in a protective layer. It contains other ingredients like Amla, aloe vera and bhringraj. It controls the dandruff and also combats the hair fall and hair loss. For thinning hair as well, the shampoo is suitable. It unlocks the hair follicles and nourishes that the hair growth gets faster.
Price: 449 rupees for 150 ml
5. Jovees Thyme and Tea Tree Anti Dandruff Shampoo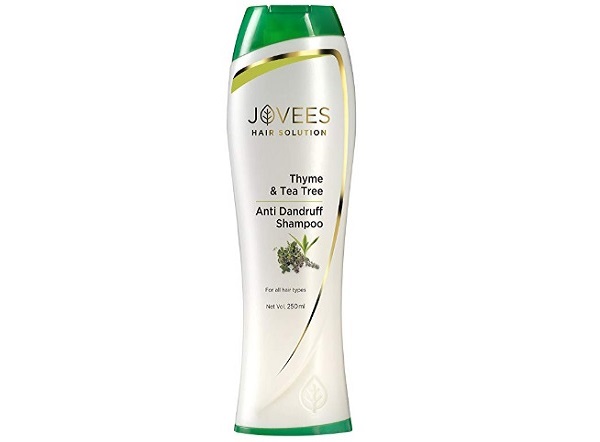 It is an anti dandruff shampoo that helps to control the dandruff and itching of the scalp. During winters when the weather is cool and dry, itching gets aggravated. The shampoo helps to reduce the flaky and itching of the scalp. It strengthens the hair so that hair fall due to dandruff is also cured.
Price: 255 rupees for 250 ml 
6. Aloe Veda Tea Tree Oil Anti Dandruff Shampoo 
Aloe Veda anti dandruff shampoo is made using the tree oil along with honey, hydrolyzed wheat extracts, Rosemary oil and Vitamin E. The mild shampoo helps to clear the antifungal action of fungus that causes dandruff. It is a sulphate free shampoo that also contains aloe vera. It also repairs damage root and clarify scalp of the product built up.
Price: 360 rupees for 200 ml
7. Ustraa Anti Dandruff Hair Shampoo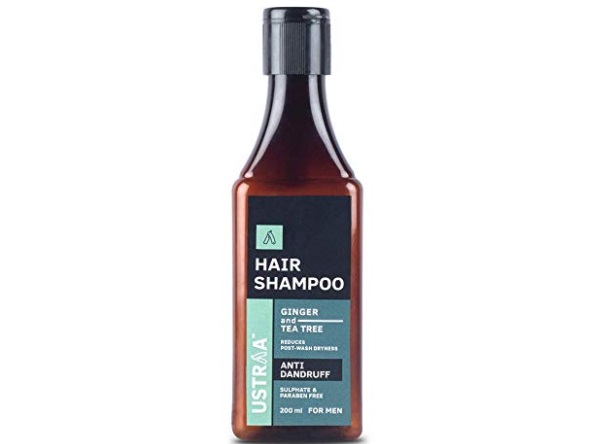 It's a brand that makes products for men. It is a sulphate and paraben free anti dandruff shampoo that contains ginger and tea tree. It reduces the post wash dryness. The high foaming formula of the shampoo helps lift the dandruff with its tea tree oil and other plant actives. It reduces the inflammation with the help of ginger and also fights the hair loss because of the dandruff.
Price: 399 rupees for 200 ml
8. Terrai Tea Tree Oil Shampoo
The tea tree shampoo comes loaded with tea tree oil and is made for both men and women. It is free of the parabens and Harsh Chemicals. The mild formula of this shampoo helps to repair dandruff and oily scalp. It regulate the sebum really is so that the poles are not blocked. It gives advocate moisture to the scalp and hair and removes the dandruff infection.
Price: 275 rupees for 250 ml
9. Aroma Treasures Tea Tree Shampoo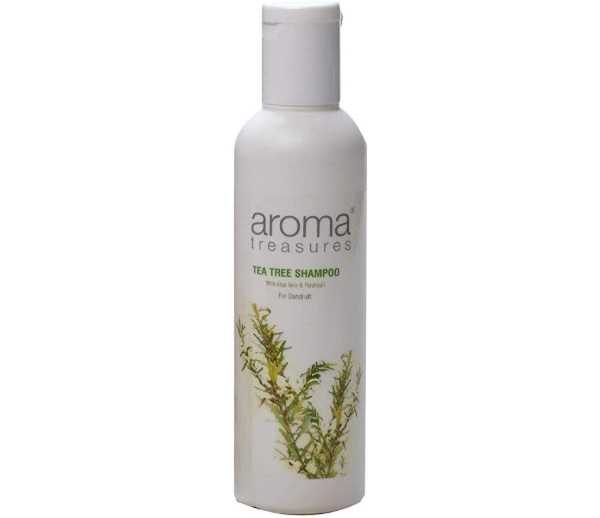 The tea tree shampoo is from Aroma Treasures which is a well-known herbal brand. Along with that it contains aloe vera and it does not contain any toxic material, additives or fillers. The natural organic shampoo helps to get rid of the dandruff and the related hair problems.
Price: 200 rupees for 100 ml
10. Oriflame Sweden Love Nature Shampoo for Dandruff Control with Tea Tree Oil & Burdock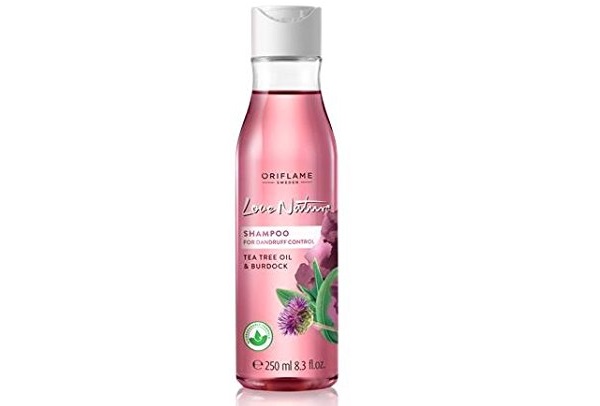 Oriflame love nature shampoo for dandruff contains tea tree oil and burdock. It treats the flakes and keeps the hair and scalp fresh with its refreshing formula. It is a gentle treatment for your hair and scalp that needs effective cleansing. It also makes hair smooth and softer. Like the other anti dandruff shampoos it does not drive the scalp
Price: 350 rupees for 250 ml
These are the shampoos rich in tea tree that are available in India. Have you ever used tea tree shampoo? Out of these Aloe Veda tea tree shampoo is the best.