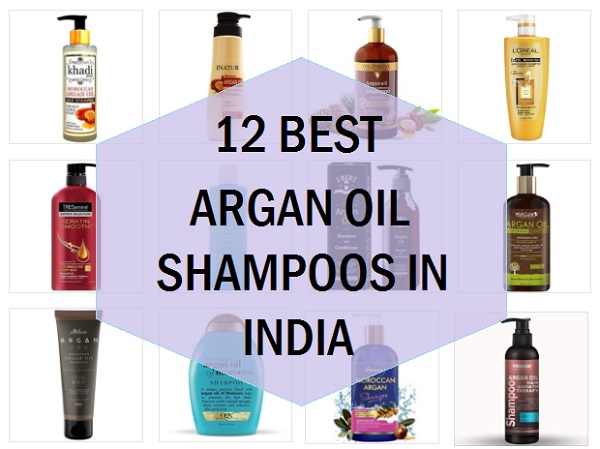 Is Argan oil shampoo good for my hair? This Argan oil is rich in vitamins and fatty acids that make it one for the best oils for hair care. It has that power to transform your hair into gorgeous lustrous locks. In his article, I'll be listing out the best Argan oil shampoos available in India. Along with that, you will also learn about the benefits and usage of this oil. You can straight away scroll down to the list, if you already know about this.
The oil is extracted from the kernels of the Argan tree. It is a sure-shot remedy for dry skin and dry hair. Yes, it is effective moisturizer for skin and dry hair. You can keep a bottle of pure argan oil with you to use this as a skin moisturizer in winters and as a leave in conditioner for your hair. Just like a hair serum! Argan oil is also referred as 'Liquid Gold'.
As we are more concerned about Argan oil for hair care in this article, we are leaving the skin benefits as of now.
Why Use Argan Oil for Hair?
Argan oil is extensively used in hair care products like shampoos, cleansers, serum, leave in conditioners and conditioner. It has also made its place even in the hair colors and other types of hair dyes. But why it that.
The credit goes to its intensive moisturizing properties and damage reversing features. Hair coloring often makes the hair dry, hence, addition of this oil can combat the effects. Vitamin E is high in Argan oil which makes hair super moisturized and they indeed shinier.
Application of this oil stimulates hair growth and also gives you benefits like hair thickening. It boost the cell renewal and unblocks the clogged scalp pores. A lot more like the saw palmetto shampoos for hair loss.
Benefits of Argan Oil Shampoos
In short, let's see, what are the results that you can expect after using shampoos loaded with Argan oil
Reverses the damaged on your hair due to the heat styling and chemical treatments

Rejuvenates the hair with shine and luster

Prevents and minimizes split ends 

Smoothens the texture of the hair and smoothens the cuticle

Reduces dandruff and itching of the scalp

Rehydrates dry hair and curly hair

Volumises the hair with natural bounce

Natural hair conditioner for the damaged hair

Prevents hair loss and hair thinning

Reduces frizz 
Argan Oil as a Shampoo: What it does?
When you use Argan oil as shampoo then, you get the benefits but the scalp cleansing. It is able to restore your hair's natural pH balance and moisture. You can also make Argan oil shampoo by doing this simple step:
Take 2 teaspoonful of your shampoo in your palm

Add 5-6 drops of genuine Argan oil

Mix and apply on the scalp

Massage and then rub the hairs strands as well

Rinse with clear water.

Make sure that the shampoo you use is paraben and sulphate free

Or you can use the shampoos which I have mentioned below.
Using Argan Oil as Leave-In Hair Conditioner
Alternately, you can also take few drops of Argan oil on your palm.

Run the oil on the hair ends of semi dried hair.

Massage gently over the hair to create a fine layer.

This actually helps to seal the cuticle with moisture.
Top 12 Best Argan Oil Shampoos in India
1. OGX Moroccan Argan Oil Shampoo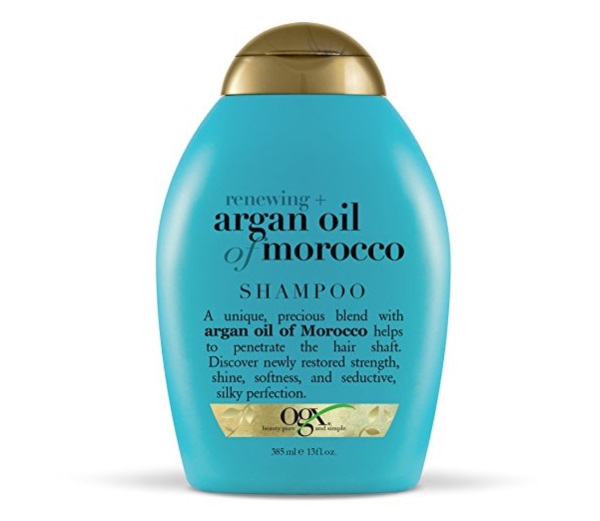 OGX products are high quality and easy to avail online. This Argan oil shampoo is made to give you super soft silkier hair. When your hair is smoother, they are less likely to get tangled and break. It is easily available online on Amazon. This is one of the best Argan oil shampoo in India. Even a keratin rich shampoo will works brilliantly for taming
Features:
Has Moroccon Argan oil

Makes hair lustrous and smoother

Argan oil extracts gives shine and smoothness

Adds bounce and life

Paraben free shampoo

Not tested on animals

Pricey
2. Satthwa Argan Oil Shampoo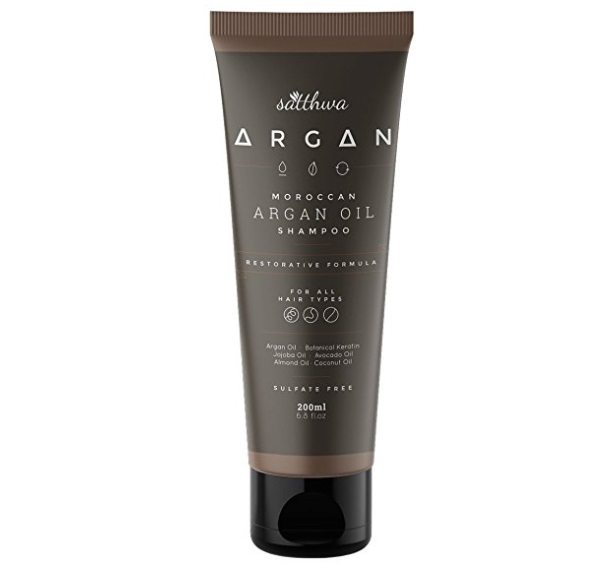 The shampoo is from the brand Sattwa. This brand makes hair care products which are very effective in hair loss, damaged hair and hair growth. Rich in the Argan oil, this shampoo restore the natural moisture and shine of your hair. Thus, it reduces frizz and knots. Other than that it also contains Jojoba oil, coconut oil, Almond oil, Botanical keratin and avocado oil for healthy hair.
Features:
Sulphate free shampoo

Paraben and Alcohol free

Tube packaging for easy application

Travel friendly

Pleasant smell

Lathers rich

Cleanses thoroughly

Does not dry the hair

Suitable or all the hair types
3. St Botanica Moroccan Argan Hair Shampoo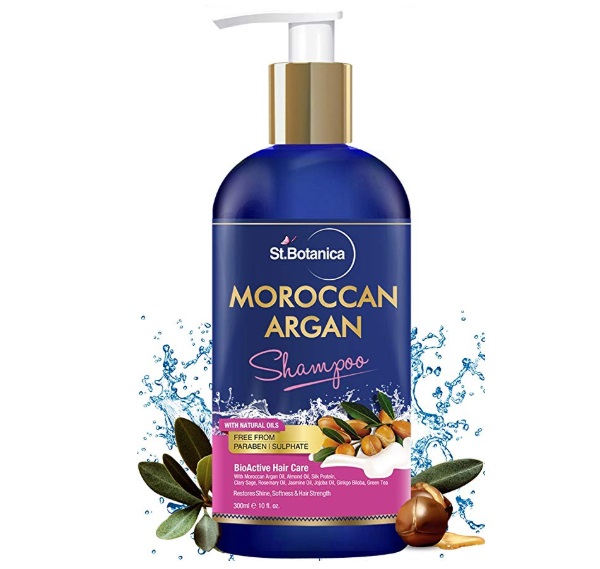 Get the smoother and lustrous mane with this shampoo  rich in precious blend for Argan oil. The cleanser for your hair is suitable for all the hair type. It penetrates the hair and reverses the damage due to heat styling, sun and chemicals. Free from the sulphate and parabens the shampoo can be used by both men and women. It also contains Ginkgo biloba and green tea extracts along with the silk proteins, rosemary oil and almond oil. Moroccan Argan oil is extremely beneficial to treat the damaged hair and hair loss.
Features:
No Paraben and sulphates

Helps control frizz

Strengthens the weak hair roots

Reverses the damage

Clarifying in nature
4. Wishcare Argan Oil Restorative Hair Shampoo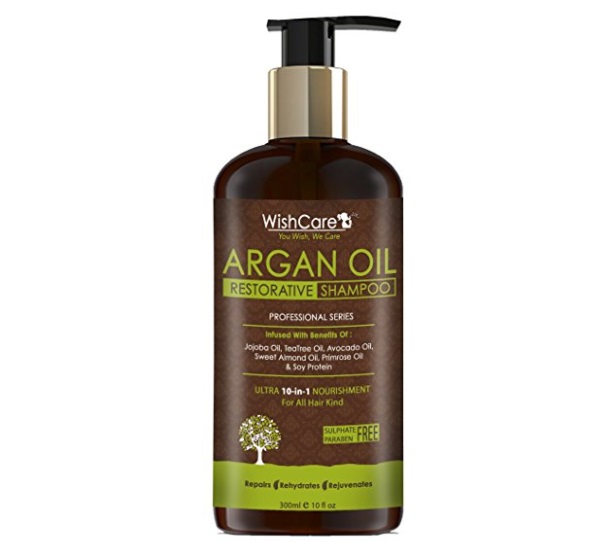 Wishcare Argan Oil Hair Shampoo is made to replenish the dry hair with the surge of moisture. It is rich in oils like Argan oil and a blend of essential and powerful oils like Avocado Oil, Jojoba Oil, Sweet Almond Oil, Evening Primrose Oil and Soy Protein. Looking at this list of ingredients one can understand it efficiency for dull and frizzy hair. It adds instant shine post usage. The high levels of vitamin E make sure to give you extra softness.
Features:
Good packaging

Nice smell

No Sulphates and Paraben

Gluten or Phthalates free

Affordable price

Seals the dry hair cuticle
5. L'Bert Moroccan Argan Oil Shampoo With Conditioner 
Raise hands, who wish to use men only products. Yes, a lot of men like to sue products formulated for them. It's a brand that formulates men's grooming products. It has shampoo plus conditioner benefits. So what you get? You get extra softer and nourished hair. This is why it is good or dry and damaged hair. The shampoo is also clarifying thus it gets rid of all that pollutants, toxins, product residue and sweat build up. Good thing is that it is a sulphate free shampoo in India
Features
Good packaging

Easy to avail online

Has conditioning qualities as well

Fights free radicals

Works on frizzy hair and split ends

Free from paraben, colorants, sulphates, silicones etc
6. Moroccanoil Moisture Repair Shampoo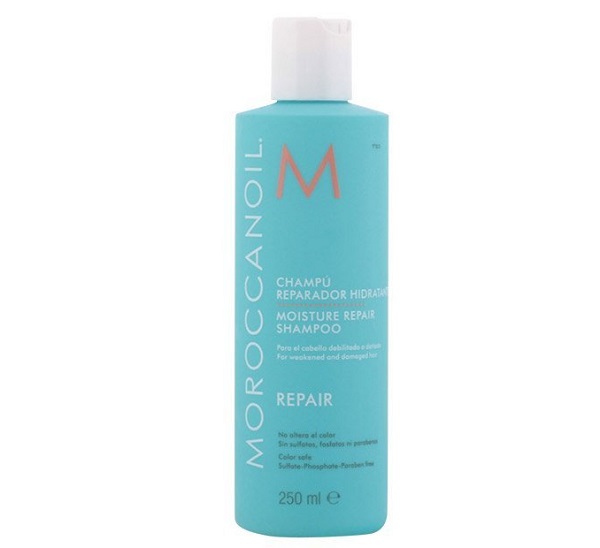 Okay, so his shampoo is made just with the Argan oil and is popular for that. I understand it is pricey but yes, totally worth it. With Argan oil being its key ingredients, the shampoo restores the moisture and treats the dryness. It is rich in fatty acids and vitamin E that enhance the texture of the rough and frizz hair. Other than that, it also has keratin that reconstructs the hair and smoothens the texture.
Features
Has Argan oil with keratin

Reverses the cuticle damage

Smoothens the dry hair

Reduces frizz

Pleasant smell

Sulphates and parabens free
7. Tresemme Keratin Smooth with Argan Oil Shampoo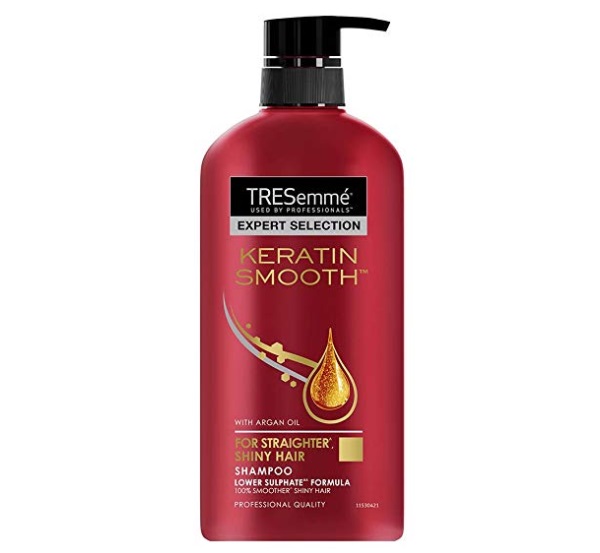 If you've been looking for a cheaper and more affordable option then this is it. Yes, Tresemme Keratin smooth has keratin and Argan oil but it is nota s effective on dry frizzy hair like the other products. But yes, can be used if you have normal hair. It is easily available in your local shops and its price is also very in budget. Grab a bottle to try it yourself.
Features and Review
Affordable

Study packaging

Argan oil mages dry rough hair

Gives shine and luster

Lathers well

Not a sulphate and paraben free shampoo

Keratin protein reduces hair damage

Especially formulated for Indian hair
8. Trumen Argan Oil Shampoo for Hair Growth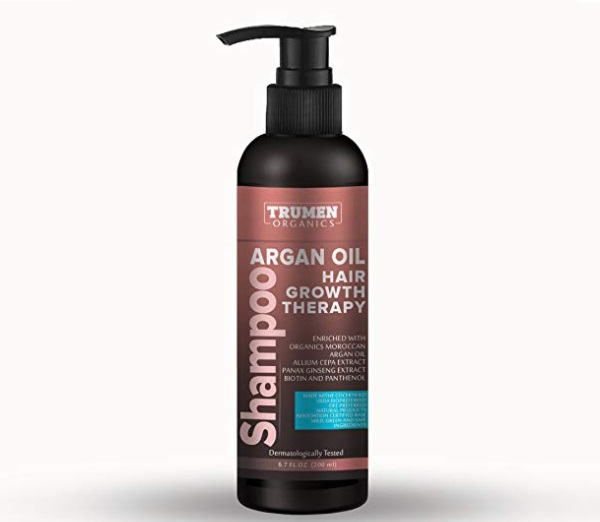 Trumen shampoo is made for the hair growth and for thinning hair. It is basically termed as a hair growth therapy shampoo. It lathers well and is free of the harmful chemical products. This is an effective argan oil shampoo for hair thinning and loss of hair.
Features:
100% Pure shampoo with natural ingredients

Sulphate Free

Paraben Free

Increases hair volume

Gives strength to the roots

Enhances shine

Stops breakage and hair thinning

Stimulate new hair growth
9. L'Oreal Paris Hex 6 Oil Shampoo with Argan oil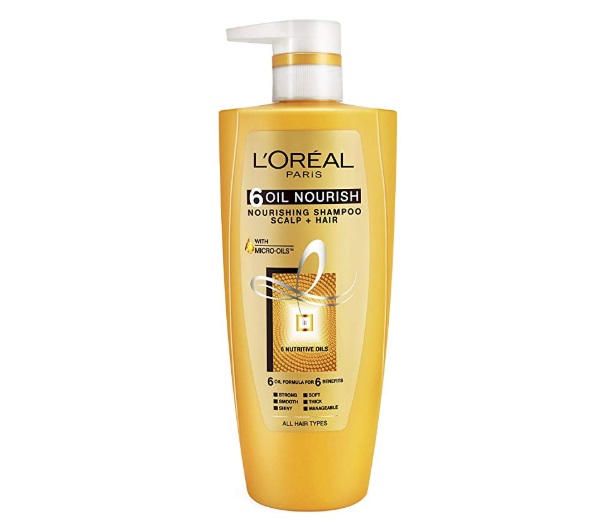 The shampoo is rich in micro oils like Jojoba oil, Argan oil, Coconut oil, Olive oil, camellia oil and almond oil. The product and is very light on the pocket but it is not for those who want sulphate free cleansers. Regular use gives smoother hair though not very effective for curly dry hair. Do know about the various olive oil available in India for skin and your hair.
Features:
Has the power for 6 micro oils

Gives smoothness and radiance

Good or day to day use

Easily available in shops

Produces good lathers
10. Volamena Argan Oil Hair Strengthening Shampoo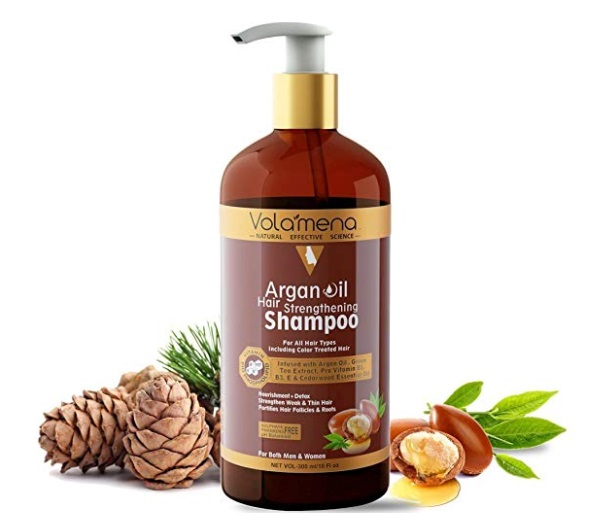 This brand is a good sulphate free shampoo that is affordable also. For dry and rough hair with frizz this can be a solution to combat dryness.  With Argan oil, Green tea extracts also make up the blend of this shampoo. Cederwood oil helps in hair growth and dandruff cure.
Features
Good for men and women

Has organic ingredients

Sulphate free

Cruelty free

Has soy proteins for strong hair

Eliminates free radicals from scalp

Strengthen the hair from roots to tips

Comes with curry leaf, lavender essential oil, beetroot extract and coconut oil

Hypo-allergic formula

Suitable for seborrhic dermatitis
11. Inatur Moroccan Argan Oil Shampoo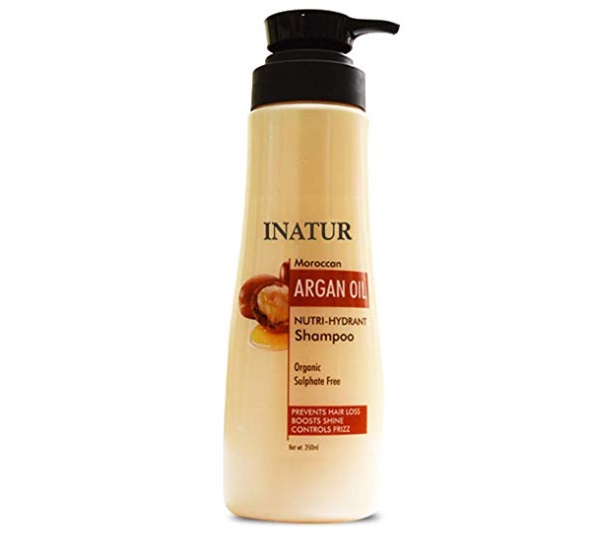 The Argan oil is rich in the Moroccan variety of Argan nuts that gives pure oil. It is perfect to tame down those frizzy hair that drives you nuts before any party. While it lathers well, it ensures to restore the moisture balance and does not dry the hair. It's has a formula that blends Argan oil with brahmi & rosemary oil that helps to restore strength and prevents premature graying.
Features:
Organic ingredients

Sulphate-free hair cleanser

Prevents hair loss

Aids in hair growth

Controls frizz and boosts shine
12. Khadi Global Moroccan Argan Oil Shampoo
Got oily hair? Then the shampoo rich in Argan oil can come to your rescue. It is formulated for oily scalp and hair that still needs smoothness. The shampoo is a powerful mix of organic substances that acts together to give you healthy hair and beautiful shine.
Ingredients: Moroccan cold Pressed Argan Oil, Avacado oil, jojoba oil, camellia seed oil, botanical keratin, almond oil, coconut oil, aloe barbadensis (aloe vera) leaf juice, triticum vulgare (hydrolyzed wheat) protein, soapberry extract, Vitamin C, Vitamin E, rosemary essential oil, green tea extract and nut grass extracts.
Features:
Strengthen weak and brittle hair

Conditions the hair

Suitable or greasy hair

Improves hair elasticity

Bit costly
These are the best Argan oil shampoos in India. Have you used any? Have you ever tried Argan oil or hair? How was your experience? If you have any queries, do let me know.