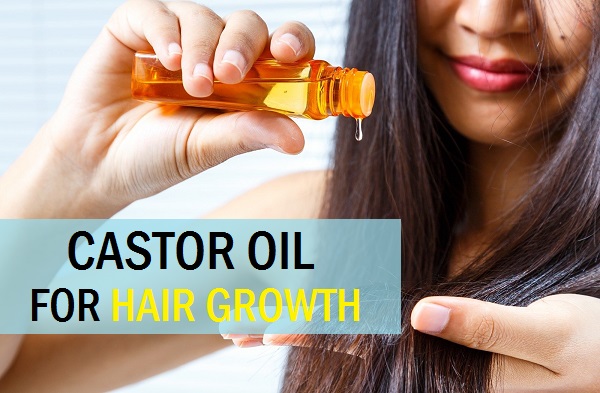 Castor oil, scientifically known as Ricinus communis, has been used since ages to enhance the beauty. It has that power that can heal dry, damaged hair and transform them into lustrous and luxuriant. Have you noticed how this oil has been used for even the eyebrows? Yes, it is. A lot of men and women are facing hair loss, which I am sure is very stressful. After all, hair plays a major role in one's beauty and personality. So, here in this article, I am sharing how you can use castor oil for hair growth and getting thick hair at home. 
Castor oil is rich in multiple nutrients which makes it powerful oil. It has omega 3 fatty acids along with omega 6 fatty acids. It also contains vitamin E in load of amount plus the minerals and ricinoleic acid. Is castor oil really effective for hair re-growth? Yes, overall, it can be a nutritious oil for your hair. It is a mildly yellowish colored oil which is thick but is not as sticky. With over 2 dozens of fatty acids, the oil is source of extra hydration of the dry hair.
Without any more delay, let's dive deep into the process of learning how castor oil promotes hair growth naturally. Let's get to know how to utilize castor oil for hair growth and curbing hair loss.
Is Castor Oil Good For Hair Growth?
The answer is simple, yes! The oil has given so many proofs over the decades and people all over the globe swears by this. It can triple up the growth rate by stimulating the hair follicles.
Hair growth is decreased or affected by the lipid compound, called Prostaglandin (PGE2). These PGD2 hormones that are directly related to the hair loss in males and females. Ricinoleic acid, found excessively in castor oil black this hormone and thereby, gives relief in the hair loss. It also increases the scalp's blood circulation which further aids in promoting the hair growth. Moreover, the fatty acids in this oil can boost the hydration of the rough dry hair.
Let me briefly state the castor oil benefits for hair. Also check the best hair growth products in India
What can castor oil do for hair?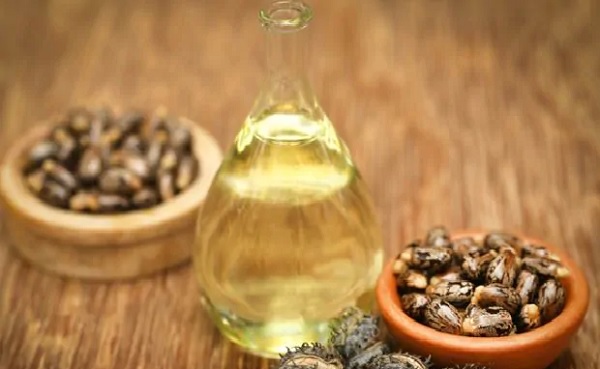 Ricinoleic acid stimulates the hair follicles by increasing the blood circulation of the scalp

It boosts the hair growth by blocking the PGD2 hormones.

The oil nourishes the scalp and dry hair strands

It also cures these splits ends with regular application.

Dandruff flakes and hair loss due to that is also cured by castor oil.

It also maintains the scalp's pH balance
Which Type of Castor Oil is Good for hair?
A single seed of castor oil has around 50-60 % of castor oil, which is just amazing. Castor oil is avialable in variety of types. Like the most popular Jamaican Black castor oil. But there are other versions as well.
It type of oil is based on the method o extraction. There is mechanical method that involves the pressing while the solvent methods includes the hexane, heptanes and other petroleum products that aid in the oil extraction. This is cheap but the quality is not the same as the oil gets filled with the chemicals. Now, comes the actual situation. Which oil is better.
1. Jamaican Black Castor Oil
To produce Jamaican black castor oil (JBCO), the seeds are roasted first. Roasting process gives the seed a dark color and pungent burnt smell. It will produce the oil which is dark and high in the smell. Then the oil is pressed with the hydraulic lifts etc that produces high quality oil with no chemicals. Jamaican black castor oil is best for hair growth. It is procured from the castor seeds from Africa.
2. Hydrogenated Castor Oil
This type of castor oil results in the hydrogenated castor oil or castor wax. This hard oil does not dissolve in water rather it is most used in the cosmetics. This is also used in candles, crayons etc. This type of oil is not what we need for the hair and skin. Do keep that in mind guys.
3. Chemically Extracted Castor Oil
Chemically extracted castor oil is a lot cheaper but as you can know, this contains a lot of solvents and chemicals like hexane, heptanes etc. The oil is low quality and not at all for the skin and hair use.
4. Cold Pressed Castor Oil
Cold pressed castor oil is the best. Even if you are not able to get hold of the Jamaican castor oil, you can look for any castor oil which is cold pressed. It is clearly mentioned on the labels and packaging. I will also give you few suggestions of the organic castor oils available in the market.
Also go for unrefined oils. For hair the right castor oil is the organic and cold pressed oil. Also the oil should be hexane free and should be free of the additives and fillers. While purchasing pure castor oil, always look for these things.
Let me tell you a bit about the techniques involved in the oil extraction
Cold pressed castor oil: 
Such oils are extracted by the pressing technique. There is no use of chemical and heat in this technique, so you get pure organic oil
Refined oil: 
Refine oils are filtered using some chemicals, heat etc this is why they are not recommend for the hair and face.
How to use Castor Oil for Hair Growth
Does castor oil grow hair? This section talks about how you can apply castor oil for getting new hair and increasing the thickness and length.
First, I will talk about how to apply castor oil on the hair.
How to apply castor oil on hair
You need:
Just the black castor oil or any cold pressed castor oil
Procedure:
Comb the hair thoroughly that there are no tangles.

Take some castor oil in a bowl and warm it up a bit.

The luke warm oil is what we need for this process.

Section the hair and apply the oil taking on your palms.

The oil is quite thick so make sure you rub really well.

Apply on every section and then massage

You need to continue doing that till the entire scalp is coated with the oil.

Give a mini massage with your finger tips to the entire scalp.

Leave castor oil for overnight.

It gives best results.

In the morning, wash the hair with mild shampoo or cleanser.
How often to do:
This castor oil method can be done at least 3 times in a week. It is pretty simple! You see. It'll aid in boosting the hair density and prevents baldness.
How to get rid of castor oil out of hair
Castor oil is quite thick and has ample amount of fatty acids in it. This is the reason why most of the oils takes longer to get rid from the hair. But don't worry as compared with the other oils that we put in the hair, castor oil is definitely a lot easier to remove. Just follow these instructions and you would be able to get rid if the oil quickly.
Take some water in the bucket.

Pour it over the hair and wait for 10 -20 seconds

This will loosen up the oil sticking on the hair strands

Use a mild or herbal shampoo and make rich lathers of it.

Apply the shampoo over the scalp first and massage the scalp.

When you feel that you have massage the scalp thoroughly for 15-20 seconds then move on to the hair

Rub the shampoo foam all over the hair and massage.

This step will remove all the oil traces from the scalp as well as the hair.

After this, use cold water to give a last rinse as warm water can make hair porous and rough.

Cold water seals the cuticle back and makes the hair softer
How long does castor oil take to grow hair?
Any herbal treatment that we do takes time. It is true that it will help you gain new hair and increases the length as well. But it needs time. You have to do these mentioned tips for at least 2-3 months to see some positive results. Don't lose hope as it'll do good for your hair.
Castor Oil for Baldness Cure
Castor oil is really good for your hair. Here I am sharing this remedy that uses castor oil along with few other ingredients, thus is suitable r the baldness prevention. For male pattern hair loss as well, it can be used. Below are the steps:
Homemade Hair Growth Oil With Castor Oil
You need:
Castor oil

Coconut oil

Sesame oil

Olive Oil

Few drops of tea tree oil
How to make
Take 2 teaspoonfuls each of the oil and 2-3 drops if the tea tree oil.

Warm the oils a little bit

Make sure it is not too hot, just the lukewarm temperature

Section the hair and apply the oil over the scalp

Once the scalp is done, apply the oil on the hair, if you have long hair

Application of oil is easier for men as they have short hair

Leave this treatment on the head for 1 hour.

Wash the hair with herbal shampoo

How often this can be done

It can be done 2-3 times in a week for getting faster results in growing the hair back and stronger.
Castor Oil Treatments for Hair Growth
Listed below are a few hair masks using castor oil. These masks can make your hair long and healthy.
1. Coconut Oil and Castor Oil For Hair Loss
Coconut when mixed with castor oil become an excellent combination for hair loss and preventing bald patches. It also helps in the new hair emergence as per the researches on this subject.
What is needed:
How to make
Take 2 teaspoonful of castor oil in a microwaveable bowl

Add 2 teaspoonful of coconut oil

If coconut oil is in solid state and let it first

Mix them and apply as a hair masks

Keep or 1 hour then wash the hair with shampoo

If you can leave it overnight, then it can fetch great results
2. Onion Juice and Castor Oil for Hair Growth
I have earlier shared the remedies with onion juice for growing the hair faster. When we mix onion juice with castor oil, the benefits just doubles. This actually is the reason that castor oil and onion juice both  on hair loss reduction with different mechanism.
What You Need
Onion juice

Jamaican Black Castor Oil (JBCO)
What you have to do
Mix 3 tablespoons of castor oil with 2 tablespoons of onion juice

Apply on the scalp and hair

Massage gently

Leave for 2 hours

Shampoo with mild cleansers
3. Grapeseed Oil And castor oil For Hair Growth
Grape seed oil is used a lot in hair fall control treatments. This oil is used for skin and hair both. It initiates the hair growth with its strong properties that increases the circulation in the scalp.
Method:
Mix castor oil and grape seed oil in equal amounts.

Take these in a bottle

Shake well and store as a homemade oil

Apply every night o the scalp for the cure for male hair loss.

Females can use this on every alternate days.
4. Olive oil and Castor Oil Hair Mask for Growth
Olives are just wonderful source of rich anti-oxidants that helps in the new hair eruption from roots. It nourishes these scalp and gets rid of the dryness. In fact, since ages, olive oil has been used to make hair lustrous and longer. Olive oil is specifically known to increase the growth of hair.
Ingredients:
Procedure:
Take a small bowl and add 3 teaspoonful of olive oil

Add 3 teaspoonful of castor oil

Mix and apply on the hair and scalp

Massage gently by light finger tapping

Keep for wither overnight or for 2 hours

Wash with clear water and shampoo
How often:
Once or twice in a week
Men can do it thrice in a  week, if they wash their hair everyday.
5. Almond Oil and Castor Oil Mix For Baldness
I understand, shedding hair in clumps can be stressful for you. I also had that post the delivery. But this treatment has helped me overcome the hair loss and getting rid of the few bald spots on the centre. For this you don't even have to shell out a lot of money.
You will Need:
Steps to make it:
Mix 3 teaspoonful for castor oil with 2 teaspoonful of pure almond oil

Please do not use those fake almond oils that are available in the market

Blend it well and apply

Gently stroke and tap the head

Sleep with this

Wash the hair the next morning
When and how often
Try to do this 2-3 time in a week at least
6. Castor Oil And Peppermint Oil To increase Growth
You must have heard about peppermint oil. The oil is used to give cooling to the dry itchy scalp. Moreover it also cures the hair loss. This oil stimulates the blood circulation and aids in hair re-growth. According to the tests and research on groups of people, this also aids in shinier and thicker hair. This remedy is perfect for summers.
What You Need
Castor oil

Peppermint Oil

Almond oil
How to do:
Add 2-3 teaspoonful of castor oil in bowl

Add 2 teaspoonfuls for almond oil

Pour 3-4 drops of peppermint oil

Mix everything well

Apply on the scalp and massage properly but refrain from rubbing harshly

Leave for 1 hour then wash off

Use a mild cleanser to get rid of the oil off the head

This concoction for hair can be applied 2 times in a week.
7. Argan Oil and Castor Oil For Hair Re-growth
Argan oil is known to promote the hair growth. It increases the hair shine and density. It is also rich in vitamins that makes hair follicle stronger. High fatty acids in both of this oil cures the sun damage.
What You Need
Castor oil

Argan oil

Seasme oil
Method to prepare
Add 2 tablespoonful of castor oil in a bowl

Put 2 tablespoonful of sesame oil

1 tbsp of Argan oil

Apply this blend on the hair

Wash after 2 hours
How often:
It can be done 2 time in a week
8. Rosemary and Castor Oil For Hair Growth
Rosemary oil is known for its hair growth boosting properties. You may have seen shampoos and oils containing this herb. Yes, exactly, this is the reason.
What You Need
Procedure:
Take 2 tablespoonful of castor oil in a bowl

Pour 1 tbsp of rosemary oil

Mix well and apply on the scalp first then hair

Wear a shower cap and leave for 2-3 hours

Wash after that using a good shampoo
9. Vitamin E with Castor Oil For Hair Growth
Vitamin E oil is rich in anti-oxidants and fatty acids that replenishes the moisture in the scalp and hair. This oil not only make you grow hair quickly but also make them smoother. This oil is available in capsule form which is very easy to buy from local shops.
Take 1 tablespoon castor oil in a small bowl

Add 1 tablespoon of lukewarm coconut oil

Put 3-4 vitamin E oil capsules in it.

Mix these well

Apply this and leave for overnight

Wash the next day
How often
Do this 3 times in a week for better results in hair growth
10. Castor Oil And Mustard Oil For Hair Growth
Mustard oil is highly popular cooking oil which is also used for hair acre. The oil is rich in so many good fats that it is also suitable for hair growth.
What to do
Add 2 tablespoon of castor oil in a clean bowl

Add 2 tablespoon of mustard oil

The oil should be pure and organic

You know that Jamaican castor oil is the best

It is a dark castor oil by the way

Massage the head with this oil

Leave for overnight

Shampoo the next day

Perform this every alternate days to increase the efficiency
11. Tea Tree Oil and Castor Oil For Hair Growth
Tea tree oil is effective against the hair loss due to scalp infection like psoriasis, dandruff etc. It also aids in the unblocking of blocked pores. Application of tea tree oil is beneficial for people with baldness and patches.
How to do this
Add 3 tablespoons of organic castor oil in a clean bottle

Mix 2 tablespoons of almond oil in it

Put 3-5 drops of tea tree oil in this blend

Apply on the scalp and massage by tapping motions

Leave for 2 hours

Wash with herbal shampoo

Do this alternately

This can be stored in the room temperature
12. Jojoba and Castor Oil for Hair Growth
Jojoba oil is one of the best oils for hair growth and thickening of hair strands. It increases the shine and softness of hair. It is rich in fatty acids and nutrients that seeps and nourishes the scalp. It is also a good deep conditioning hair masks for men and women, who've got dry hair.
Process and application:
Mix 3 tablespoons of castor oil in a bottle

Add 2 tablespoons of jojoba oil in it

Put 3 drops of tea tree oil (optional)

Shake the bottle thoroughly and store at room temperature

Keep it away from sunlight

Massage the scalp every alternate night

Wash in the morning with gentle shampoo
Castor oil Hair Masks for Hair Growth
13. Aloe Vera Gel And Castor Oil For Thin Hair
Aloe vera products are suitable or the hair loss. The gel is rich in nutrient that helps in hair fall control. When mixed with castor oil, it gives positive changes in the hair health. Additionally, it clears dandruff and hair loss because of itchy scalp.
You need:
Castor oil

Aloe vera gel (Fresh is recommended)

Amla juice or amla powder
Method:
Add 2 teaspoonful for castor oil in a bowl

Mix 2 teaspoonful of aloe vera gel

Add 2 teaspoonful of amla powder or juice
How to prepare:
Mix all the ingredients with a spoon or blended whenever you think is comfortable and works well

Apply this on the scalp by gently massage.

Use this masks on hair too

Tie hair in a bun or use a shower cap

Wait for 2 hours

Wash the hair with shampoo
How often:
Try after every alternate day
Suitable or dry hair and itchy scalp
14. Castor Oil and Garlic for Hair Growth
Just like onions, garlic is also rich in sulphur. It aids in hair growth and strength the weak hair roots. This root helps to minimize the hair fall and problems related to infection.
How to make and apply
Take 2-3 Cloves of garlic

Put some water and grind them using a blender or grinder

We need paste of garlic

Once you have got the paste, mix 2 tablespoons of castor oil

Mash it well so that both get mixed well.

Apply on the scalp like a mask

Wear a shower cap to minimize these smell and mess

Wash after 2 hours

Do this 2 times in a week
15. Castor Oil with Ginger for Hair Growth
Ginger is one of the best thing to use for the natural hair growth. Ginger has effective role in the initiation of new hair. It makes your hair grow fastly and give dandruff free hair. Application of ginger juice aids in the healthy hair. Read more about Ginger for hair growth for men and women.
This is the method for one time usage

Mix 2 tablespoons of castor oil with 1 tablespoon of ginger juice

Mix and apply

Massage the scalp

Keep for overnight and wash in the morning

You can also make hair mask with this

For that use the ginger paste with castor oil

Wash after 1 hour
16. Lemon Juice and Castor Oil for Hair Growth
Lemon juice is a rich source for vitamin C,  that is also known as ascorbic acid. It has natural antioxidants that fights the free radicals. It is also a good DHT blocker which aids in hair loss control in men. Lemon juice also gets rid of the dandruff and itching. Bonus is that you'll get shinier hair.
What you have to do
Start by mixing the juice of 2 lemons in 2 tablespoon of castor oil

You can increase the quantity according to your hair length

Massage with this mixture

Leave for 2 hours

Wash with good shampoo

Repeat every 2 days

It'll make your hair growth faster
17. Egg and Castor oil for hair growth
This hair masks is wonderful for the hair growth. Egg yolk is filled with proteins and fats. It accelerates your hair growth and controls hair thinning. As an added benefits, this remedy with egg aids in shinier and thicker hair.
What to do
Break an egg in a bowl

Separate the egg yolk or you can keep the white too.

Mix 3 tablespoon of castor oil

Blend thoroughly with a whisker

Apply on hair and your scalp

Give gentle massage

Wear a protective shower plastic cap

Leave for 2 hours

Wash with clear water first

Then use a shampoo

Do not use lukewarm water, cold water is needed
18. Yoghurt and Castor Oil Hair Growth Mask
This is one for the best hair mask for hair growth using yoghurt. This quick to get kitchen ingredient helps in the hair fall and dandruff.
How to prepare:
Take a bowl and add 3 tablespoon yoghurt.

Add 3 tablespoon of castor oil

Mix well and apply on the hair.

Leave for 1 hour and wash off

Do this treatment 2 times in a week
19. Honey and Castor oil for Hair Growth
Honey is a natural moisture attracting product. It heals the dry split ends and aids in proper growth of hair. Also honey is pretty safe for all the hair types.
Take 3 tablespoon of castor oil.

Add 2 tablespoon of honey in it

Blend using a spoon

Apply on the hair and your scalp

Give yourself a gentle massage

Wear a shower cap to prevent dripping or staining

Wash after 2 hours

Repeat this treatment every alternate days
Side effects of castor oil
The oil is pretty safe to use for the hair. If you are using a cold pressed oil which is not filled with chemicals and fillers then the oil is safe. It does not have any side effects. Yet, I will advise you to apply any of the remedies stated above behind the ear for 10 minutes to check, if you're allergic to it. If not then you can go ahead and try it.
People which are allergic to this oil can experience redness, swelling and skin itching. You should immediately see a doctor then.
Where To buy the best castor oils in India
Castor oils are available online and in stores. If you are facing difficulties getting this in stores near you, then these are the best castor oil brands avialable in India with their prices. I have also kinked the buying links.
Listed below are the top five castor oil brands that you can easily find in the market and local chemist shops.
1. Nature's Absolutes Cold Pressed Castor Carrier Oil
Nature's Absolutes products are good quality and can be bought online easily. This oil is moderately priced and suitable for the hair growth uses. It is highly effective in moisturizing and nourishing hair. This cold pressed castor oil aids in promoting hair growth and strengthening hair
2. Soulflower Castor Oil for Hair, Skin and Beard Growth
Soulflower is one of the best brand to get your essential oils from. This oil is made from 100 percent pure castor seeds. It can be used for hair growth stimulation, preventing split ends, dandruff and dry scalp and getting stronger roots.
3. Morpheme Remedies Pure Cold Pressed Castor Oil for Hair and Skin
It's also a pure Cold Pressed Castor Oil with no added additives and n o mineral oil involved.
4. Aloe Veda Distil Massage Oil – Cold Pressed Castor Oil (Hexane Free)
Aloe veda castor oil is chemical free and is cold pressed, ensuring its purity. It can be used for skin and hair.
Buy Here `
5. Sunny Isle Jamaican Black Castor Oil 
This product is Manufactured in United States and is a pure Jamaican Black castor oil which is considered as the best for hair growth.
6. Mesmara Cold Pressed Castor Carrier Oil for Hair Growth 
It is a 100 percent pure cold pressed castor oil. It is made from quality seeds and is also made with Hexane-free extraction
Lastly, for people who asked how long these castor oil treatment work?
It can vary from person to person and the type of baldness and hair loss you have. But generally it takes 2-3 months to show good results. Also do take a balanced diet that includes the vital vitamins that boost the hair growth and drink lot for water. You can comment below, if you still have any queries in your mind.
This is how you can use castor oil for hair growth and making the hair thick and stronger. Have you used castor oil for your hair ever? Which is the remedy that you love the most with castor oil for hair.