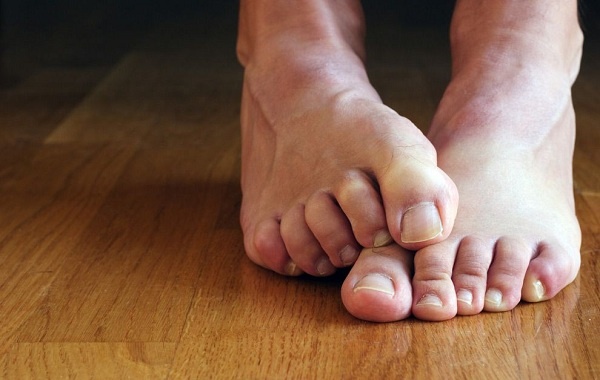 Smelly feet is a total put off. It is an embarrassing situation which none of you guys would like to have. Odor from the feet is a common issue which several men across the globe experiences. There is nothing to be worried about except for the smell and other discomforts. Yet, it comes under your part of grooming. When you have problem of foot odor, you must go for some remedies and extra measures to stop that. Like I said, this can be an embarrassing situation especially, when you have to you take out your shoes and everyone starts looking at you awkwardly. I believe a lot of you would agree with me. This is a fairly frequent scenario during summer season when we sweat more. If there is due. As per the experts, the best way to cure the sweat related smell, is to change your socks regularly. Moreover, you need to keep your shoes out in open so, that smell or moisture can get vanished. More on than that later friends, let's talk about why do your feet smell? 
After a long day from work, school or even if you are an athlete, as your feet is enveloped with your socks, there is less chances that your feet will get air. This is the problem. Your feet come in contact with the sweat and don't get enough of fresh air to breathe. This is the cause that makes feet to stink badly.
Causes of Foot Odor or Stinky Feet
When you are wearing closed toe shoes, because of sweat, it becomes a breeding place for the bacteria called brevibacterium. This bacteria in turn produces a stinking odor from your feet. Your sweat which provides the perfect quality environment for that bacteria to thrive in make this problem even accelerated. Therefore, these are the best ways that you can apply to get rid of the shoe for feet odor.
How to Treat Men's Smelly Feet
This section in our article, we'll talk about the various methods by which you can prevent the issue in the first place.
Socks:
Make sure that you change your socks on regular basis. Wearing the used socks will give more chances for the bacteria to thrive and grow. It will lead to more smell and stink.
Air Drying Shoes:
Keep shoes in air and sunlight so that whatever bacterial infection is there in your shoes, it can be eliminated.
Always try to wear different shoes everyday or if not change them on every alternate days. This will help the used shoes to get dried up completely and gets rid of the sweat, dirt and bacteria that have trapped inside the shoe layers. You can also put a cotton pad soaked with some tea tree oil to get rid of the smell.
According to Experts, you must also spray shoes regularly with a disinfectant or deodorising spray. Such products will help to minimise the fungal or bacterial infection that causes unpleasant foot odor. Moreover, it also minimises the chances of fungal infections getting transferred to your foot skin.
If by chance your shoes get wet then, let them get dried completely before using them. This way the moisture doesn't become a breeding ground for the fungus and bacteria. This is why sun drying is the best thing that you can do.
Now, after these preventive measures, let's talk about the home remedies that will help treat the smelly feet condition in men.
Home Remedies for Foot Odor in Men
To get rid of the foot odor you must follow these steps.
Deodorising sprays:
Before wearing your socks always use foot deodorising sprays. Such sprays are designed to keep a check on the sweat that comes on your feet. Moreover, these products also minimise the bacteria breathing over the layers of socks and shoes.
Pedicure:
Go for pedicure at least once in three weeks. It's the procedure where your feet will not only be pampered but also make sure that you get rid of the dead skin cells and the callus that's surrounding the toes.
Foot Scrub:
Foot scrub is an excellent way to get rid of the dead skin cells and to keep your feet soft and odor free. You can either use a readymade foot scrub for men or try to make a scrub at home. Making a foot Scrub at home is very simple. You just need three products.
Half cup of sugar

¼ cup of honey

1 lemon
Procedure:
Mix honey and sugar in a bowl. Squeeze the juice out of an entire lemon. Mix everything well and scrub over the feet. Make sure you rub the soles, heels and toes nicely. The skin between the toes is the breeding place for bacteria that causes foot odor, therefore scrub thoroughly between that area.
This will keep your feet fresh and smoother by getting rid of all those dead skin cells surrounding. This dead skin cells plays a perfect place and very good medium that bacteria loves to thrive on.
Foot Soak:
Foot soaks are basically used to revive your feet and to get rid of any odor, sweat and to heal other infections .
Here is how you can make foot soak easily
Take a tub of warm water. Add little bit of baby shampoo in it. Add one teaspoonful of tea tree oil and half spoon of witch Hazel. Keep your feet in that water for around 20 to 25 minutes. According to experts, this is the best remedy that eliminates the bacteria and makes your feet feel refreshed.
Some more tips
Every day while bathing you must use an antibacterial soap to kill the bacteria that are responsible for foot odor.
Men should always rub the areas like underarms, between the knees and feet thoroughly, so that they stay fresh during the day and less odor is produced.
These are the major depositories where the sweat and infection like fungal and bacterial take place.