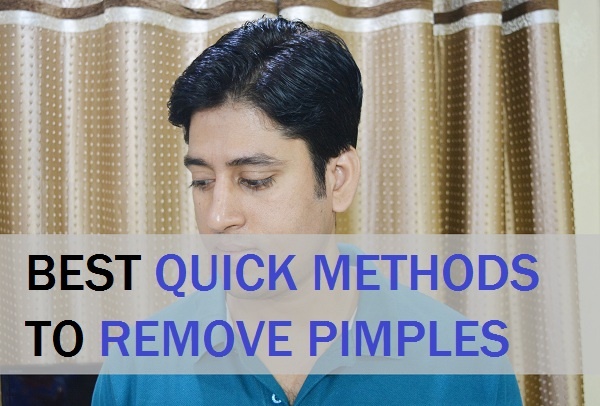 Quick Methods to Remove Pimples on Men's Face
Pimples and acne are annoying things that no man would like to see on their faces. Even when the painful pimples heal, they leave behind terrible looking red or brown patches or spots on the skin. This is why a lot of boys would be concerned about acne on their face. I also have oily and acne prone skin type. In this article, I am going to share some effective methods and home remedies to get rid of acne fast on men's skin. So no more acne scars and acne marks for your skin friends.
How and Why Pimples are Formed? 
Acne is commonly seen on the facial skin areas, which tends to have more sebaceous oil glands. However, the function of these glands is to lubricate your skin and make it look glowing, however, due to excessive amount of oils, you can get acne. Clearly, this oil gets mixed up with dead skin cells in your pores. And it gives a favourable environment for bacteria to thrive successfully. As a result, it forms inflammation of pores that forms a bulge and pimple.
So now you know, how the pimples are formed. They basically erupt when the bacteria gets oil and dead skin cells. Therefore, to keep skin clear you have to do 2 things: First is the dead skin cells removal and to reduce the oils. When we take care of these things, less pimples forms on our skin. So now in this article, I am going to tell you, how exactly boys can get rid of the pimples from men's skin. But before going that if you are in a habit to pop or crush your pimples then, do not do that as that can leave terrible scarring and marks on your skin. Now let's move ahead.
Quick Methods to Remove Pimples on Men's Face
1. Aspirin Mask To Cure Pimples
Aspirin is a medicine that is taken to relieve body pain, however, it also has anti-bacterial and anti-inflammatory properties. Therefore, when used on your acne it helps to reduce the redness.
How to do it?
Take an Aspirin tablet and crush it.

Now mix it with some distilled water to get paste.

Apply it over the acne and soon you will notice that the redness is gone and the infection starts to reduce as well. 

Do this every day for quick results.
2. Aloe Vera Gel and Tea Tree To Heal Pimples
Aloe vera is a soothing gel that comes loaded with multiple benefits for your skin and hair. In the case of pimples as well, Aloe Vera Gel has proven to be very effective. For this remedy, you just need two product aloe vera gel and tea tree oil.
How to make it?
Take 1 teaspoonful of fresh aloe gel

Add 2-3 drops of tea tree oil, if you don't know about where to get tea tree oil and which is the best one, do known about the best tea tree oil brands in India.

Mix everything well, so that the tea tree oil and aloe vera get mixed up really well.

Now at night, before going to sleep, apply this mixture over the acne

Next day wash off with cool water.

This will help cure the redness and infection, plus  the irritation due to pimples.
3. Toothpaste to Dry Pimples
Toothpaste is also a proven home remedy to get rid of acne and pimples faster. For this we need the white fluoride toothpaste not the gel options that we have. It contains the silica which helps to decrease the redness and dries the pimples overnight. All you have to do is to apply the toothpaste using clean finger before going to bed over the acne. Just a simple process will help the acne to get healed faster and to reduce the inflammation and itching. This is primarily for drying the pimples and minimizing the inflammation.
4. Garlic
You may like garlic in your delicacies but it is also true that garlic can be extremely helpful in minimizing the bacterial infection and to get rid of acne faster from men's skin. To make this recipe you have to follow these simple steps:
Take two to three garlic and peel them.

Crush the garlic cloves and get a paste.

In half spoon of garlic paste add half spoon of honey.

Mix it will.

Apply this over the acne and pimples.

Wait for it least 30 minutes.

Wash off with clear water.
After that you can go ahead and apply your medicated skin creams.
5. Baking Soda To Cure Acne
Baking soda is a wonderful natural remedy to heal pimples quickly from the face. So, if you are a guy who is experiencing a lot of acne on nose, cheeks, chin and forehead, then this simple remedy will do the job. It helps in destroying the bacterial growth. Apply a paste of baking soda and water on your skin and leave it for about 30 to 45 minutes. After that wash with warm water. This will surely cut the bacterial growth.
So, guys these were the five quick methods to remove acne from men's skin faster and overnight. All you have to do is to do them regularly. These remedies will stop the bacterial growth and eventually heals them quickly.
Other than that, as I mentioned, dead skin cell is also to responsible for acne formation. Therefore, you must make sure, you're getting rid of the dead skin cells. To do that the simplest method is to exfoliate your skin twice in a week. For that, you can use any good face scrub available in the market.
Face scrubs which are rich in ingredients like walnut extract, Neem, Turmeric are best for oily and acne prone skin. Also you can read this post that will help you in finding the best face scrubs for Indian men. And also don't forget to check out this post that talks about the best pimple and acne marks removal creams in India.
Hope guys it helps you!