Summer Face Packs for Men with Oily Skin, Dry, Sensitive Skin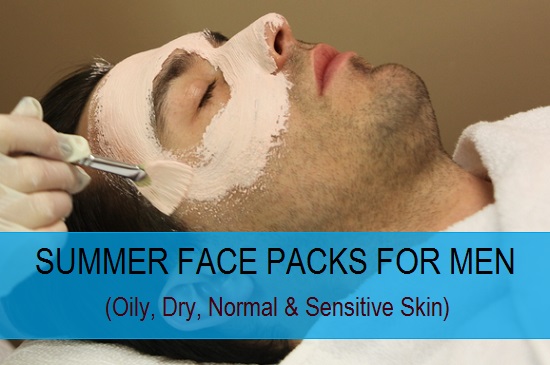 Summers bring high temperature, dust, pollution and sweat. Yes, that is so true considering the very high temperatures in India for the past few years. The mercury soaring can play havoc to the skin and hair as well. So, while we drink ounces of water, fruit juices etc to cool ourselves our skin needs care too. In summers skin problems like oiliness, darkness, tanning, dullness etc is very common. While men who stay out in the sun with no choice to sit at home will get skin problems easily. Once the skin gets dark or dull in summers then there can be very hard to get the natural fair complexion. So, what can be done to keep men's skin's in good healthy state. Well guys, you can try using face packs and masks during summers. Summer season needs care for the skin. These summer face packs will give life to the tired dull skin and make the skin stay fairer and oil free. In addition these facial pack and mask will give you boost of freshness to look your best in summers.? In this post at Mensbeautyhealth Blog, we will share face packs specific for summer season for the oily combination skin, dry skin, and sensitive skin and also face packs for acne prone skin that is struggling with pimples.
Why face packs are essential in summers
Summers means hot weather hence these summer face packs will give boost to the skin to withstand the temperature rise.
In summers skin gets darker and patchy, hence these remedies will cure the darkness and revives the skin.

Skin also gets oilier then it is and hence the facial pores get clogged therefore these natural packs will treat the clogged pores and keeps the skin fresh.

Dry skin gets wrinkled when there is heat and also gets dry patches with sun exposure hence these summer mask will treat the dryness, flakiness and keeps the moisture levels of the skin in fact.

Oily skin catches dirt and dust easily which can be a reason for the skin problems later one, so these summer beauty packs will ensure than the men's skin is deeply cleansed and hydrated. Read here on: Oil Controlling Beauty tips for men


Men with sensitive skin face roughness, rashes and red boils in summers due to heat and humidity hence face masks with cooling ingredients can calm the irritated skin and also soothes the face. In fact men who face redness and irritation post shaving will also find than these packs are great to sooth the skin.

Many of the summer face packs have ingredients which are powerful enough to bring back your glorious fair complexion.

These packs will also tone and tighten the skin since in summers, skin gets a little bit sagging due to sun damage that can be reverse if treated on time.
Men's Oily Skin Summer Face Packs

Orange juice and Multani Mitti face pack: Multani mitti is known as fuller's earth so take around 1 teaspoonful of fuller's earth and mix that with some orange juice in a way that you get a liquid paste. Use this to smear this pack all over the face and the neck as well. Let it get dry for 20 minutes then wash off the face using plain water or cold water.
Gram Flour Face Pack: Take 2 teaspoonful of Gram flour and mix that with some milk so that you get a paste like consistency. This pack needs to be applied evenly on the cleanse skin. Wash this off after 20 minutes.
Grapes and Honey Pack: Take few grapes and mash them then add 1 teaspoonful of honey in it. Mix a apply this grapes pack all over the face suing fingers. Then allow this to get dry for 20 minutes. This also treats the wrinkles on oily men's skin.
Summer fairness packs and masks
In summers, we lose the fairness hence this is good to use fairness packs that can improvise the skin's fairness and skin looks a lot better and healthy. Men with tanning. This sun tanning when not removed on time can also become the long lasting pigmentation that is difficult to get rid of.
Honey and Lemon Face Pack: Honey and lemon juice make a good combination of skin lightening and skin hydrating facial mask. Mix little bit of honey with some lemon juice and this will be your face pack to whiten the skin. Apply this and wash after 20 minutes.
Lemon with Sugar Mask cum Scrub: This face pack is more of face scrub that does face clean up for men's skin. Take 2 teaspoonfuls of sugar and mix with some honey like 1 teaspoonful and 1 teaspoonful of lemon juice. Apply this on the face and rub it to exfoliate. Be gently while doing the circular motions on the face. Keep scrubbing for 2 minutes then leave this for 5 minutes then wash off. This has to be done daily to get rid of the summer tan and get fair skin.
Sandalwood with kesar: This can be a little bit expensive but if you do it then the benefits will be quicker. Mix 1 teaspoonful of sandalwood powder with milk to make a paste and add little bit of kesar. Kesar is on the form of dainty threads so, you can add 2 such threads of kesar then mix this pack. The sandalwood color will become orange-ish with kesar. Now, apply this on the face and rinse your face after 20 minutes for fair skin in humid hot season.
Men's Summer Face packs for dry skin
Banana with Honey pack: Banana is excellent for moisturizing the dry face. Banana treats the dryness and skin appears glowing. Take a small piece of banana and mash that using a spoon. Then add 1 teaspoonful of honey in it. Mash the pulp till it gets smoother. Apply this on the face and wash after 30 minutes to achieve a hydrated face.
Watermelon Pack: Watermelon is eaten a lot in summers and in fact this is a great fruit which is laden with so many vitamins and minerals. Take little bit of watermelon and apply that on the face. Wait for 20 minutes then rinse the face. This also works excellently to tone and tighten the dry skin as well.
Yoghurt and Honey pack: Yogurt and honey both are very good natural ingredients to cure the skin dryness, roughness. This too takes away the tanning and skin's wrinkles due to sun damage on the skin. Take 1 teaspoonful of yogurt and same amount of honey. Mix and apply. Wash after 20 minutes.
Milk Cream Remedy: Simply applying milk at night on the dry face will do 2 things. It helps to tone the dry skin and hydrates it. Secondly, milk cream and loads of lactic acid which make the dry skin glow even in harsh sweaty summer season.
Summer Face Packs for Sensitive Skin Men
Men who have got sensitive skin will find relief using facial packs and mask in summers. Since these natural remedies for men will help them soothe and calm their irritated tough skin.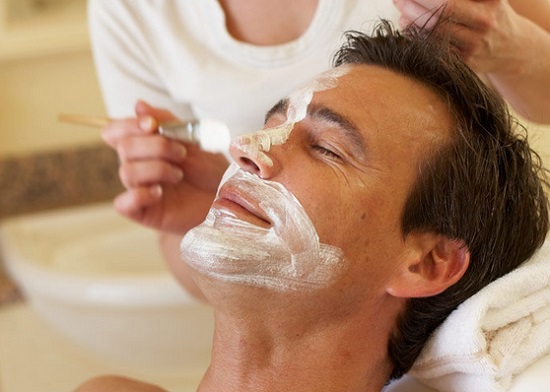 Papaya and Milk Cream: Take a small piece of ripe papaya. Mash the piece using a spoon or your finger in a bowl. Then add 1 teaspoonful of milk cream. Mix it again. Apply this papaya milk cream summer face mask on your sensitive face and wait for 20 minutes. Then wash the face with cold water. This will soothe the red skin.
Sandalwood Pack: No other natural ingredient have the potential to sooth the irritated and problematic skin like sandalwood does. Take 1 teaspoonful of sandalwood powder. Yes, sandalwood powder, don't worry sandalwood powder is available in many shops. At time it is mixed with fuller's earth which is also fine. So, in that sandalwood power you need to add little bit of rose water so that we can get a paste of sandalwood powder. This is best face pack in summer for sensitive skinned men. You will love it we bet it. Apply it and rinse the face after 20 minutes for best results. This is one of the best face packs for fairness, oily skin, sensitive skin and pimple prone skin. We can also call it an all in one face pack for summer season.
Face packs, masks for Summers for Men's acne prone skin
When you have acne and pimples then you should become extra cautious in summers. Reason being summers bring dust; dirt pollution more than any other season, secondly in summer secretion of skin oils also becomes more than usual. Hence care is needed.
Fuller's Earth for Pimples: Fuller's earth will decrease the chances of pimple by decreasing the oil production. Multani mitti is one of the best natural ingredients to treat oily acne prone skin for men and women too. Take 1 teaspoonful of fuller's earth and make paste using some normal water. If you can use rose water, then that would be even better. Apply this and wash after 15 minutes.
Neem and Multani Mitti Facial Pack: Neem is a very cheaply available natural ingredient that can help you to treat the acne and also cure the blemishes. While multani mitti will further helps to absorb the oils on the face so that the face looks healthy and bright. Neem has been used in the Ayurveda since centuries to get a clear complexion within days. It also works as an effective scrub to cure the clogged pores and works as a natural anti septic for the skin.
If summer tanning is making you worried then read out tips on : Easy Ways to get rid of Summer Tanning