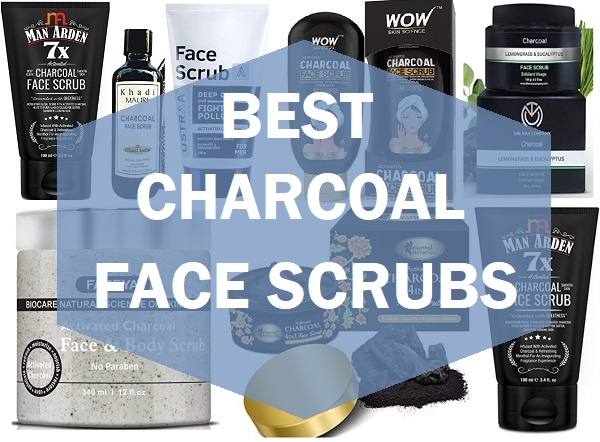 Activated charcoal face scrubs are ideal for clear skin. Charcoal, with its amazing properties to sucks out the dead skin cells, bacteria, impurities like that toxins and much more, makes this product as one of the best element to have in your beauty products. Especially, when you've oily and acne prone skin.
So, considering that we have compiled this list of the best charcoal face scrubs available in the market. One can try these scrubs if they have oily and acne prone skin. As Charcoal is wonderful to take care of your greasy skin when the season is hot humid and warm like our Indian summer season. Dry skinned ones can also use these.
How to use charcoal face scrub:          
The method of using any charcoal facial scrub is almost the same and we are sharing it with you so that you can use it accordingly.
First of all, wet your face with clear water.

Take around a coin sized scrub in your palm.

Apply it on your entire face and rub gently using circular motion.

Focus on your oily skin areas like your nose, forehead and chin.

Keep massaging your skin gently for about 1 to 2 minutes.

Wash it off with clear water.
A charcoal Scrub can be used two to three times in a week, if you've very oily skin and during summers. For winters, use it one to two times in a week. People with dry skin can also use charcoal scrub but their use should be limited to once in a week.
List of best activated charcoal scrubs in India (2022)
1. Beardo Activated Charcoal Deep Cleansing Face Scrub
This activated charcoal deep cleansing face scrub is exclusively made for men. It exfoliates your skin and protects your skin against the daily build up of dirt, oils, impurities and toxins that float freely in the atmosphere. It gives you smooth skin after the scrubbing. The product is one of the best men's exfoliating scrubs in India.
2. Khadi Mauri Herbal Charcoal Face Scrub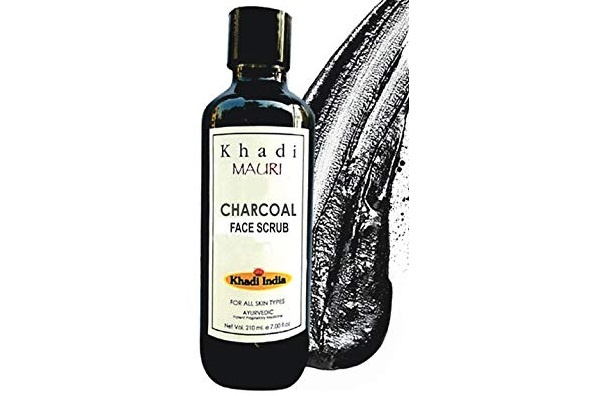 This charcoal face scrub is suitable for both men and women. The product exfoliates the impurities and oils from your skin so, that it appears clean and glowing. With the day to day life and pollution our skin gets rough and dull, this product helps to revive the lifeless skin. It is 100% chemical-free and paraben free face scrub with charcoal extract. To get clear and excellently glossy skin, using a charcoal rich face product can be quite useful.
3. Ustraa Activated Charcoal Face Scrub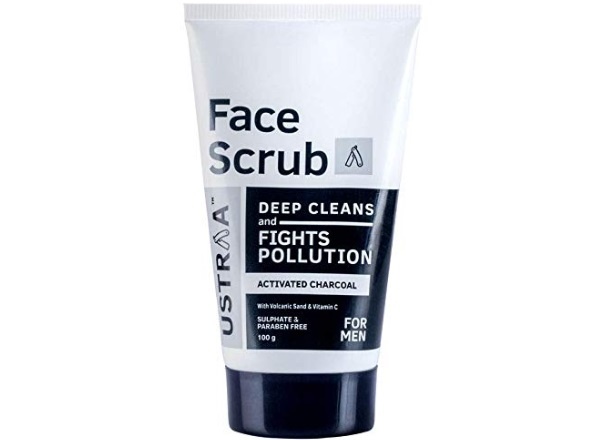 This is one of the best activated charcoal face scrubs for men in India. It removes the dead skin and pollution with its Tahitian volcanic sand and walnut granules.  The product helps to remove whiteheads, blackheads and dark spots. You can try it two to three times in a week. men can try this on their rough facial areas like the chin and nose to avoid teh ingrown hair strand problem.
4. BioCare Charcoal Scrub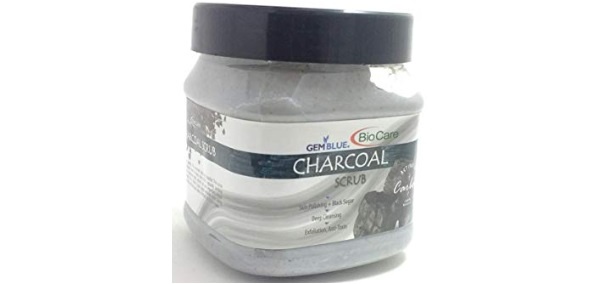 The charcoal face Scrub is a very affordable product. It can also be used on your body to scrub it. The product exfoliates and polishes your skin to remove the blackheads and build up of dead skin cells with impurities. It is a very budget friendly product that works well for the body. The activated charcoal loaded face product is ideal for women and men who have rough skin and bumps on the skin. As, it can be used on the body as well, it's a multipurpose product.
5.Oriental Botanics Activated Charcoal 4 IN 1 Face Scrub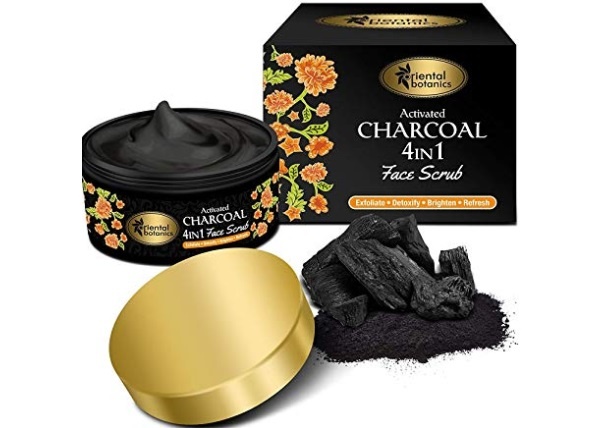 The activated charcoal 4 in 1 face scrub exfoliates, detoxifies, brightens and refreshes a dull skin. This is one of the best face scrubs with charcoal that gives you total skin polishing. It acts like a magnet that withdraws the oils, impurities and everything bad for your skin. The vitamin C content in this helps to give you a visibly more than white skin. You can use it two times in a week for getting healthy skin. To get rid of the pesky blackheads and whiteheads from the skin, this facial scrubbing product is ideal even for the teen boys and girls, this can be used 2-3 times a week. 
6. WOW Activated Charcoal Face Scrub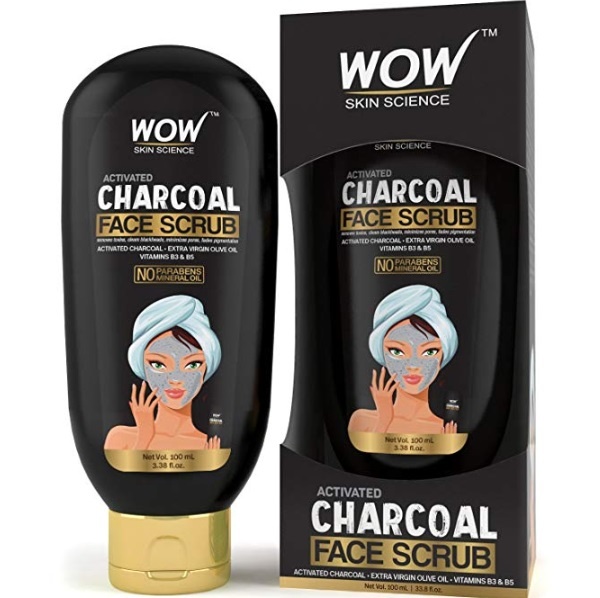 The WOW product is a paraben and mineral oil free charcoal face Scrub that is suitable for men and women. It is an effective blend of activated charcoal, extra virgin olive oil, vitamin B3 and vitamin B5. So, all in all hit polishes your skin and reforms it, so that all the skin problems are treated with just one product. It will approve the blackheads, whiteheads and sebum from your skin. After the use the skin appears beautiful and glowing. Men with inflamed red acne prone skin can also try it but 2 times in a week only.
7. FABEYA Biocare Natural Activated Charcoal Face and Body Scrub
The product has received extremely good ratings from the users. It is a paraben-free face and body scrub with activated charcoal. It has a creamy base that does not make your skin dry post the application. You can massage this on your skin with circular motion and watch the skin after few minutes. It exfoliates dead skin cells, improves skin tone, cleans and tightens pores, fights acne, removes excess oil, blasts cellulite and even helps reduce fine lines and wrinkles. 
8. The Man Company Activated Charcoal Face Scrub for Men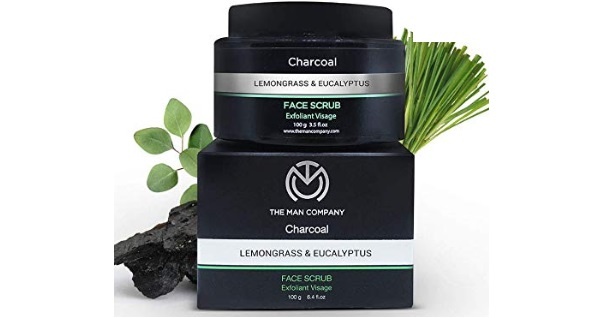 It decreases the inflammation of acne with its lemongrass and eucalyptus extracts. It keeps the skin soft and smooth and even during the hot summer season when your skin secretes more oils. It has antiseptic, antifungal, antibacterial properties that keep your skin free of the toxins and bacteria.
9. Keeo Charcoal Face Scrub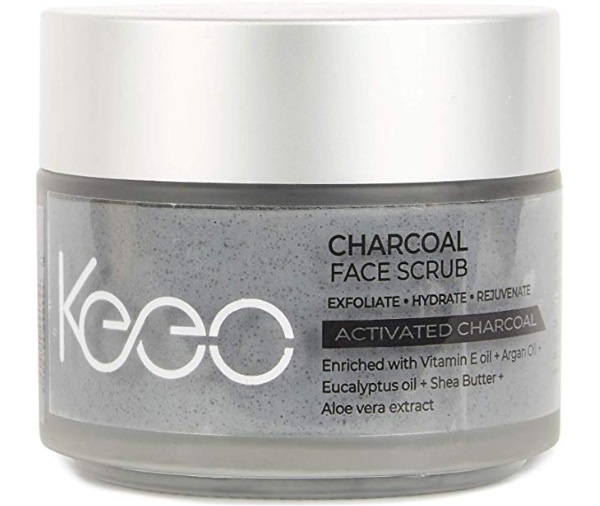 The product helps to get rid of the blackheads and impurities that are seated deeply in the skin layers. It is enriched with Vitamin E oil, Argan oil, Eucalyptus oil, aloe vera extracts, Shea butter along with the activated charcoal extracts. It is ideal for face and body exfoliation. It is chemical-free and paraben-free 100% vegan product that is also free of sulphates.
10. Man Arden 7X Activated Charcoal Face Scrub 
The product is exclusively made for men. Detoxifying facial Scrub with activated charcoal helps to exfoliate and purify your skin for software and smooth skin. It also helps to eliminate the ingrown hair that can be quite painful when you shave. It has Vitamin C in lemon peel that brings brightness. It is the best skin whitening face scrub that you can call it. Of the product is 100% natural and free of the chemicals.
So, this is the list of the best charcoal face scrub for men and women in India. Hopefully, that will help you in finding the best face scrub with charcoal for you. Make sure that you used in two times in a week and always use sunscreen during the daytime so, that your freshly foliated skin can stay protected from tan.