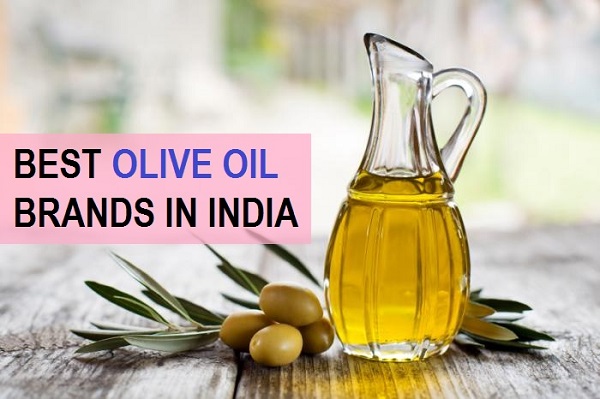 Olive oil is known as one of the best oils for your skin and hair. But why just that? Olive oil is also one of the best oils for cooking as well. Here, I will be listing the best olive oils available in India, plus some of the benefits of this oil so that you too can get the advantages of this awesome oil.
A lot for times people ask, Is olive oil good for the skin? Does it cause acne? Can it initiate hair growth? etc, then you can read this post till the end to know the answers. 🙂
Nutritional Value and Benefits of Olive Oil
The reason olive oil is used in a lot of cosmetics products is due to the fact that, this is rich in anti-oxidants and vitamins like vitamin E.
Olive contains omega-3 fatty acids that is considered wonderful or the skin and hair. It also has polyphenols that neutralize the effects of free radicals.
Free radicals are something that can ruin your skin's beauty by speeding up the aging process. Moreover, olive oil is also not priced very expensive. You can get 200ml of olive oil for 300-500 rupees approximately.
When you use such effective oil, you not just get good skin but also get good healthy hair. In fact, a lot of people swear by this oil to get fast hair growth.
Now, the question is which oil is better? Extra virgin olive oil or cold pressed? Or what is the difference between the two? It'll help you to choose the best olive oil according to the extraction method.
Types of Olive Oil A

vailable:
Extra Virgin Olive oil: Extra virgin olive oil means the oil was extracted from the first pressing with the use of any chemicals. The oil thus obtained is pure and natural.
Virgin Olive Oil: It means that the olive oil has been extracted from the second pressing.
Refined Olive oil: Refined means that the oil has been extracted and/or purified by using some sort of chemical or possibly high heat process. Refined oils are cheaper comparatively.
Cold Pressed: Cold pressing is a process of extracting oil through pressing and grinding the nut, fruit, or seed. Cold pressed oils retain their aroma, nutrients, and flavor.
Here's why you must use extra-virgin olive oil for your skin.
Now let's check the best olive oils available in India from various brands.
10 Best Olive Oil Brands Available in India (2022)
You must be thinking, which brand of olive oil is the best? Here are the options for you!
1. Soulflower Cold Pressed Olive Pure Natural Carrier Oil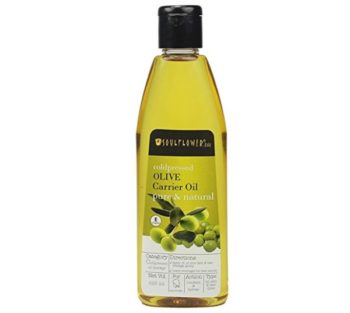 Soulflower is one of the best companies that make essential oils. This cold pressed Olive Pure Natural Carrier Oil is an extra virgin olive oil which you can use for skin and hair. The oil is rich in vitamins and anti-oxidants. The bottle is sturdy and is easily available online on shopping sites like Amazon, Flipkart etc. It gives glowing skin and hydrated hair. It is an extremely good source for vitamin E.
2. Figaro Extra Virgin Olive Oil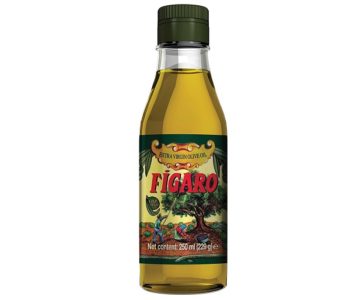 Figaro Olive Oil brand is one of the most popular and old considerably. When these other brands were not as easily available, Figaro was the first choice. This jaitun ka tel has been used to give small babies massage in winter. It is available in virgin forms as well now. The tin pack has been replaced with a user friendly plastic bottle now. It is the best olive oil for baby massage and for hair care. We have posted this detailed post on Figaro olive oil review and how to use it, which you can read to get more information.
3. Morpheme Remedies Organic Extra Virgin Olive Oil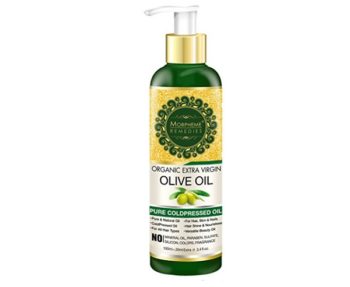 Morpheme Remedies Organic Extra Virgin Olive Oil is loaded with the anti-oxidants. It fights the aging and free radicals, to keep them off your body. You can do all those beauty recipes and remedies for your skin and hair with this olive oil. This oil can give you good hands and body skin when massage every day. It is genuine and free of the parabens and minerals oils. It's the best olive oil brand in India.
4. Khadi Olive Oil Pure & Natural Essential Oil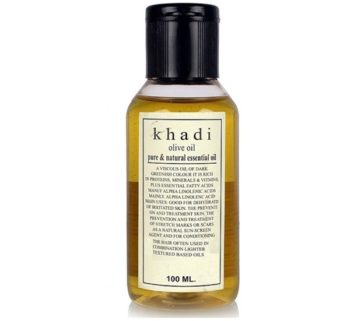 KHADI Olive Oil is easy to get from any major shopping portal. This is packaged well and easy to use bottle. This is rich in vitamin and minerals along with the natural anti-oxidants. It can cure your dandruff, scalp dryness and what not. Just like the tips that I have shared below. The extra light olive oil can be used along with some lemon juice to lighten the skin. It is the best olive oil for body massaging.
5. Aloe Veda Distil Extra Virgin Olive Oil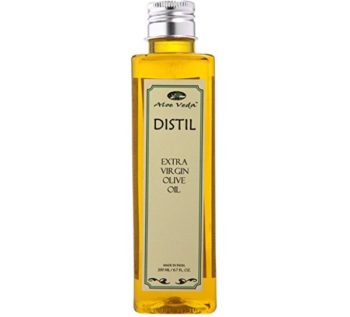 Aloe Veda is a brand that makes high quality products. I will definitely recommend this olive oil to all of you, who would wish to use olive oil for their skin. It is an extra virgin olive oil. Like I mentioned earlier, such oils are the best for the skin and hair. You can use this for face massaging and also for the hair and body. For babies too, this is the best baby massaging oil.  It is indeed one of the best olive oil for hair growth.
6. Aroma Magic Olive Oil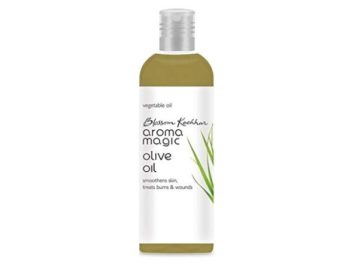 Blossom Kochchar's Olive Oil is yet another good option for this oil in market. It is easy to available. The budget friendly oil is multi-purpose oil and is pure. It comes in a user friendly packaging. You can also apply olive oil over the rough knees and elbows.
7. Nature's Absolutes Olive Carrier Oil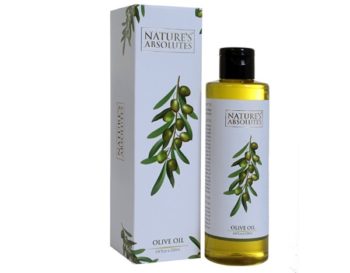 The carrier oil is perfect to mix with other essential oils like tea tree oil, geranium oil, lavender oil etc. It can be used for both skin as well as for hair. The remedies that you do for your hair should have natural olive oil, right? Also, you can boost the effects by mixing other oils like coconut oil, almond oil etc. It is the best a pure cold pressed oil. If you have wrinkles, then this post on the best remedies to use olive oil for wrinkles, will help you!
8. Leonardo Olive Oil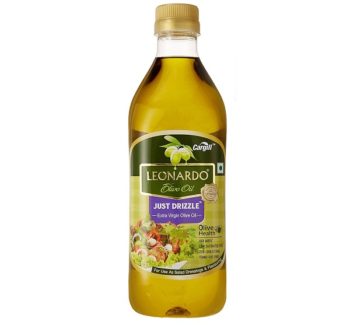 Leonardo olive oil is a refined oil that is basically used for cooking. So, if you can't get hold of the other mentioned options, do try this. Since it is refined, use it only for the body massaging and hair. Yes, for babies too you can try it. You should warm up the oil a bit to increase the efficiency.
9. Mesmara Extra Virgin Olive Oil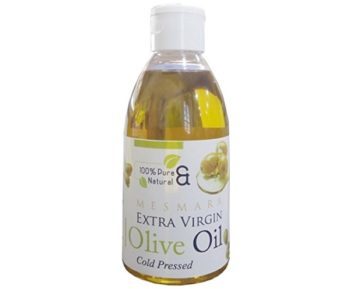 Mesmara makes this Extra Virgin Olive Oil which is free of the chemicals, adulterant and other possible additives. Use it for your face, body and hair, you are all set. This is one of the best extra virgin olive oil for skin you see. You get all the real benefits of olive oil in this brand. Apply some on the lips at night to get rid of the chapped lips and flaking skin.
10. Fiordelisi Extra Virgin Olive Oil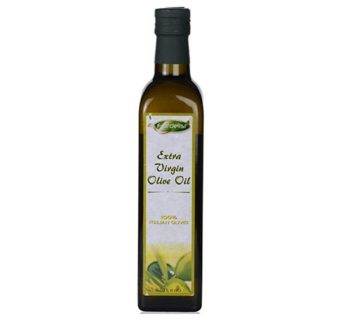 The fat-less oil is good for the dry skin and hair. You can buy this one too to fulfill the needs of getting a good oil for beauty recipes purpose.
This is the list of the best olive oil brands in India that are used for skin and hair. Now, it's time to know some good to know recipe using olive oil that you can incorporate in your skin care and hair care regimen. Please not that the prices are subjected to change. Online you can get these oils for some extra discount.
Ways to Use of Olive Oil for Skin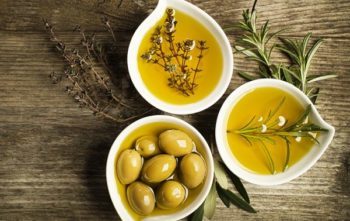 Skin Moisturizer
We can use olive oil to moisturize the dry skin. It gets deeper into the skin layers thus, making these kin softer and glowing. Once in a day at bed time is the best time to apply. In winter apply even after the shower the hydrate the skin.
Cures Dry Skin
Dry skin is really problematic and just imagine the dry winters. This is why application of the pure olive oil over the body parts that are dry, can give you excellent moisturizing results. You can use this oil as a body moisturizer.
Fades Wrinkle Formation
Olive oil is highly beneficial for facial skin. The anti-oxidants in the olive oil can lighten the wrinkles and fine lines. The signs of aging can be delayed using the olive oil regularly on the face. The deep hydrating properties of this oil are wonderful for mature dry skin.
Makeup Remover
These days even guys have started wearing some amount for base or compact so, it does not matter, you can still use olive oil as a makeup remover. Take some olive oil on a cotton pad and apply that all over the face. This will remove the makeup.
Dark spots
You can directly apply extra virgin olive oil over the dark spots on legs, hands and even face. While using this oil for the face, first make sure that you don't have oily skin. It does not clog the pores as badly, but we need to be careful. Right?
Nail Strengthener
Yes, olive oil can give you stronger nail. You'll need two ingredients like olive oil and lemon juice. Mix lemon juice 3 teaspoonful with 2 teaspoonful of olive oil and let your nails get soak in the benefits.
Hydrates Cuticles
Dry cuticle looks really terrible. Moisturized hands and no cuticle is the way beautiful hands should look like Right? Apply some warm olive oil over the cuticles at night and check the soft cuticle the next day!
Shaving Lubricant
Not just that, you can also use it as a replacement for your shaving lotion. At times, we just forget to get a replacement of shaving lotion and what happens, we get stuck. But worry not! Olive oil can serve as a perfect shaving partner. But that is not for your face by the way! Guys take a note.
Body Oil
You need not to buy body oil from the stores when you have olive oil. You can take few drops and massage your body. In fact, it also serves as effective massaging oil, even it can be used for baby massage to strengthen their bones.
How to Use Olive Oil for Hair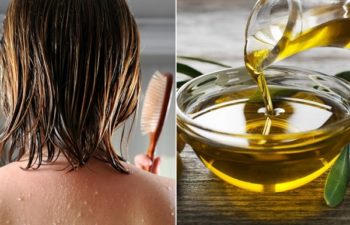 Increase hair growth
As per the research, oil like olive oil are full of anti-oxidants. So, when you apply this oil to massage the scalp and hair, it boosts the hair growth. You can also include this in your diet t get its most out of it. It can make your hair grow faster by stimulating the hair follicles.
Conditions Dry Hair
When the hair is dry, they are brittle and tend to break more. Application of olive oil can give beautiful and smooth hair. You can apply this oil at night to give yourself a mini champi and this will do rest of the work. Try it soon! You'll be amazed by the results.
Split ends Treatment
Application of olive oil on the hair ends also prevents the split ends. But how? It creates a moisturizing coating over the cuticle of hair. Thus, the split ends are minimized by the effects of heat and sun damage.
Dandruff
You can mix 2 part of olive oil with 3 parts of lemon juice. Massage on the scalp and wash the hair in the morning. You'll get instant in relief in the dandruff itching.
Olive Oil with Curry Leaves
When you mix olive oil with curry leaves and warm up a bit, it makes an excellent remedy to cure the grey hair. You can prepare the oil and stored in a bottle for future use.
Let's take some queries now that you must be wondering.
Queries
Is extra virgin olive oil good for skin?
Yes, definitely, extra virgin oil are free of the chemicals and penetrates into the skin to give the maximum nutrients and vitamins. Additional it gives glow on the skin.
Can we use olive oil on your face?
We can and we cannot. People with dry skin can apply olive oil on their face to moisturize the dehydrated skin. But when your skin is already oily and greasy then the use of this oil s is not recommend. Even though the olive oil has low comedogenic rating but it can still block the pores.
Can we use olive oil on skin with acne?
Olive oil can clog the pores at time, therefore, it won't be good that you apply this oil over the acne. But yes, for the body skin scars and spots it can be safely use.
How can you apply olive oil to hair?
Take ¼ cup of olive oil. Warm it up a little bit and apply all over the hair and massage the scalp. But a shower cap. You can leave olive oil for 2 hours then shampoo the hair. It is not very difficult to get rid of.
Can you put olive oil on hair for overnight?
You can apply olive oil and leave it for overnight for best results. Thereafter, wash the hair in the morning. You can apply coconut oil as well which works just like the olive oil.