Using a good body wash is a first thing that many men do while taking bath. Bathing product is essential to keep you re-energized and fresh all day long. Considering that we have created this list of the best body wash for men in the market. If you sweat a lot or do intense workout and sports training then charcoal body wash helps a lot. In fact, anti bacterial body washes help cure body odor by reducing the bacterial growth.
Best Body Wash For Men in India (2020)
Let's take a look at the men's body wash brands in the market. These works for adults and teenage body odor with their natural and herbal ingredients and foaming lathers.
1. Ustraa Black Magic Body Wash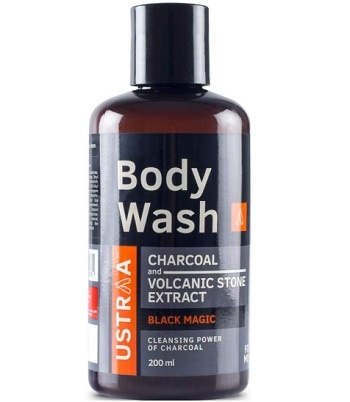 Ustraa body wash with charcoal and volcanic stone extract is a magical product that has high cleansing power because of the black charcoal. Activated charcoal draws out the dirt and impurities from your skin. This is why, we feel that it's the best body wash for indulging in outdoor activities and jobs that requires men to stay in dusty atmosphere for long. And the best thing is, it's sulphate and paraben free body wash for men.
2. Adidas Ice Dive 3 In 1 Body, Hair And Face Shower Gel For Men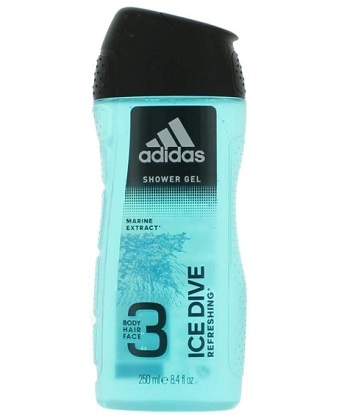 Adidas 3 in 1 product works as a body wash, shampoo and a face wash. With Marine extract, this is a refreshing product that has mild cooling. It revolves and refreshes the skin, so that you get to enjoy long lasting freshness even during the hot and humid summer season. It's the best body wash for men in India.
3. NIVEA MEN  Active Clean Hair, Face & Body Wash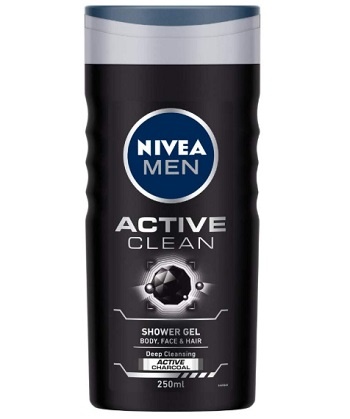 Nivea men shower gel is also formulated for your body, face and hair. With active charcoal, it's suitable for men with oily skin who do rigorous sports training and workouts. All such activities make you sweat profusely hence, deep a deep cleansing product. It gives pH balanced skin and is a dermatologically approved product. The rich lathers create the rich foam for glowing skin without stripping the essential moisture. It's also the best men's body wash.
4. Dove Men + Care Face and Body Wash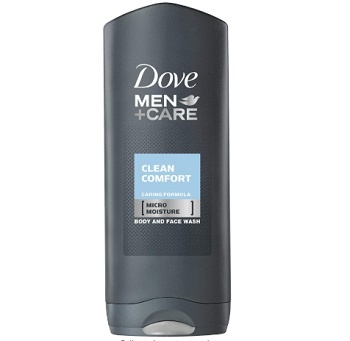 Dove Men body wash has extra conditioners with micronutrients. The product has nice invigorating smell and formula that works even on the sensitive skin. To combat the winter dryness, men should definitely try this hydrating body wash for moisturising dry skin even before you grab a body lotion. It's the best body wash for sensitive skin.
5. UrbanGabru Charcoal Body Wash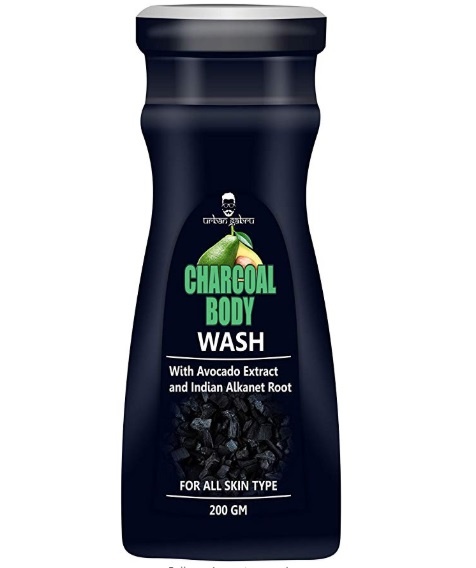 Charcoal body wash with avocado extracts and Indian alkanet root extract is a wonderful body wash for men with oily skin. The soap free body wash fights off acne and dryness on your body skin by supplying immense moisture and cleansing your pores. So you can try this body wash for acne on back and chest to get rid of the body acne and irritation like blisters and boils during summers by using this charcoal body wash for men. It washes away the bacteria, impurities, dust and environmental pollutants sticking on the skin surface.
6. AXE for Men Gold Temptation Body Wash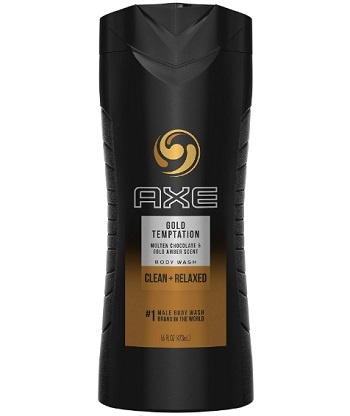 Axe body wash for men in Gold Temptation not just changes your skin wonderfully but leaves you with mild trailing fragrance. The long lasting fragrance body wash keeps you energized and fresh during the hot summer season as well.  We men also like to smell good. Right? It's an exciting blend of the molten chocolate blended with fresh citrus and smoky Amber. So it's a sweet and masculine fragrance that helps to kick start your day. Axe Gold Temptation body wash is a best smelling body wash for men that work in all seasons.
7. BEARDO Activated Charcoal Body Wash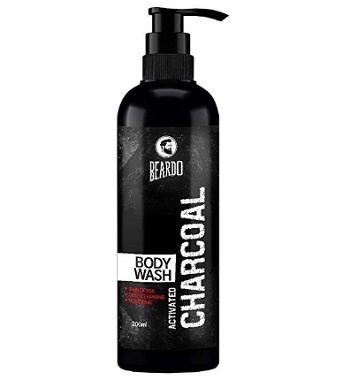 Activated charcoal body wash can be amazing to get rid of the sticking dust and pollutants particles. For sports people, who're into dusty environment will find it as the best body wash for them. It cleanses the body skin and gives a refreshed cooling feel. Loaded with aloe vera and glycerine other than activated charcoal, it gives moisture and deep cleansing benefits.
8. Bombay Shaving Company Menthol Refreshing Face and Body Wash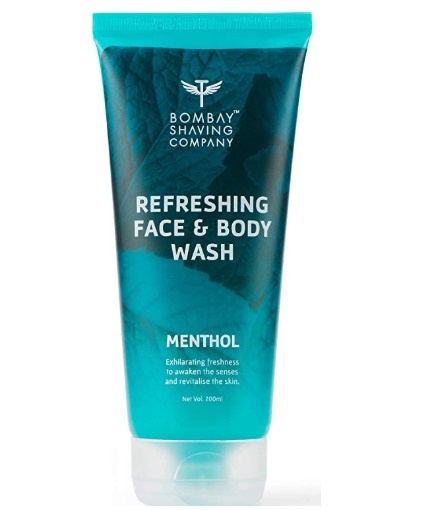 The face and body wash from the Bombay Shaving Company has menthol cooling sensation once you apply it. So you get that exhilarating freshness to awaken the senses in the morning. When you feel good, you stay active all day. Infused with mint and menthol, it's bound to give you fresh and lively scent. It's the best deep cleansing men's body wash.
9. Gatsby Original Body Shower Gel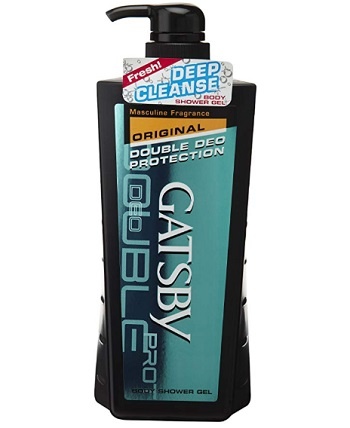 Gatsby Body wash for men gives good lather and deep cleansing experience. Suitable for all skin types, it helps in reducing the oils on your body along with the sebum dust and pollutants. The shower gel has a mild fragrance which is suitable for everyday use for even dry itchy skin. The shower gel also deodorizers the men's skin for long lasting activeness.
10. NIVEA MEN Energy Hair, Face & Body Wash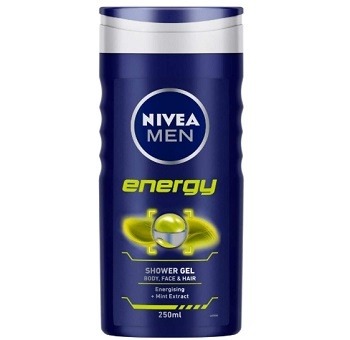 Nivea men body wash is a triple purpose product. Yes, you can use it for your body, hair and face. With energising mint fragrance, it refreshes you after every shower that you take. The pH balance skin is dermatologically approved and is suitable for itching and rashed skin. It has decent cleansing properties and is non-comedogenic. With mild cooling sensation, the body wash is suitable for your everyday use.
11. Fiama Men Refreshing Pulse Shower Gel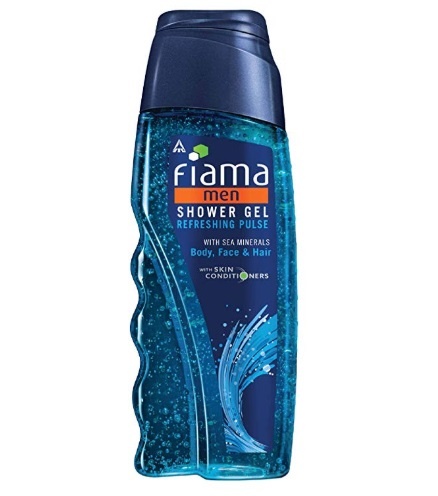 Fiama men shower gel has micro gel conditioners that keep your skin fresh and youthful all day long. It deeply penetrates in the main skin and gives a refreshing bathing experience. Men will surely love the goodness of sea minerals and blue lotus extracts fragrance in it. It's a men's body wash that smells good all day.
12. L'Oreal Paris Men Expert Invincible Sport Camphor Shower Gel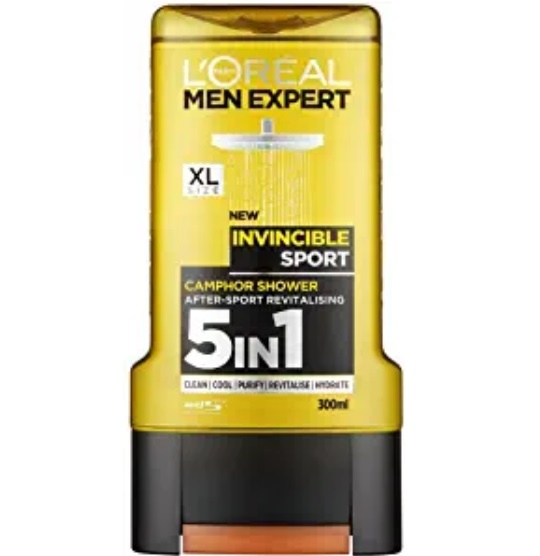 For sports people this 5 in 1 refreshing L'Oreal Body wash for men is a must have product, when one's a sportsman or athlete. Yes, it instantly cools, cleanses and revitalises you. Its spicy aromatic fragrance is long lasting and make sure you smell good post workout. The ultimate shower gel is suitable for your body, hair and face. You can keep it with you to take a shower soon after the gym or sports training sessions. With anti bacterial and anti fungal ingredients, it's the body wash for acne on back and chest for men.
13. Man Arden Energizing Spots Spearmint Oil Body Wash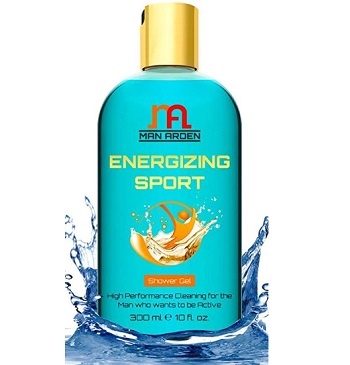 Man Arden energizing sport shower gel is yet another best body wash for sports people. It thoroughly cleanses to get rid of the dirt, pollutants, harmful chemicals and atmospheric particles lingering on the skin. The bath and body wash leaves your skin squeaky clean and soft with a mild fragrance. Made from the pure essential oils, it's moisturising and is available in multiple variants. Each variant has its own fragrance with ingredients that makes these unique. It's one brand that I would recommend you must try if you love using different shower gels and body wash for men.
These are the best body wash for men in India which men can try depending on their liking and preference. While most of these body wash works on dry to all skin types, they are also good for people who are into rigorous training activities and jobs where they are required to spend time in dusty environment.