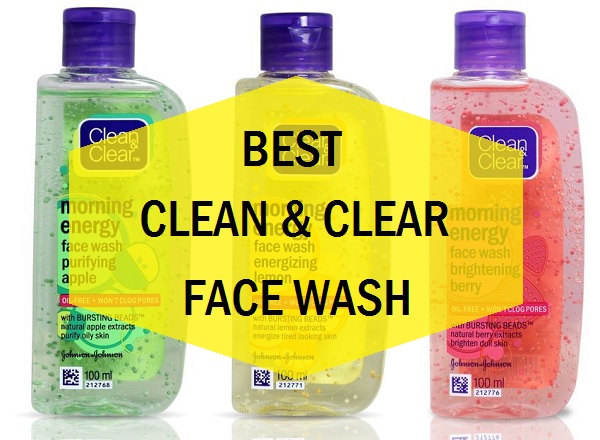 Best Clean & Clear Face Wash for Oily skin, Dry skin and Acne prone skin types in India
Clean & Clear is a brand that is very popular amongst the youth. Their products mainly target the people with oily skin and acne. But they also have some good products for dry and sensitive skin as well. If you are asking, "which Clean and clear face wash is the best?" Then, their Berry face wash is really goo face wash for dry skin. Whereas, the Clean & clear Foaming Face Wash is specially designed for oily and acne prone skin types. We are sharing this list of the best Clean & Clear face washes in India and prices. You can try depending on the skin type you have. If you have asked the teens then the Clean and clear face washes would have the best reviews considering the efficiency, price and the availability.
List of the Best Clean & Clear Face Wash in Indian Market (2020)
Let's start with our list of the best clean & clear cleanser that you should try as over the skin type and of course the season.
1. Clean & Clear Fairness Face Wash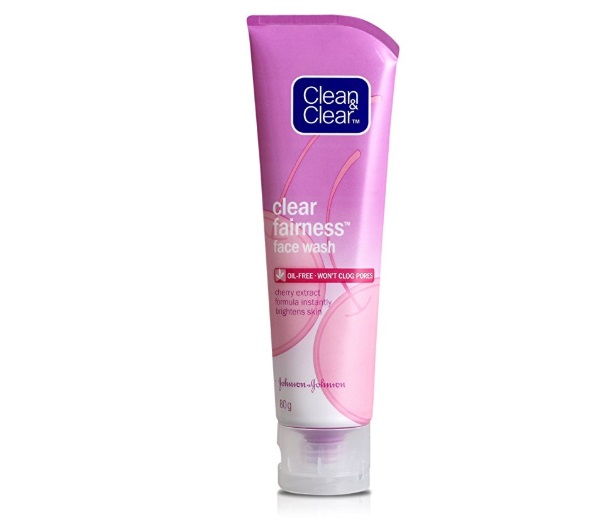 As a lot of youngsters are dealing with the dark skin due to the pollution and sun tan, a face wash like this can definitely help. The Clean & Clear Face Wash is made primarily to combat the skin darkening and to control the oil. Oils on the face in excessive amount makes the skin looks dull and darker in appearance. This whitening face wash has fairness enhancing ingredients to brighten the skin from the first wash itself.
2. Clean & Clear Morning Energy Face wash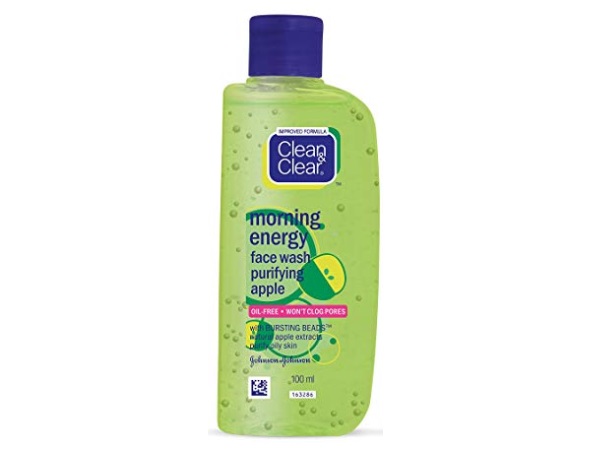 Clean & Clear cleansers are very popular and this is why the face wash are also very affordable. Or should we say they are popular amongst the college people and teens. Thanks to the fact that that the face washes are very pocket friendly. Anyways, this face wash has the natural apple extracts that purify the oily skin and cane prone skin in summers. It makes skin look oil-free and energized. The foaming rich lathers removes the skin dirt, dust etc and won't make your skin dry-stretchy. On most of the popular portals, this has a positive ratings.
3. Clean & Clear Morning Burst Detoxifying Facial Cleanser 
This variant of the Clean & Clear face wash is a new one. It isn't readily available in India but online shopping giants like Amazon has this version and trust us it is really good. Bit expensive honestly.
The face wash has the deep cleaning and pore de-clogging formula. This mean that you can expect to get clear pores. With clear pores and no oils you can expect that the skin stays free of pimples. It is made for the normal, oily, and combination skin. With the micro-bursting beads this also releases antioxidants that further boost the skin's appearance.  Moreover, this is an oil free cleanser if you're wondering.
4. Clean & Clear Morning Energy Lemon Face Wash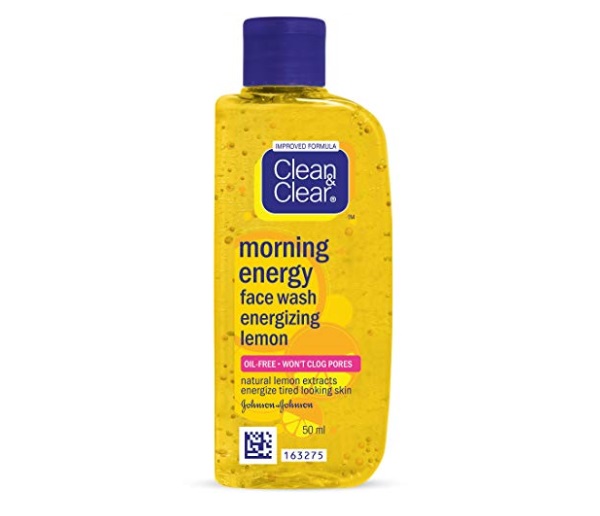 Coming back to our very light on pocket range of Clean & Clear face washes. This one is the Lemon face wash which is the Green variant. You must have seen it in your local shops. It has lemon extracts which is rich in Vitamin C. Vitamin C also keeps the skin pores clean by mildly exfoliating the skin cells. It can effectively remove the skin impurities and toxins. The cleanser is a gel face wash which we are sure people of all skin types will like. Presence of the micro-beads make the texture looks quite enticing. The cleanser penetrate into the skin pores o that they are deeply cleaned.
5. Clean & Clear Foaming Face Wash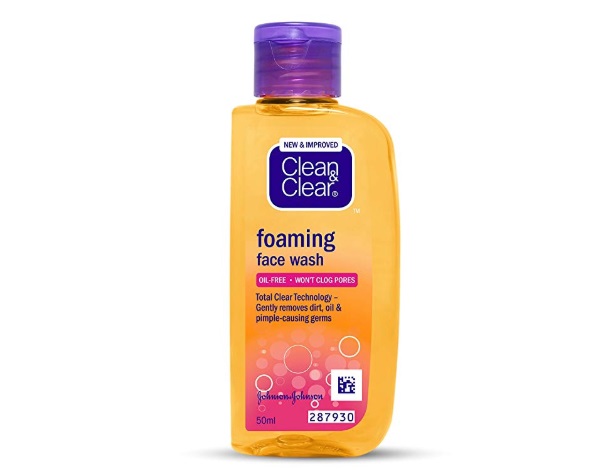 Clean & Clear Foaming face wash is the most popular out of the variant, the orange one you see. This foaming face wash is the best Clean and clear face wash for oily and acne prone skin. It is oil-free and is also a salicylic acid rich cleanser, in case you are looking for the one. By the way we have also created this list for the best salicylic acid rich face wash to combat pimples and the face wash for the combination skin, if you have combination skin type. It is designed to get rid of the excessive oils and dirt plus also keeps the skin oil-free for few hours.
Ingredients of this Clean and clear face wash are: Water, Triethanolamine, Glycerin, Myristic Acid, Lauric Acid, Cocamidopropyl Betaine, Lauryl Phosphate, Hydroxypropyl Methylcellulose, Fragrance, Pentasodium Triphosphate, O-Cymen-5-ol (Isopropyl Methtylphenol), Benzophenone-4, Butylated Hydroxy Toluene
6. Clean & Clear Natural Bright Face Wash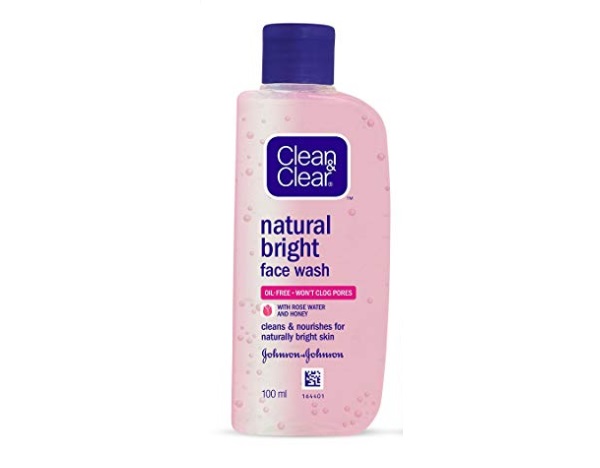 Clean and Clear Natural Bright Face wash is made for the younger lot. No it does not mean that middle aged people can't use it. It is made to reveal a clear and bright looking skin. It contains rose water that makes skin free of the impurities and gives glow on the skin. Additionally, it is also loaded with the natural honey with glycerine to nourish dry and tired skin and to retain the moisture and glow. It is good for normal skin and other skin types.
7. Clean and Clear Morning Energy Berry Face Wash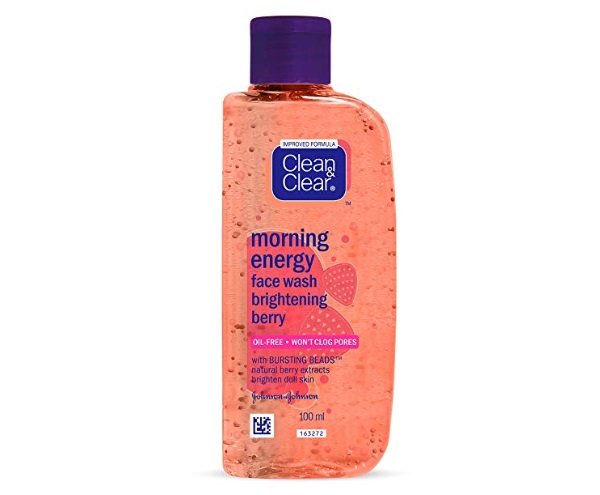 The morning energy range of Clean & Clear face washes basically have three variants like Lemon, Apple and Berry. While we have listed two of them, its time for the Berry face wash is very mild smelling but is perfect for the people with even the dry skin types. In winters, when the skin gets dry post the use of face wash, face wash like this is wonderful to cure that extra dryness.
8. Clean & Clear Pimple Clearing Face Wash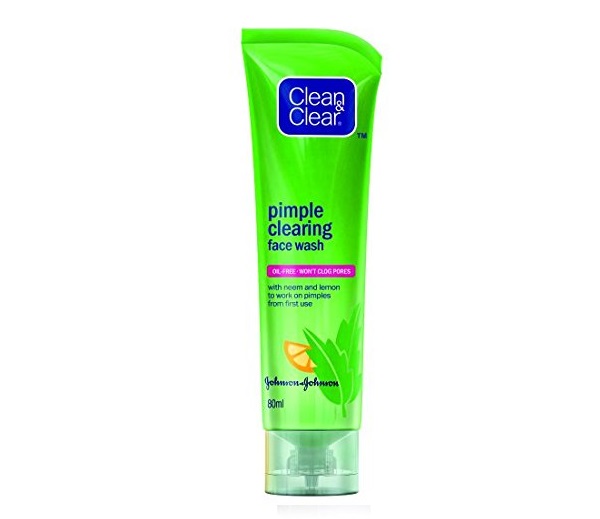 This one is an absolute favorite of our editorial team. The budget friendly facial cleanser for almost everyone for all seasons is foaming and rich in lathers. It has neem and lemon along with tea tee that kills the germs and bacteria responsible for spreading acne and pimples. It also claims to clear the skin in 7 days, if you are going to use it twice in a day.  The Clean and Clear face wash is effective for acne.
9. Clean & Clear Continuous Control Acne Cleanser
The next best clean and clear face wash for dark spots and acne is here. The option is expensive and can be bought from Amazon as it is not yet officially launched in India. We guess the product is sourced from the other countries. While this Clean & Clear face wash fights the acne with its 10% Benzoyl Peroxide rich formula. It is a daily face cleanser which is suitable for all skin types though is best for the oily-acne prone teenagers and adults.
How to Apply Face Wash Properly
No, we are not telling you to apply the face wash as we do but a lot for us still makes few mistakes so, thought just a brief about the application would be good.
First of all take away all the hair, if you have long hair and same applies for boys with longer hair too.

Then splash the face with some plain clear water.

Take a dollop of the face wash on the palm and rub your palms across. When the foam is created in the palm you should stop

Apply the palm over the face and start to rub while focusing on the areas which are oily.

Rubbing the cleanser over the face should not be for too long as that can dry out the skin. 5-10 seconds is fineqw.

You can then wash the face with clean water.
This is the list of the best Clean & Clear face washes available in Indian market. Most of these are design for oily-acne proven skin type but few are also for all skin types. You can definitely use these cleansers during winters and summer as well. We understand your concern is oily skin, so why not you check out our best summer face washes in India and also the best skin toners for oily skin and large pores, that can help you shrink the pore size.