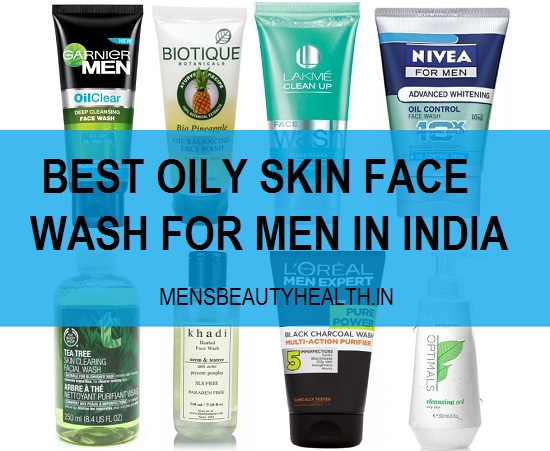 10 Best Oily Skin Face Wash for Men in India: Hi guys, do you have oily skin? Do you feel that the oils on the face make your skin feel darker and dull? Then you should try suitable face wash for oily skin that should help to get rid of the oils, sebum, dirt and darkness off the face. There are oil control face wash too which regulates the oil production on men's face. If the skin oils and dirt are not taken off timely, then you may face skin problems in the form of blackheads, pimples etc. This is because, bacteria thrive on sebum on your face. Moreover, men who've got facial hair, they will experience that dirt and oils get trapped in their beard hair and pores. So, here we have penned down a list of best facial cleansers for oily skinned men in India.
List of Best Face Wash for Men with Oily Skin in India (2022)
1. Garnier Oil Clear Deep Cleansing Face Wash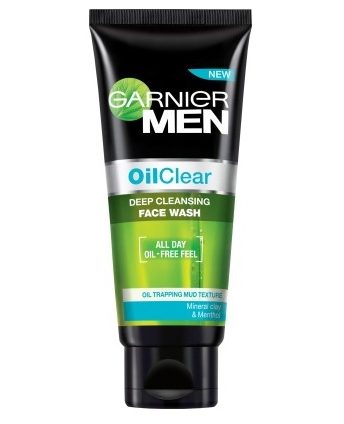 This Garnier deep cleansing face wash will get rid of the sebum and oils on the face. Moreover, the oil control formula will help to regulate the oil production by the sebaceous glands. By far, I find it to be the best face wash for men with oily skin in India. Mineral clay is an excellent element that sucks the excess oils and dirt from your facial skin pores. I am even using it currently. You can also check out the best blackhead face wash for men in India.
2. Beardhood Caffeine Face Wash For Men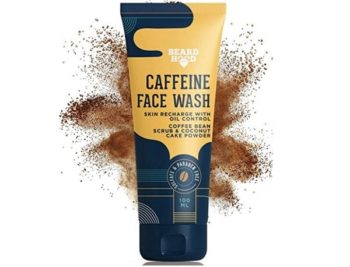 The caffeine face wash is able to control oils for long time and does not make skin dry post wash. It also ensures that your skin stays matte and healthy for long. It gently removes oil and bacteria from deep within the pores without irritating or drying out the skin. This makes an ideal companion for face cleansing wherever you are. It's a sulphate free face wash,  formulated with special surfactants, providing gentle cleansing without stripping your skin and hair of their natural pH oil balance, give your face the wake-up call it deserves. You can take a look at the paraben free face wash available in India.
3. Nivea for Men Oil Control Face Wash
This men's oily skin face wash cleanser is specially formulated for men's skin that gets oily frequently. This will take care of skin oils and sebum up to 10 times more effectively. It also removes deep embedded sebum effectively. The formula is very efficient in getting rid of the oils and can be applied for winters and summers. Even by the men who've got outdoor jobs. I've seen my friends who were into sports with oily skin, use to face a lot of skin problems because of dirt and dust.
4. Bombay Shaving Company Charcoal Face Wash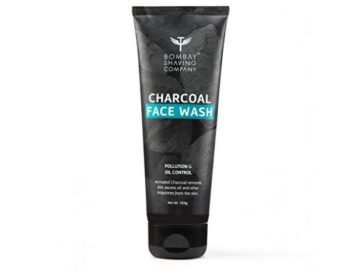 The activated charcoal face wash is purifying and deep cleansing for refreshed and healthy skin. It removes dirt, pollution and dust from the skin's surface for natural glow. It helps control excess oil and helps prevents future outbreaks. It is very gentle on the skin with its SLS and paraben free formula for damage free skin.
5. Plum Green Tea Pore Cleansing Face Wash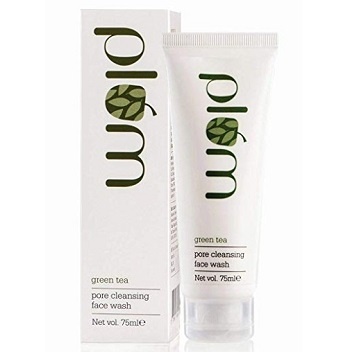 This clear pore face wash is rich in the green tea extracts along with the salicylic acid. This will keep the skin free of pimples and dirt. Moreover this oily skin face wash has its own face scrub and face pack too hence, this will be a complete oily skin product for a great skin. Salicylic acid is known to reduce the skin problems and cures the pimples.
6. The Body Shop Tea Tree Skin Clearing Face Wash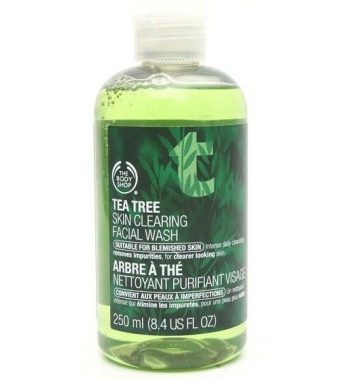 The Body Shop tea tree face wash is an amazing product, which may be little costly but works wonders due to its tea tree extracts. Tea tree kills the pimple making bacteria and also dislodges the dirt, sebum off the pores. Hence, the skin gets clear faster. The Tea tree range has its own tea tree toner, tea tree pack and scrub too. It'll also lighten those scars because of acne and pimples. Tea tree is also effective in minimizing blackheads.
7. L'Oreal Paris Men Expert Pure Power Daily Charcoal Face Wash
L'Oreal Men Expert Pure Power Black Charcoal Wash is made with refreshing menthol which brightens the dull oily complexion. Activated charcoal sucks those deep seated impurities and toxins nicely and gently. This charcoal rich men's face wash  removes the dust, dirt, oils etc and leaves the skin non-oily and matte. You should also take a look at the best charcoal soaps in India.
8. Khadi Natural Neem and Tea Tree Face Wash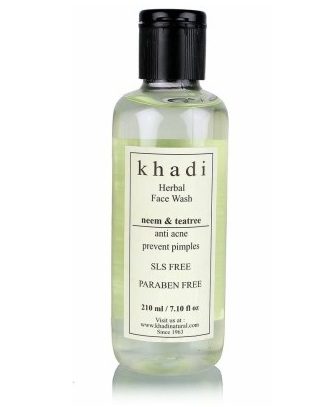 This Khadi face wash is rich in tea tree. As we said tea tree is good for oily skin for both boys and girls. This oily skin cleanser for men also contains neem. This helps to maintain the pH balance, regulate the oil production and also kills the bacteria responsible for the pimples.
9. Biotique Bio Pineapple Oil Balancing Face Wash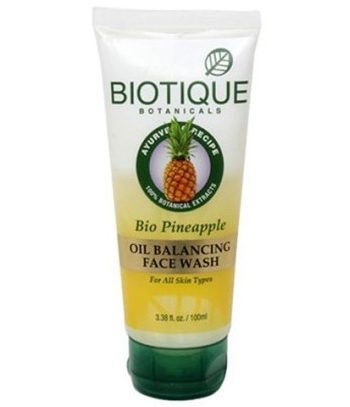 When your skin is oily then the oil balancing products are very good.  This Biotique face wash is ideal for the oily skin and has the pineapple extracts, neem extracts and clove oil. All these natural ingredients will help to protect the skin against the bacteria and pimple. This will deep purify the oily skin to make it oil-free.
10. Oriflame Sweden Optimals White Cleansing Gel Oily Skin Face Wash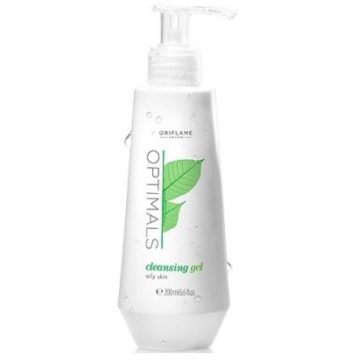 This is gel based face wash for men and women with oily skin. This also claims the give skin whitening due to its skin whitening extracts. It is suitable for winters and summers for oily face and sensitive skin. It's the best product from Oriflame Brand.
So, guys, these are the best oily skin men's face wash in India that you can try according to budget and preference. Don't forget to check out these helpful articles. 🙂
Best Night Creams For Men with Oily skin