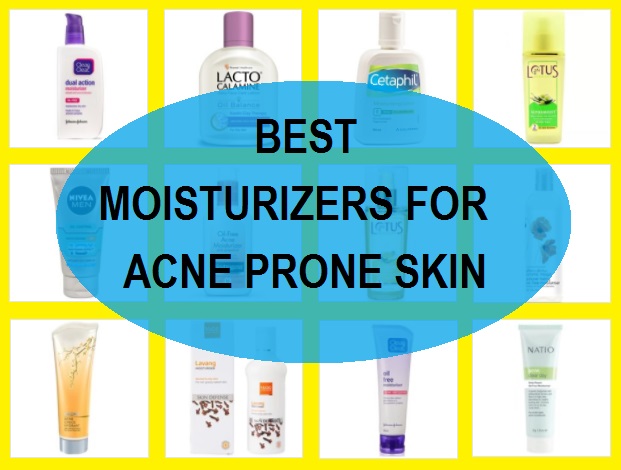 Reviews of the Best Moisturizers for Acne Prone Skin
Moisturization is the key! But if your skin gets oily and loaded with sweat and sebum, then you need an appropriate face moisturizer for acne prone skin. The light or gel based moisturizers are ideal for oily skin. Another ingredient to look for is salicylic acid, benzoyl peroxide etc. looking for a formula, which is oil-free and non-comedogenic can solve the issue of teh moisturizer clogging your pores. In summers, especially, when the weather is already hot and humid, the kind of moisturizer you use is definitely to look for. Here we've picked the moisturizers for acne prone skin type. It does not matter, if your skin is oily or dry, you still need moisturizers but what matters is the formulation. Just like oily and dry skin are completely different, their respective products are also differently formulated. When the skin is oily or acne prone then the products should be oil-free and should be able to control the oils and to keep the skin matte. Similarly, the oil free moisturizers for acne prone skin should have the ingredients that gives oil control and should regulated the oil balance, Moreover, moisturizers meant for acne prone skin, should also have elements that should prevent the acne, like salicylic acid, clove, tea tree, green tea and similar non pore clogging and anti acne ingredients.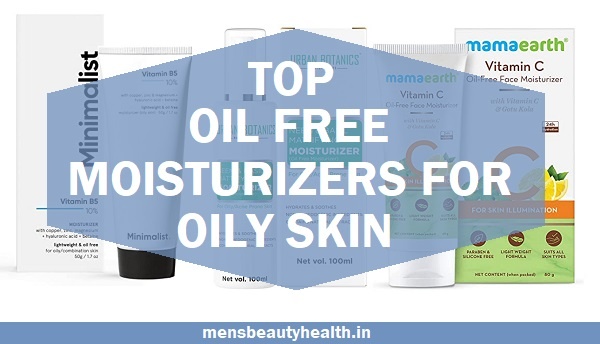 Best Face Moisturizers for Acne and Pimple Prone Skin, Oily skin (2022)
Keep scrolling for the list of the best face moisturizers for acne prone skin. As a matter of fact, these moisturizers are non-comedogenic and are safe to be used without any side effects.
1. Minimalist 10% Vitamin B5 Gel Face Moisturizer For Oily and Acne Prone Skin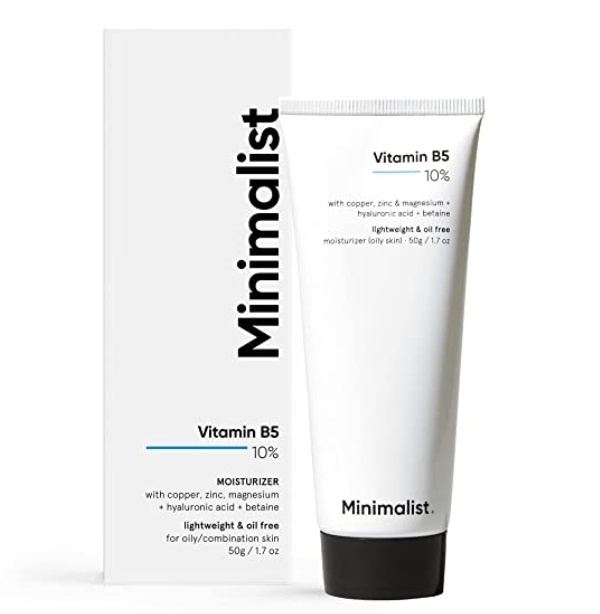 The brand is a new kid on the block but it definitely has made for itself. Thanks for its affordable products and formulations that offer exactly what your skin requires. This acne prone skin savior product is formulated with the 10% vitamin B5, known to moisturize and repair, along with other potential skin benefitting ingredients. It is also blended with Hyaluronic Acid and Betaine, known for their long hour hydration and mineral like Zinc, Copper and Magnesium are also found it. These minerals are known for promoting healthy skin). Altogether the moisturizer has a light oil-free formula and easy to blend texture. Just a pea sized amount for the skin and for combination skin, it can be tried on the parts where you feel the maximum need. The product is not only a moisturizer for acne prone skin but it does provide complementary benefits like wound healing and Anti-inflammatory effects.
2. UrbanBotanics Oil Free Moisturizer For Face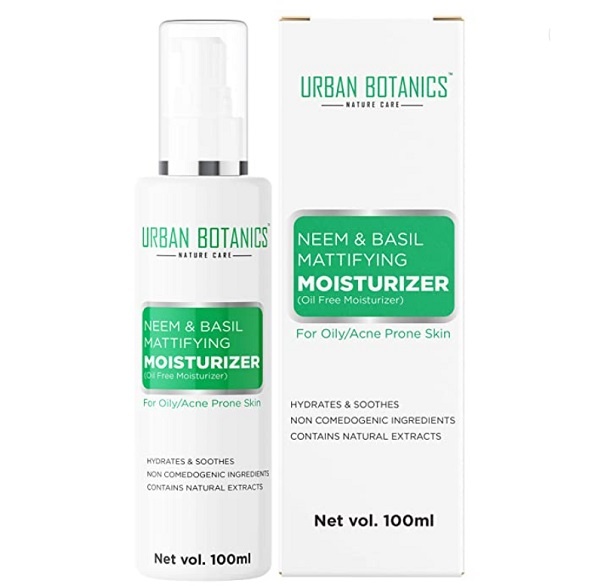 The product here is basically, a mattifying moisturizer for oily/acne prone skin type. Thanks for its Oil-free formula, it absorbs quickly into skin. While eliminating dryness without leaving skin greasy or shiny, it keeps the skin dewy. What matters to us the most is, it's non-comedogenic, which is why, it won't clog pores which can lead to breakouts. The lightweight and non-greasy oil-free lotion keeps skin moisturized for up to 12 hours. The unisex face moisturizer comes at a very budget friendly price and one can easily grab it online at some discount for sure. Blended with the Neem and basil like nature inspired ingredients, this oil-free moisturizer helps to clear delicate or blemish-prone skin. This moisturizer is 100% vegan, paraben-free and phthalate-free.
3. RE'EQUIL Oil Free Moisturiser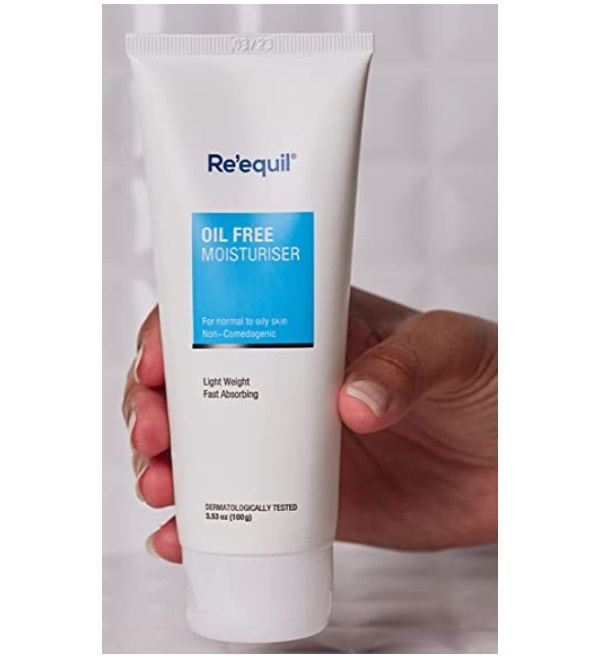 The moisturizer is for normal, oily and combination skin. Being very lightweight and with its non-greasy formula, it hydrates normal, oily and combination skin effectively. In actual fact, it gets easily absorbed without clogging pores. The unisex highly affordable moisturizer for acne prone skin deeply moisturizes and regulates sebum production. You won't believe but the ratings of this product says it all!
4. Mamaearth Tea Tree Oil-Free Moisturizer For Face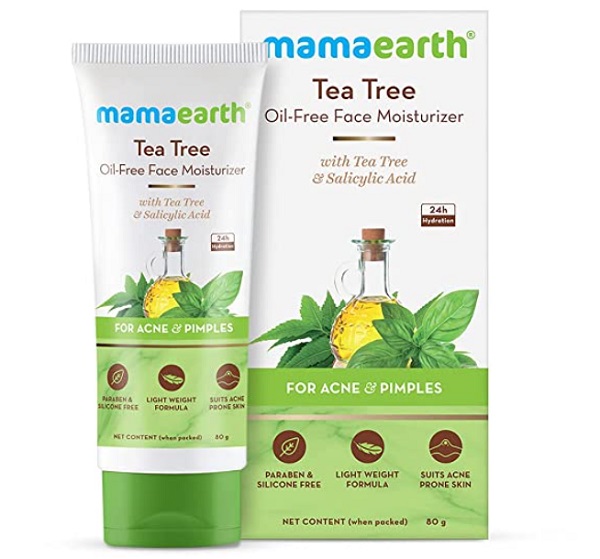 The brand is highly popular amongst people who likes to use organic and devoid of chemical products.  Tea Tree and Salicylic Acid in this product comes literally together to fight acne with their antioxidant and anti-inflammatory properties. The lightweight formula soothes inflammation and minimizes the occurrence of breakouts. The non sticky formula of this oil-free moisturizer absorbs into the skin easily and doesn't feel greasy or heavy after blending in. Made with natural ingredients, it is a dermatologically tested and free from Sulfates, Parabens, SLS, and Mineral Oils.
5. mCaffeine Coffee Oil-Free Moisturizer for Face with Hyaluronic Acid
The oil-free Coffee moisturizer will plump your skin while regulating the excess oil on the face. Additionally, the Coffee face moisturizer cream is packed with Pure Arabica Coffee. Coffee is a natural source of Caffeine which is loaded with natural antioxidants. The potent moisturizer is enriched with powerful ingredients such as Hyaluronic Acid & Pro Vitamin B5. Perfect for both men & women this face moisturizer can be used in all seasons. Now, the best part that we absolute love about this product! It is Mineral Oil Free, Paraben Free, PETA Certified Cruelty Free & 100% Vegan.
6. Biotique Bio Chlorophyll Oil Free Anti-Acne Gel

Biotique oil free anti-acne gel is very effective on oily and sensitive skin, which are highly more prone to acne and breakouts. The formula is gel based so that you can use it in summers too. It absorbs easily into the skin and hydrates it evenly. Additionally, the product also works as a post hair removal soother for oily & acne prone skin. It is a water based product which is ideal for summers too.
7. Aroma Magic Juniper Berry Oil Free Moisturizer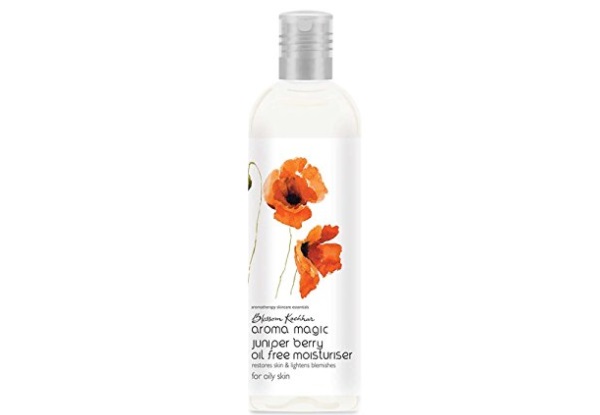 Aroma magic is a well known brand for beauty range. The products of this brand are made with natural ingredients and special attention is given to each skin type. This light water based moisturizer has a light berry fragrance which is very soothing. The moisturizer will easily blend into the skin and gives a matte look. It is the best oil free moisturizer for acne prone skin.
8. VLCC Lavang Moisturizer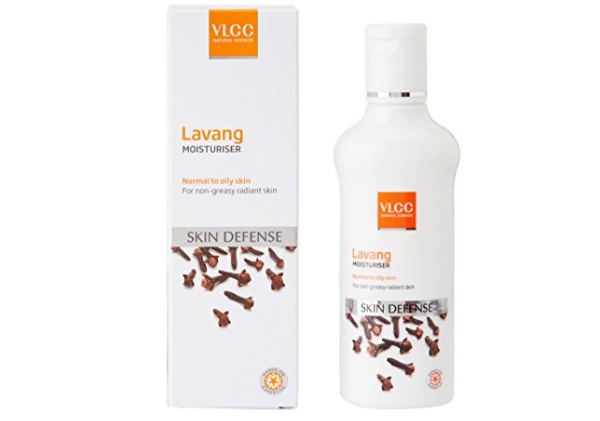 VLCC lavang moisturizer has highly result oriented natural ingredients like clove oil and neem oil. While these ingredients are non-comedogenic, they also control excessive sebum production in the skin. As a result, also enhances the natural look of the skin and makes it beautiful and flawless. The brand has given some of the very efficient product that give optimum satisfaction. As far as the consistency and formula is concerned, it's non-greasy yet nourishing.  It's no secret that clove oil reduces the scarring on the skin.
9. Ozone Acne Check Hydrant Moisturizer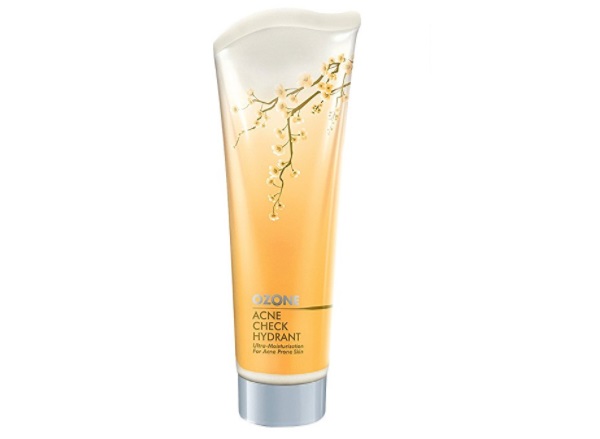 Ozone brand has made excellent products taking care of each skin type and its properties. This moisturizer is ideal face product for acne prone skin. With its very light water/gel based texture, it literally glides well on the skin. Even on the popular sites like Amazon, where the users can post their genuine reviews, this product has some noteworthy user ratings. The non-oily formula of this humectant is the reason, why it is apt for oily and sensitive skin.
10. Mamaearth Vitamin C Oil-Free Moisturizer For Face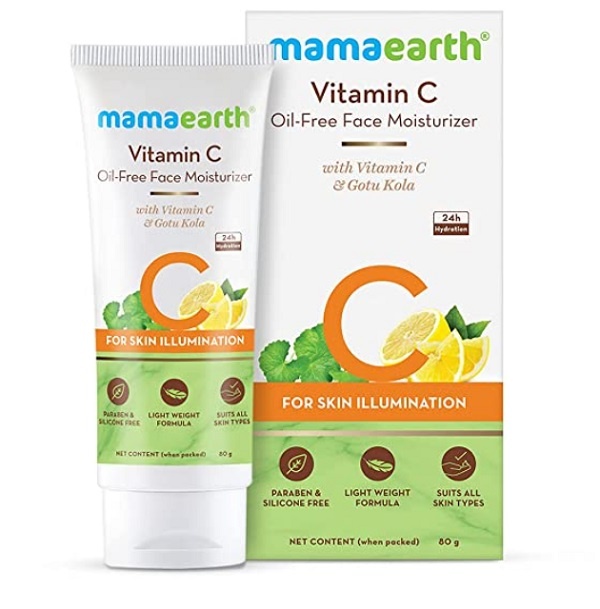 We have yet another entry from Mamaearth that needs the love because of its effective benefits that it provides to otherwise oily skin. This is a non sticky and water based oil-free face moisturizer which absorbs quickly and moisturizes effectively without making skin look grossly greasy. No points for guessing, the product is blended with natural ingredients like Vitamin C, Gotu Kola, and Vitamin E. This potent combination of Vitamin C & Gotu Kola fights dark spots and the signs of aging. This moisturizer enhances and restores the skin's natural radiance. It's a dermatologically Tested unisex product. The Vitamin C Oil-Free Face Moisturizer is free from Sulfates, Parabens, SLS, Petroleum, Artificial Preservatives & Colors
11. Natio Acne Clear Day Daily Repair Oil Free Moisturizer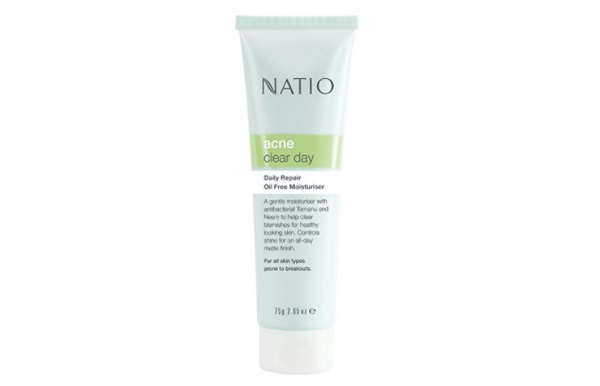 Natio brand is amazing and is many people's favorite. The moisturizer has anti-bacterial properties which protects the skin against acne and dark spots. It also controls skin shine and gives a matte finish. The skin looks healthy and soft to touch after blending it right in. Soon after the bath smear it on the skin to have a glowing and non-oily skin.
12. Clean & Clear Essentials Dual Action Moisturizer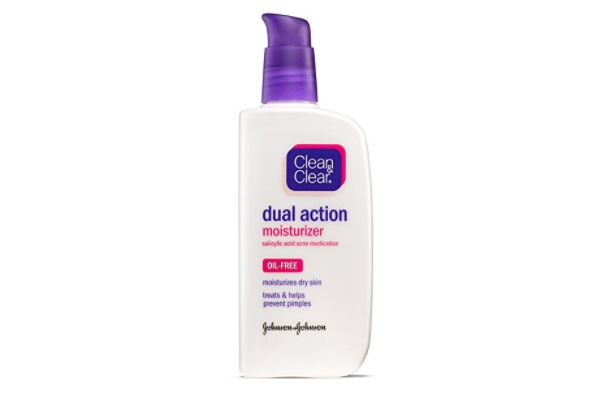 The Clean and clear brand is popular for its products for oily to dry skin types. This moisturizer plays a dual action, it nourishes the skin and stops acne occurrence. It contains salicylic acid that removes bacterium spreads which are the major cause of acne. The product is slightly heavier on the pricey side, but really gives good results on dry skin.
13. Neutrogena Oil-Free Facial Acne Moisturizer With Salicylic Acid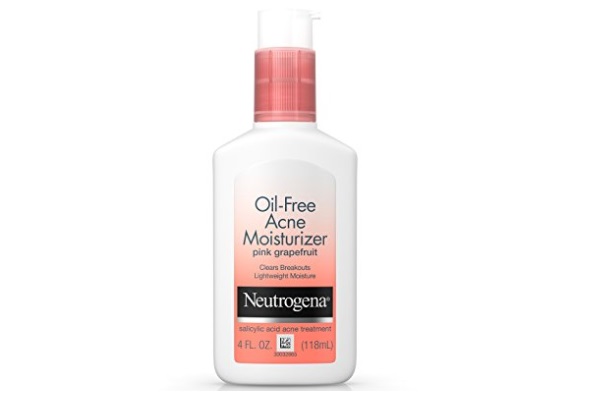 Neutrogena oil free moisturizer is good for acne prone skin. It has Oil-free and light formula which absorbs easily into the skin and gives a clear look. It also hydrates the skin evenly and prevents breakouts.
14. Nivea Men Oil Control Skin Whitening Moisturizer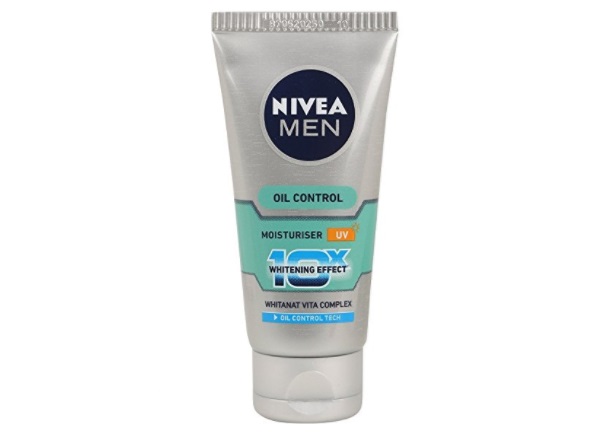 Nivea Men oil control moisturizer has a 10X whitening formula, which makes men's skin fairer and brighter. It enhances the appearance of the skin and controls excessive oil on the skin. One of the best moisturizer for acne prone skin for men.
15. Clean & Clear Oil Free Moisturizer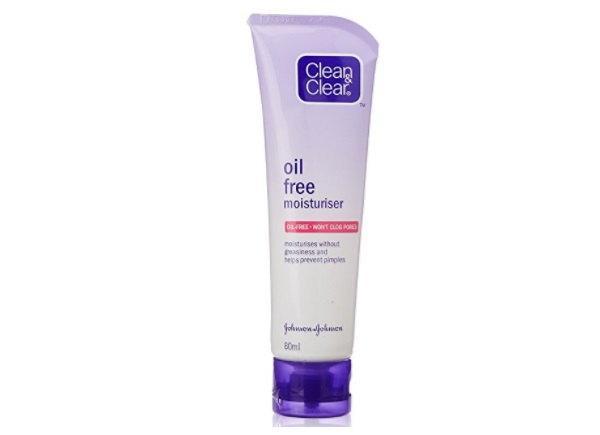 Clean and clear oil free moisturizer is good for oily and dull looking skin. It can induce skin glow and give deep nourishment to your facial skin. We noticed that, it also has mild salicylic acid, which has a direct impact to ensure the pimple prevention. We also liked that this product is quite effective, due to its non comedogenic moisturizer for acne prone face. 
16. Lotus Herbals Alphamoist Alpha Hydroxy Skin Renewal Oil Free Moisturizer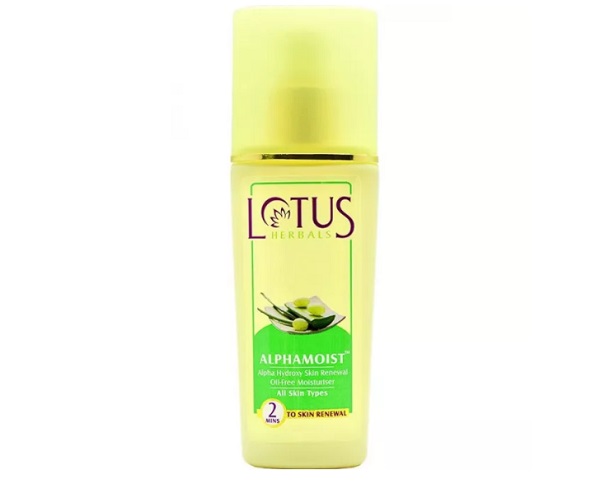 Lotus Oil free Moisturizer is one for the best to get moisturization for the acne prone skin types. Being oil-free and light weight, the Lotus moisturizer blends nicely and does not feel heavy on the skin. In fact, for people looking for a suitable aloe vera moisturizer, will definitely like it. Additionally people who have used it, claims that this is quite light and has this delightful non sticky feel post application.
17. Cetaphil Moisturizing Lotion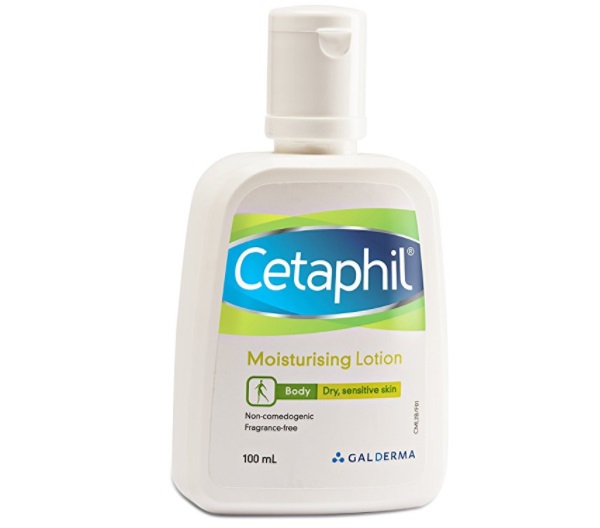 Cetaphil Moisturizing lotion is the best medicated and dermatologist recommended lotion for acne prone skin and oily skin. It is light and gives good oil less moisturization.
18. Lacto Calamine Oil Balance Daily Face Care Lotion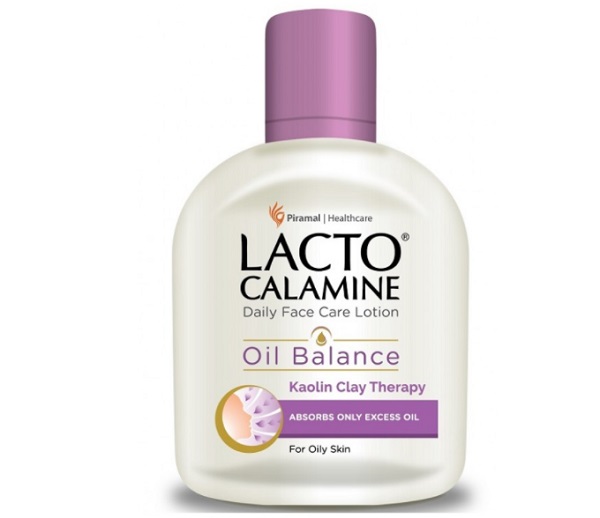 This lotion is not as low on stickiness as we thought but as it is rich in the zinc oxide, kaolin clay and calamine, it is potential to treat acne. Once it makes a layer on the skin, the skin is protected from the environmental pollutants and sun damage. This is one of the best products of acne prone skin that is very inexpensive and easily available.  The clay absorbs the oils and keeps the skin matte.
19. Lotus Herbals Anti Pimple and Anti Acne Gel with Tea Tree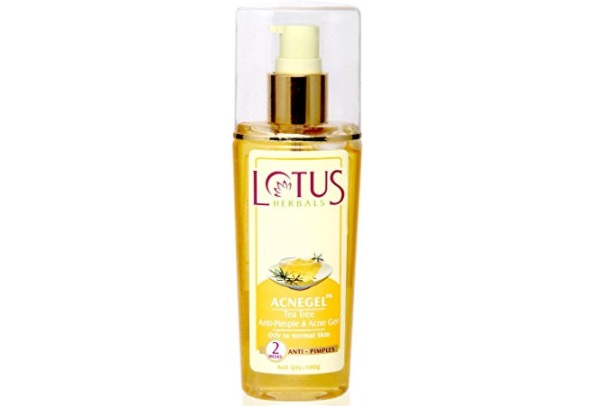 This acne clearing gel is rich in the Tea tree that is known to give the anti-bacterial benefits and clears the acne from the skin. So, while you sue a gel like this you get the moisturization and also treatment from the pimples. It is one of the best anti acne gel for oily skin and acne prone skin types. Price too is very affordable.
20. Passion Indulge Anti – Acne Aloe Vera, Tea Tree Moisturizer

The natural extracts of Tea tree and Neem makes skin clean and fresh. Neem has anti-bacterial properties that prevents acne and removes its scars. While keeping the skin dewy, it soothes the skin and kind of provides that slightly matte look. Aloe Vera improves skin texture and makes it hydrated. This anti acne moisturizer also contains SPF 15 which will protect your skin from harmful UV rays during the day time.
These are the best moisturizers for acne prone skin and oily skin. Have you used any of these? Which is your favorite face product for acne prone skin?