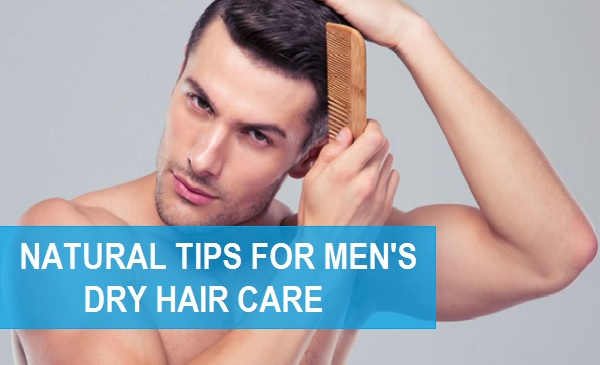 Effective Herbal Remedies for Men's Dry Hair. Do you have dry hair? Are you struggling to make your dry hair smooth and silkier. I can understand men to too face this problem of dry hair where the hair gets rough and straw like. It is very essential for men too, to have beautiful bouncier hair as hair is one of the most important beauty asset for both men and women. But, honestly, this is not easy to attain, men with dry hair, face lot of troubles everyday in styling and their appearance. All those handsome hunks need not to worry about their hair texture from now because I have some quick remedies for dry and brittle hair. Dry hair can be dealt with the kitchen product since it is not always important that you shell out a lot of money in order to enhance your beauty. Natural treatment for men's dry hair can also be effective and beneficial at the same time.
Deal dry Hair problem with home remedies for men
So, here are some of the easy tips that even boys can try at home to smoothen their dry hair and to make the hair silkier and bouncier.
1. Aloe Vera Gel with Olive oil:
Olive oil is very good for the hair and the scalp. It adds texture and smoothness to your hair and makes them healthy. It is rich in essential anti-oxidants and fats, which makes your locks silky and shiny. Aloe Vera is a popular natural plant that is very beneficial to the hair and skin. It restores the lost moisture of the strands. It has omega-3 fatty acids, which again makes your hair look healthy and stay soft.
Best hair Oils for Hair Fall for Men 
How to make and apply it?
Take one aloe vera leave and wash it with water properly

Now cut the thorns of the leave from both the sides

Also peel it off from all the sides

Now take a blender and blend this aloe vera gel by adding little water

Now separate this gel mix in a bowl

Mix 4 spoons of olive oil

Comb your hair first and detangle them

Using a brush or fingers, apply this hair mask onto the scalp and hair

Massage it little and then keep it for 25 minutes

Wash it with water and then wash your hair with mild shampoo.

In the end, follow the conditioning step.
2. Egg Yolk and Milk Remedy for Dry Hair
This is a complete protein hair pack which can make your hair strong, silky and shiny. Eggs are widely consumed due to its high protein and low fat content. Egg yolk has good fats, which are essential for hair and its health. It controls frizz and removes dryness from the strands after a few applications. This hair pack improves hair texture and gives nourishment to dry and brittle hair. Milk at the same time, is very good for dry and frizzy hair as it tames the frizz down and adds shine and softness to the locks.
Best Hair Growth Shampoos in India
How to make and apply it?
Beat an egg in a small bowl

Separate the egg yolk in an another bowl

Mix half a cup of milk in it

Now mix both the ingredients and apply it onto the scalp and hair

Massage it slowly on the scalp first and then follow the ends

Wash your hair with water and shampoo after 20 minutes
3. Curd and Honey Pack
Honey is very beneficial in removing dryness of the skin and hair. It adds lost moisture, i.e. natural oils to the scalp and induce the sebum production. Honey has various vitamins, which pamper your hair from inside. Curd enriched with proteins which can induce hair growth. It makes hair softer, shinier and silkier.
How to make and apply it?
Take a small bowl, put one cup of thick curd

Mix 2 spoons of honey in it

Mix both the ingredients well

Apply this hair mask onto the scalp first using your fingers

Massage slowly by pressing the points and in a circular motion

Follow the remaining portion in the mid and ends of your hair

Leave it for 30 minutes

Wash it a mild cleanser
Hot Oil Massaging to Combat Men's Dry Hair Problem
This is one of the most efficient home recipes with oils that one can do to combat and minimize the dryness of hair. Do you know that hot oil therapy has been used since ages to get beautiful smooth hair. The damage that our hair deals with like the brittleness rough cuticle, roughness or even the split ends can also be cured and treated wonderfully with oil massaging. Oil massaging basically improves the blood circulation of the scalp thus, the blood flow increases moreover, massaging with oils also boost the moisturization by giving the dry and lifeless hair strands a boost of moisturization through oils. So, if you as still are not aware guys about how to do oil massaging on the head then do follow this quick procedure.
How men can try this oil massaging?
Take 2-3 oils like almond oil, coconut oil, castor oil, amla oil, jojoba oil etc.

You can take any 2 or even 3 as per the preference and availability.

You need to take 2-3 spoonful of each of the oils and then mix them.

Put in a small bowl and warm them up. Do not boil just a little warming to lukewarm temperature is fine.

You can also do that in the microwave as just warming the oils for 15 seconds will do the job.

So, once you obtain that lukewarm oil concoction, apply this oil the scalp and massage thoroughly.

Then keep this oil on the hair for overnight. Wash the hair the next day.
You can try this on the alternate days to make the hair smoother. When you go out in the sun, you can apply a  hair serum which will let the hair and also protect the hair from get darker.
So, guys these were the hair care tips for men that you can try, You can try these home remedies to combat the hair dryness. 
Best Hair Colors for Men in India
Best Anti-Dandruff Hair Oils for Men in India