How men can do face clean up at home: Men can do clean up at home to cleanse and whiten their skin. Face clean ups makes your skin healthy and free from any of the acne and other skin troubles. It can enhance the glow of your skin and make it naturally light and fair. Due to climate changes, pollution, dust and excessive oil accumulation on the skin, it becomes necessary to give some treatment to the skin and i.e. clean up. So keep reading and know how you can do clean up at home with some natural and kitchen ingredients. Also see: how men can do home facials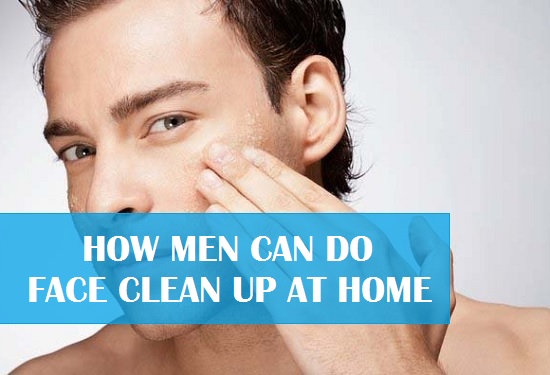 How Men can do Face Clean up at Home
Step-1: Cleansing

This is the foremost step in the clean up process. Cleansing is a major step in this treatment as it deep cleans or exfoliates the facial skin. It removes dead skin cells and cleans the dirt and dust away. Our ingredients for cleansing are rice flour and baking soda.
Gram flour can be used to clean the face dirt and excessive oil. It contains iron and vitamin which are good for skin health and its beauty. Honey is a natural ingredient which does two actions at a time. One is cleansing and other is giving moisture to the skin. It has anti-septic properties which protect the skin against damage and skin disorders. Sugar granules work as a scrubber that removes the dead skin and all the dirt.
Procedure: take two spoons of gram flour and a half tablespoon of honey. Also mix a half tablespoon of brown sugar. Mix them little and add 1 spoon of fresh water to make a light consistent paste. Apply it onto the face and massage it for 2 minutes. Then wipe it with wet cotton or a soft towel.
Step 2: Exfoliation
Rice flour is a natural skin whitener and Exfoliator. It induces skin complexion and cleanses it well. It is completely affordable and easily available in your kitchen. Baking soda has an acidic nature which opens the pore and removes oil from the skin pores. It also kills the bacteria from the facial skin which results in acne and inflammation.
How to make homemade face scrub:
Take 4 spoons of rice flour in a bowl. Now mix a pinch of baking soda in it. Add a little water or as much required. Now apply this mixture onto the face slowly and massage it in an upward motion. Massage it in small circles using your fingers. Be gentle and we do not need to rub the skin just light and easy massage to relax the skin and improve blood circulation. Keep it doing for 2-3 minutes and then wipe it from the cotton ball.
Scrub works like a deep skin cleanser. After cleansing, the left dirt and dust is removed by this step. It contains small granules which reduce pigmentation and zits. It controls acne formulation and removes the existing hard pimples. Our ingredients for scrubbing are gram flour, honey and brown sugar.
Step 3: Massaging
Massaging the face is very very important hence, this is the third step which involves massaging the skin that brings a natural glow to the skin. It also improves the blood circulation in the skin. Ingredients for massage are almond paste, milk and olive oil drops. All the ingredients are rich in a variety of vitamins and benefits.
Procedure: Take 5 almonds, soaked and dried paste and add 2 spoons of milk and a few drops of olive oil. Mix them well and slowly apply and massage it onto the face in a circular motion. Cover all the areas of skin. Repeat the step for 3-5 minutes and let it dry. Rinse it off with cold water and towel dry it.
Step 4: Steaming
Steaming  is the final step and one of the most important one. Since steaming will help to take out the sebum and also opens the clogged pores on the skin. Moreover, this process of steaming will also remove the deep seated impurities and the blackheads. So, guys if you do not know how to ti the steaming in face clean up then follow these simple steps.
Take a small bucket or a big bowl and fill that with hot steaming water. Then taking a towel stoop down over the pot so that the steam directly hits your face. be careful not to touch the hot pot. Use the towel to cover yourself so that the water does not get cool faster. You can also see the detailed way of how to steam face at home on this website.
Guys, this is how men can try and do face clean up at home.
Benefits of Face clean up for Men
Face clean helps to increase the blood circulation and hence the skin becomes glowy
The blackheads and whiteheads that we have on the face are also uprooted with the face clean up process.
Moreover this will also get rid of the deep seated pollutants, impurities, dust etc from the face
Furthermore, the skin's sebum that gets hardened is also removed with this  simple process.