How men can do facials at home easily

Our skin needs regular cleaning to look healthy and flawless. Men's skin requires temporary cleansing treatment to remove all the dirt and pollution. Facial is something that every man should go for in order to keep the skin tone blemish free and glowing. It is highly beneficial to your skin and induces fairness and glow. Today, I will tell you how you can do facial at home with all the natural ingredients. It is also completely herbal and natural treatment for your facial skin. So let's get started with the facial procedure and step by step method for men. In the article, below I have shared the steps using homemade creams, cleansers etc but you can also use any of the ready made products as well. but that should be suitable to your skin like if you have oily skin then use products suitable for oily skin and likewise. Rest the process remains the same. Therefore, you can do men's home facials once in a 15 days time.

Step by step Procedure for Home for Men
1. Face Cleansing:
This is the first ad foremost step in the facial treatment. Our skin faces all the pollution and dust exposure, which makes it dull and dark looking. To keep bacteria and dust away, it is essential to clean your skin and pores deeply.
Fuller earth is a natural ingredient that deeply exfoliates the skin. It removes all the dead skin cells and leaves a clear and shiny face. It removes the tan and pigmentation caused by sun. It also prevents acne and zits. Fuller earth is very useful for all skin types. Milk can be used as a cleanser as it is rich in proteins which can maintain the elasticity of your skin and makes it super soft. It reduces excessive dirt and gives a glowing supple face. See: Best dark spots face wash for men in India

How to use this natural cleanser?

Take a small bowl and add 4 spoons of fuller earth and now mix equal portion of milk in it.

Also add ¼  spoon of baking soda and now make a thin cleansing pack.

Wash your face with water and pat it dry.

Apply this mixture onto the face and massage slowly for 5 minutes.

After removing this mixture with towel or cotton ball
2. Face Scrubbing
The next step in men's home facial is scrubbing. It involves unclogging the pores and removing all the blackheads and dirt stuck in the pores. Exfoliation or scrubbing is essential to clean the whiteheads and blackheads on the area around the nose and cheeks.
Sugar granules can work as a natural scrubber as it gently works on your pores. It also improves blood circulation on the face which ultimately enhance the glow. Lemon contains citrus acid and vitamin-C that induces the glow of the face and removes excessive oiliness.
How to make it this homemade facial scrub for men?
Take a half tablespoon of sugar granules and now mix 2 spoon of  lemon juice

Now mix it for a few seconds, then massage it slowly and smoothly for 3 minutes. Wash off.

Remove it with a towel and pat dry.

3. Facial Toning
This toner gently removes the dirt and dust left behind the pores. It also hydrates the skin from inside. It maintains the pH balance. Cucumber juice and potato juice are the best remedy for toning.
How to make it?
Take 5 spoons of cucumber juice and equal portion of potato juice

Now mix some rose water in it and pour it in a spray bottle

Apply by using a cotton ball.
4. Massaging cream
This is the fourth step which adds natural glow to the face. Massaging will improvise the skin blood circulation. Therefore massaging is primarily done in the facials to increase circulation of blood which further helps in brightening and toning the facial skin. Moreover, this will also help in lymph drainage and improves the compelling. You can make your own massaging cream and the steps and method is shared below but any massaging cream will also work. This step also helps men to remove sun tan from face.

Method to prepare massaging cream

Take some fresh cream and add 2 spoons of mashed strawberries.

This is the massaging cream that can be used for dry skin for oily skin take any fruit and pulp it up and then mix some honey in it.


Apply this on the face and massage it slowly for 15 minutes atleast.
5. Face pack: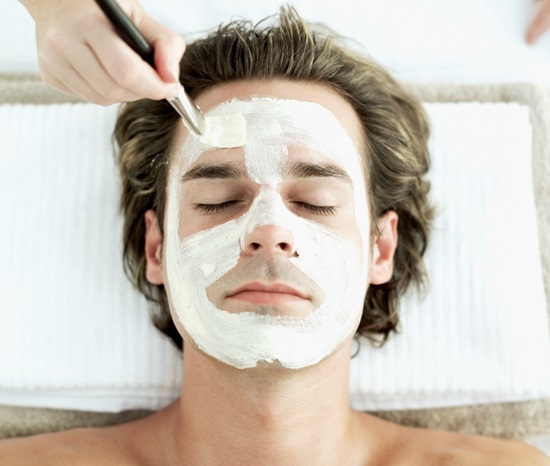 This will completely nourish your facial skin. Banana and milk is the best option for this. You can also use any readymade face pack for men for this step as well. Furthermore, face packs helps to tighten the facial skin and also improve your dull skin tone. Majority of face packs will also have tightening effects on the skin and they also makes the skin glow.

How to make it?
Take 2 spoons of mashed banana and add a pinch of turmeric and 3 spoons of milk

Also mix 1 spoon of gram flour and Now apply this face pack onto the face

Wash it after 20 minutes. Pat dry the skin.


So, friends this is how you can do your own facial and get the benefits.
Post by Ratna Balani