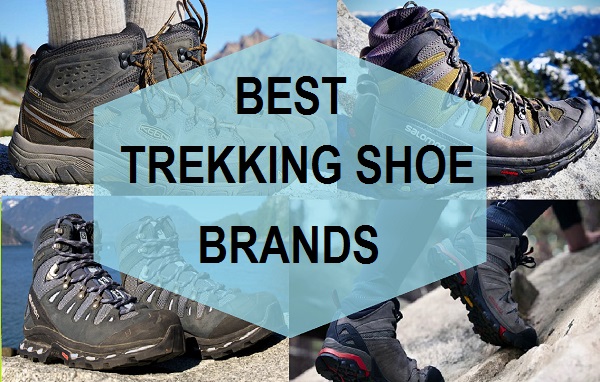 Best Hiking and Trekking Shoes in India
People who love hiking and trekking need special shoes that compliment your love for the outdoor activity and at the same time is safe as well. We have compiled this list of the best hiking and trekking boots and shoes available from different brands in India. These shoe are high on performance and gives you that perfect grip while you are on different terrains and weather conditions. 
Best-selling Hiking and Trekking Shoes for Men (2021)
These are the best hiking shoes for men. It includes affordable and high end both options. 
1. Woodland Men's Hiking Boots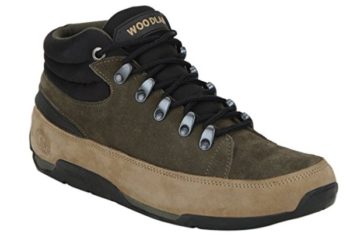 Woodland men's trekking shoes has the leather material. They are sleek and stylish leather boots are durable and suits well with the rocky terrains and all weather conditions. The leather and textile upper material gives a sophisticated look while its durable and sturdy outer sole gives practicality and rugged look. The lace up closure ensures the secure grip and tight feet inside.
2. Salomon L37325900 Quest 4D 2GTX Backpacking Shoes (Green/Asphalt/Dark Titanium)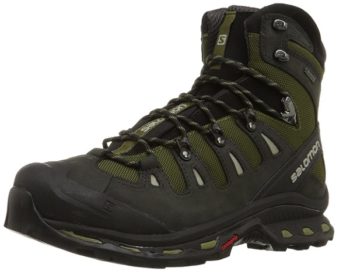 Salomon is one of the best brands for hiking and trekking shoes in India. You can have loads of different variety and multiple choices. The brand is expensive but if you truly love to hike, then a sturdy and high quality footwear is must. This is the best backpacking boots with 4D advanced chassis, midsole – molded eva, high traction contagrip. It has heel strap lace locker heel foam gusseted tongue ortholite and the Nubuck leather. This updated Salomon Quest 4D 2 GTX retains outstanding stability and grip. It really ensures safety and performance on uneven terrain.
It also has a protective rubber toe and heel cap, hell foam, and gusseted tongue. Resting on top of non-marking Contagrip outsole, it features an Ortholite footbed, Gore-Tex membrane, 4D advanced chassis, and molded EVA midsole that work together.
3. Wildcraft Men's Hugo Trail Running Shoes
The uber stylish shoes are apt for the hiking and trekking activities to fulfill your liking and passion for adventure sporting. These shoes grip well and give a trendy look. The lace up closure gives tight feet grip. The rubberized sole is also sturdy and gripping on the rocky mountain surface.
4. Unistar AntiSkid High Ankle Black Jungle Boots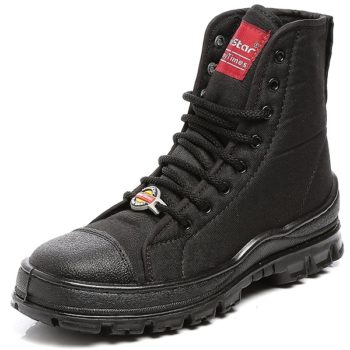 These Jungle Boots are suitable for the adventure sports, where you are required a tight grip and water resistant pair of shoes. These are stain proof and water resistant. Their durable sole is pretty effective in giving a controlled grip and ease while you trek. The inside material is also made with a comfortable spongy fabric to keep your feet comfortable all day long. These heavy duty shoes for men are available in 2-3 different shades, therefore, you can pick the one you like.
5. Lee Cooper Men's Leather Trekking and Hiking Boots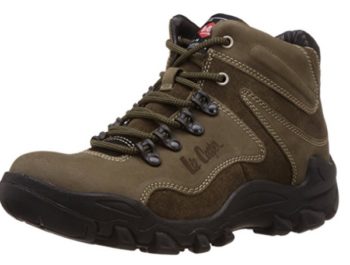 Lee Cooper is a well known brand that makes men's boots and trekking shoes. These trekking and hiking boots are made for long duration trips that need your shoes to be more robust and resilient in all weather conditions. They not just look good but also gives you that total control and comfort so that you do not get down due to the weather condition and various terrains.
6. Redchief Men's Leather Trekking and Hiking Footwear Shoes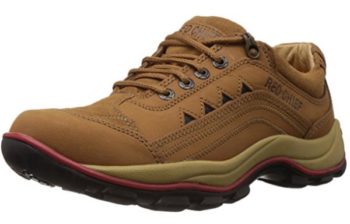 RedChief makes multiple varieties of trekking shoes and is undoubtedly one of the best and most affordable trekking and hiking shoe brands in Indian market. The lace closure and the upper layer material is water resistant and gives tight grip on uneven ground. The stable sole is sturdy and high quality. One can wear them for long and short trips both.
7. Bata Men's Trekking and Hiking Boots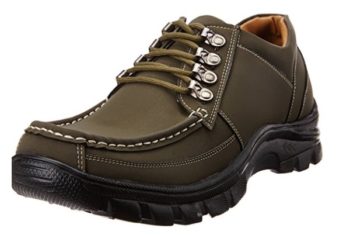 Our very own Indian brand Bata also has trekking boots made of leather but honestly, they are suggested for short trips and not much helpful and secure for the extreme climatic conditions and rocky terrain. These shoes are sturdy and can be bought from the Bata showrooms and online. The upper material is of synthetic leather.
8. Wildcraft Men's Trekking and Hiking Boots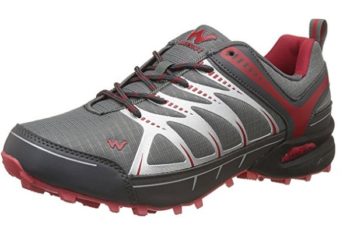 These hiking boots have the gripping sole that is durable and is made for trekking and hiking but definitely not for the heavy, rocky terrain and extreme climatic conditions. If you like to go for rough treks, we would suggest you to go for Salomon or Timberland brand of trekking shoes rather than these. The upper material is mesh and the lace up closure is for sturdiness for your feet the shoes.
9. Redchief Men's Leather Trekking and Hiking Footwear Shoes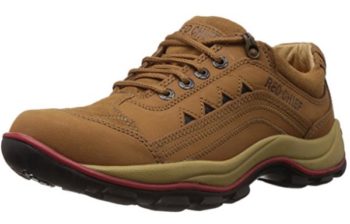 Another affordable shoes from Red Chief is this one. The genuine leather lace up boot is apt for your regular hiking. It is available in Tan and Light Tan. Both the colors are good for hiking but proper shoe care is also required. These are apt and can definitely be your companion for mountain and rocky terrain.
10. Adidas Men's Ax2 Trekking and Hiking Footwear Shoes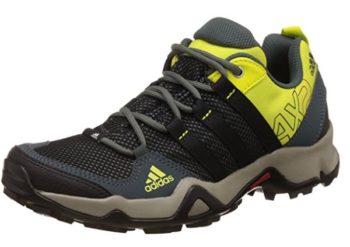 These Adidas trekking shoes are available in multiple colors and looks really pleasing for short hiking trips, these shoes can be your perfect travel partner. For casual trips outdoors as well, you can use these. They are light-weight and have a breathable mesh synthetic upper material. This is important feature, in case you are in tropical climatic conditions. The sole is sturdy and gripping with ventilation design of the footwear.
So, these are the best trekking shoes in India that can also be used for hiking and other adventure sports. But please be careful that most of these are for short to medium trips. However, for heavy or long trekking trips with extreme weather and uneven surfaces,  you must rely on the trusted brands like Salomon which makes boots for extreme surface and weather conditions, even for Himalaya terrain as well, which is very popular amongst adventure activities lovers.
Also check the best sneaker shoe brands in India