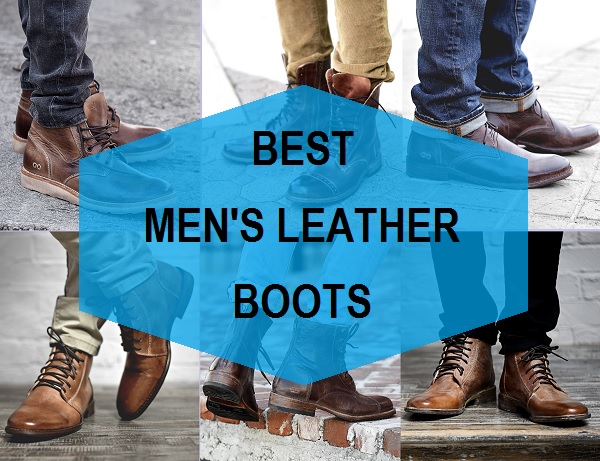 Best Men's Leather boots in India for Formal, Casual and Extreme weather conditions
Leather Boots are not just confined to the Cow Boys but they can be a style statement piece for you too. A right pair of leather boots can make your impression long lasting and can also change your overall personality. Getting a perfect pair of the leather boots can be so tiring. We have compiled this list of the best leather boots for men available in India from different brands. For cold winter season, leather boots are wonderful to have in your wardrobe.
Best Leather Boots for Men in India (2022)
Leather shoes and boots are also good for the winter season and even for a road trip with your pals. They give you extra durability with comfort. There are some boots brands that are popular in India. Brands such as GAS, United Colors of Benetton, Red Tape, Lee Cooper, Carlton London, Franco Leone and many others. Let's have a look at this list here.
1. Red Tape Men's RTE0492 Boots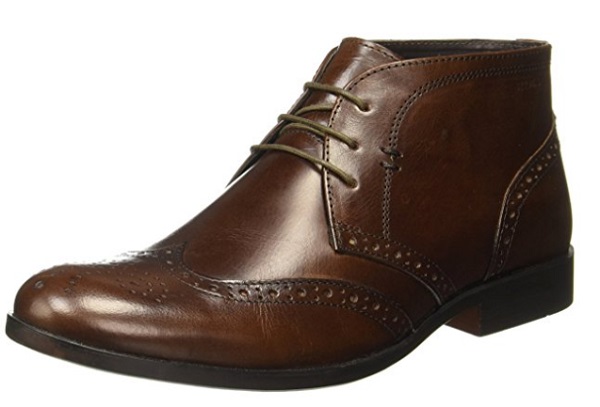 The classy boots look good with the ankle top. These boots are made up of the pure leather material with a lace up closure. The toe style is round toe style. These shoes are the perfect business shoes which are good for the formal and casual functions. This product has warranty against manufacturing defects for 90 days. To keep your leather boots in good condition, you should always clean them with a leather cleaner or a leather shampoo. Use of a good cleaning brush is also recommended.
2. United Colors of Benetton Men's Leather Boots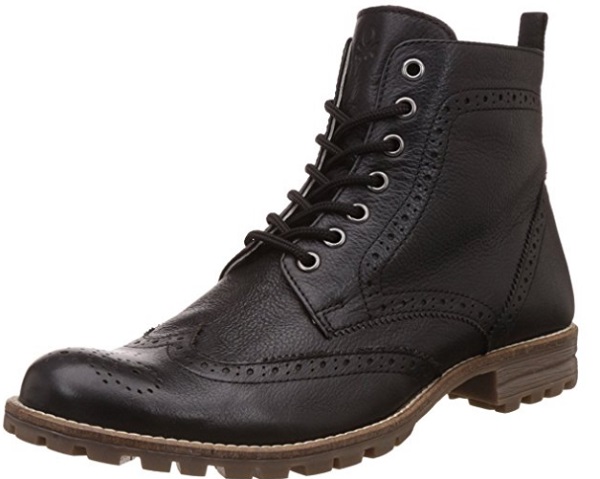 United Colors of Benetton Men's Leather Boots are both casual and formal. You can team them up with you trousers and also with the jeans. The closure type is Lace up for a sturdy grip. These leather boots for men are available in black and brown color. Good quality of these boots makes them good product for men. The available sizes are from UK 6.5 to UK 10.5.
3. Hush Puppies Leather Boots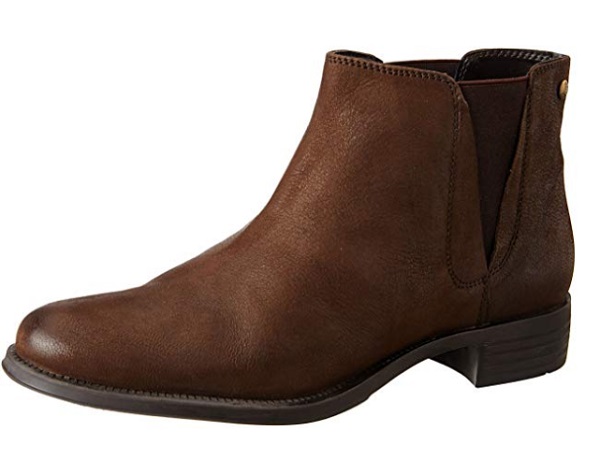 These leather boots are made from the genuine material and they are also good for the casual wear. The slip on style is good for everyday wear and you can easily use them. The heel is flat but the shoes are extremely classy looking. Hush Puppies shoes are available in the major malls and markets. You can get these in Black and Brown. Sizes starts from UK 6 to UK11.
4. BATA Men's Bill Brown Leather Boots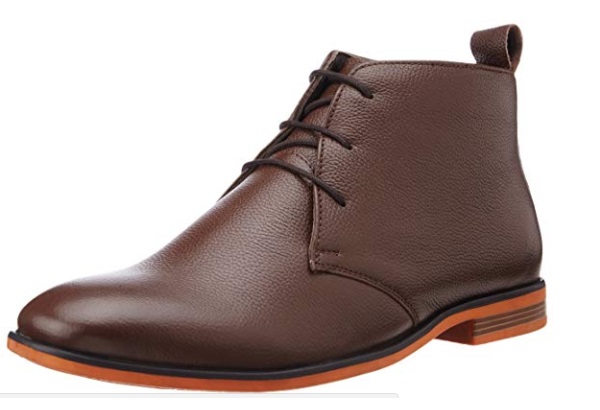 Bata men's leather shoes are available online as well. These are elegant looking men's leather boots which can be your everyday go to shoes to create an impression for yourself. The lace up styling looks good with the sturdy sole that gives grip and also comes up with an anti slip sole.
5. Bacca Bucci Men Brown Genuine Leather Boots
These leather shoes are made up of the genuine leather material. This has a closure style of lace strings. The shoes are very appealing boots which looks amazing.  Bacca Bucci is a brand which is very affordable and makes good quality men's shoes.
6. Redchief Men's Leather Trekking and Hiking Footwear Boots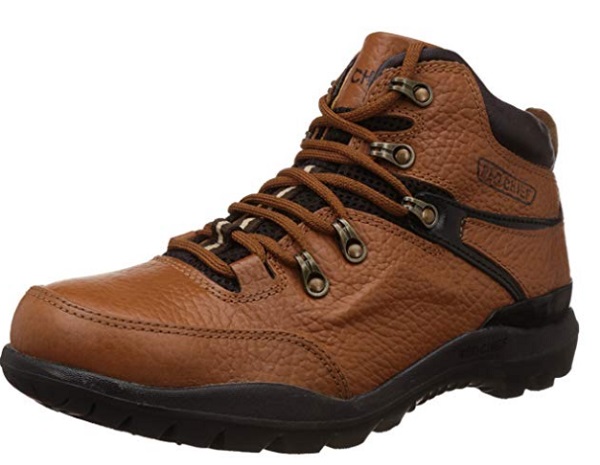 The brown boots are made from the pure leather and can be used for the trekking and hiking as well. Trekking and hiking requires boots with sturdy grip and comfort for long treks. The lace up closure is good for the snuggle fit and quality makes them amazing affordable trekking shoes. These boots are available in other shades as well.
7. Alberto Torresi Men's Islay Leather Boots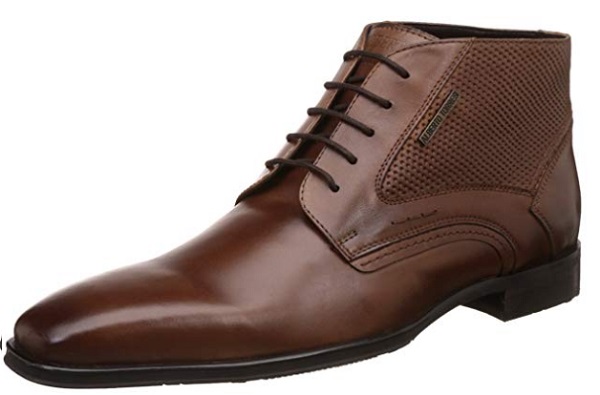 Alberto Torresi is a reputed brand for the men's shoes. These men's high ankle leather boots are available in dark brown and black color. The highly sophisticated looking leather boots made up of pure leather. Size availability is from from UK/India 6 to UK/India 11 and EU 40- EU45.
8. Lee Cooper Men's Leather Boots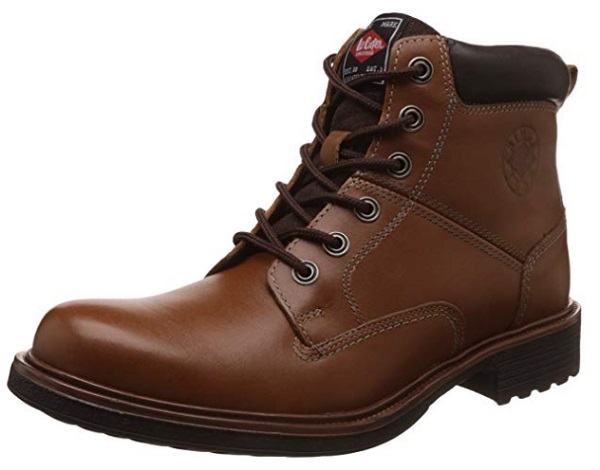 These Lee Cooper boots have a beautiful ankle top brown leather boots with black sturdy sole. Material used is the pure leather and can be used for business meetings as well.  The available Sizes are from UK/India 6 to UK/India 11 and EU 40- EU45.
How to care for the leather boots
Always clean you leather shoes and boots with leather cleaner or leather shampoo
Moreover, you should take help of a good quality cleansing brush to remove loose surface dirt and dust.
If the leather shoes are wet after cleaning, then let them air-dry first.
Always dry your shoes at the room temperature only and never expose them to the sun and direct heat.
Direct heat or the sun rays can cause the leather to shrink, wrinkle, harden, dry and eventually crack.
These are the best men's leather boots that can be bought from the reputed brands online and in stores. Have you used any of these boots. Which is your favorite brand of men's leather boots? Don't forget to check out the best leather sandals for men in India