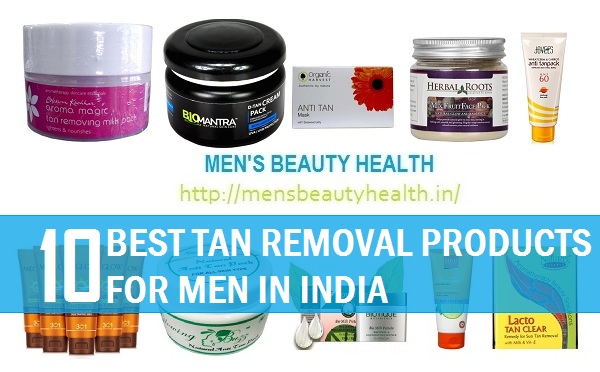 Best Anti Tan Facial Scrub for Men for oily skin, Dry skin in India with Prices
Tanning makes the skin look darker. We all wish to have a bright fair skin but when the sun makes the skin dark then we wish to get rid of the sun tanning as soon as possible. There are various products for men too that helps them to get rid of the sun tan. Men get tanned faster since they stay outdoor a lot. Here, are some best anti tan face scrubbers that help to remove the tanning on the men's skin so that men will get fair skin. These face scrubs will also give glowing skin with continuous application.
Best Men's Anti Tan Facial Scrubs in India
1. Lotus Herbals Safe Sun Absolute Anti Tan Scrub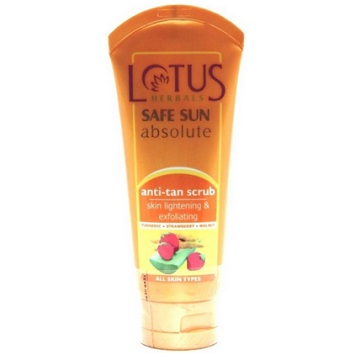 This is a face scrub cum face wash that will revive the skin's texture and eliminates the darkness due to sun tanning. Sun tanning also makes the skin too scaly hence facial scrubs will also ensure you to have a smooth skin. The Lotus Herbals safe sun absolute anti tan scrub is formulated with the walnut shell particles that scrub the skin and the strawberry seeds that remove suntan. This Lotus Scrub also contains turmeric that will further lighten the skin tone.
2. Jovees Jojoba & Wheat Germ Face Scrub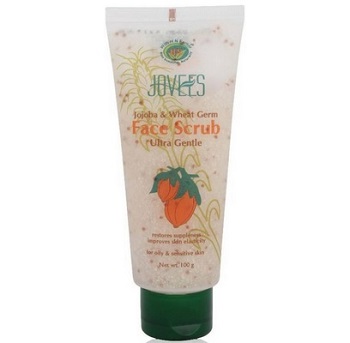 This exfoliating facial scrub for men is good for the oily sensitive skin. This tan lightening scrub is priced at 185 rupees. Jojoba extracts will clarify the skin on deeper levels while the wheatgerm will fade the tan and makes the skin softer over the time.
3. Jolen Papaya Scrub for Tanning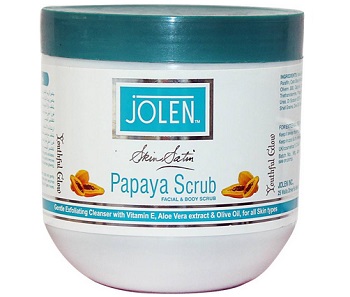 This papaya face scrub is also an anti tanning face scrubs that men too can try once or twice in a week. Men who has got tan that is very old they can try papaya based face scrubs. Since papaya has papain enzyme that lightens the tan nicely and very effectively. Furthermore, it will also regulate the excessive facial oils and sebum.
4. Glowing Buzz Insta Tan Removal Herbal Scrub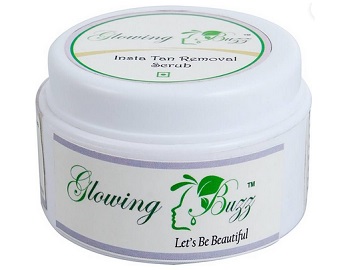 This tan removal scrub contains the herbal ingredients like the nutmeg, pistachios, neem, apricot, papaya extracts, banana extracts, plum etc. These fruit and nut extracts will cure the tanning and also prevents the dark spots formation due to sun.
5. Oriflame Sweden Milk & Honey Gold Smoothing Sugar Scrub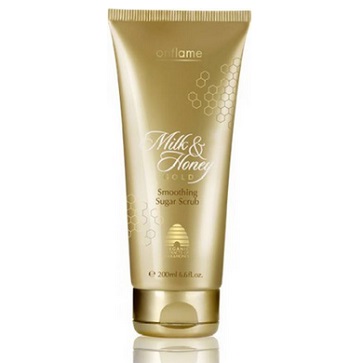 This is for 549 rupees. Smooth away dead skin cells to reveal softer skin below with this rich, decadent body scrub. With organic milk proteins and honey extract to soften and condition the skin, it's an experience to cherish.
6. Khadi Natural Rose & Papaya Face Scrub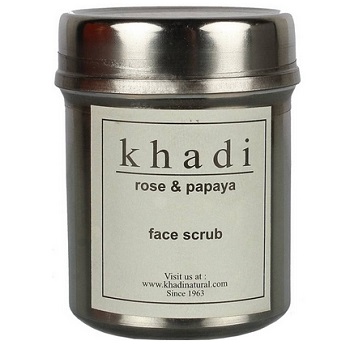 This khadi Herbals scrubbing product is for 90 rupees and has the power of the natural product like rose water, walnut shell particles, wheatgram oil, Jojoba Oil, Almond Oil, Papaya Extracts and glycerin. Glycerin is good for the moisturization while the rest of the ingredients will help to retain the original fair complexion. Furthermore, this will also cure the tanning on the face.
7. Pond's White Beauty Tan Removal Scrub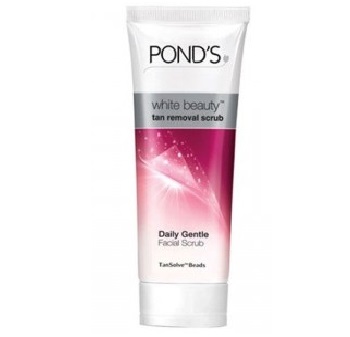 This has the cream and tansolve beads which works on the tan and helps to lighten it. Moreover, this anti tan scrub will also whiten the skin complexion. The matte feel that this anti tan face scrub gives after the wash is amazing for the price, though this may not work well for the dry skin. Pond's anti tanning face scrub is 225 rupees.
8. Biotique Bio Papaya Revitalizing Tan-removal Scrub 
 
Biotique Bio Papaya anti tan face scrub is great for men with all the skin types. Even the men with sensitive skin can try this since the product is subtle and gentle on the skin. The extracts of the papaya, dates, banana, neem, methi dana seeds etc will help to treat the tanning on men's face. Moreover, the combination will also aids in achieving a glowing skin.  This is priced at 195 rupees.
Let's check a quick homemade tan removal scrub:
Mix 2 teaspoonful of lemon juice with 1/4 cup of sugar.

Add 3 teaspoonful of sugar and leave for 2-3 minutes so, that the mixture gets blended.

Use this to scrub the face and body to get rid of the spots and tanning.
These are the best face scrubs to remove tan on men's skin. Have you used any? Which is your favorite anti-tan scrub for men? Do share!