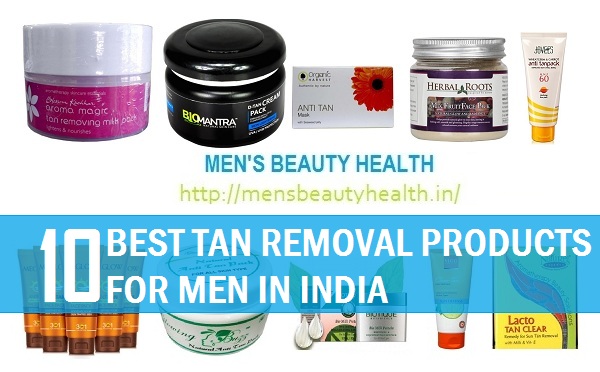 10 Best Anti Tan Face Pack for Men in India
Are you worried by getting tan when you ride bike guys? Is your complexion getting tired and dark during summers? If yes, then you surely have reached the right article. Today at Mensbeautyhealth blog we will share the best face packs for sun tanning removal. These anti tan face products are from popular brands and actually work to get rid of the summer tan from men's face. Men do go out in the sun, play sports or travel etc which can makes their skin look dark and dull. These ready made anti tan face packs are readily available in the market that can be tried by men to remove the tanning off the face completely.
Top Best Anti Tan Face Pack for Men in India To Try in 2021
Face packs are better than the anti tan face wash, since we use face wash for hardly one minute, while face masks and face packs stay on the skin for at least 15-20 minutes. This makes the tan go away faster and easily. These anti tan products are rich in fruit extracts, natural ingredients that will gradually remove the tanning. In fact, the natural ingredients in these tan removal products will also help to lighten the tan to make your skin look fairer. See: skin whitening face products
1. VLCC Clear Tan Fruit Face Pack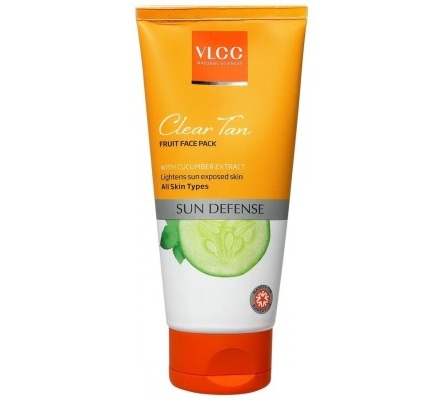 This VLCC face pack is a fruit skin whitening fairness face pack basically which has the goodness of fruits of Cucumber, Pineapple and Mulberry which improves the skin complexion that has become darker due to over exposure of sun. Moreover, this face pack is also good for preventing the skin darkening from getting permanent. When you do not do anything about the skin tanning for a long time, then that can be hard to get rid of. You do not want that surely. Right guys?
2. Organic Harvest Anti Tan Mask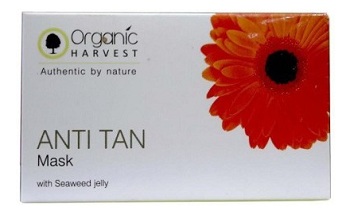 This face mask is an anti tan product that has the seaweed jelly which helps to cure the skin darkening due to sun rays. This also treats the dullness of the skin. This gently exfoliates the upper layer of the skin so, that whatever tan that has accumulated over the time can be taken care of.
3. Biotique Bio Milk Protein Pack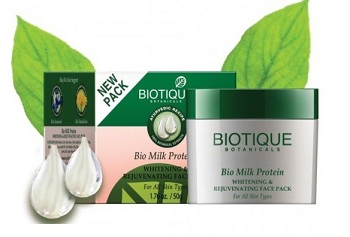 The Biotique Milk Protein Pack is the best anti tan pack for men and women who have got dull skin due to sun. This helps to revive the dull skin and nourishes the skin deeply. This face pack is rich in the milk proteins and milk enzymes like lactic acid that treats the damaged dark tanned skin fully. This tan removing face pack repairs the exhausted skin cells and rejuvenates them for a brighter skin complexion. Regular use of this anti tan milk pack will help in whitening of men's skin and to keep the skin tanning away.
4. Bio Mantra D – Tan Cream Pack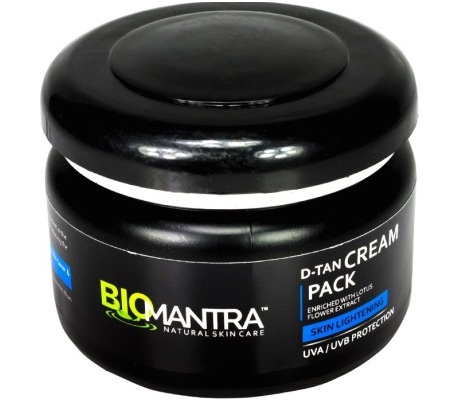 This is a cream pack which is for detanning the skin. This tan removing pack helps to lower the melanin content in the skin layers. Melanin is to be responsible for the skin darkening as when we go in the sun melanin levels rises.
5. Meglow Anti Tan Pack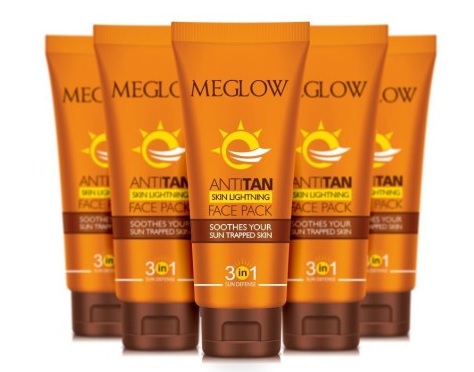 Meglow makes men's fairness cream also and this Anti tan pack is for men and women both. This pack is laced with aloe vera, cucumber, lemon peel extracts. These natural skin whitening ingredients lightens the tan to give you back your fairer skin color. This removes the sun tan and dead skin to reveal a luminous radiant skin. This also soothes the irritated men's skin. Most of the times, irritation on men's skin occurs after the shaving.
6. Aroma Magic Tan Removing Milk Pack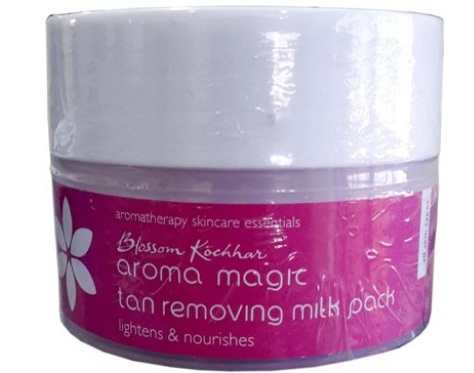 Aroma Magic also makes milk protein rich anti tan face pack. This too is with the beneficial milk proteins and milk enzymes. This will repair the tanned exhausted skin and keep the skin in good condition.
7. Glowing Buzz Natural Anti Tan Face Pack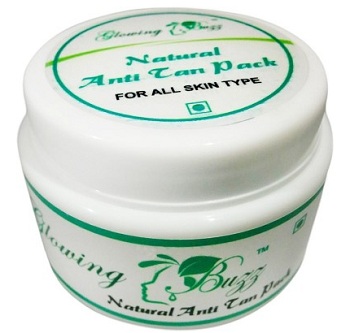 This anti tanning pack is from Glowing buzz which isn't a popular brand but this works well. This works on the tan and is made from the ascorbic acid (Vitamin C), kaolin clay, oats, neem etc. This is for body like arms, legs, neck etc and over the face as well. The product comes in powder form that can be either mixed with rose water, papaya pulp or even tomato pulp too for best results.
8. Jovees Wheatgerm & Carrot Anti Tan Face Pack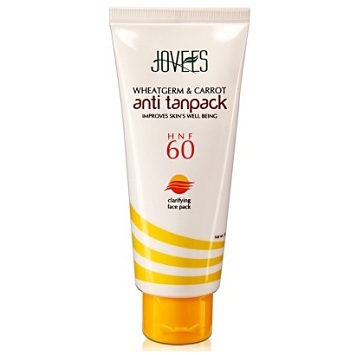 Wheatgerm works the best for dry to sensitive skin types. This anti tan pack has carrots which are rich in the beta carotenes. Beta carotenes increases the cell turnover helping to revive the lifeless skin. This has wheatgerm which moisturizes the skin and milk proteins make the skin even toned and glossy.
9. Nature's Essence Lacto Tan Clear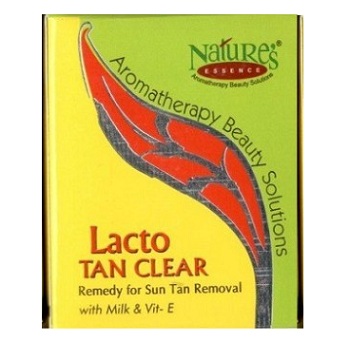 Nature's Lacto Tan Clear Pack is also a very popular tan removal product. It is one of the best anti tan pack for men and women in India. This is also formulated with the milk proteins like we have seen with some other face packs but this is has vitamin E as well. Vitamin E nourishes the skin that gets damaged from the harmful sun rays.
10. Herbal Roots Anti Tan Mix Fruit Pack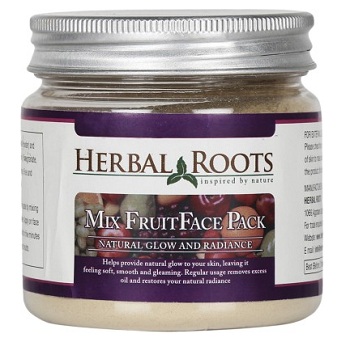 Herbal Roots makes natural face packs and masks to bring out the inner glow of the skin. The facial pack is rich in the fruits that are enriched with the nutrients, antioxidants, and vitamins for a glowing skin. This prevents pimples and acne on the oily skin. Moreover this anti tan mixed fruit face pack will also treat the sun tan, dark circles, and dark spots on the face. This can be used by sensitive skin, oily skin or the dry skin. This has fruits extracts like that of the and so do a whole lot of good when applied as a face pack. This has fruits like peaches, strawberry, banana, papaya, orange, pomegranate etc.
So, these are the best tan removal products for men available in India. Have you used any of these tan reducing products? You can apply these anti tan face packs in India.