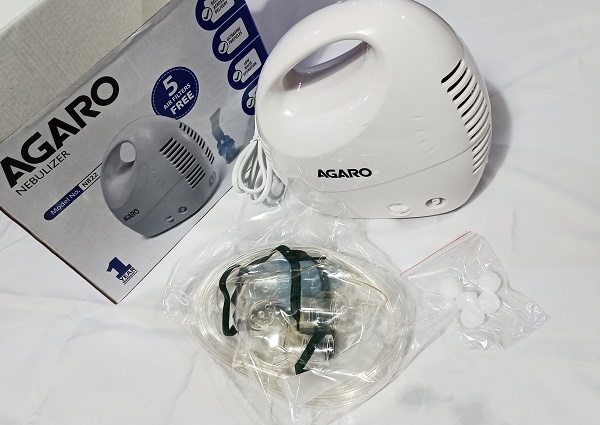 A  Nebulizer is a device that changes the medication from liquid to mist so that you can inhale the medication that goes directly in the lungs.  Home Nebulizer are mostly in a portable model that are easy to use. I got this Agaro Nebulizer recently which is a very easy and handy to use device that can be used by adults and kids both. By converting the liquid medicine into very fine mist, it allows the person to inhale it through a face mask or the mouthpiece given along. Generally nebulizers are prescribed or are helpful for people who have some sort of lung disorder or they need medication for asthma, chronic obstructive pulmonary disease, cystic fibrosis and few more.
Doctors can even prescribe a Nebulizer for kids who have got the seasonal respiratory infections such as bronchiolitis.
This Nebulizer is a reliable aerosol delivery system that transforms liquid medication into Ultra fine particles and it has got an oil less pump and its low noise operation is really fast and effective. The product is safe to be used for adults and child because it comes with two different types of mask which are different in sizes. You get a smaller child mask and a bigger adult mask.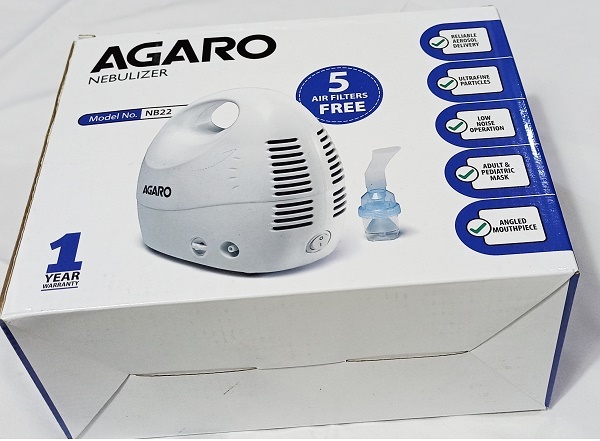 The Nebulizer has 6 ml medication capacity that converts ultra fine particles. And you also get five pieces of replaceable air filters. The product comes with 1 year warranty. Its operation is very simple with a one touch button operation that means pressing a single button would make it work.
Moreover, the switch is water protected hence it makes the cleaning very safe and easy. This nebulizing device comes with one mouth piece and 6ml medication cup to make inhalation easier for the entire family for instant relief. The 200 cm long air pipe is very easy to use while the Nebulizer is working. As the device is very effective, it minimizes the chances of wastage of medication.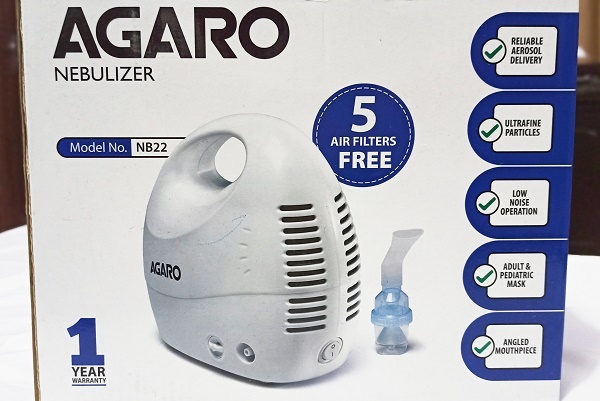 How to use a Nebulizer
If you haven't used a Nebulizer before then here is the method that will tell you how to use the device correctly.
First of all, you need to wash your hands properly with a medicated soap or disinfectant liquid.
Then, connect the air pipe to the air compressor.
Fill the medicine Cup with the prescription and open the medication can spill so, always make sure you close the medicine Cup tightly and always hold the mouthpiece straight up and down.
Then, attach the hose and mouthpiece to the medicine cup. Put the mouthpiece in your mouth keep lips tightly sealed so that all the vapours should go to your lungs when you inhale it.
Keep your lips tightly around the mouth be so that the entire medicine goes into your lungs. Breathe through the mouth and until the entire medicine is used. It takes 10 to 15 minutes, if you require you can also use a nose clip so that you do not inhale through your nose.
Wash the machine medicine cup and mouthpiece with water.
This is a very useful product when you would like to get relief in the some chronic diseases or with respiratory tract infections seen in kids and adults.
And when it comes to this particular brand, Agaro offers great value for money. The price of the product is very affordable. And it's a very compact product therefore doesn't hold a lot of space and can be easily stored. Therefore, to treat asthma, allergies and other respiratory disorders, a nebulizer is a great medical device to have at your home.
You can buy it here from Amazon: