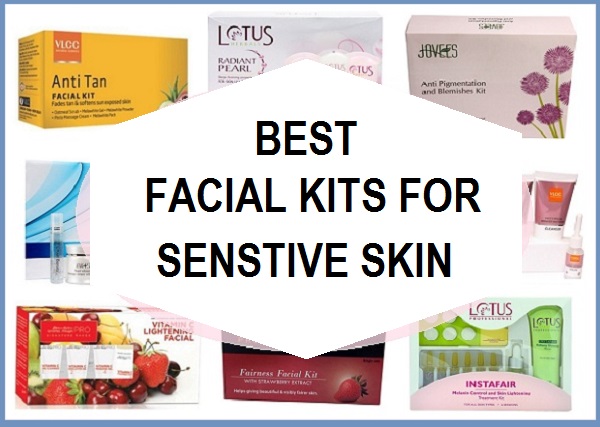 Sensitive skin asks for proper care and attention. When you have sensitive skin then, you must use the skin care products with utmost care. And that includes facial kits as well. Facials are done once in a month or twice in a month depending on your skin type and the facial you're using. This is why you must try a facial kit suitable for sensitive skin. In this post, we will share the best facial kit for sensitive skin in India. Men and women both can use these kits if you've got sensitive and irritated facial skin. A facial is a great skin procedure to revive a dull and tired skin by boosting the circulation of blood and by supplying nutrient to the skin. This process thoroughly cleanses your pores and skin layer. In this post, I've listed the products or facial kits which are available as Do-it-yourself products.
List of Top Best Facial Kit for Sensitive Skin Available in India
1. Lotus Professional Preservita Advanced Sensitive Skin Facial Pineapple Marmalade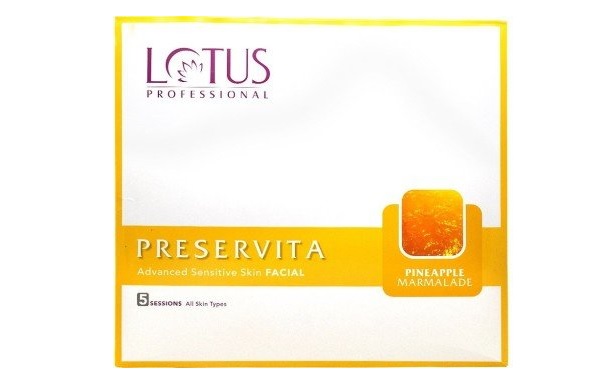 This Lotus facial kit is formulated for sensitive skin. The kit has ingredients like the mixture of organic nutrients that make the skin glowing. It does not have chemicals which can irritate the skin and causes skin breakout. In this facial kit, you'll get a Toner, Walnut Shell Scrub, Massage Cream, Face Mask and Pineapple Marmalade. It polishes the sensitive skin and makes it fresh looking. The massage cream soothes the skin and also get rid of the dark spots and patches. I posted an article a while ago which talks about the home remedies to lighten dark spots, that you must read if you've patchy and spotted skin.
While the mask restores the pH balance and makes skin supple, it also gives you whitening effect. Lastly, the pineapple marmalade whitens the skin and gives you glow. It is perfect to be tried a day or two prior to going for an event or a party.
Kit contains:
PRESERVITA Toner

PRESERVITA Polisher with Walnut Shell Powder

PRESERVITA Massage Crème

PRESERVITA Masque

PRESERVITA Pineapple Marmalade.
2. Astaberry Silver Facial Kit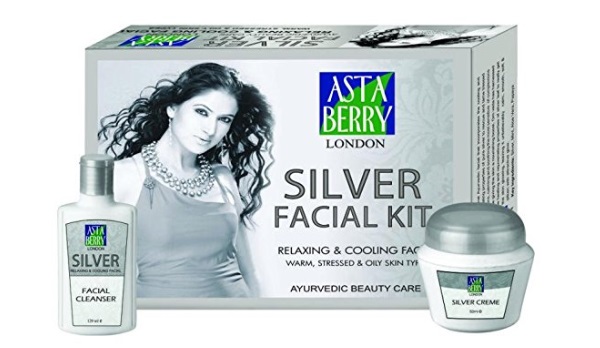 Silver facial kit helps to relax and soothe your skin. It is specially formulated for the sensitive skin. It has got silver ash or particles, which has calming, anti-inflammatory and purifying properties. Silver has been used in skin care since ages, and this is why pure silver in this facial kit, comes to your rescue and gives you stress-free fresh skin. This home facial kit contains a Cleansing Cream, Scrub, Massage Cream and Silver Face Pack.
How to use:
Cleanse your skin using the cleanser, wipe it off with a wet cloth.

Apply the Face Scrub and rub gently for few minutes.

Wash it off with clear water.

Massage your skin with the massaging cream for at least 10 to 15 minutes for the glow.

Then, you can apply the face mask loaded with silver and wash it off after 20 minutes.
How often to do:
Do this facial at least once in 15 days to keep your complexion bright and glowing.
3. Astaberry Organic AHA Facial Kit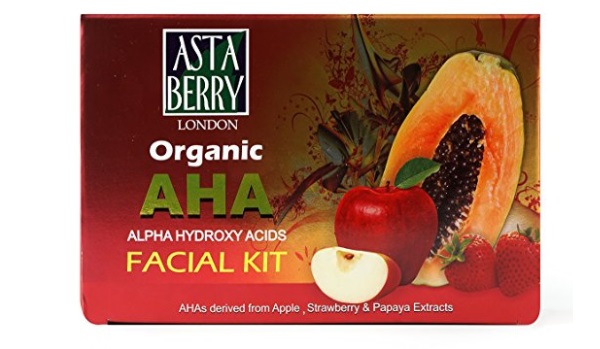 This organic AHA facial kit is recommended for people with oily and sensitive skin. Men and women, who've extremely irritated and pigmented skin can use this to lighten the darkening of the skin and to brighten the skin. It contains Alpha Hydroxy acids which are abundant in the fruits like apples, strawberries and papaya. Regular use of this fruits loaded facial kit will help you minimize the skin pigmentation and gives you smooth and flawless complexion. Along with the pigmentation, it also heals the lines and wrinkles on your face. These organic acids tighten the pores and remove the dark spots and black marks on your skin. 
How to use:
First of all, clean the skin using the facial cleanser.

Wash off your face or wipe off with a wet tissue.

Apply half a teaspoonful of scrub on your wet face and gently massage in circular motion.

Try this for at least 2 minutes then wash it off.

Massage the face with the organic gel provided with this kit, massage for at least 10 minutes.

Apply the AHA cream and massage your face again for 10 to 12 minutes.

Use the face mask and leave for 20 minutes.

Wash it off with clear water and pat dry your face.

Apply the moisturizer given with this.

And lastly apply the concentrate.
When and How Often To do:
It is best to use this facial at night or in the evening.

You can apply it once in two weeks to get the maximum benefits.
4. Cheryl's SensiGlow Entree Kit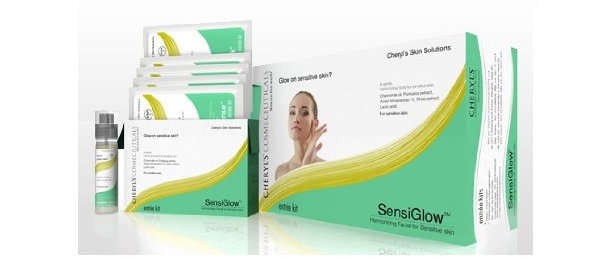 The sensiglow facial kit is specially made for sensitive skin. It reduces the itchiness and sensitivity of the skin.  It will calm and soothe your sensitive skin during summers and makes it glow. All that irritation, redness and rashes that you've can also be cured with this. 
Kit includes:
Sensicleanse

Sensiwash

Sensitone

Sensigel

Sensimask

Sensi skin saver
How to use:
Start by applying the cleanser.

Then, using the skin toner you can tone your face.

Apply the sensigel and massage your face for 20 to 25 minutes.

Apply the Sensi mask and wash off after 15 minutes.

Lastly, use the Sensi skin saver to hydrate the skin.
5. Aroma Magic Sensitive Skin Facial Kit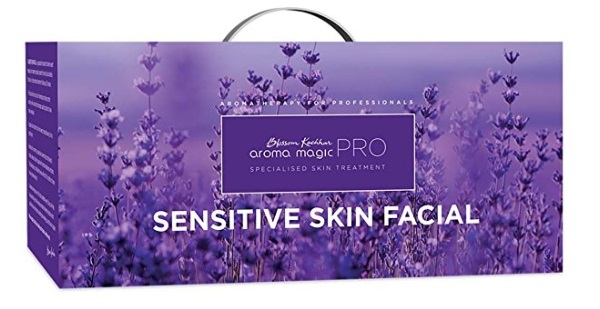 Aroma Magic Sensitive Skin facial kit is made to calm down your irritated skin and also help control extreme sensitivity. The facial kit is suitable for dry and sensitive facial skin. It comes with 6 steps of professional facial steps and it takes around 50-60 minutes to complete the entire procedure. Therefore, if you will repeat this facial once in a month, you will surely get smooth glowing and beautiful healthy skin. It revitalizes your skin and removes the traces of pollutants. It also supplies the skin with vital nutrients so, that the skin looks hydrated and brighter. With the goodness of lavender, it surely calms the irritation and inflammation.
6. Ozone Acne Healing Treatment Kit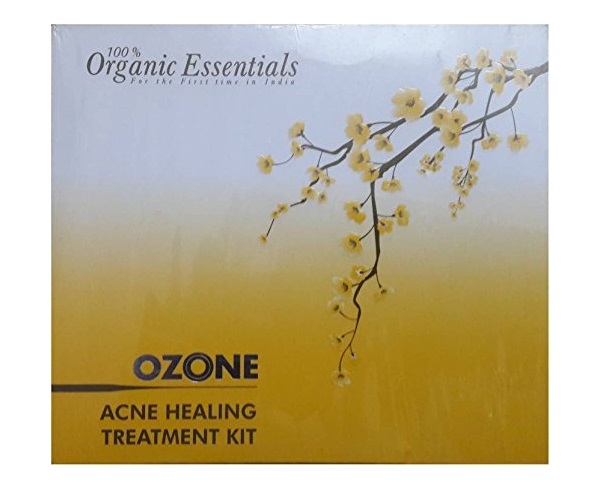 Ozone Acne Healing Treatment Kit is made for oily-sensitive skin that is prone to acne. It helps lessen the acne and their marks like scars on the face. The easy to do facial kit is rich in antioxidants and antibacterial ingredients like Clove, Neem, Lemon and Eucalyptus. The kit contains Ozone Neem cleanser, Sanitizing acne scrub, acne healing serum, Acne healing gel and Ozone acne healing mask. Along with that it also gives you oily acne check hydrant. Do try this facial once in 15 days or 2 weeks to keep the skin free of blemishes and acne. 
Perform the steps as per the process mentioned on the pack, it's really simple and similar to the most of the procedures that I've shared above. 
7. Biotique Bio Pearl White Facial Kit with Pearl Bhasma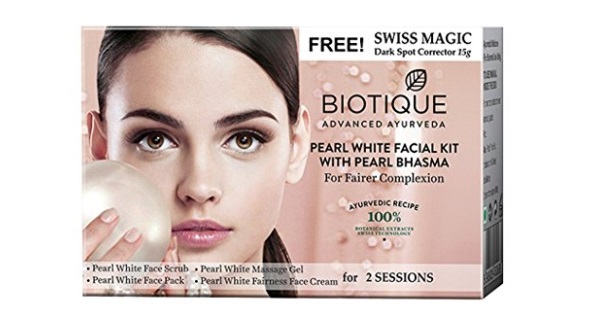 Biotique Bio Pearl facial kit is considered good for sensitive skin and to get fairer skin complexion. It is rich in nutrients and antioxidants that lighten your skin and brightens it from within. If you're suffering or struggling to get rid of the heavy sun tanning, then it will be an ideal facial kit that you must try.
You'll Get:
It includes
Pearl White Face Scrub

Pearl Massage Gel

Pearl White Face Pack

Pearl White Fairness Face Cream
How to use:
Wash your face and apply the pearl face Scrub for two to three minutes to get rid of the dead skin cell.

Apply the Pearl White massage gel to massage your skin for 10 to 15 minutes then proceed with the face pack and keep it for 10 to 15 minutes.

Wash it off with clear water.

Apply the fairness face cream with pearls.

Apply this facial kit for at least two times in a month to get the best results in skin whitening for sensitive skin.
8. OxyLife Oxygen Professional Facial Kit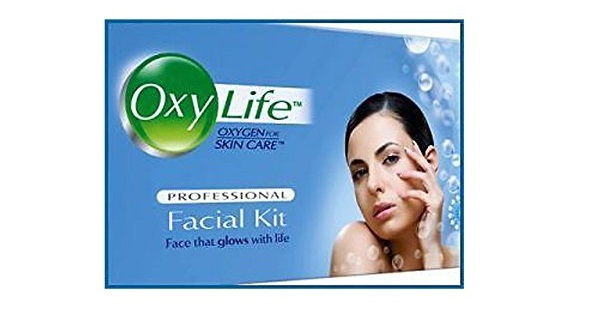 This oxygen facial kit is considered good for all skin types so, it is also considered appropriate for the sensitive skin. Sensitive skin is prone to rashes and allergies, this is why use of certain suitable products is a must. This oxygen facial kit helps reduce the damage of the sun rays, pollution and stress on your skin. It increases the levels of oxygen in the skin which makes skin glowing and supple. It is also able to minimize the pigmentation and dark skin complexion that lacks the glow. While the kit also reduces the spots and tanning on your skin, it gives you healthy beautiful looking skin. The facial Kit Includes :
Oxy Face Cleanser

Oxy Face Scrub

Oxy Face Cream

Aroma Face Gel

Oxy Face Pack
How to use:
Apply the cleanser all over your face and after 2 to 3 minutes wash it off with plain water.

Then you need to apply face scrub and massage your face using circular motion for 2-3 minutes, do not be aggressive, be gentle.

Wash your face again or just wipe off the scrub. I prefer to wash it.

Apply the face cream and massage for 10 to 12 minutes.

Massaging boost your blood circulation.

Apply the face gel and again massage for 10 to 15 minutes.

Lastly apply the oxy face pack and leave it for 10 to 20 minutes.

Once, it gets fully dry, wash it off with clear water.
9. VLCC Insta Glow Facial Kit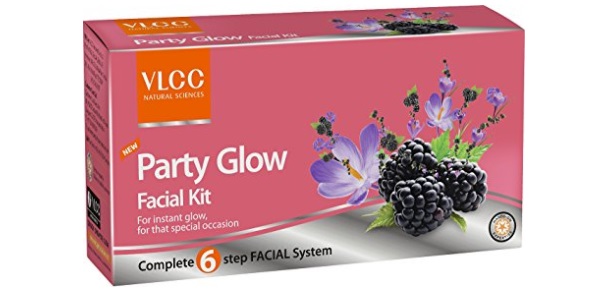 VLCC insta glow facial kit is suitable for people who want glow on their dry and lifeless skin. This facial kit is also suitable for people with sensitive skin. This facial kit gives you multiple benefits like skin soothing, skin lightening, toning and firming of your skin on a deeper level. With the use of the facial steps you are bound to get good skin when you use this once or twice in a month. It consists of Saffron Massage Gel, Revitol Skin Whitening Serum, Face Cream and Insta Glow Face Pack.
10. Vaadi Herbals Lemongrass Anti Pigmentation Spa Facial Kit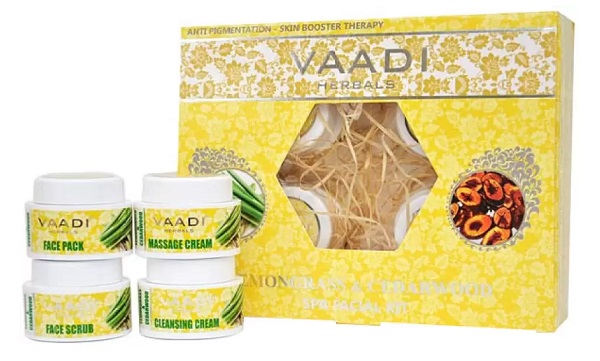 Lemongrass is considered good for sensitive skin. This kit is suitable for pigmentation for all skin types. It clears the acne and rashes. It reduces the dark skin tone by the antioxidants in its ingredients and also fight the deep seated skin pigmentation. Women with mature skin complexion who are fighting the dark and patchy skin must use this facial kit. It includes 4 steps of facials like the Anti Pigmentation Cleansing Cream,  Face Scrub, Face Cream and Anti Pigmentation Face Pack. You just have to follow the steps as per the numbers given on the pack.
So this was the list of the best facial kit for sensitive skin available in Indian market. Have you used any of these kits for your dry sensitive skin?