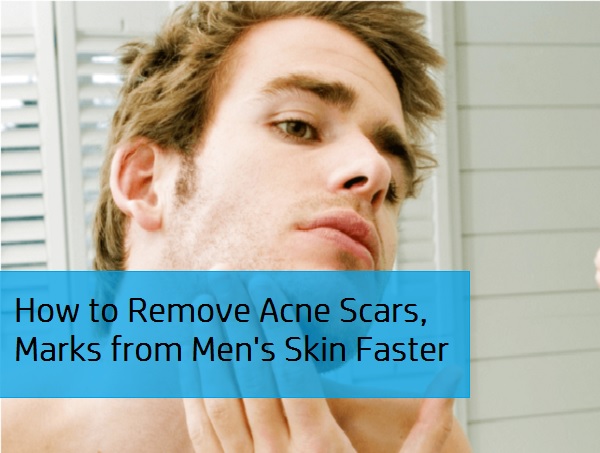 How to Remove Acne Marks from the Skin Faster with the help of home remedies. Men give least efforts in keeping their skin healthy and youthful. Heavy schedules of working and home management makes it even difficult   for a man to have their "ME" time. As a result, at time, we experience the acne and blemishes on face especially when a guy has oily skin. Oily skin is hard to take care of but honestly once you get the idea how men take care of oily skin then keeping it problem free become a lot easier. Don't you want that your skin should stay pimple free and looks good. The main thing that, I would like to recommend you is that you should use the products based or formulated for your skin type. Do not just use any product. Like there are so many acne healing products in the market which are good, but wrong skin care products should not be used. So, today I have some super easy and quick tips to remove acne marks, those spots from the skin.
How to Get Rid of Men's Acne Scars, Pimples Marks, Dark Spots on Skin
Here, are some of the natural beauty tips and remedies that can ease your problem of spots, scars and marks on the face due to acne and pimples.
1. Lemon and Tomato Juice Face Pack 
Lemon is rich in vitamin-C which makes your skin white and glowing but also vanishes the acne spots from the face. The high content of citrus acid in lemon also helps in reducing acne marks. It also contains many other vitamins and minerals, which makes the skin super shiny and flawless. Tomatoes on the other hand, consists high anti-oxidants which protects your facial skin from harmful free radicals. This facial pack for men's skin removes pigmentation and acne scars from the skin. It adds a natural glow to your face. Tomatoes are proven to heal acne marks and dark spots.
How to use it?
Take one tomato and squeeze it to  extract its fresh juice

Add 1 spoon of lemon juice in the bowl and pour the tomato juice in it

Now wash your face with water and pat it dry

Take a cotton ball and dab it into the mask and apply the small amount on the cheek and nose area

Cover the remaining areas of your face with this face pack

Leave it for 20 minutes or until it dries out and Wash it with cold water 
2. Aloe Vera Gel and Turmeric
Aloe Vera gel is very popular due to its benefits for the skin, body and overall health. It adds natural shine to the face and reduces dark skin color. It makes the skin super soft and supple. It also prevents and erases the dark spots and zits. It reduces dryness of the skin and removes tan caused by sun exposure. Turmeric is a natural Ayurvedic used for curing acne and dark spots. It removes oiliness the face and makes it naturally fair and bright. It has anti-bacterial properties which makes your skin pores clean from dirt and dust.
How to use it?
Take 1 teaspoon of aloe vera gel in a small bowl

Now mix a pinch of turmeric powder in the same bowl and mix it well

Apply this mixture on the acne prone skin and massage it slowly

Do not rub too much and be gentle on the skin

Now keep it for 15 minutes and wash it off with cold water.
3. Papaya pulp and Milk pack For Scar Removal
Milk is a good source of anti-oxidants which improves blood circulation. This essential oil is great in fats, which removes dryness and itchiness. It is proven to remove dark zits and blemishes. Papaya pulp is rich in enzymes and fiber, which maintains the elasticity of the facial skin and enhance its beauty. It is an effective acne scar removal pack that ease in getting rid of those spots on your skin.
How to use it?
Take some papaya pulp in a bowl around 3 spoons

Mix 2 spoons if milk in the same bowl

Also add ½ spoon of honey and then you have to mix all the ingredients well

Cleanse your face with a mild face wash and apply this mask onto the face and neck

Massage in a circular motion for a few minutes

Be gentle on the skin and keep it for 25 minutes

Wash it with cold water and apply a nice moisturizer
4. Orange Juice and Rose water
Orange juice is used to minimize the spots and darkness on the skin. This is also used to cure the treatment of the acne scars on the skin. This is also used to cure the oiliness since the orange juice is suitable to give the skin a glow and brightness. So, to make this pack or lotion, you can mix 2-4 teaspoonful of the orange juice and put 1 teaspoonful of rose water in it. Then, apply this on the face. This will act as a skin brightener.      
5. Aloe Vera and Lemon Juice
Aloe vera is considered as spot healer and we can get rid of the scars and marks on the face quite easily with the help of this pure natural gel. You will be glad to know that this gel is available in so many brands so that you need not to extracts the fresh gel every time. To clear off the acne scars, you need just the 2 products like aloe gel and lemon juice.
How to make?
Mix 1 teaspoonful of aloe vera gel and mix that with 1 teaspoonful of lemon juice in it.

 Mix it well so that there are no aloe gel lumps. This takes a bit of time to get mixed completely to give you a face serum like lotion.

Once you get a smooth consistency. Take some on the clean palms and massage on the face and neck.

Massage daily to get faster results in lightening your acne scars and marks on the face.
6. Multani Mitti with Honey for scars and marks
Multani Mitti is also known as fuller's earth. Fuller's earth is regarded as a very earthy ingredient that can squeeze out the excessive oils and sebum efficiently and the skin looks matte. When we use fuller's earth on the face, it reduces oils and does oil regulation.
For this scars treatment, you need multani mitti and honey.
Mix 1 teaspoonful of multani mitti powder and 1 teaspoonful of honey.

Mix them and apply on the face and neck also. Wash with clear water.

Repeat this on the face at least 3 times in a week for very oily skin and dark spots.
So, these were the treatments for acne scars and pimple marks removal from the men's skin.