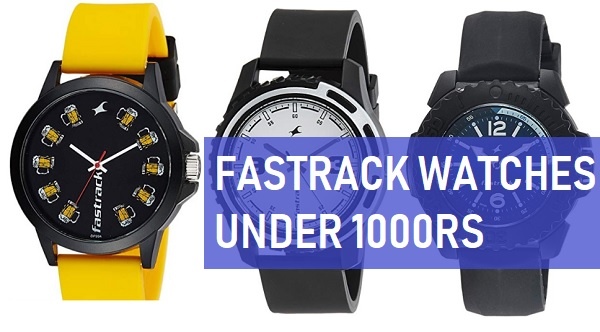 Latest Fastrack Watches for Men in India Below 1000 Rupees
Are you looking for budget friendly watches? Earlier we had shared, the best Fastrack watches under 2000 rupees. And in this article, we are going to share the top Fastrack watches for men below 1000 rupees. People like teenagers, school and college boys who are on budget and would like to go for a good branded watch under 1000 rupees can consider these. Not just that, even for gifting, these branded affordable watches can be perfect gift. Fastrack is a brand that has youth connect and majority of youngsters loves to use Fastrack products like their accessories, watches, bags etc. We have compiled this list where you can find the best Fastrack watches for men which are less than 1000 bucks.
List of Latest Fastrack Men's Watches Under 1000 Rupees in India (2022)
1. Fastrack Analog Black Dial Men's Watch Yellow Strap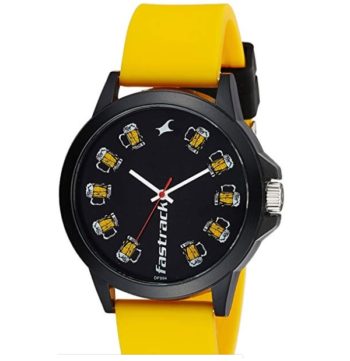 The Fastrack watch for men is a very good looking watch. It has a modern, and stylish look and design. Instead of the numbers, the beer mugs are printed that indicates the time. Even the yellow plastic strap also adds more trendiness to it. It is one of the best looking branded watch for young boys and men. 
2. Fastrack Casual Analog Black Dial Men's Watch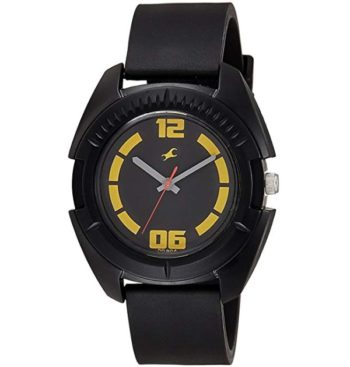 The analogue watch has very simple design. It has silicone material strap in black color and black colored dial. It is suitable for boys like teenagers, school boys as well. It has a water resistance depth up to 30 metres and comes with buckle clasp on the band. The watch  comes with 6 months warranty. 
3. Fastrack Casual Analog White Dial and Black Strap Men's Watch
The Fast Track watch has a white dial with black strap. The simple and trendy looking Watch has a silicone band material and water resistance depth of the 30 meters. It has manufacturing warranty of 6 months. It is a very affordable Fastrack watch that is as less than 1000 rupees. The design is funky and is perfect for young boys. You can pair this with your semi-casual and casual attires. It is a pocket friendly watch which gives you a renowned brand trust and quality. 
4. Fastrack Analog White Dial with Black Strap Men's Watch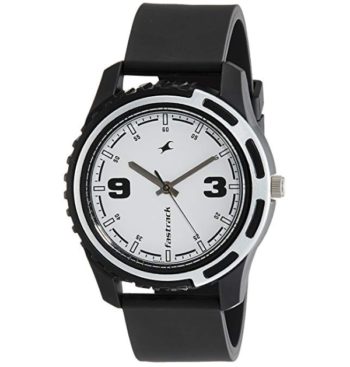 This Fastrack watch for man has a beautiful dial design. The branding is there on the dial with two colors. The strap band material is of silicon and buckle clasp. The analogue watch has a round dial glass material. It is one of the most affordable and branded watches for young men and boys. It is powered by Quartz and is equipped with a 3 ATM water resistance feature. The watch is a durable, comfortable and stylish looking watch. You can wear it up with any attire like casual and semi casual. With jeans and other casual attire you can pair it.
5. Fastrack Casual Analog Black and Red Dial Men's Watch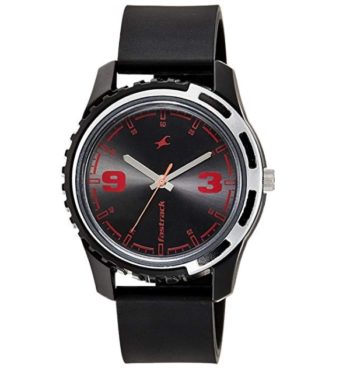 This attractive watch is available in black and red color combination. In this design, the black dial has red print and lettering. This also gives a very stylish and sporty look to it. It is a quality product that can be trusted and is also good for gifting. Just pair up with a nice pair of jeans and t-shirt for the right look. It is a very stylish, casual and everyday wear watch.
6. Fastrack Casual Analog Silver Dial Men's Watch
We have got one more design for you in the same style. This one has a silver dial with blue printing and letters. Other features like the Silicon band material, Quartz movement etc are the same. Just the dial design is different. The dial has blue Arabic numeral. The black strap goes really well with the blue and silver colors. The adjustable metal buckle closure gives it good fit and comfort.
7. Fastrack Analog Blue Dial Chunky Men's Watch
If you like slightly chunky looking watches, then this Fastrack watch is very affordable and is a good choice. The dial color is a combination of blue, white and black. The combination of the colors used is striking and attractive. The Silicone band material gives you comfort and sturdiness. This can be your everyday watch for college and school. It is also very pocket friendly watch that is good for gifting if someone likes to get watches as gift.
8. Fastrack Analog Silver Dial Men's Watch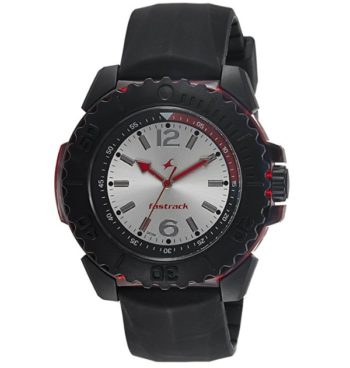 This design is also available in a combination of silver black and red. It is also a chunky and thick looking watch from Fastrack. The band material is made of silicon and watch movement type is quartz. It has a water resistance depth of 30 meters. The double coloured hands looks good and the numerals are in silver. This is quite eye-catching and pleasant looking watch, that you must go for if you like such color combinations.
If you can go a little over the budget then we have two more Fastrack watches which are a bit over 1000 rupees but can be considered.
9. Fastrack Casual Analog Black Dial Brown Band Men's Watch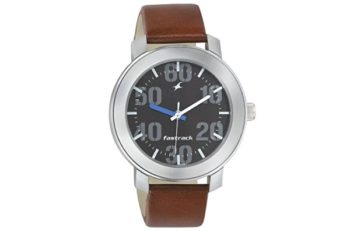 The analogue Fastrack watch has a leather band material in brown colour. It is a very casual and formal looking watch. Man of all age groups can try it. The good thing is the dial which has black silver and blue and white. Genuine calf leather strap makes it even more elegant.
10. Fastrack Trendies Analog Grey Dial with Red Band Men's Watch
This is a part of Fastrack trendies collection. It is a very bold and brightly colored watch. It'll suit the young and teenage boys. But if you like such coloured watches then it doesn't matter what age you are.  The Silver grey and red combination is very interesting and fascinating. The appealing watch has red silicone band material which is comfortable and gives you good grip even while you get it for the entire day.
These are the best Fastrack men's watches below 1000 rupees that you can buy from shops and online shopping sites. In case you would like to buy it online, we have given you the links that will take you to the shopping sites. Other than that, please make sure that you buy from the genuine brand and seller as fake replicas of various branded products also floating in the market and even in the shops.