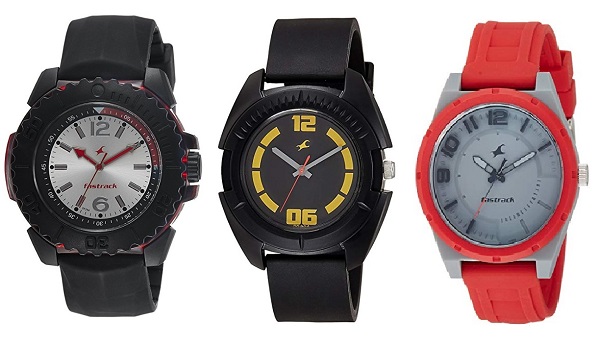 Fastrack is a well-known brand that makes men's watches. The brand has immense popularity amongst young Indian men. Women of all age groups can try Fastrack watches. Fastrack analogue watches are very popular and the good thing about the brand is that it is very affordable. The brand was launched in the year 1998 and has become an urban youth brand. The brand has created a mark for itself when it comes to backpacks, watches and sunglasses. Men and women of younger age group loves the brand. It is India's foremost youth brand for accessories. So, let's get to check out which are the best Fastrack watches that you can get for yourself.
Best Fast Track Watches for Men in India (2022)
These watches for men and boys are available for as low as under 1000-1200 rupees. You can buy these from the major online shopping site or from the Fastrack's official website. Not just that these watches are also available in the stores.
1. Fastrack Analog Multi-Color Dial Men's Watch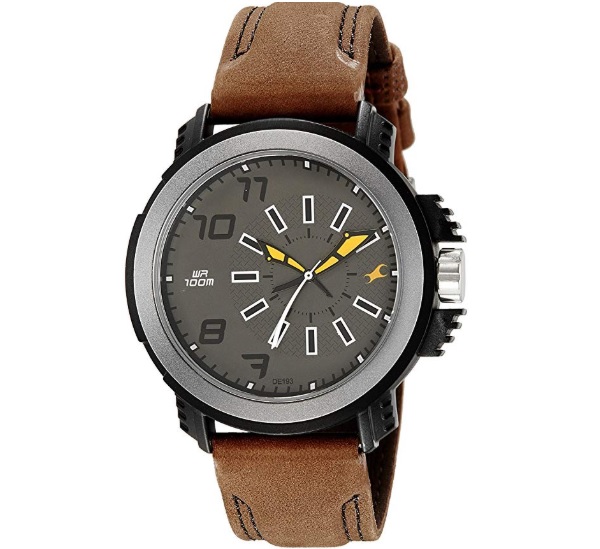 The analogue multicolor dial watch is beautiful and sophisticated watch for men. The dial is grey in color with a brown leather strap. It comes with 1 year manufacturing warranty and six month battery warranty. It has a water resistant depth of 50 m. The brown color band looks really elegant and classy. The watch comes in a container, therefore is also good for gifting.  
2. Fastrack Casual Analog Blue Dial Men's Watch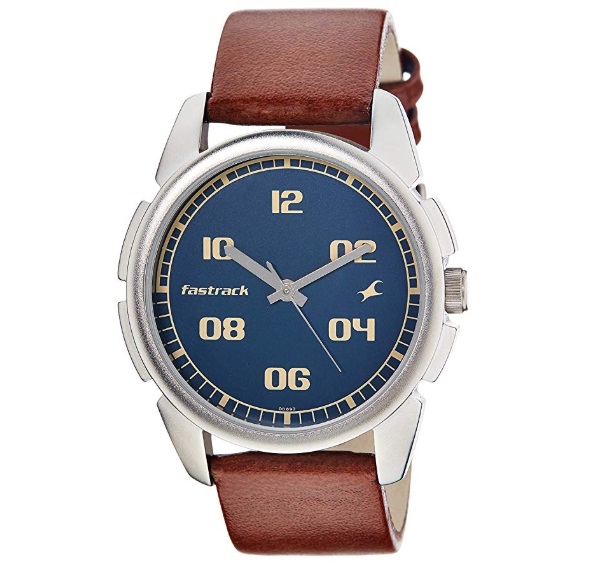 The blue dial watch looks quite simple yet elegant. The dial glass material is of mineral and has a brown leather simple band. Men and boys who love simple watches can go for this one. This too has a water resistance depth of 50m and has a buckle clasp. The watch can be worn with both casual and formal wear. The leather strap gives you a handsome fit and it suitable for most of the wrist sizes.   This is a good Fastrack watch for men under 1500 rupees. 
3. Fastrack Black Magic Analog Dial Men's Watch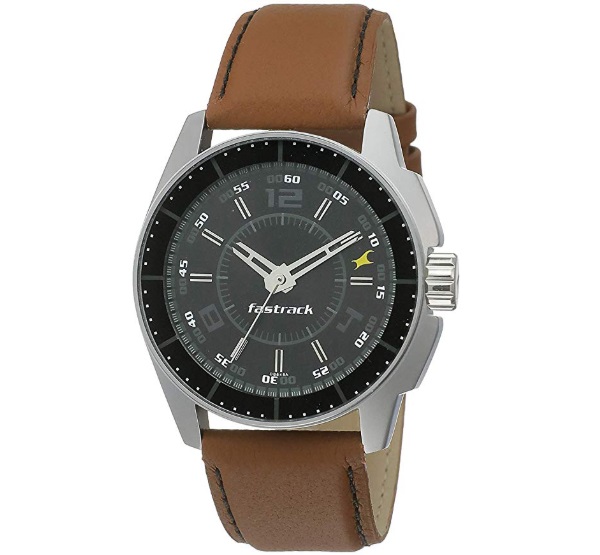 This watch is affordable and is under 2500 rupees and one of the best selling Fastrack watches. The brown leather strap gives an extra edge and elegance to this men's watch. The dial looks really attractive. The analogue watch is perfect for most of the men. It comes with a mineral glass. The leather strap fits well on the wrist and gives you good comfort for long hours. The Arabic numerals at 5 minute intervals and slanting lines marking the one minute interval is good for easy time reading.  
4. Fastrack Party Analog Silver Dial Men's Watch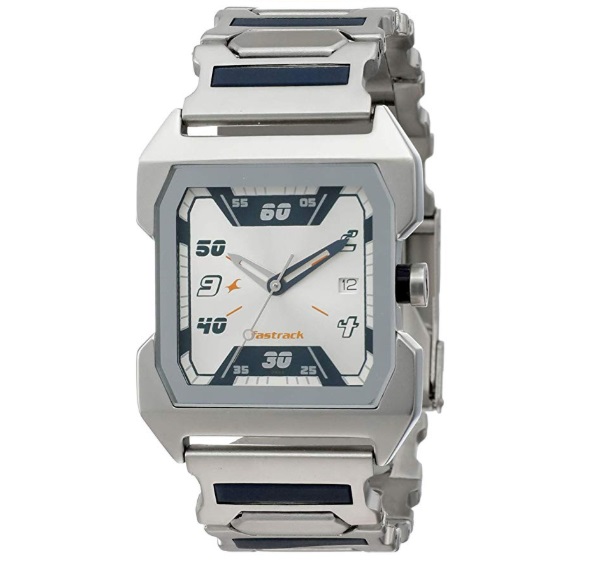 The analogue silver colored watch for men is a very quirky design. The band material is of stainless steel and has a silver color. The analogue display of the watch comes with dial glass material made of brass. The lock mechanism is of drivers class. The watches available in other colors as well like in a beige and black. It is a wonderful party wear watch that serves as a sporty and youth friend accessory for the moment.   
5. Fastrack Economy 2013 Analog White Dial Men's Watch
  
The Fastrack Watch is an affordable watch for around 2000 rupees and is perfect for men and boys of all age groups. The analogue watch has a display that looks attractive though it does not show the numbers yet, it can be a bit tricky to watch the time. It has a leather band material that looks really good. It is a casual and formal wear watch that comes with water resistance depth of 50m. 
6. Fastrack Black Magic Analog Blue Dial Men's Watch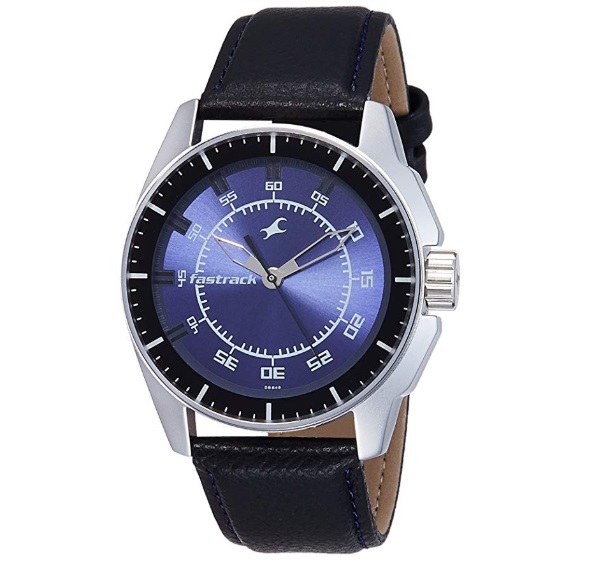 This blue and black color watch from Fastrack is one of the best watches for young men. The leather material looks good and goes really well with the blue color dial.  It comes with a 2 year warranty on the movement and 1 year warranty for battery. What has a buckle clasp that fits nicely on the wrist. The leather material does not give rashes and irritation while you wear it for long hours.
7. Fastrack Casual Analog Silver Dial Men's Watch
This is a simple looking Fastrack watch that is under 1000 rupees. The Silver colored dial was really well with the Silicon black band material. It has a resistance depth of 30 metres and has a good buckle clasp on the band for perfect wear. Men who are on a budget and would like to have a good looking branded casual watch can go for this one.
8. Fastrack Analog-Digital Black Dial Men's Watch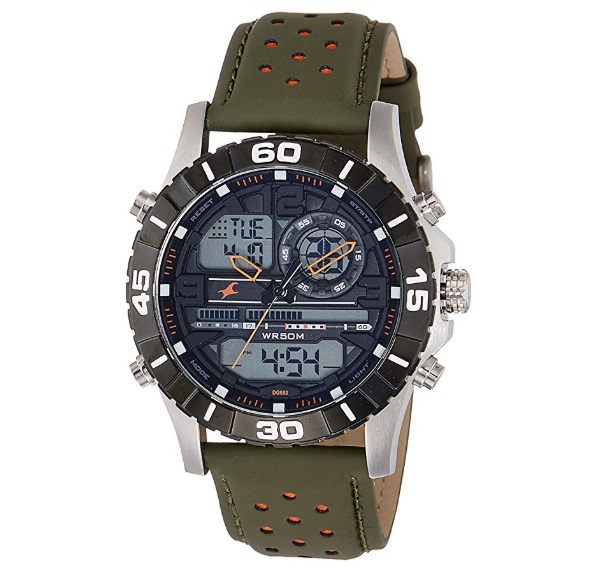 It is definitely one of the best looking watches. Military green colored leather band with a buckle clasp. It has 1 year manufacturer warranty on manufacturing defects. It has an Analog-Digital display. It has 5 ATM or 50 meters water resistance, genuine calf leather. Stainless steel back cover, high precision analogue-digital movement. 
9. Fastrack Analog Grey Dial Men's Watch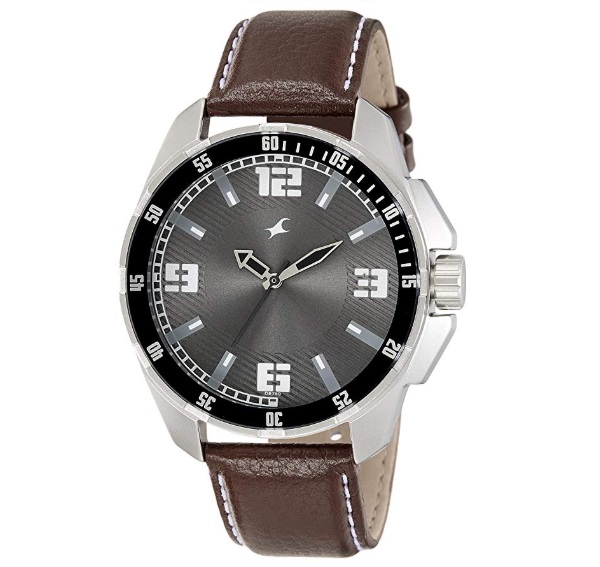 This is yet another beautiful looking Fastrack time-piece. It has a very heavy duty leather band material in dark brown. It comes with a 1 year warranty and water resistance depth of 50m. The dark grey colored dial with light grey numerals looks really good. The display is attractive. The funky design is a classy timepiece that most of the men would love. It is like a crucial style accessory for the younger generation. What she looks both casual and formal and its design and is very affordable.  
10. Fastrack Analog White Dial Men's Watch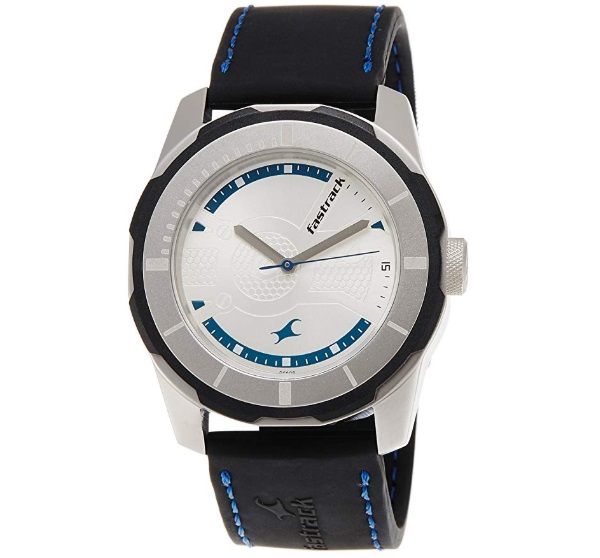 The black and white Fastrack watch has a blue accent here and there that makes it yet another beautiful watch under 2000 rupees for men. The band material is made of silicon while the class material is of mineral. It has a simple design and a stylish strap that adds to a sporty look. The blue inner lining gives it unique touch. The watch will definitely add to your style quotient. The Silver dial enclosed in a shining glass goes well with your casual and semi-formal attire. 
These are the best Fastrack watches available for men in India. The list includes watches from different price ranges. In our next post, we will be focusing more on the Fastrack watches under 2000 rupees and 1000 rupees so stay tuned guys.
Don't Forget to check out :