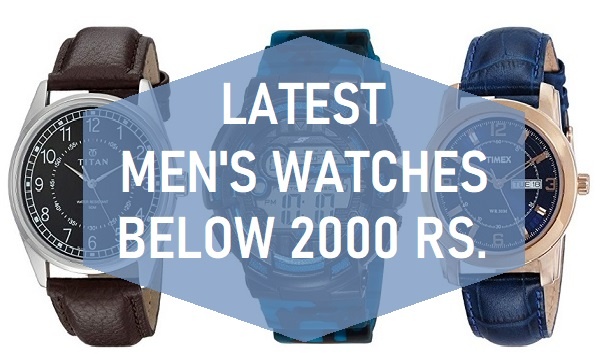 Watches are an integral part of men's everyday styling. Even teenage boys and kids would love to flaunt watches. In this post at MenBeautyHealth Blog, we are going to talk about the best men's watches under 2000 rupees. It is always good to invest in a trusted branded watch as it can help you create a lasting impression and exude a good personality. Having said that, people who are on budget can also go for some good brands that sell men's watches below 2000 rupees. This is exactly we are going to tell you in this post. Even, if you are thinking about gifting someone, then also these watch brands can be considered. We have also given you links where you can buy these if you wish. 
List of Top 10 Best Men's Watches Under 2000 Rupees in India (2022)
Please note that prices can change over the time and online it depends on the sale and season. But expect some discount online than in the shops.
1. Titan Neo Analog Black Dial Men's Watch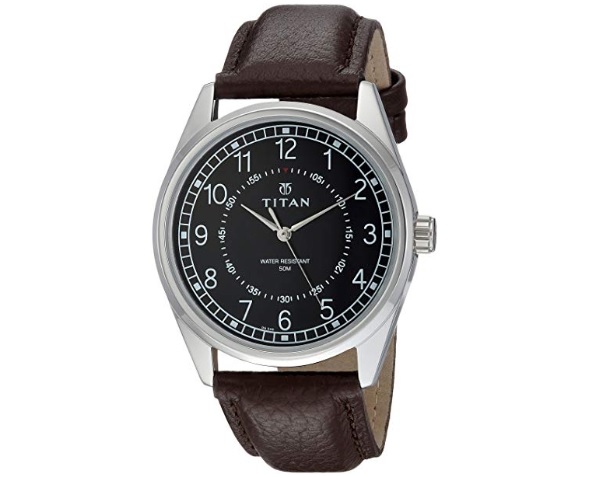 This is an extremely beautiful and classy looking watch. The elegant watch comes with big numbers in white over a black dial. It has water resistant depth of 50m. The Titan branding is on the dial itself. It comes with 2 years warranty and has a dark brown colored leather band. The watch is absolutely stunning, simple and elegant. Men of all age groups would like it 
2. Fastrack Economy Analog White Dial Men's Watch
If you like watches with square or rectangle dial, then do consider this Fastrack men's watch. It has a rectangular dial which is white in colour. It comes with a leather strap and dark brown colour. The watch has six months battery warranty and 1 year manufacturing warranty. It looks quite classy and men of all age groups would like to wear watch like this. It is a very contemporary design which goes well with all types of your casual wear. The band is of good material and does not give you irritation, even if you are wearing it for all day long.
Do check out more Fastrack Mens watches under 1000 rupees
3. Sonata Digital Black Dial Men's Watch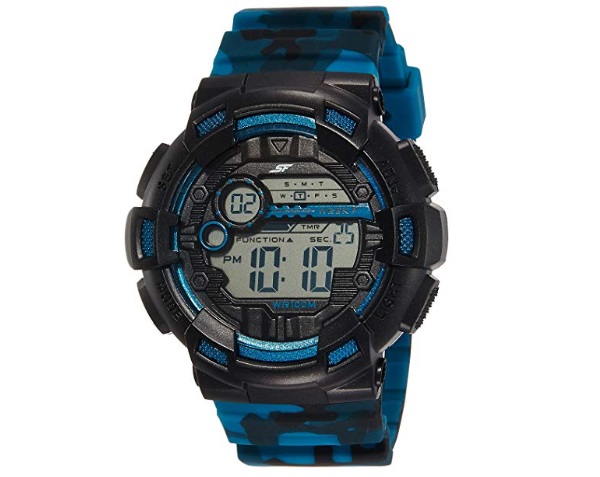 This Sonata watch for men has a digital display and chunky kind of design. Such watches are liked by younger men a lot. It has a digital display that shows the time, date, month and even seconds. It has a combination of black and blue that looks really good. It is a casual watch that will go with your casual wear. It's one of the best watches for men under 2000 rupees for younger boys.
4. Casio Enticer Men's Analog White Dial Watch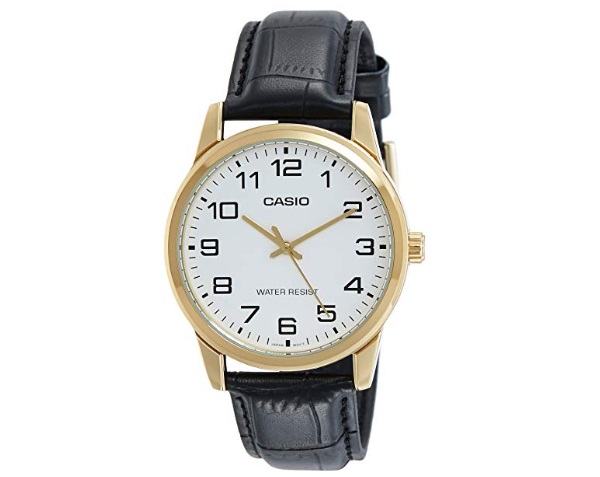 Men who like simplistic designs of watches shall try this one. The watch is extremely affordable under 2000 rupees and comes with a combination of black white and gold. Its white dial with black letters and gold metal hands looks extremely sophisticated and impressive. The leather band material has texture over it and adds more to the beauty of this time-piece. The analogue display watch has 2 years warranty over manufacturing defects. Even boys with thin wrist can try it.
5. Timex Analog Blue Dial Men's Watch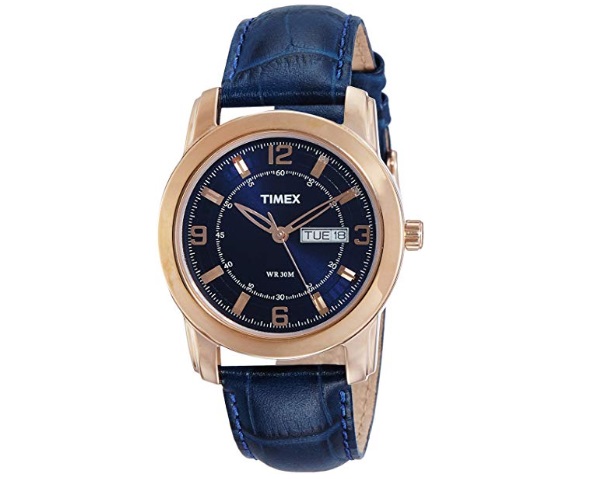 If you like something that should be colourful and eye-catching, this Timex analogue blue dial watch is a perfect choice for you. The gold blue and white combination of the dial is awesome. The watch is really enticing and its blue dial with a blue leather band compliment each other. The men's watch is little over 2000 rupees but we have included it in this list, because we wanted you consider it as it is one of the best looking watches for men around this budget.
6. Sonata Superfibre Digital Grey Dial Men's Watch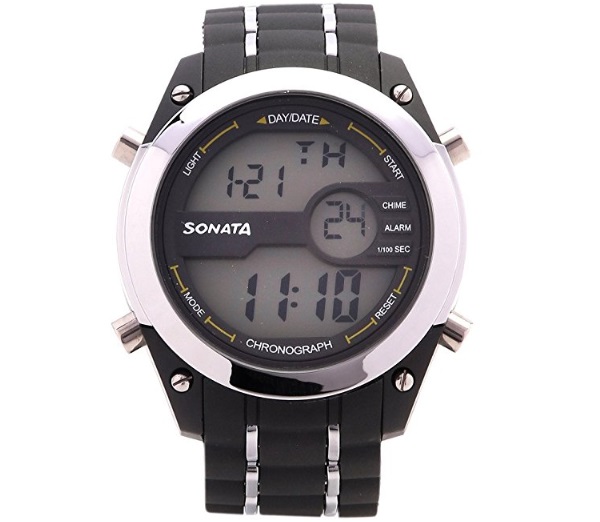 The Super Fibre digital watch for men is from Sonata. It is a combination of metallic silver and black color. The design and overall feel of the watch is attractive and will suit men who are in younger age groups. The digital display shows you date, time, seconds and day. The silicone band has a buckle clasp that gives you perfect grip. Men who like digital watches find it one of the best choices amongst the available options. 
7. Timex Analog White Dial Men's Watch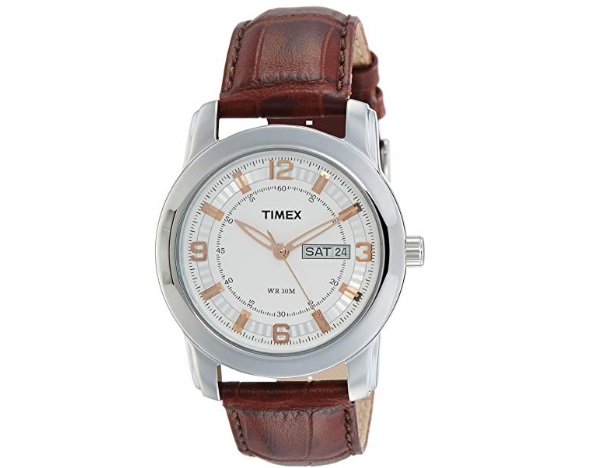 The Timex Analog watch in prestine white is a classy piece with gold dial. The simple design makes it one of the best watches for men of all age groups. Men who like to wear formal wear can also go for such watches. This watch has a water resistance depth of 30 metres and comes with 2 years warranty on manufacturing defects. The white dial with gold numbers and hands give it a perfect looking combination. This is a casual and formal watch at the same time. You can wear this watch with your formal wear for office.
8. Fastrack Analog Blue Dial with Black Strap Men's Watch
This Watch has a black leather textured band with buckle clasp. It has a blue dial with white print and numbering. The Silver outer part of the dial looks really good. It doesn't basic round shape but has curved design on either side. The blue and black combination looks very enticing. This is a casual and semi-casual looking watch.
9. Sonata Ocean Series Analog-Digital Dial Men's Watch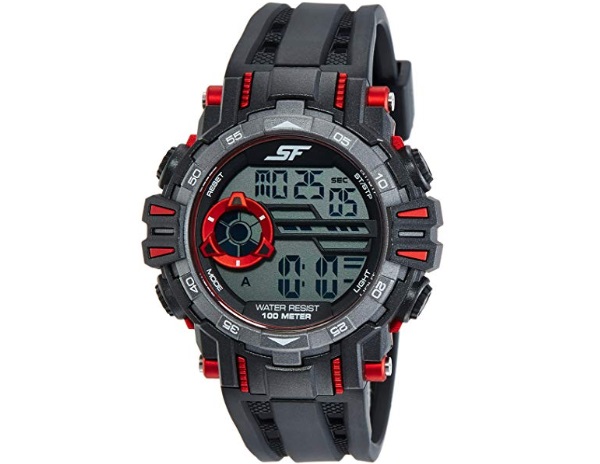 Sonata Ocean Series watch are digital and analogue watches with water resistant depth of 200 meters. Even if you are swimming, you can go ahead with these watches, the Chunky design of the watch is quite tempting. This fascinating watch has pretty color combination of red, grey and black. Red color accent makes the watch even more attractive looks-wise. This Sonata watch is one of the best budget friendly watches for men with nice digital display.
10. Timex Classics Analog White Dial Men's Watch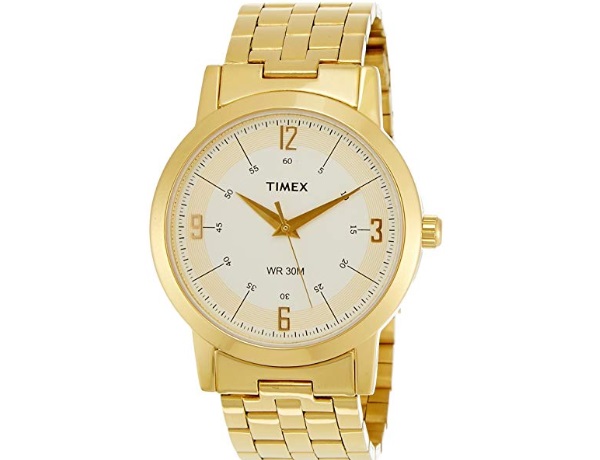 Now, comes the last but not the least. For men, who like metal chain band instead of the regular leather or silicone bands, would definitely like this watch. The Timex watch looks serene, elegant and so eye-catching. The gold watch has a white dial with a combination of gold and white. It exudes quite sophisticated and royal feel. The metallic band and chain is of stainless steel and has a water resistance depth of 30 metres. The Timex watch has one year manufacturer warranty.
These are the best men's watches under 2000 rupees available in India. Most of these watches are available online and you can expect some discounts as we mentioned.