Timex is really popular watch brand for men that started its operation in 1854. In its years of existence it has become one of the most popular men's watch brands because of its durability, stylish features and personality. The brand has always been amongst the best men's watch brands so here we've compiled the list of the best Timex watches for men in India.
Best Timex Men's Watches in India
1. Timex Analog Brown Dial Men's Watch TW000U936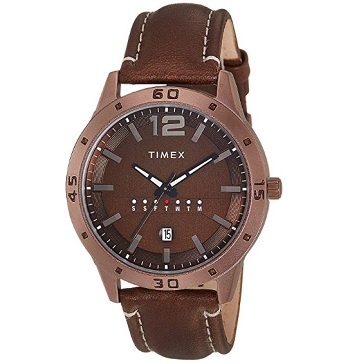 The analogue brown dial men's watch has enticing and recognisable features. The time piece is made with high quality material with Case made of brass. Having water resistance depth up to 30 metres, it comes with 1 year warranty. Made with beautiful brown leather strap, it's surely high quality and bold in its look.
2. Timex Analog Blue Dial Men's Watch TW0TG6501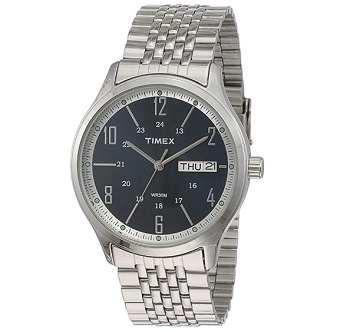 The simplistic yet stylish features with flexibility goes with your dressing styles. The blue dial colour has case made with stainless steel material. Coming with water resistance depth up to 30 metres, it has one year warranty. The study stainless steel case gives durability and features to this amazing timepiece from Timex. You can surely add it to your personal style statement.
3. Timex Intelligent Quartz Compass Chronograph Off-White Dial Men's Watch T2N721
The compass chronograph watch from Timex is irresistible. With 1 year domestic warranty, it's a compass chronograph type of watch for men. With leather band it has round case with off white dial color. The multi-functional watch is teamed up with multiple features that would surely entice the men and boys too. It has driving digital thermometer to measure water and air temperature. The accurate compass can be set according to your preference to determine the flow of waves trackers for surfers. It a fantastic watch that has water resistance up to 100 metres of depth. While it may not be water resistant for diving yet it's perfect for quick dip in the pool.
4. Timex Empera Analog Silver Dial Men's Watch TW000U306
The Stainless Steel body of this watch for men has dual colour. The off white and gold colour gives more finish and beauty to the style. It fits your styles and needs, whether you are going for a business meeting or a casual family dinner. It's stylish and trendy gold accent gives it ageless charisma. This too has water resistance depth of 30m. The leather band is highlight of this trendy Timex watch for men. It's more of a watch for younger man then the mature man. The rose gold and off white dial gives it a stunning look. Water resistance depth of 50m with one year warranty makes it durable. Analogue and digital display adds more features to this stunning design.
5. Timex Analog-Digital Beige Dial Men's Watch TW00MF101
If you like watches in Stainless Steel material class analogue fit the bill. It has a black dial colour with silver band colour. The band material is of stainless steel that adds curious looks to this time piece. Water resistance depth of 50 metres is the key feature with 1 year manufacturer's warranty. This attractive designer men's Timex watch is available in different dial colours ranging from beige to blue and brown black and even grey.
6. Timex E Class Analog Black Dial Men's Watch TWEG14703
Timex E-Class analogue watch in black dial is a simply stunning watch to have. With 1 year manufacturer's warranty, it has water resistance depth of 50 metres. The Stainless Steel material makes it classy and sophisticated Timex men's watch in India. For your business meetings or as a gift for the man you love, this would fit the bill. The E-Class collection is simply the best from Timex men's watches. The analogue watch is crafted with neatness and clear hour markings. So to add a sense of Style the watch is a must have. E-Class collection from Timex are best suited for sporty, casual and formal men's attire.
7. Helix Analog Blue Dial Men's Watch TW029HG10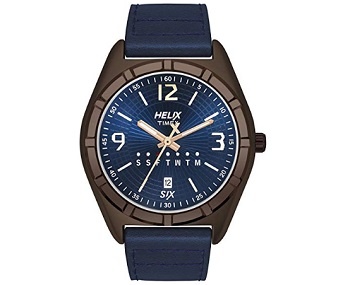 Timex helix analogue watch comes with a blue dial and blue leather strap. It's purely a sports lover's fantasy to have a dash of style with their attire. This casual watch for parties to Sports sporty look. It can even be gift for your loved ones.
8. Timex Analog Black Dial Men's Watch TW00ZR291E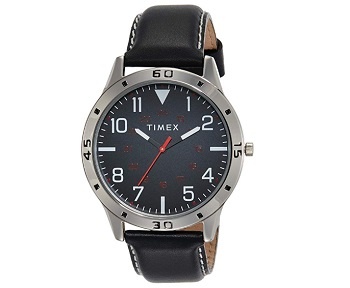 Black leather strap and black dial with light green band is the key highlight of this analogue watch. The case diameter is 45 millimetre with brass dial. Water resistance depth of 30 metres comes with 2 years warranty. It's suitable for men who love to indulge in sports and casual wear. It's one of the best selling watches from Timex for men and is very much in budget for even the teenagers.
9. Timex Analog Blue Dial Men's Watch TW000EL08
This wrist watch is not just a time piece but also a fashion accessory on the go. So if you are trendy and love smart looking watches then surely go for this Timex white analogue. It's best suited for those who are constantly meeting new people and are adventure lovers.
10. Timex Analog Silver Dial Men's Watch TW0TG6505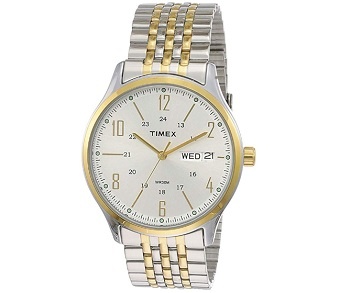 This is yet another Timex watch that can be gifted to someone would like to dress up formally. Where it for a wedding, party or occasions where you have to be dressed in formal wear. It's a good looking watch with sharp finish and features.
11.  Timex Analog Brown Dial Men's Watch TW000U915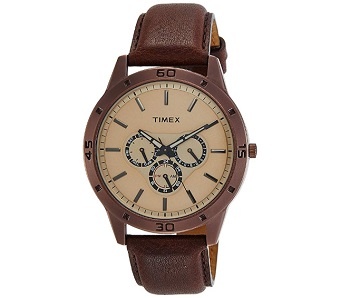 The multifunctional watch has leather strap with brown dial. For men's casual wear the watch is made with finish and multiple features that makes it one of the best watches from Timex. Dial colour is contrasting than the rest of the design and style that makes it pop out. The leather strap is heat resistance and gives comfort while you wear it.